At night his family would dig a hole in the ground, then they would all climb in and attempt to go to sleep -essential bedding arrangements to avoid stray bullets in the night; "When it rained it was terrible."
After the Vietnamese had driven out the Khmer Rouge, Cambodia found itself in the grip of yet more war, civil war. Young boys were plucked from their families, perhaps whilst walking home from school or merely loitering in the wrong place; rounded up and press-ganged into the fighting, given a gun -point and shoot- mostly they just died.
This was no place for the scared, shy son of a humble pig farmer.
During 'Khmer Rouge Time', as it is known locally: when it is estimated that as many as three million Cambodian's were murdered, his mother and father were separated and sent to different camps. He remembers being in the Kratie area and that the old ladies in his camp would look after the children.
Eventually, the family reunited in Kampong Cham some time around 1980 and in 81 returned to Phnom Penh, where his father opened a BBQ restaurant. Business was brisk during the day, bullets still flew in the night.
A good reputation and connections saw his father offered the job of staff chef at the newly opened Cambodiana Hotel in 1990. Employment at the hotel also meant lodgings on the hotel grounds and safety from the fighting at night. The young son wanted to continue his studies, his family were terrified he would be summarily rounded up and drafted into the fighting.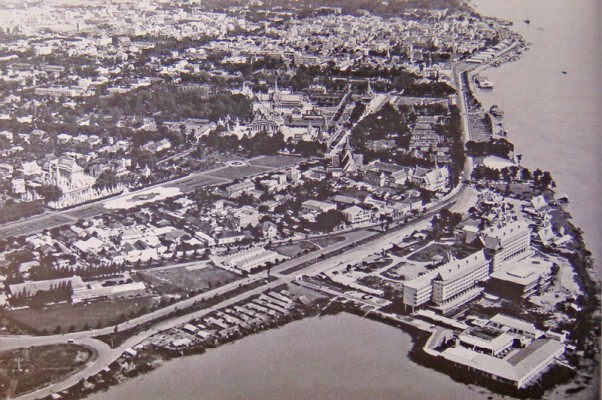 The construction of the building that was to become the Cambodiana Hotel began in the late 1960s but was interrupted by the war that began in 1970. It became a military barracks during the Lon Nol era and was subsequently abandoned after 1975. In 1988 Singaporean investors re-launched the project and completed the construction. It was first opened as a hotel in June 1990. Many diplomats and journalists stayed there during the 1991-93 UNTAC period. It is now run by the Royal Group.
He managed to complete his studies in 1991 and was asked to attend a meeting at the Hotel, he had no idea why but attended out of respect for his father. On the 13th of November 1991, aged eighteen Song Teng entered a modern commercial kitchen for the first time in his life and started his career as a chef.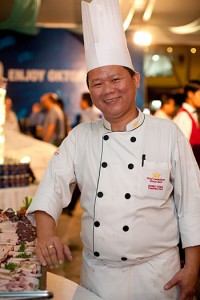 Within weeks his hands were covered in cuts, his body scarred with burns, the old heads would not talk to him or pass on any knowledge, desperate to protect their own positions. He was almost immediately admitted to hospital for a week with a work related injury involving boiling oil and a slippery surface; he decided that the kitchen was a very dangerous place indeed, he wanted to quit.
It seemed that this too was no place for the scared, shy son of a humble pig farmer.
"Song Teng is the Executive Chef of the Hotel Cambodiana, it is the only place he has worked his entire life, he is a regular and favoured chef of his King, the Queen Mother, the Royal Family, his Prime Minister and visiting dignitaries. His ability to exquisitely cater to large banquets of hundreds and even thousands of guests is legendary, I have an immeasurable amount of respect and admiration for Song Teng and have enjoyed his cooking on numerous occasions, I am proud to call him my friend and I cannot recall a single meeting with him where his face was not brimming with the broadest and most cheerful of smiles. In part two we will discover Teng's rise from reluctant kitchen hand to one of the most adored and celebrated chef's in the Kingdom." -Darren Gall