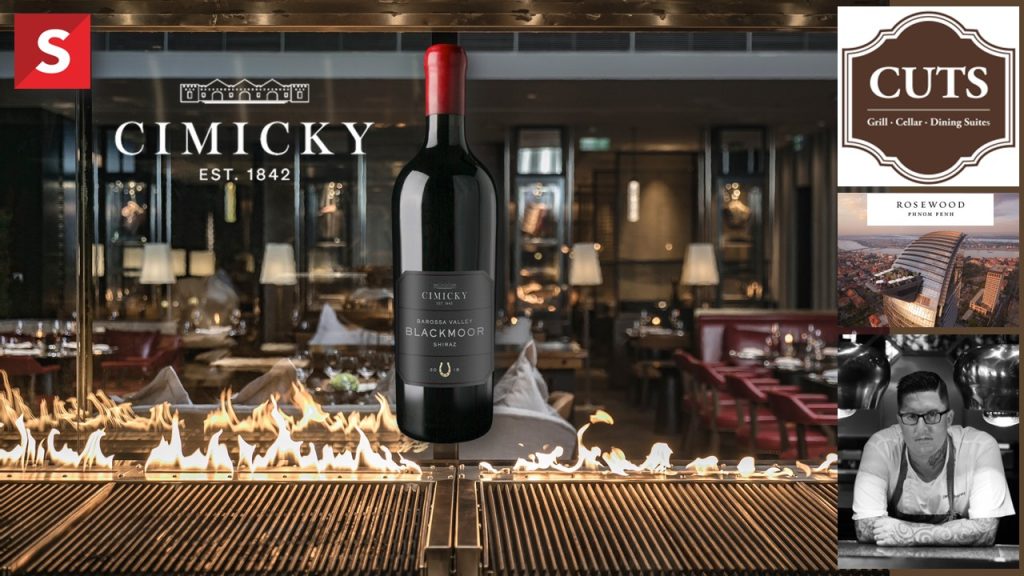 A Dinner with Destiny
10,000 Miles, 200 Years, 6 Generations
"Some food and wine dinners are all about the pairing, then there are those rare occasions, maybe only a handful of times in a decade, where it feels more like a coming together predetermined by destiny" 
CUTS
CUTS, Rosewood Phnom Penh's sophisticated steak and seafood restaurant, which sits on the 38th floor of the Vattanac Capital Tower is the country's highest restaurant.
The kitchen is directed by Chef de Cuisine Danny Chaney, who brings to the table two decades of culinary experience in renowned restaurants and hotels, CUTS turns a spotlight on premium breeds, time-honored butchery techniques, and unforgettable flavors.
The American chef, named Foodie Magazine's "Chef of the Year Hong Kong" in 2013, knows a thing or two about steakhouses. Not only did he lead the kitchen and operations at Blue Butcher in Hong Kong, which Sassy Media Group awarded "Restaurant of the Year 2013", Danny also served as the Culinary Director of the Boy 'n' Cow in Bali, which Exquisite Media named "Best Steakhouse Bali" in 2019.
Danny and CUTS Butcher Dario Coloma work side by side, sourcing only prime meats from prestigious purveyors in Australia and the United States.
Curated by award-winning Cambodian sommelier Eden Gnean, the Wine Vault boasts the largest wine collection in Cambodia, with more than 3,000 wine bottles representing the finest wines from all over the world. Eden, who won Cambodia's first sommelier competition in 2013, delights in discovering new producers and special bottles and introducing them to her guests.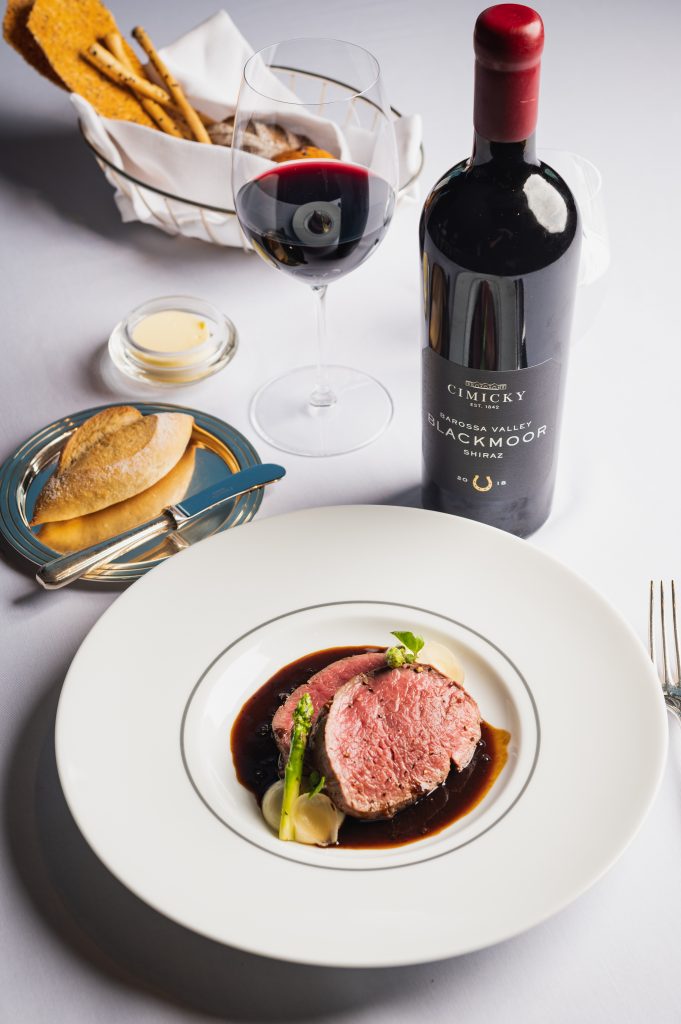 CIMICKY
The Cimicky story begins with the planting of vines in 1842, in South Australia's Barossa Valley. Planted by Lutheran immigrants fleeing persecution in their own country, these settlers built a strong community in the bushland north of Adelaide and laid the foundations for what is today one of the world's most famous wine regions.
After passing through the hands of two families, the property was then purchased by Karl Cimicky in 1970, who began to produce his own wines off fruit from the vineyard. Czech-born Karl was a bit of an eccentric, he named the property Karlsburg and built a winery modeled on a medieval-style castle.
Karl's talented son Charles took over winemaking duties in 1980 and -as well as promptly changing the name to Cimicky- produced many award-winning and internationally renowned wines. In 1995, Cimicky Wines were chosen by Elizabeth II, the Queen of England, to be served at the royal banquet at Buckingham Palace to celebrate the 50th World War II anniversary of the Allies victory. This event had the largest number of guests since the Queen's coronation in 1953.
In 2018, Cimicky winery was sold to an investment group that injected significant funding into improvements in the vineyard and winery. The wines are made by Sam Kurtz who also joined Cimicky in 2018 as Chief Winemaker and Winery General Manager; born and raised in the Barossa Valley, he is the 6th generation of his family to work in the region. Previous to joining Cimicky, Sam worked for Pernod Ricard Winemakers for 23 vintages in roles such as Winemaker in charge for Group Red and Fortified wines. He is highly experienced, and under his leadership, he has steered Cimicky to the ranks of one of the very best wineries in Australia – A Five Star Winery in James Halliday Wine Companion Australia 2021. The Cimicky winemaking team also won two "Best of the Best" – Exceptional Awards – also from world wine master James Halliday AM.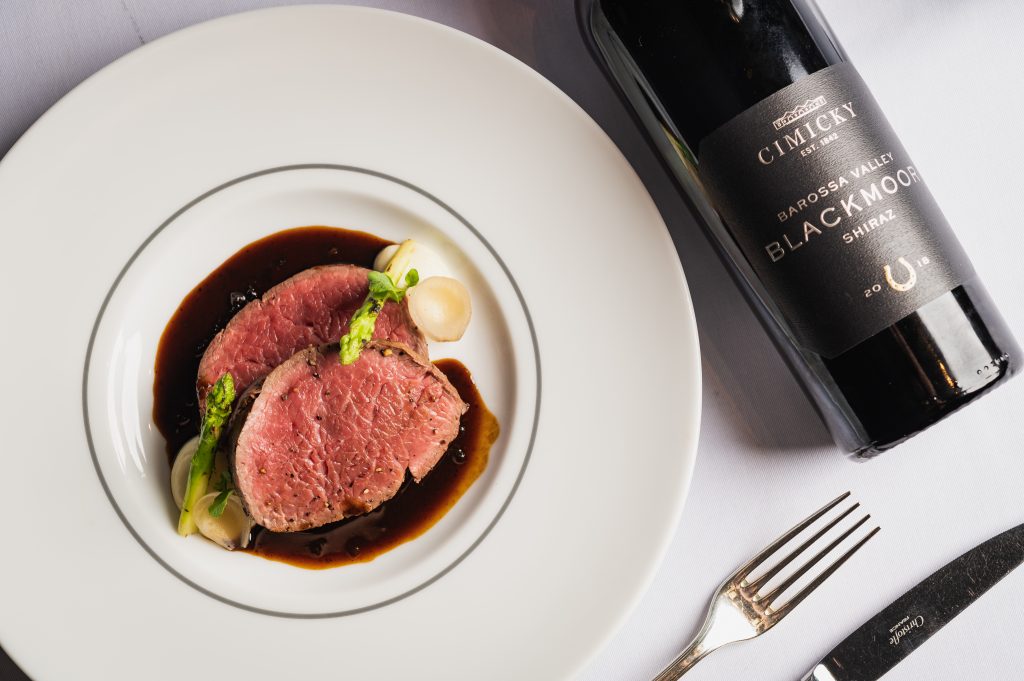 Darren Gall
The wines will be presented by Darren Gall, renowned winemaker, wine judge, and wine writer. Darren has been in the industry for nearly three decades, he has run wineries in Australia, judged, trained, and exhibited in wine shows around the world, and is a member of the elite group known as the International Circle of Wine Writers. Darren has been pairing, presenting, and writing about food and wine in Asia for over 20 years and a large body of his work can be found at: www.vindochine.com

Destiny
Danny Chaney is a lifelong connoisseur of beef steak and is rightfully regarded as one of the finest chefs in the region working with beef. His connection to his produce takes him all the way back to his childhood and in particular his cherished relationship with his father, it is a labor of love.
Angus cattle is a Scottish breed that made its way to Australia soon after British settlement, where it has become known as one of the finest and most highly sought-after beef breeds in the world today. Regarded for its flavour, texture, balance, and overall quality, if there was one beast bred for pairing with the rich, depth, power, and concentration of Barossa red wine, it is Angus.
Old Vine Barossa Shiraz is produced from the oldest 'continuously producing' Shiraz vines in the world; many of these ancient treasures are well over 100 years old, and when treated with the requisite amount of care and respect, they offer up miserly yields of some of the most concentrated, complex and remarkable fruit possible. Capable of producing wines celebrated and awarded throughout the world for their depth, intensity, structure, and flavour. It is as if, by some divine intervention, they were created to be paired with Angus beef.
As to where Darren Gall fits in, on this dinner date with destiny…
John Gall, was born in Brechin, Angus, Scotland in 1803, he was sent to trial in Aberdeen in July of 1827 and charged with committing crimes of a 'wicked, felonious, and heinous nature', the actual crime he was accused of was stealing four Angus cows.
John Gall was swiftly convicted and duly sentenced to be transported to the penal colony on Van Diemen's Land in Australia, for the term of his natural life. He would never see his pregnant wife, nor their three children again. The Trial Judges were the Lords Pitmilly and Allway, he was afforded no council, no defence, and was not permitted to call on any witnesses. This was John's first offense, and given his standing as a farmhand, he would have had no money, yet he was somehow able to cover the expenses of his journey, including a night and a meal at an inn along the way. Most scholars acknowledge that he would have been put up to it by his employer or another of the landed gentry and when caught, was left to 'take the rap' as they say.
John Gall was at once taken to a Prison Hulk, a dis-masted sailing ship afloat off Aberdeen Harbour. Hulks rode at anchor in main ports all over Britain and were used as prisons due to chronic overcrowding of the prison system. He was moved south to Downs in England and was put aboard the prison ship "William Miles", an ocean-going Convict Transport ship of 581 tons which was built at Bristol in 1808, Class E1, the ship's Master was G. Sampson.
The ship sailed from Downs, England on 24th March 1828 carrying a full crew and 192 convicted men. Seven of these convicts died during the voyage. The "William Miles" made landfall at Hobart, Tasmania, on 29th July 1828.
Ironically, thanks to his recognized skills with cattle, John was given to a free settler to serve as a cattle hand, he served out his time doing pretty much what he had already done his whole working life, he became a virtual slave to the landed gentry.
Eventually, John Gall remarried; successfully petitioned for his freedom, (in the form of a pardon) and in 1846, sailed into Geelong, Victoria on the Australian mainland. He died a cattle hand in 1880 in Allansfield and is buried at the Warrnambool cemetery.
He was Darren Gall's Great, Great, Great, Grandfather. Darren Gall was born on the 30th of June.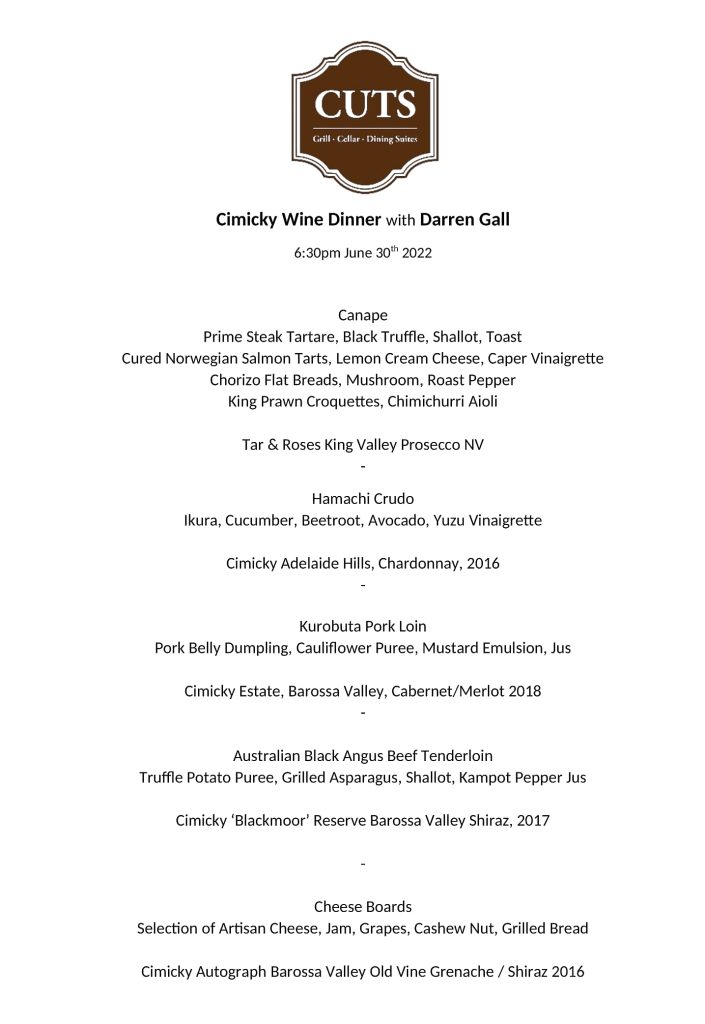 This very special culinary event will be held at Cuts Restaurant, at 6:30 pm on the 30th of June 2022
Tickets are $150 per person all-inclusive and numbers are extremely limited
For Bookings please contact:
Tel: +85586777334
Email: [email protected]