There was a time when European merchants, writers, adventurers and those out for a grand tour would travel throughout South East Asia by steamer, going about their business, enduring their hardships and either building up or depleting their family fortunes.

Stoic traders and intrepid travelers would seek respite from the oppressive jungles, the stifling heat and that most delectable of discomforts, being a stranger in a strange land, by checking into one of the majestic European hotels that were strung along the region. These hotels determined –at whatever the cost- to provide the traveling gentry with all of the grandeur and creature comforts that their industrial age, Victorian era, elitist, aristocratic and privileged backgrounds provided them back home.

Today, these grand old hotels remain as living shrines to a long, lost era; trading on nostalgia and fading memories of the glory days of Empire. In Singapore, there was and is Raffles Hotel, in Burma, (Myanmar) The Strand, in Bangkok, The Oriental, in Hong Kong, The Peninsula, in Hanoi, the Metropole and in Cambodia, from 1929 onwards, there was Le Royal.

Designed by famed French colonial architect, Ernst Hebrard the hotel was also a makeshift hospital and refuge when the Khmer Rouge arrived in 1975, creating absolute chaos when they ordered the city emptied. It would reopen in 1997 after careful restoration by the Raffles Hotel Group.
Inside Phnom Penh's most famous hotel there is a bar, a legendary bar where libations and distillations were served to guests like Somerset Maugham, Andre Malraux, Charlie Chaplin, Charles de Gaulle, Catherine Deneuve, Jacqueline Kennedy and more recently, Angelina Jolie; all came here to stay and all have left an indelible impression; Kennedy and Maugham even have cocktails named in their honor here.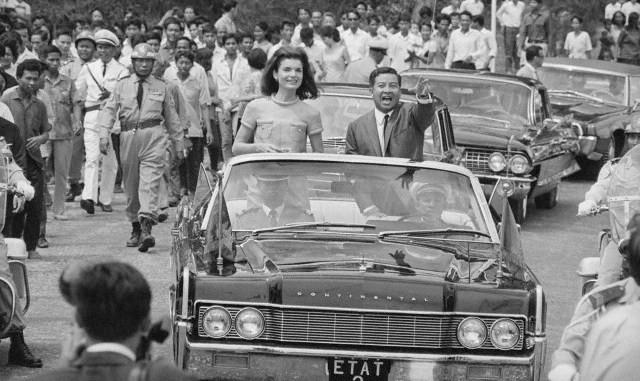 The bar is called The Elephant Bar and it would seem true that like its namesake, it never forgets. It would also be fair to say that the Elephant Bar's 21st century clientele never forget either, if the public response to the new and rather dramatic renovations is anything to go by.

The old elephant needs its legendary thick skin right now, for where its hide is wrinkled and grey, opinion is very definitely black or white, you love the new look or you hate it.

Let me allay your fears, the new/old Elephant is looking simply fantastic; retaining its colonial charm and historical perspective, whilst offering up an expanded range of some of the finest spirits, liqueurs, aperitifs, digestives and cocktails available. It is just that much better than before, I suspect the only ones crying foul either never frequented the place or, only turned up for the legendary four hour / happy hour and left ten seconds before it finished.

About four people could actually sit at the old service bar, (thankfully moved and extended) and even then it was usually too cluttered to stand your drink. If the four bar stools were all taken you had to contend with the uncomfortable, rotting and unraveling, twenty plus year old rattan chairs, (thankfully banished). The hand painted murals are still there, the majestic brass rail with elephant bulkheads has been expanded to the length of the new, feature bar; plush leather chairs replace the rattan, brass pipe and lampshade drop lights add to the era and the mood and the whole place looks just so much more a stylish, colonial era interlude, than an ageing historical afterthought.

The booze is, as a it should be in a good bar, what its really all about and this is where the Elephant Bar has really stepped up its game, there are still the legendary cocktails but there is also a more expanded range of fine alcohol and the mixology is now as much the main attraction as the furniture.

From the Macallan, ice ball maker, to the infusion of handcrafted spirits on the bar, to the skill and knowledge of the staff, it is five star impressive, I enjoyed the finest negroni of my shaken and stirred life here recently, it was pure genius to use the handcrafted, Cocchi Vermouth di Torino from Roberto Bava and I will most certainly be back for more.

Congratulations to the team behind this bold and daring move, it will pay off handsomely, because the Elephant Bar is grand once more. No longer a box to tic on the tourist trail, here is a destination that everyone can -once again- be proud of and enjoy, a symbol of not only Phnom Penh's eventful past but, also it bright and confident future.

The Elephant Bar, Hotel Le Royal,
92 Rukhak Vithei Daun Penh,
Sangkat Wat Phnom,
Daun Penh District.