When Pamela Mourgues, of MCD Wines invited me along to a Lanson Champagne event at The Alley Bar in Phnom Penh, there was definitely no hesitation on my part. I was eager to reacquaint my palate with this majestic Champagne House, to once again let its bead hypnotize me, its mousse fold over me and its rich, exotic history enchant me -as it never fails to do.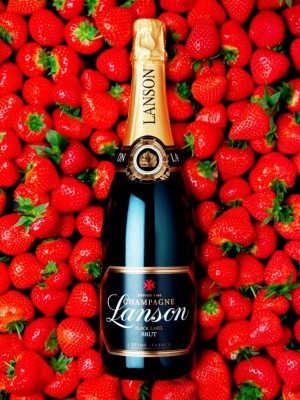 Captain Francois Delamotte, of the Bourgeois Militia and Conseiller-echevin of Reims, the owner of a large tract of Champagne vineyards at Cumieres, met and married, ( in 1748) Marie Claude Thérèse Bourgongne, daughter of Antoine Bourgongne, an owner of a large holding of Champagne vineyards in Ay. Antoine Bourgongne had also begun producing some Champagnes of his own.
Delamotte established a house of Wines of Champagne in 1760; I dare say he enjoyed the full support of his father-in-law. The building was located on the corner of Rue Ceres and Rue Marmousets complete with cellars beneath and a residence above. In 1786, he adopted the business name of Delmotte Père & Fils when he partnered with his eldest son, Alexandre Delamotte who was born in Reims in 1765.
François Delamotte's youngest son, Nicolas Louis Delamotte was born in Reims in 1767; Nicolas Louis was a knight of the Order of Malta. When the Order of Malta was dissolved after the conquest of the island of Malta by Napoleon Bonaparte in 1798, he returned to Reims and established himself in the family business. The eight-pointed cross of the Order of Malta, a title held by Nicolas Louis, was adopted as a trademark. Nicolas Louis married Marie Pierrette Barrachin in the same year (1798) and he was thereafter known under the name Chevalier Delamotte Barrachin.

The Knights of the Order of St. John of Jerusalem were formed long before their reign on Malta. The Order was established in 1085 as a community of monks at the Hospital of St. John in Jerusalem. They later became a military order, defending crusader territory in the Holy. The Knights were drawn exclusively from noble families and the Order acquired vast wealth from those it recruited.
The Knights came to Malta in 1530, having been ejected from their earlier home on Rhodes by the Turks in 1522. Charles V, the Holy Roman Emperor, gave them the choice of Malta or Tripoli as a base. Neither was considered ideal but, nothing could be worse than Tripoli. The Knights came to Malta and stayed for 268 years, transforming a mere rock of sandstone into a flourishing island with mighty defenses and a capital city coveted by the greatest powers of Europe.
The Order was ruled by a Grand Master who was answerable only to the Pope. Knights were chosen from the aristocratic families of France, Italy, Spain, England and Portugal. On acceptance into the Order they were sworn to celibacy, poverty and obedience.
Nicolas-Louis Delamotte, died in 1837 without leaving any heirs, the house continued under the name of Veuve Delamotte-Barrachin until 1856. When Delamotte's widow passed away Jean-Baptiste Lanson and the Lanson family gained full control of the company, reestablishing it as Lanson Père et Fils. Thus, the beginnings of the house of Lanson.
"Champagne… the wine of kings, the king of wines", Guy du Maupaussant.
Lanson earned its first Royal Warrant from Queen Victoria in 1860 -having been served as the official Champagne at the inauguration of Queen Elizabeth II, it is still today the official Champagne of the British Royal Family. It has been the official supplier of Champagne to the monarchs of Spain and Norway and still supplies the royal household of Monaco.
After the First World War, Victor and Henri Lanson joined the business, buying up vineyards and traveling the globe presenting their Champagne. Victor was a legendary gastronome whose lunches regularly went on for four hours or more. He once famously quipped, "I make wine for myself, what I can't drink, I sell" he always began lunch with a magnum of Lanson Black Label. In 1959 Victor launched Lanson Gold as the perfect champagne to accompany a family meal. It is estimated that during his 87 years, Victor consumed at least 70,000 bottles of champagne; he sired ten children, six of whom followed him into the family business.
Lanson is still the only Champagne served at Wimbledon, in 1961 Lanson was served to President John F. Kennedy and his wife during their visit to Versailles, Lanson was the official champagne for Queen Elizabeth II's Golden Jubilee and in 2010 and the company celebrated its 250th anniversary with a grand party at the Chateau de Versailles.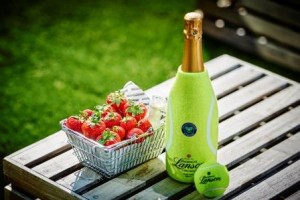 The Non-Vintage Black Label is the cuvee de maison and the entry level Lanson Champagne for most people. The wine is a blend of 50% Pinot Noir, 35% Chardonnay and 15% Pinot Meunier, taken from numerous crus over as many as ten different years. The wine is further enhanced by three years resting in the cellar, including 6 months following disgorging.
Lanson draws its fruit from over 500 hectares of Champagne vineyards and does not allow any malolactic fermentation giving the wine a bright, freshness, a lightness and elegance; they are all about the fruit, are very dry and very easy to drink.
In 2013, Hervé Dantan joined the House, working alongside Jean-Paul Gandon. In 2015, after two years of sharing and passing on the secrets of Champagne Lanson's production, he has now taken on the responsibility of being the Chief Winemaker of the House. In addition, new facilities that allow the House to vinify separate plots give their new wine-maker access to a very rich palette of possibilities for his blends, and a new wooden cask winery that contains reserve wines matured over many years will combine to bring greater complexity to Lanson Black Label.