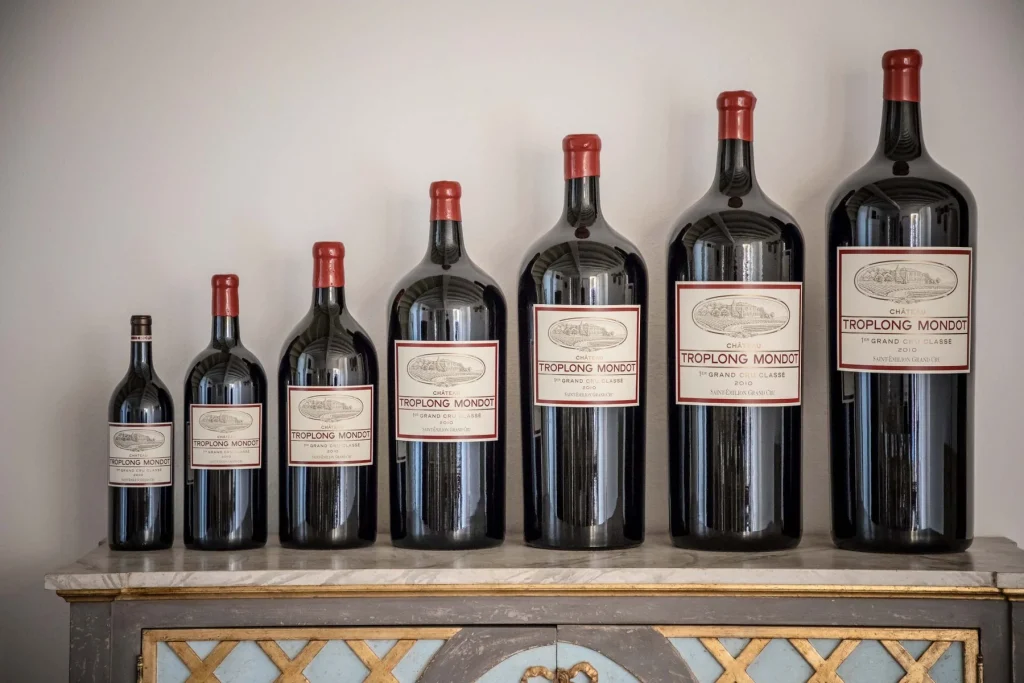 Phnom Mondot
A Hotel in the Sky
The Rosewood Hotel, occupying the highest floors of Phnom Penh's tallest building, looks out over the city's rapidly expanding skyline. On a clear night, window boxes of light fan out to black horizons, starlight dances in the sky, and the moonlight shimmers off the Mekong and Bassac rivers, all combining to give the impression of a million candles dancing in the dark and putting on a show. It is a special place, recently named the 'Best City Hotel in Asia' by Travel + Leisure Magazine, an impressive award to add to its rapidly growing list of accolades.
Cristia Nou Picart, is a dedicated and passionate chef, always looking to progress, bringing elegant flourishes to the classics and polished finesse to contemporary fare. Hailing from Catalan country and having worked in five-star hotels in Barcelona and Singapore, he focuses on seasonality, freshness, and technique. As Executive Sous Chef at Rosewood, Cristia has honed a keen understanding and appreciation of local Khmer ingredients and culinary lore that add a sense of adventure and excitement to his cooking.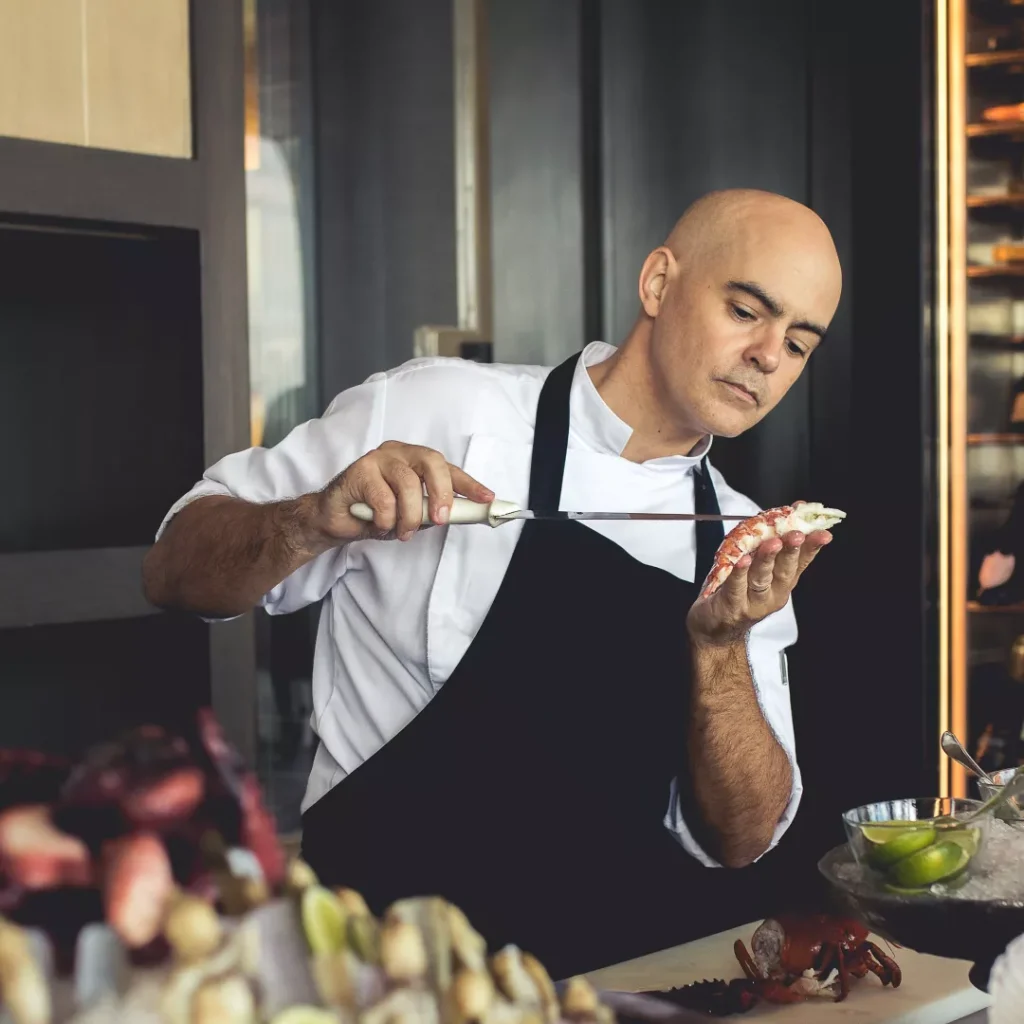 A Grand Affair
Chateau Troplong Mondot is a 43-hectare Saint Emilion property with Grand Cru Classe status, planted to 85% Merlot, 13% Cabernet Sauvignon and 2% to Cabernet Franc. The vineyard spans Mondot Hill and enjoys the highest elevation and some of the finest terroir in the entire region.
The impressive chateau was itself built in 1745 by Abbot Raymond de Seze. It was originally part of a much larger domain owned by the noble de Seze family and included the vineyards of Chateau Pavie and several others. In 1850, the estate was purchased by Raymond Troplong, who gradually built up its land holding and lent his name to the estate, making it Chateau Troplong Mondot.
The property was owned -for three years- by negociant Georges Thienport, who sold it to another negociant, Alexandre Valette, in the 1930s. The estate would begin a remarkable transformation once Alexandre's great-granddaughter, the formidable Christine Valette, took over both ownership and the running of the property in 1981, along with her husband, Xavier Pariente.

Under Christine's direction, the estate began picking later, reducing yields, and increasing its percentage of new oak. An extensive survey of the vineyard soil was undertaken, and its biodiversity was restored. Renowned winemaker Michel Rolland was brought in, and later Jean-Philippe Fort. The wines were soon darker, richer, bigger, oak-ier, riper, and much more concentrated, and people were soon taking notice.
100 points from renowned wine critic Robert Parker followed, as did many accolades and rave reviews, Chateau Troplong Mondot was then being talked about as one of the finest wines in the region and one of the great wines of the world.
However, Christine Valette was determined to achieve another goal, one for which she had fought fiercely for several decades. With an unfaltering focus and determination, Christine Valette was able to achieve her ultimate goal. She saw her Chateau lifted in the 1955 Saint-Emilion Classification as a 1er Grand Cru Classe (B) in 2006.
Christine Valette's achievement is by now the stuff of Bordeaux legend. Yet, as she finally reached the pinnacle of her own personal mountain, a far more serious battle was to rear up and confront her. In 2014, after a two-year battle with cancer, Christine Valette sadly passed away at the age of just 57.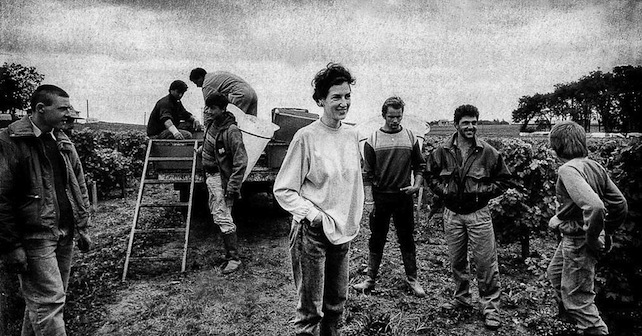 In 2014, the estate was bought at a record price per hectare by the French insurance company SCOR SE, yet another French insurance company to enter the prestige wine market. They also purchased an additional 10 hectares from neighbouring Château Bellisle Mondotte and Clos la Barde, bringing up the estate to a total of 43 hectares.
Aymeric de Gironde, formerly of Pichon Baron and Cos d'Estournel, was brought in as winemaker, as well as consultant Thomas Duclot, who had most famously worked with Chateau Canon. Significant investment was made in the form of building new cellars. The winery itself was doubled in size, with 12-meter high ceilings said to represent the depth of the vine's penetration into the estate's famous limestone soils.
Dramatic changes were immediately implemented in the winemaking: harvest was much earlier, and the use of new oak was scaled back significantly. Instead of making wines that were once described by Robert Parker as "full-bodied, multi-layered and spectacularly rich," the winery now sought to produce wines of a completely different style, wines that were much lighter, elegant, and fresh, with a purity of fruit and ultimately, a true expression of their terroir.
Troplong Mondot also became the first French winery to sign with IWCA (International Wineries for Climate Action) and are aiming at carbon neutrality in the future. The new direction for the Chateau and its most recent wines has been met with genuine excitement and pretty much universal approval in both the media and the market, and it sees itself as now being well-positioned to adapt-to and cope-with the challenges of global warming and protecting its environment for future generations.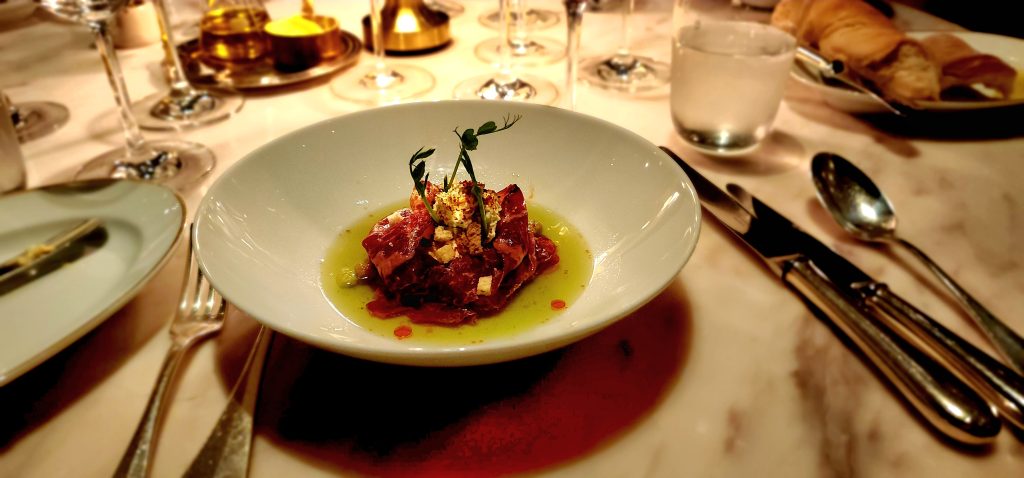 The Dinner
Arrival was met with a well-received glass of Champagne Bollinger, Special Cuvee, always rich, broad, and expansive even with its elegance, finesse, and freshness; one of my favourite Champagne houses, this really was getting the evening off to a magnificent start.
First Course was a dish of locally made Burrata cheese, slices of wagyu cecina, (a Spanish style of curing and drying meats) and a balsamic vinaigrette.
Wine: Mondot, (second label of Troplong Mondot) Saint Emillion, Grand Cru 2019
Second Course: Slow-cooked octopus with potato and parsley puree, smoked paprika and crispy leek.
Troplong Mondot, Saint Emilion, Grand Cru 2018
Third Course: Slow-cooked Australian beef short-rib in a red wine jus, with a truffled potato gratin
Troplong Mondot, Saint Emilion Grand Cru, 2014 & Troplong Mondot, Saint Emilion Grand Cru, 2015
Fourth Course: Beillevaire artisan cheese selection with house-made marmalade, truffle honey, house-baked herb bread and cashews.
Troplong Mondot, Saint Emilion Grand Cru, 2019 Magnum
The dinner was a culinary triumph for the hotel and chef Cristia, dishes were well-balanced and exceptional in flavour, composition, and technique. They matched beautifully with the wines and complimented them nicely. A chef at the top of his game in a kitchen environment that is allowing him to shine.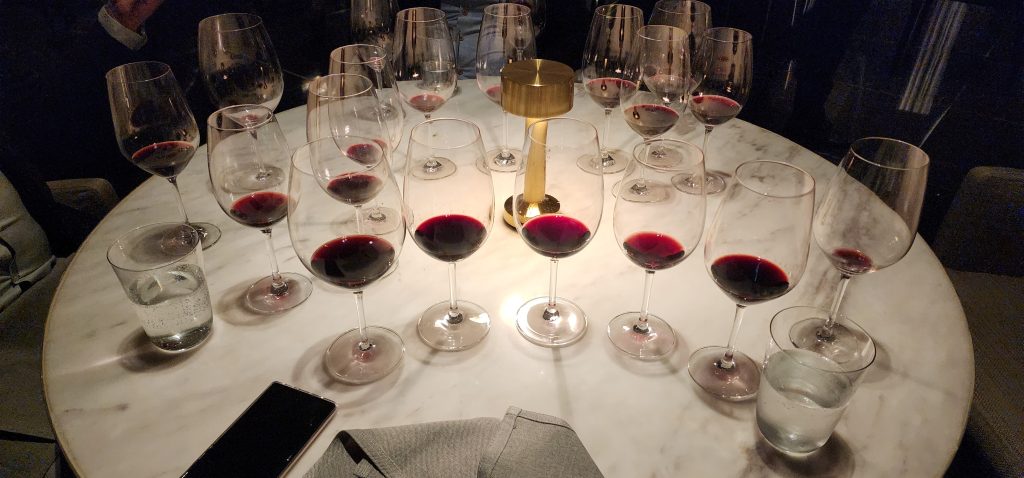 The Wines
Champagne Bollinger, Special Cuvee
60% Pinot Noir, 25% Chardonnay and 15% Pinot Meunier. Aromas are of red cane berries, pastry, and almond biscotti; the bead is fine and persistent. On the palate, the mousse is creamy and expansive; there is real depth here and wonderful complexity, with vibrant acidity keeping it all in check and creating a beautiful tension. The finish is chalky and fine; this is an outstanding cuvee-de-maison.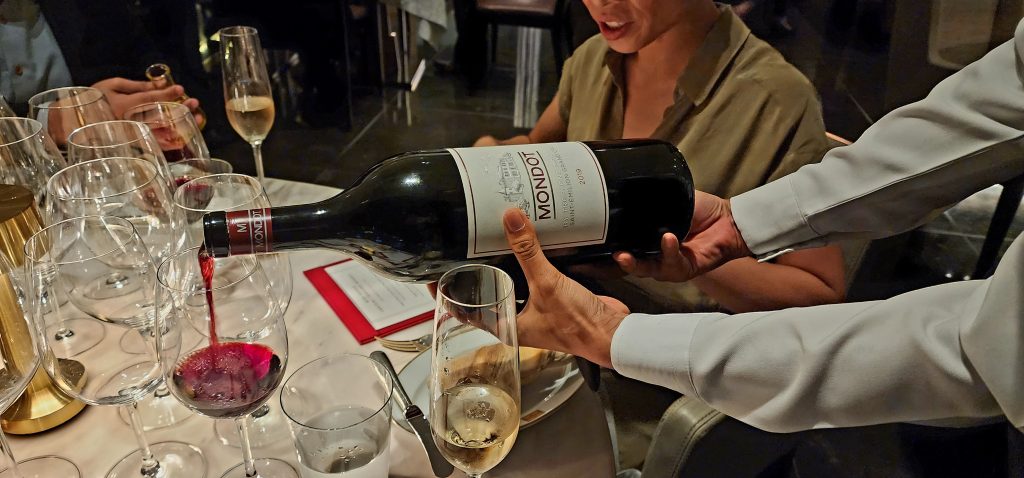 Mondot, Saint Emillion, Grand Cru 2019 Magnum
Second label of Troplong Mondot: 100% Merlot, ripe, fine, and elegant on the palate, cassis, and mulberry fruit, lots of purity, some creaminess to the texture and a finish of ultra-fine but very bright tannins. Very approachable and drinking well now.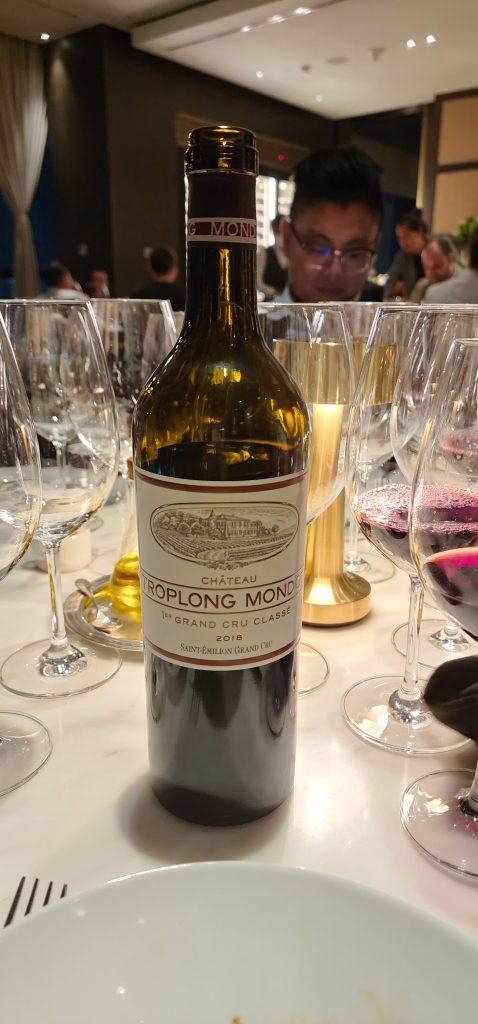 Troplong Mondot, Saint Emilion, Grand Cru 2018
85% Merlot, 13% Cabernet Sauvignon and 2% Cabernet Franc matured in 60% new French oak.
The first 'New Style' wine from the Chateau, it shows elegant, restrained fruit, exceptionally clean, much more svelte and graceful than previous vintages, good intensity, ripeness, and complexity on the palate: black currants and berries, with plenty of minerality and fine tannins at the back. The finish is long with a magnificent purity of fruit.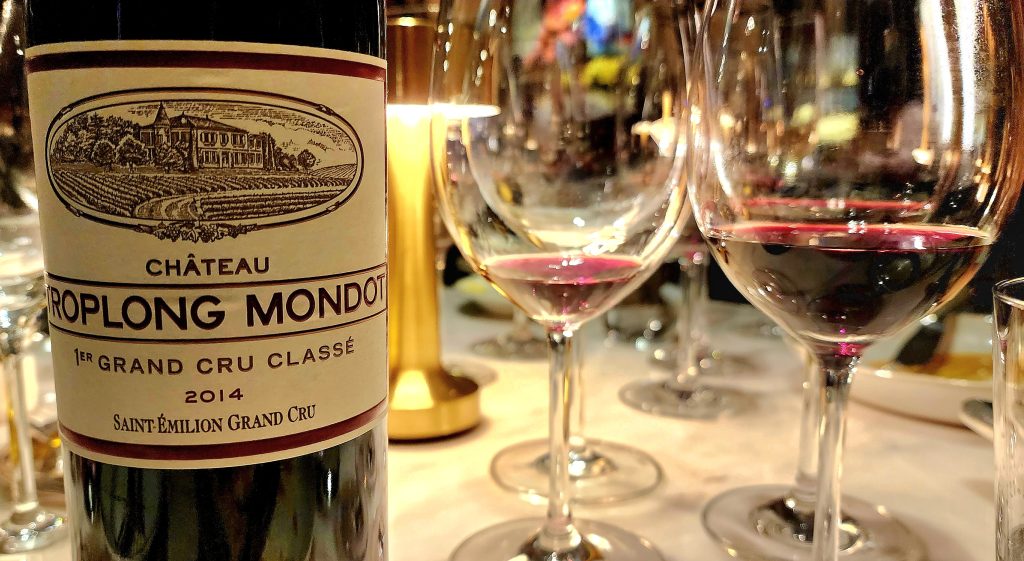 Troplong Mondot, Saint Emilion Grand Cru, 2014
A blend of 90% Merlot, 8% Cabernet Sauvignon and 2%.
There is depth and power here, black fruits, spices, a lot of richness on the palate, creamy, with a touch of graphite and some espresso bitterness on the finish, but there is still enough poise to give it class and sophistication. Drinking beautifully.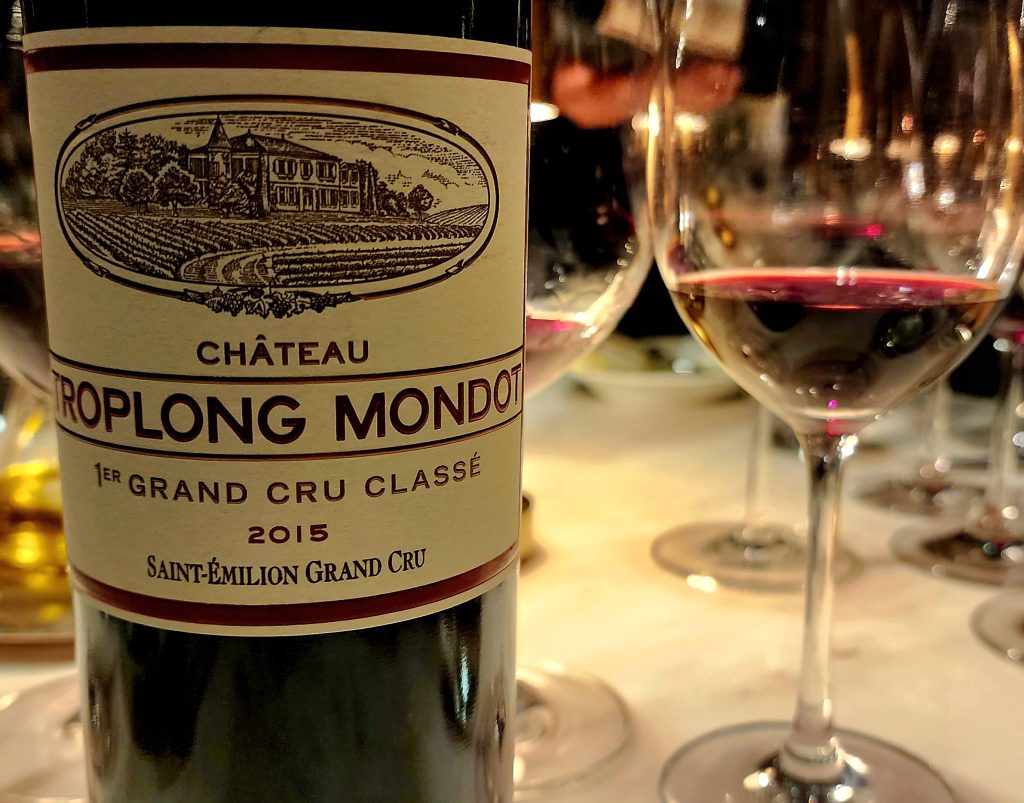 Troplong Mondot, Saint Emilion Grand Cru, 2015
92% Merlot, 6% Cabernet Sauvignon and 2% Cabernet Franc, in 85% new French oak.
A complex bouquet of violets, black fruits, red berries, cigar box and spices, the palate is rich and powerful, with dense fruit notes of black forest berries, coffee grinds and cooking chocolate. The opulence here is supported by some nice acidity and super-fine tannins that steady the wine and give it balance. It is a magnificent, majestic wine: drinking very well now, but with years, if not decades, ahead of it.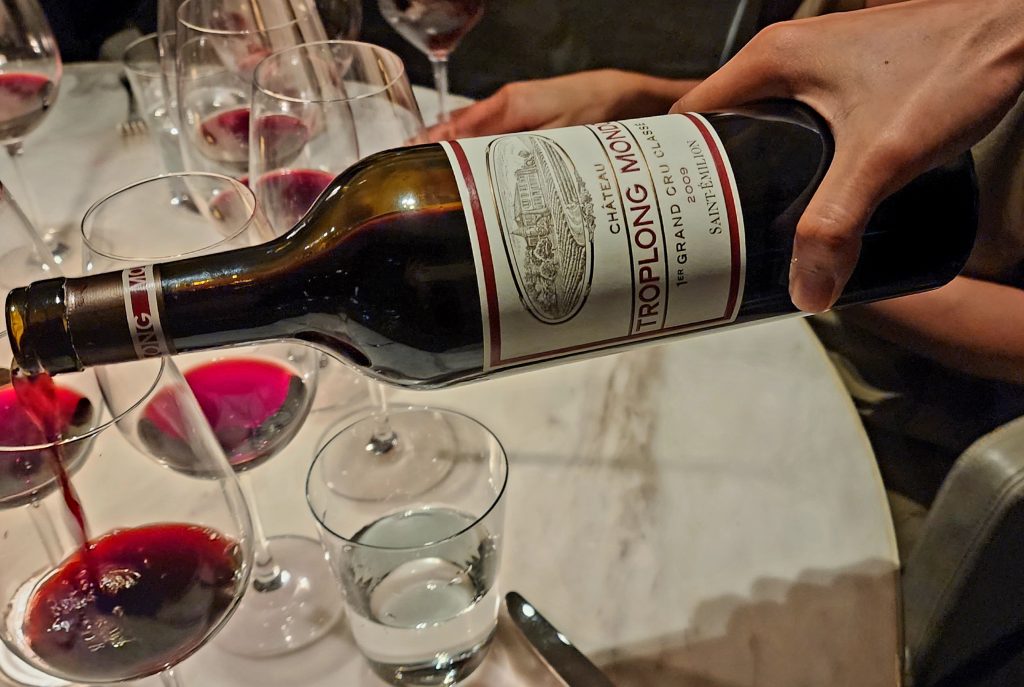 Troplong Mondot, Saint Emilion Grand Cru, 2009
86% Merlot, 10% Cabernet Sauvignon, 4% Cabernet Franc.
Aromas of Christmas pudding and black forest cake leap out of the glass; this is a big wine, but there is still a freshness to the fruit, decent acidity, and some fine but fading structure. This wine was a monster in its youth, and whilst looking a lot tamer now, it is ageing and developing into something quite impressive to behold. It gave me the vision of a sleeping dragon that still has plenty of fire in its belly, still more than capable of putting on a grand show. No longer the finest wine in the line-up, it was a great way to finish with a cheese platter, showing it still knew how to wow the crowd.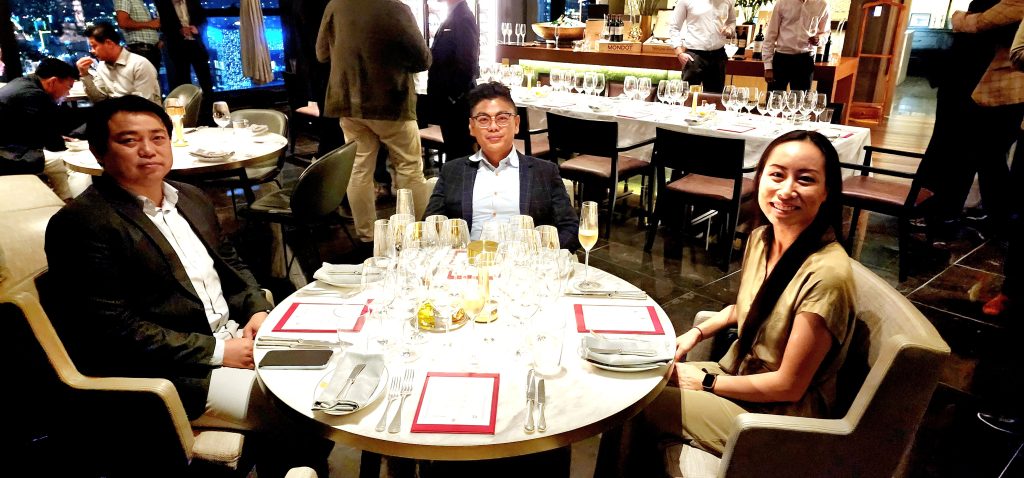 Afters
A spectacular dinner from Rosewood, the food, service, and ambience were not only elevated in the literal sense (dining on the 35th floor as we were), here they were elevated in an organoleptic and ethereal sense. Putting a pairing degustation together can be a bit like putting a band of exceptional musicians together; you can have all the right ingredients, pick the repertoire, and rehearse it. Then you just have to hope it all comes together on the night; basking in the afterglow of this dinner, it felt greater than the sum of its parts; it felt good for the soul.
The wines shone: Toplong Mondot enjoyed a somewhat spectacular rise to super-stardom under Christine Valette's guidance and determination, with a considerable amount of help from Michel Rolland and via top scores from a man who -during that time- was the most powerful and influential wine critic in the world, Robert Parker.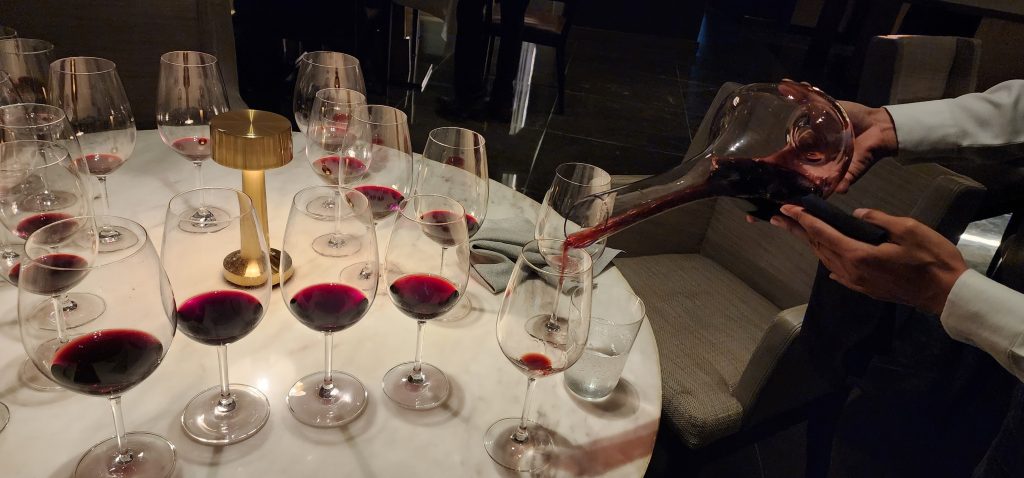 Today, many of the Right Bank wines of that style are viewed as being of their time, a time when richly ripe grapes were sought to make wines that were powerful, alcoholic wines wrapped up in bold, new oak.
Now, for Chateau Troplong Mondot, the pursuit is to make wines of elegance, complexity, balance and perhaps above all, a sense of place and an eye to sustainability and a warming planet. Over dinner, the old wines did themselves, their chateau, and the choices of Christine Valette proud, whilst the newest vintages promised a more refined beauty, greater balance, more in harmony with their place on this earth, and along their own timeline in history. These are wines for the present.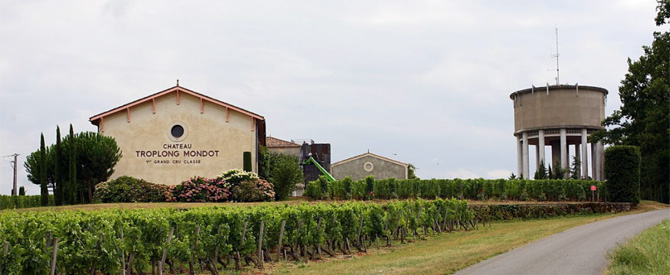 We are all familiar with the miracle at Cana in Galilee, where Jesus is said to have turned water into wine. The region of Saint Emilion is itself, said to be named after the Breton monk Émilion. According to tradition, Émilion started as a bread-maker for the count of Vannes. While bringing bread to the poor, a lord angrily approached Émilion and asked him what he was carrying. "These are pieces of wood intended to warm the poor," Émilion lied. When he opened his coat, miraculously the loaves of bread had been transformed into wood.
Here over dinner, I felt that I was perhaps experiencing another miracle of Saint Emilion. It was as if say, Ferrari one month ceased making cars with combustion engines and started releasing all electric cards -and the adoring fans of the prancing horse all just collectively went, "That's much better" and the world all of a sudden seemed slightly better off.
From high on up in the heavens over Phnom Penh, above the city's shimmering, glittering light show, here was a glimpse of the exciting future that lay ahead for Chateau Troplong Mondot.