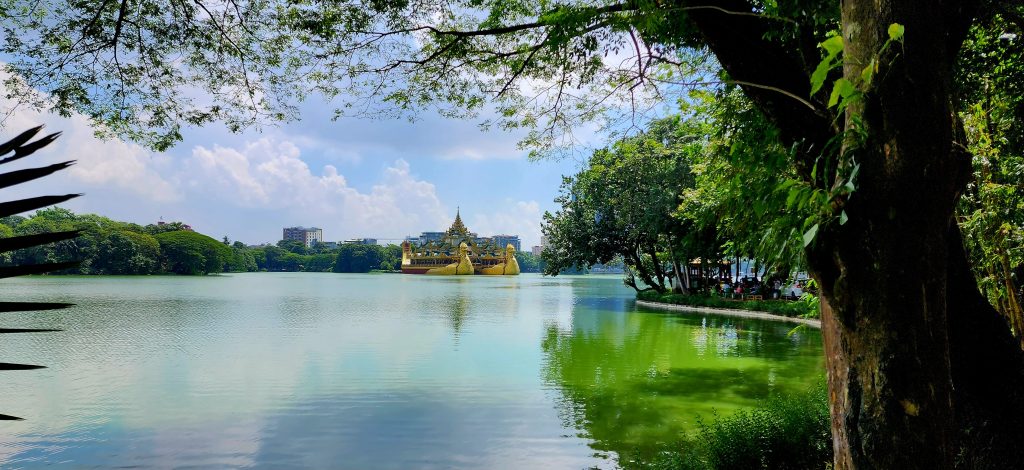 Emporia Euphoria
Burma Road
"My mother used to say that rain here pours like a blessing, like a thick veil that parts to reveal the bride's face….."
― Mia Kirshner, I Live Here
All over Myanmar, people have been celebrating the Thadingyut lunar festival, the full moon that signals an end to both the rainy season and the Buddhist sabbath (Vassa).
It is a festival of light (as a symbolic lighting of the way) in celebration of Buddha's descent from heaven after preaching the Abhidhamma to the reincarnation of his mother Maya in Trayastrimsa.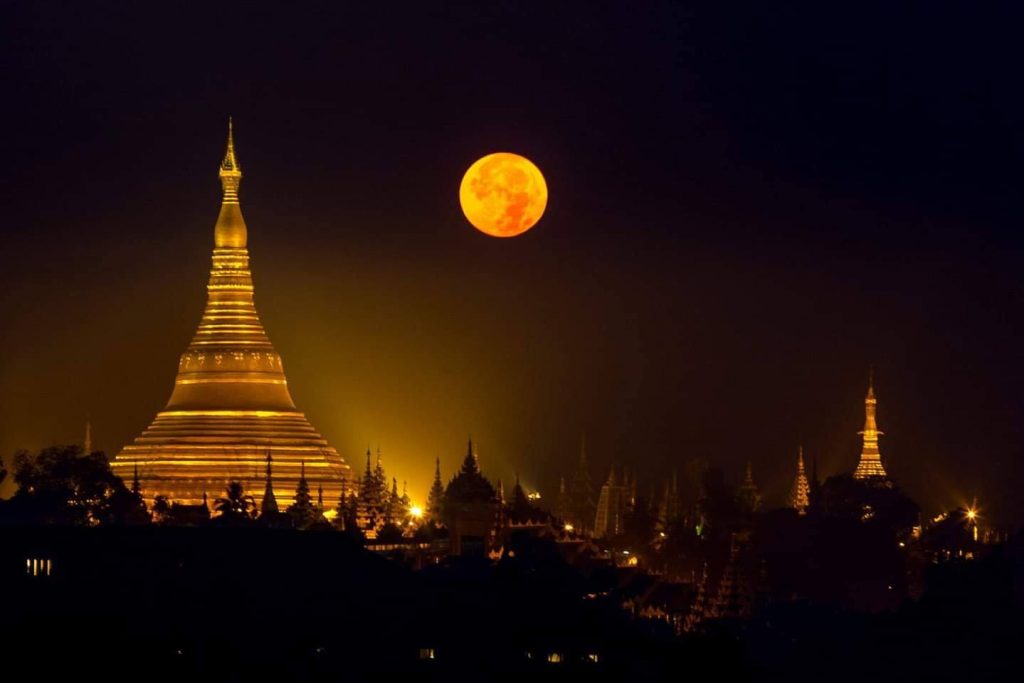 Houses, streets, temples, and public buildings are adorned with lights and lanterns the colours of gold, silver, and ruby, representing the three precious stairways erected by saints and used by the Lord Buddha himself (ruby), the Nats (gold), and the Brahmans (silver) on their decent back to earth.
It is a time to visit pagodas, pay respects to monks and make offerings of special foods. It is also a time to seek forgiveness from parents and elderly relatives and receive their blessings in return.
"A Boldness of Spirit"  
As I meditate on this event, I reflect on my most recent visit to Myanmar last month, when I was invited to share a wonderful meal, with a remarkable lady, at her wonderful hotel.
The Chatrium Hotel, Royal Lake, Yangon, has an almost enchanted charm to it: a beautiful location on the banks of Kandawgyi Lake, with stunning views of the nearby Shwedagon pagoda. The moment you pass through its impressive Lichgate entrance, you feel transported; as if the lush, vibrant greenery and old-growth trees wrap their welcoming arms around you, enfolding you, putting you immediately at ease.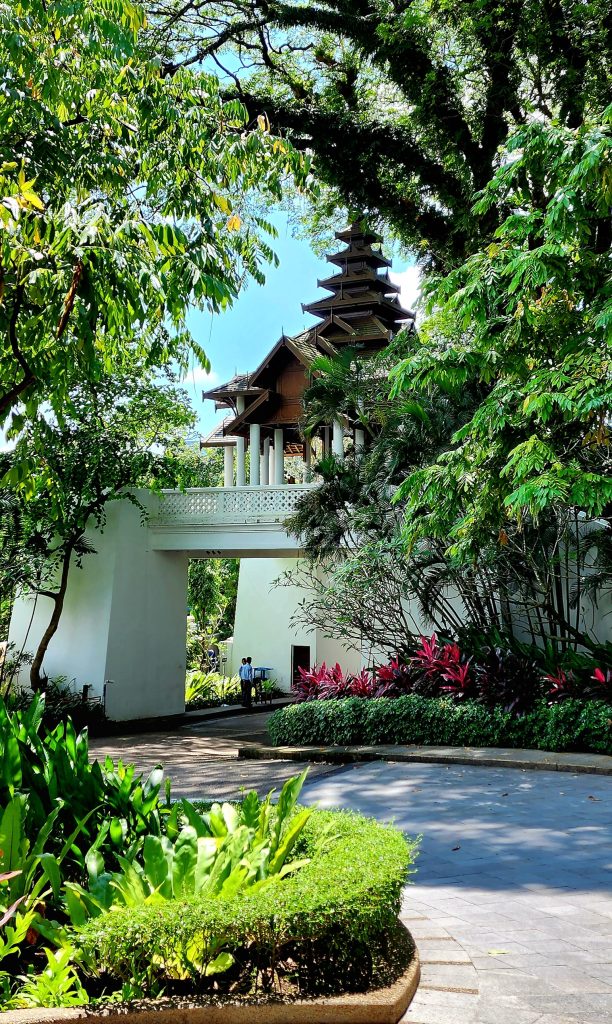 Inside, the hotel has divine old-world charm, flourishes of teakwood and gold, cultural artifacts, and traditional art pieces. The word sanctuary doesn't quite do justice to this place; there is a level of tranquility here that borders on the celestial.
Out on the deck, overlooking a horizonless pond, with views out over the lake and a little pergola with a burnt orange and black striped tiger on guard, you are instantly drawn to a wicker chair and find yourself contemplating a cocktail with lots of fresh fruit and little paper parasols hanging off it, or perhaps an Aperol spritz with a decent prosecco di Valdobbiadene, or why not a barrel-aged Negroni with some zesty bitters. From here, you can almost feel the madness outside draining away.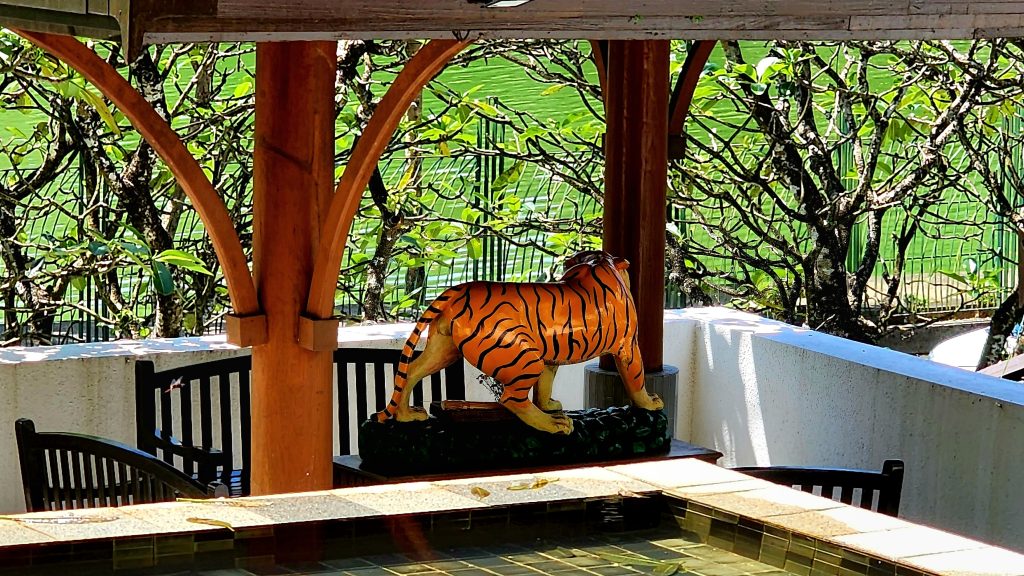 I was fortunate enough to be given a tour of the spacious and luxurious Royal Suite, up on the top floor; at over USD $2,000 per night, I doubt I'll ever get to stay here, but if I somehow manage to permeate any of the upper echelons of heaven, I can't image the accommodations there being any better than this.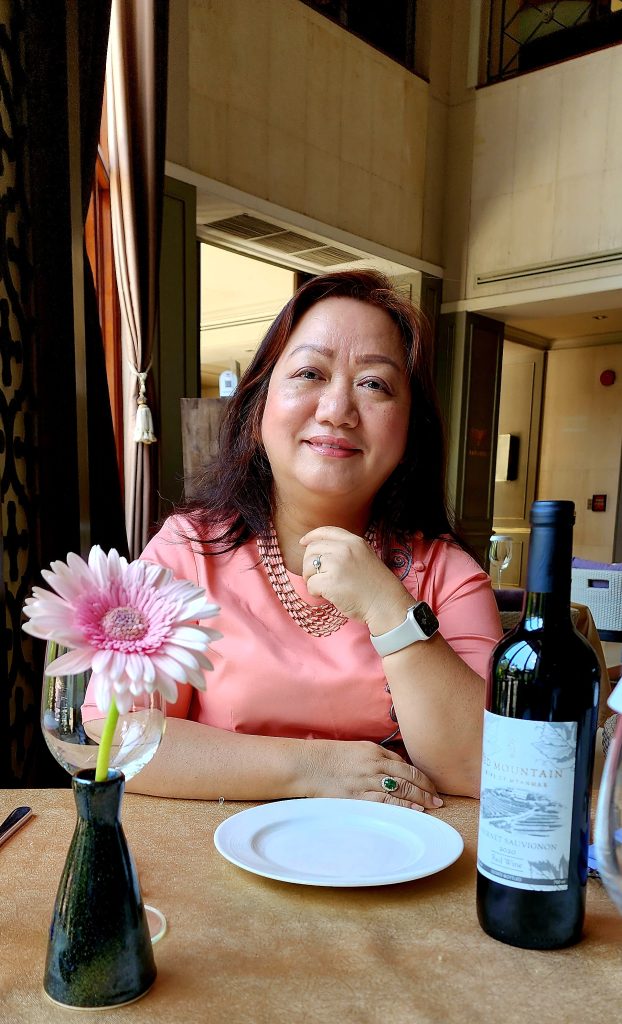 Ma May Myat Mon Win
Today, I am a guest of the extraordinary Ma May Myat Mon Win, who has worked here for as long as the hotel has existed and has been general manager for the past decade. Ma May is an impressive lady who has studied hospitality at Cornell University and has an MBA in business management; she is also very active in Rotary and highly respected for her work as a mentor in marketing, leadership and economic empowerment; as well as her charity work in disaster relief, health, education and environmental issues in Myanmar.
Ma May might be petite in physical stature, but she is a giant in her industry and the Yangon community. Ma May is very deserving of such high praise, people come to Chatrium Hotel for its charm and opulence; they return again and again because of Ma May and the ambitious standards she has set and exemplifies throughout the hotel.
When we talk, she is enthusiastic, engaging, intelligent and determined to lead her business, her team, and her community forward. I find Ma May both inspiring and reassuring, and in Myanmar right now, Ma May, and those like her are much needed.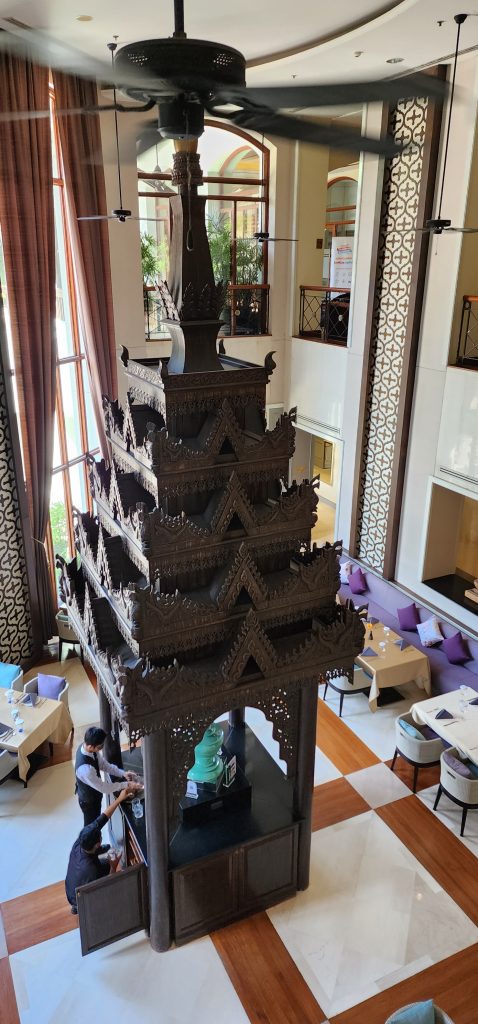 Emporia
Ma May invited me to lunch with my colleague and our friend, Mr. Thomas Muang. Thomas is a great man of wine here, someone who has sold the world's finest wines, as well as locally made wines to restaurants, shops, and hotels all over Myanmar. He also owns a small vineyard himself.
We enter the restaurant by descending a large, wide, spiral staircase with wooden handrails, as if entering the ball in an old Hollywood movie. The dining space is an atrium with an impossibly high ceiling and large rectangle windows -almost as high as the palms outside- looking out across the pool area and garden; it is all absolutely stunning.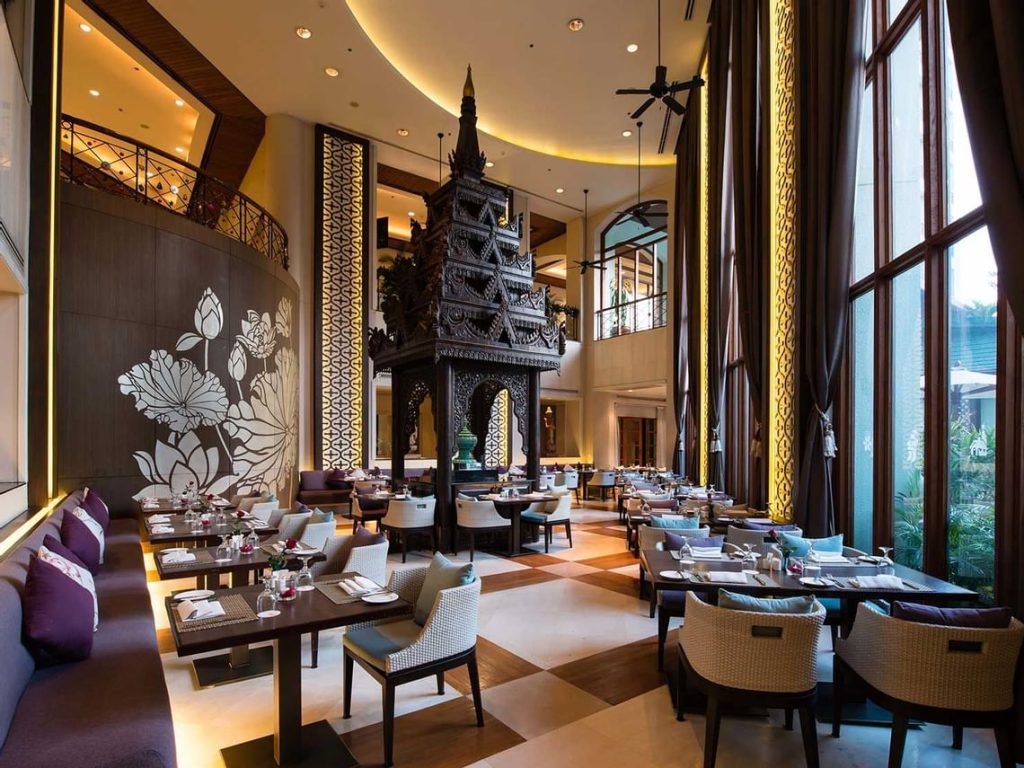 The central space of the restaurant is dominated by a magnificent carved teak pergola-like structure that rises through the middle of the atrium and beyond the level of the next floor. It is ornately carved with decorative filigree in the tradition of Burma's old Teak temples and palaces. It reminded me of a visit to Mandalay and the Shwe Nan Daw Monastery there, built in the late 1800s by King Thibaw Min from the teak of his father, King Mindon Min's apartment. Sitting in its central cavity is a large, ornamental offering vessel called a Hsun Ok; the colour of the finest Burmese jade, it is the type of piece that draws a short, sharp intake of breath when one first notices it. The whole arrangement sets the room off magnificently, creating the perfect ambience.
The term emporia is the plural of emporium and can be translated to a bazaar or marketplace with many diverse offerings. Emporia here, is a restaurant that prides itself on serving several different cuisines: Chinese, Japanese, Thai, Indian and Classic Western dishes. We opted for Western cuisine, having enjoyed a wonderful Japanese meal on a previous visit. Our assured and friendly sommelier, Ricky brought me the wine list, and I was pleased to find a 2019 Viognier from Paul Jaboulet in the Rhone Valley.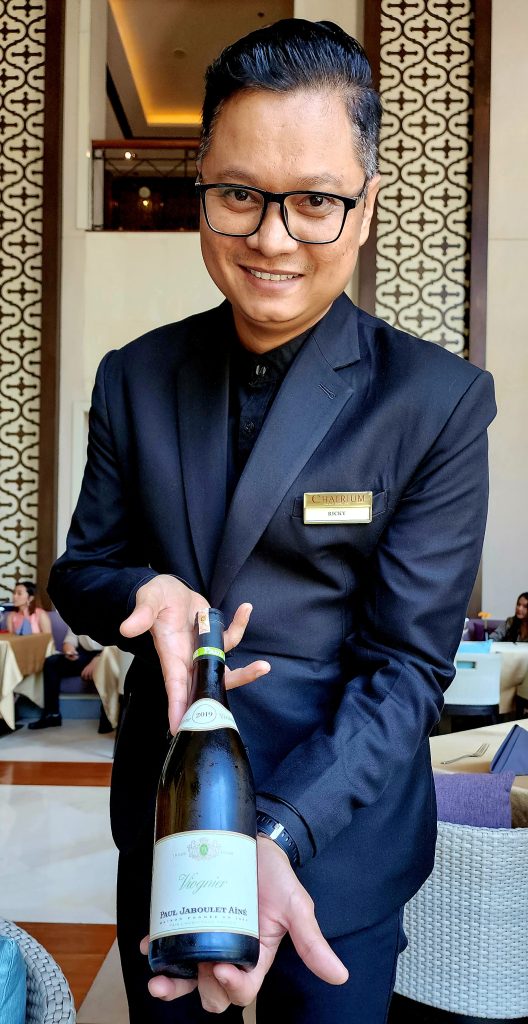 The first course was a pumpkin soup, which was rich, creamy, fresh, and delicious. The wine was outstanding, with beautiful freshness and purity, showing aromas and flavours of white peach, a hint of apricot, pear, and wildflowers. The palate had a delightful slipperiness and enough fine, chalky acidity to keep the opulence in check and give the wine the requisite poise and balance.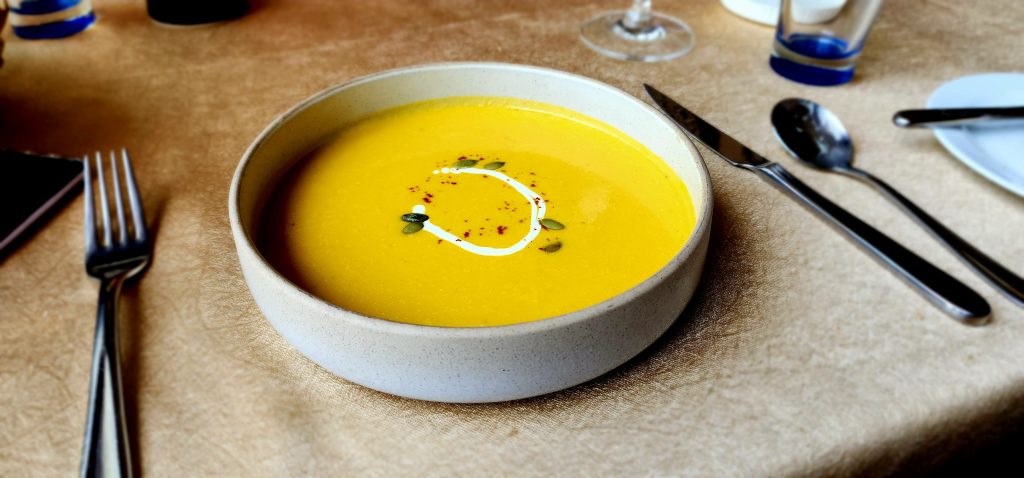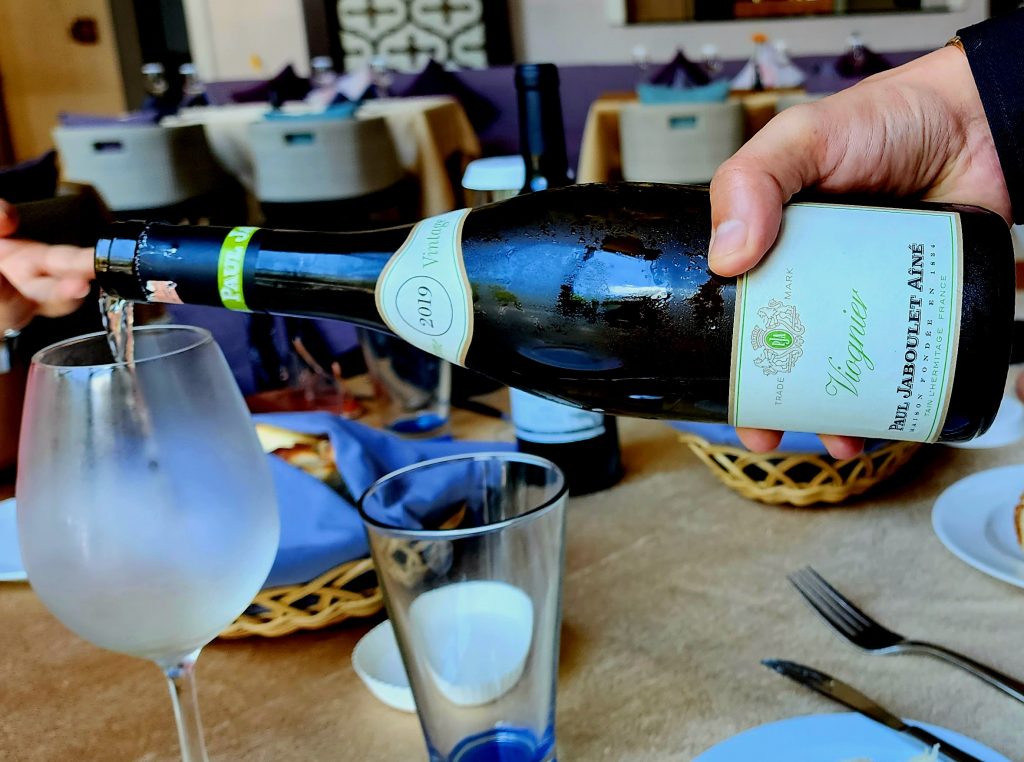 This was followed by an exceptional Australian Rib Eye cooked perfectly; the steak was tender, juicy and flavourful, with a lovely sear. This was accompanied by a 2020 Red Mountain Estate Cabernet Sauvignon from the Shan Hills in Myanmar, which was all black currants and forest berries with a hint of mint sauce, wood spice and lashings of toasty new oak.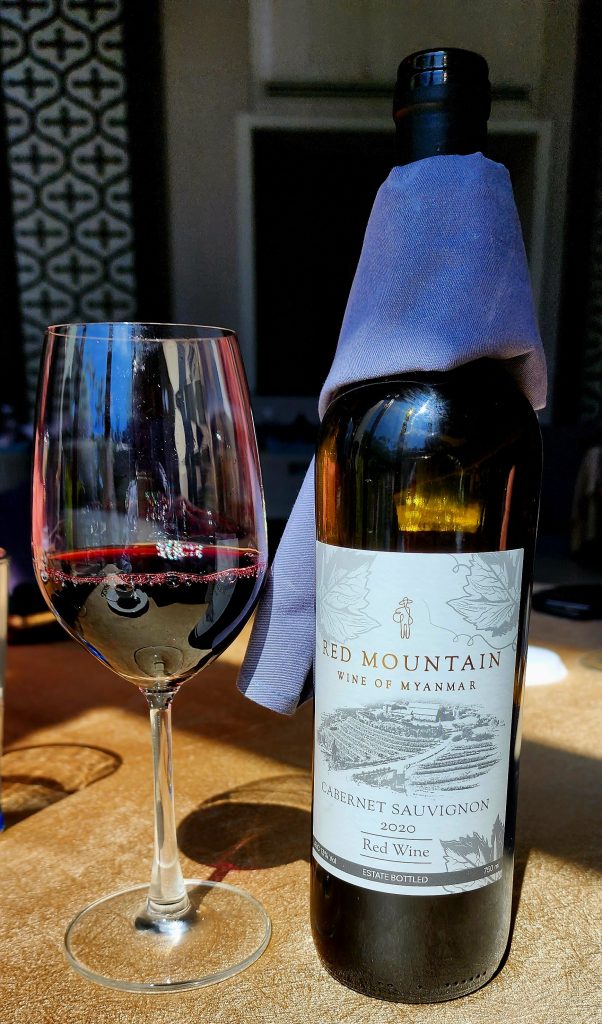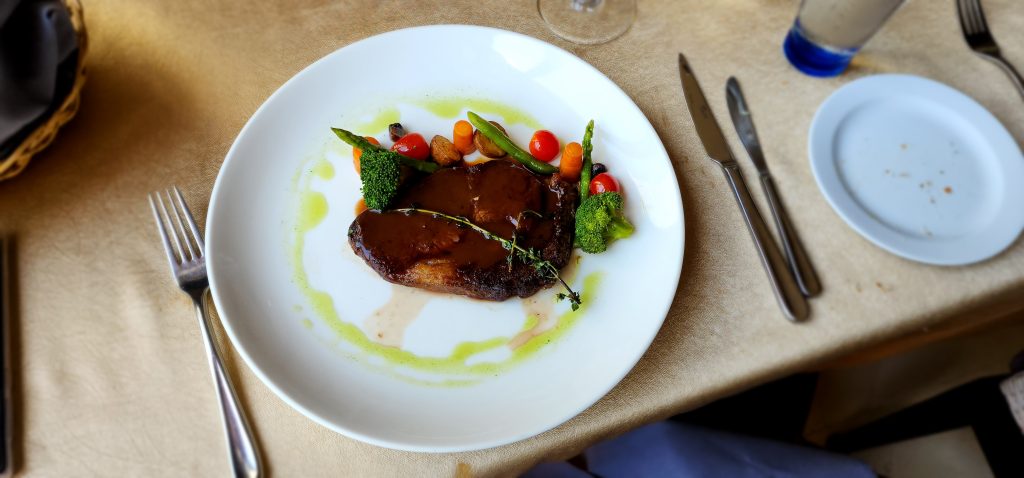 After coffee and crème brulee, it was time to bask in the joy of a fine repast, the company of a charming host, the pleasure of exceptional hospitality and the peace and calm of a well-appointed property. It had already been a very special day.