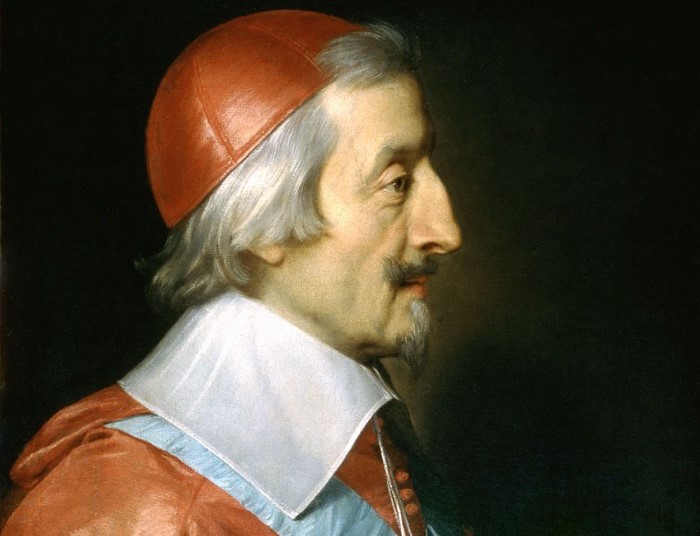 The Cardinal's Slipper
Pantoufle du Cardinal
"Wine is the intellectual part of a meal while meat is the material."
Alexandre Dumas
Dumas
The name Alexandre Dumas is writ large across French history through the late 18th and the 19th Centuries, beginning with Thomas-Alexandre Dumas Davy de la Pailleterie, (1762–1806) who was a General in the French Army during the Revolution. Born in Saint-Dominge, (now Haiti and the Dominican Republic) his father was a white nobleman and his mother a black slave. He was the first person of color to achieve the rank of General in France, and right up until 1975 he was the equal highest-ranking officer of sub-Saharan African descent in all the western world.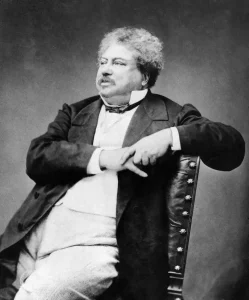 His son, Alexandre Dumas Père (Father), (1802-1870) was born with the name Dumas Davy de la Pailleterie, but would go on to be remembered as one of France's most prolific, enduring, and widely read writers -under the name Alexandre Dumas. Dumas penned many successful plays before releasing high adventure, historical novels such as The Three Musketeers, The Count of Monte Christo, The Corsican Brothers, The Man in the Iron Mask, and The Black Tulip, his most famous amongst many, many works. He was the most prolific of writers, having written hundreds of books, plays, manuscripts, short stories, and articles. It is estimated that his work has been made into over 200 movies around the world, and 'lost' manuscripts were still being found at the end of the 20th century. His last book was only published in 2008, from a manuscript discovered at the beginning of this century.
Alexandre Dumas fils (Son), (1824–1895) the son of Alexandre Dumas Père, was also a playwright and novelist. He is best known for La Dame aux Camélias (The Lady of the Camellias), which was adapted as the opera 'La Traviata' by Giuseppe Verdi. He wrote many successful plays, which saw him dominate the French stage for most of the second half of the 19th century.
Alexandre Dumas Père is unquestionably the most famous of the three today, he was a larger-than-life character when alive -especially once he had enjoyed success- renowned as a host, gourmand, and connoisseur of fine wine, spirits, hashish, and women. Dumas was a member of the Club des Hashischins, a group that regularly met in Paris to smoke hashish. Along with Dumas, membership in the club was said to include: Victor Hugo, Charles Baudelaire, Eugene Delacroix, and Honore de Balzac. It has been estimated that Dumas had at least 40 mistresses and fathered at least four illegitimate children, although some historians claim there are several more.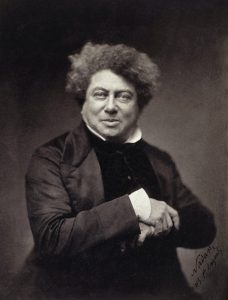 From his country house, known as Château de Monte-Cristo, Dumas would indulge his passion for cooking and entertaining friends. The English playwright Watts Phillips described him as "the most generous, large-hearted being in the world. He was also the most delightfully amusing and egotistical creature on the face of the earth. His tongue was like a windmill – once set in motion, you never knew when he would stop, especially if the theme was himself."
Dumas was known to all his friends as a great cook and aristologist, and he could often be found in his own kitchen when guests arrived for dinner. In 1858, Dumas published a conversational piece titled, "Causerie Culinaire,"; a meditation on his gastronomic life, including anecdotes and the odd recipe. This was followed by other columns on his favourite topic, which appeared in daily papers and weekly supplements.
In 1869, Dumas gathered up all his recipes, notes, and research papers and decamped to the west coast of France, where the great novelist set about writing what he considered would be his greatest work, a gastronomic magnum opus. Early the following year, Dumas sent the 1,150-page manuscript -complete with illustrations- to his publisher, Alphonse Lemerre; sadly, this moment coincided with the outbreak of the Franco-Prussian War, which saw the book set aside for a time. Alexandre Dumas died on December 5, 1870, whilst Lemerre could not manage to publish, Grand Dictionnaire de Cuisine for three more years later.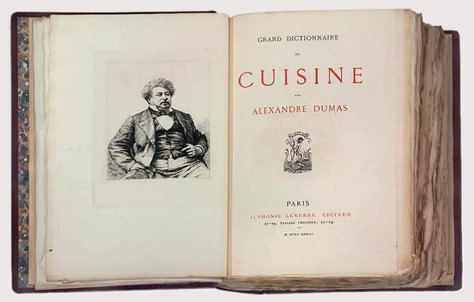 The Book contains recipes, society gossip, culinary history, and the writer's considerations on hosting and entertaining. It is not, as the introduction says, "a basic cookery book for an untaught bride." It has been said that Dumas wrote his novels because he needed the revenue, but he wrote his dictionary on gastronomy purely out of a passion for the work.
The book is a favourite of gourmands and Dumas' great passion for all things culinary comes through, 'Dinner', he writes is, "A major daily activity, which can be accomplished in worthy fashion only by intelligent people. It is not enough to eat. To dine, there must be diversified, calm conversation. It should sparkle with rubies of the wine between courses, be deliciously suave with the sweetness of dessert, and acquire true profundity with the coffee."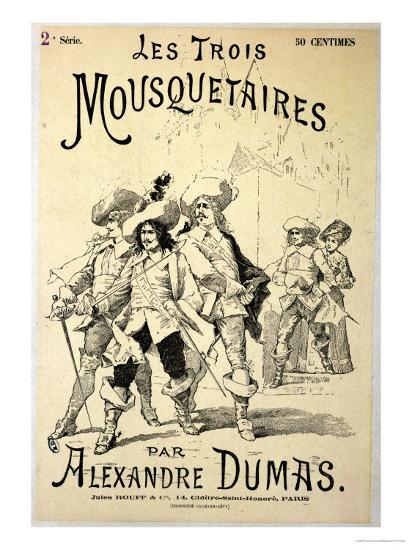 The Three Musketeers
An insight into Dumas' refined taste and love for food, wine, and the art of dining could be seen in his works, particularly the Three Musketeers, where their story often finds the heroes weaving through copious consumption, multiple feasts, and a great many bottles of fine wines.
The first edition of the story appeared in serial form in 1844 in the daily newspaper, Le Siècle. Set in 1600s France of the Ancien Regime; there were two follow-up editions to the story serialized in 1845 and 1847. Throughout the work, it often appears as though Athos, Porthos, Aramis, and young d'Artagnan had appetites and tastes as big and bold as their adventures.
A review of the book on "Goodreads" sets out the tone of the work as follows: This swashbuckling epic of chivalry, honor, and derring-do, set in France during the 1620s, is richly populated with romantic heroes, unattainable heroines, kings, queens, cavaliers, and criminals in a whirl of adventure, espionage, conspiracy, murder, vengeance, love, scandal, and suspense. Dumas transforms minor historical figures into larger-than-life characters: the Comte d'Artagnan, an impetuous young man in pursuit of glory; the beguilingly evil seductress "Milady"; the powerful and devious Cardinal Richelieu; the weak King Louis XIII and his unhappy queen—and, of course, the three musketeers themselves, Athos, Porthos, and Aramis, whose motto "all for one, one for all" has come to epitomize devoted friendship. With a plot that delivers stolen diamonds, masked balls, purloined letters, and, of course, great bouts of swordplay, The Three Musketeers is eternally entertaining.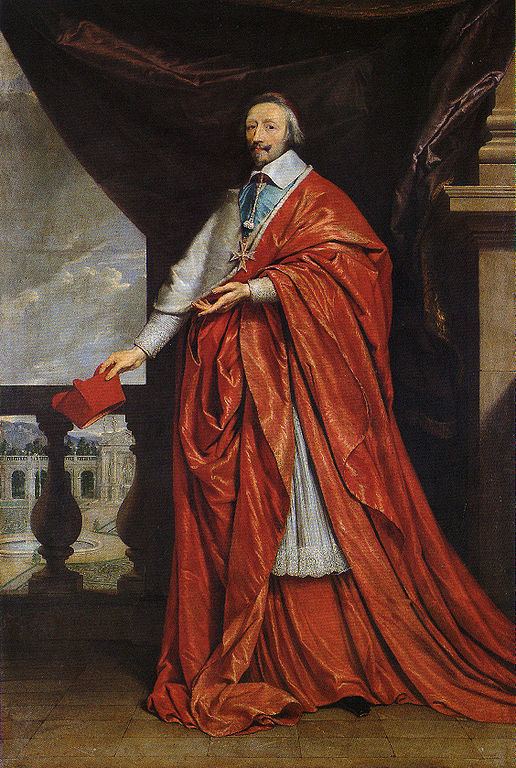 l'Éminence Rouge,
Set against courts of intrigue, corruption, and the indulgences of a royal house crippled by decadence and immorality; one of the great protagonists of the Musketeers is Cardinal Richelieu, l'Éminence Rouge, the king's chief minister, who plots against the queen in resentment at having his advances rebuffed.
The Red Eminence was more than just a character, so named for his status as a cardinal and the customary red robes they wore. Armand Jean du Plessis, Duke of Richelieu (1585 –1642), was consecrated as a bishop in 1607, appointed Foreign Secretary in 1616, and became a cardinal in 1622, and just two years later he was named 'Chief Minister' to Louis XIII of France.
In Dumas' novels, he is portrayed as a ruthless, manipulative, and merciless man driven by greed, lust, and a thirst for power. In real life, many historians claim him to have done more than anyone else to lay the foundations of French hegemony in Europe and of absolute monarchy in his own country. He was a spokesman for power politics, the idea of raison d'état, and the right of rulers to the unquestioning obedience of their subjects.
He was also, one of the richest men in the entire history of France.
His defenders against Dumas' portrayal of him as an infamous villain, would have him remembered as "a dedicated public servant loyal to king and country. A man of logic and reason, he transformed how we think about nations and nationality. He secularized wars between countries, patronized the arts for the sake of the public good, founded the first newspaper in France, and created France as the modern country we know today."
He established royal absolutism in France by suppressing the political power of the Huguenots and reducing the influence of the nobles. In foreign policy, he sought to weaken Habsburg control of Europe and involved France in the Thirty Years' War. Devious and brilliant, he increased the power of the Bourbon dynasty and established an orderly government in France. He also founded the Académie Française and rebuilt the Sorbonne.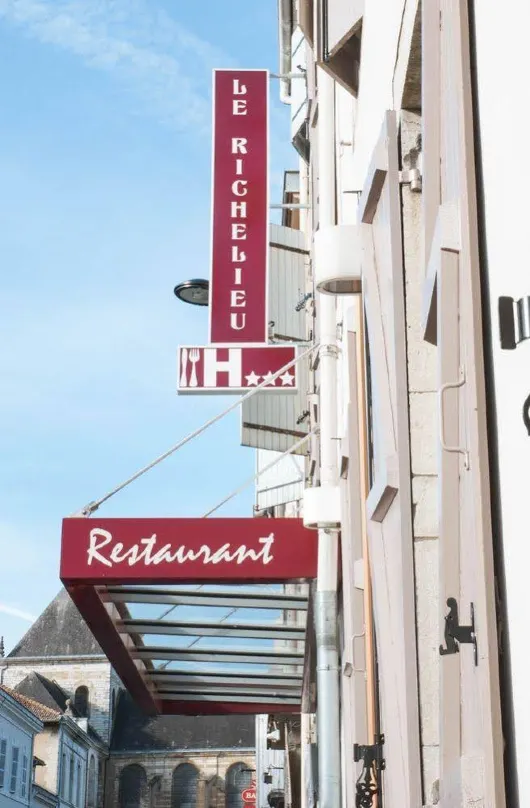 Hôtel le Richelieu
Master Chef Alain Darc, known affectionately as 'Papa' by many in Cambodia, is a celebrated and decorated career chef; literally born into the fine restaurants, hotels, and kitchens of France. Descended from a long line of chefs, winemakers, and members of the food and beverage industry, the Darc family can trace its culinary origins as far back as 1773, when an ancestor served as 'Officier de Bouche' to King Louis Philippe I. Alain's own father earned the highly coveted titles of Meilleur Ouvrier de France and Maître Cuisinier de France.
In 1936, Alain's parents moved from Orleans, on the Loire River near Paris, to the market and spa town of Dax in the southwest, near the Spanish border. In Dax, they owned the hotel and restaurant Le Richelieu, and it was here a young Alain would initially learn his craft, right from a very young age.
Alain Darc has enjoyed a long and celebrated career, both in France and abroad, it has been his mission to promote French cuisine around the world. He arrived in Cambodia in 2005, and as executive chef at Topaz restaurant, proceeded to introduce the kingdom to some of his highly acclaimed, signature dishes, originally created for Le Richelieu.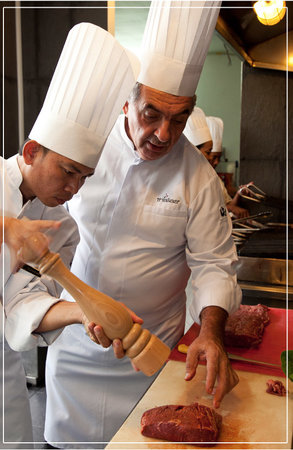 The Cardinal's Slipper
It is perhaps some insight into Alain 'Papa' Darc's humor, that whilst cooking at Le Richelieu he created a most remarkable dish, and then decided to name it after The Duke of Richelieu's evening footwear!
With his desire to create a dish that brought together two of the most celebrated ingredients of the southwest region, Mulard Duck, (and of course, their Livers) and Black Truffles, Chef Darc created this rich and flavourful dish.
Thick, slices of duck magret and duck liver are baked in a fine pastry dough and then cloaked at your table in a rich, reddish-brown, Perigueux sauce. The duck breast is tender, juicy, and flavourful, the foie gras rich, buttery and delicate, a fine pastry that is fresh and layered, the sauce, a lush and wonderful extravagance of Madeira and black truffles. A dish of absolute splendor and worthy of comparison to the 'Red Eminence'.
With a little imagination one can see the little pillow of pastry on the plate looking a bit like a certain type of footwear, hence Alain Darc's playful name, 'Pantoufle du Cardinal' which translates in English as the 'The Cardinal's Slipper'.