We are a quirky bunch, the loose band of long term expats in Phnom Penh, living contradictions with confounding habits and ridiculous routines. We meet change head on, take leaps of faith, embrace the new and stare challenges in the face. All the while seeking comfort and occasional refuge in the bastions and institutions that remind us of where we came from.  I am talking about those places that give us comfort food, classic dishes from the mother country, home cooking, old favourites, those places that deliver to us olfactory sensations and gustative experiences that release memories of smells and flavours from the beginnings of our time on this earth, that speak to us about who and what we are and affirm who we will always be, they remind us of where we came from and give scope and distance to the journey we have been on, they take us back to somewhere safe and familiar, to a time and place where we were unconditionally loved.
We lost one of those institutions recently, the apple fell to the ground bruised, yet sadly still whole, the arrow had missed its mark and pierced the boy's heart; William Tell is no more, a Swiss legend has fallen.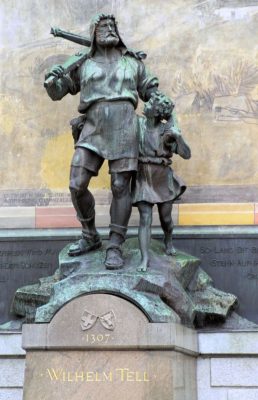 About once a month I and a friend or three would spend pleasant Sunday evenings in the comfort of the beer garden at Tell, getting our Schnitzel fix from the charming little Swiss restaurant that has sat in the street behind Le Royal hotel since the turn of the century. Owner / partner Urs Hauser was a charming fellow who has been coating his Schnitzels in blankets of breadcrumbs, flipping them onto their bellies and worrying them in his pans since 1999.
Switzerland and Cambodia share a strong connection, Doctor Beat Richner who built and continues to be the driving force behind the Kantha Bopha Children's Hospitals hails from Switzerland and Cambodia's greatest architect of the modern era, Vann Molyvann spent a great deal of time there whilst in exile and is married to Swiss compatriot Madam Trudy Vann.
Tell restaurant has had a long and steady following of Khmer and expat clientele who enjoyed it for its quaint charm, its humble authenticity and its delicious, Swiss cuisine.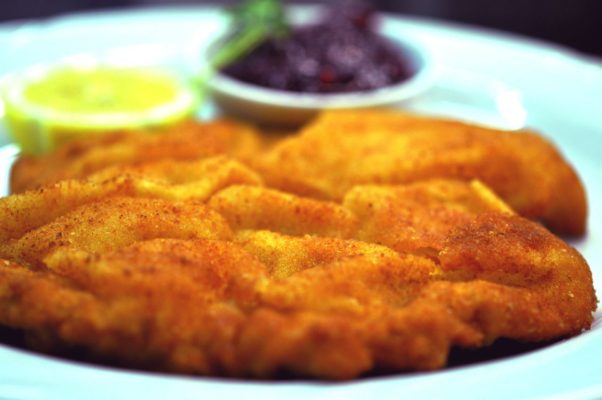 Weiner Schnitzel was always the hero for me at Tell, perfect schnitzel is created when the meat is pounded lean and then left to 'salt' for a while, flour is then rubbed into every nook and cranny -all done to draw the moisture to the surface- then a quick egg wash and well coated with fresh crumbs, no seasoning. Once crumbed, the fillet is 'worried' in the pan and as the moisture between the protein and the covering begins to steam it lifts and gently creases the crumb coating; this is just one of the many secrets of a perfect schnitzel, Tell of course knew this very well, no one else in the capital came even close to matching its quality and dependability.
For around $8 you would get a delicious schnitzel that took up half your large dinner plate, any smaller and Urs would give you two pieces instead of one, then there would be the potatoes, mashed, spaetzle or boiled with buttered zucchini, a lemon cheek, cranberry jelly and a boat of brown gravy that would make your grandmother weep with envy.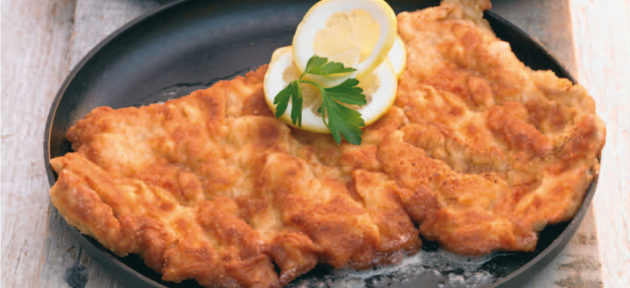 Sometime around mid-year Urs delivered the shocking news that he had sold the restaurant and in a few months it would be changing hands, he assured us that the intentions of the new owners were to be business as usual and keep it pretty much the same. Sometime around late August, early September Urs left and the restaurant soon closed for renovations.
Inside, the old Swiss chalet has been tidied up and largely preserved, the beer garden outside has undergone a much needed renovation, the long, enclosed private room along the back wall ripped open and an attractive looking, open bar section installed giving the place a more modern, sharper image.  Late September I somehow copped an invitation to taste off the food from the new kitchen and I felt it was consistent with the original cuisine; I was happy enough and could envision no disruption to my regular schnitzel routine.
Last night, I and three other lads, (two expats and one returnee local) ventured to Tell for our first proper schnitzel night since it had changed hands. It devastates me to tell you that it was a complete disaster, at first I found it hard to believe, I could not comprehend what was happening, it was like some tragic comedy routine, was I being punked? I just could not imagine it going any worse, seeing something I held so dear being so erroneously disregarded, disrespected, even trashed! I was crest-fallen, somewhere well beyond disappointed, there was no space emotionally for outrage or indignation, I was just utterly and completely sad, because I knew right then that it was gone, Tell was gone and it was never coming back again.
Firstly, Tell is no longer about over-delivering on value for money, when your $8 schnitzel goes up to $15 you need to be able to justify it on the plate. My senses were tingling when I noticed a couple of wines that sell for $35 to $40 on wine lists elsewhere listed here at $58 plus.
My schnitzel order consisted of slices of boiled potato with a bland gravy, no greens or any other vegetable, a small wedge of lemon, no cranberry jelly and two kidney shaped schnitzels that were smaller than my smartphone, If they told me they had accidentally served me a dish from the kids menu It would actually have seemed less surreal!
The recipe for the crumbing and seasoning has changed, my dish was as dry and flavourless as old cardboard and there was not one single redeeming feature that even remotely resembled the love and happiness on the plate of Tell dinners past. There can be no pride in this food, twice the cost for less than half the original dish and not one tenth of the flavour, I fail to comprehend how something so charming could be rendered so horribly mean and distasteful.
There can be no more schnitzel nights at Tell, I can't see how any of the regulars would be happy to remain. The only thing certain in life is change but its not always progress. Even though the nostalgia for an older, vanishing  Phnom Penh remains the high rise construction, snarling traffic and neon signs remind us that there can be no turning back. Whilst we are free to hang on to our cherished memories, sentiment is a currency not traded in by everyone.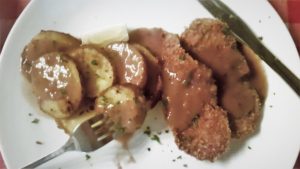 Save
Save
Save
Save
Save
Save
Save
Save
Save
Save
Save
Save
Save
Save
Save
Save
Save
Save
Save
Save
Save
Save
Save
Save
Save
Save
Save