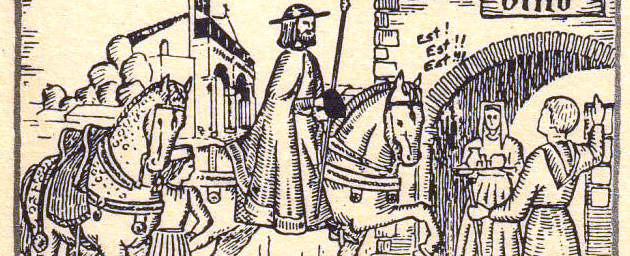 Est! Est!! Est!!!
A Legend of Monte Fiascone
The following excerpt is from The New Monthly Magazine & Humorist,
-edited by Thomas Hood Esq. and published by Henry Colburn, Great Marlborough Street, London.
1841 –part the third, page 538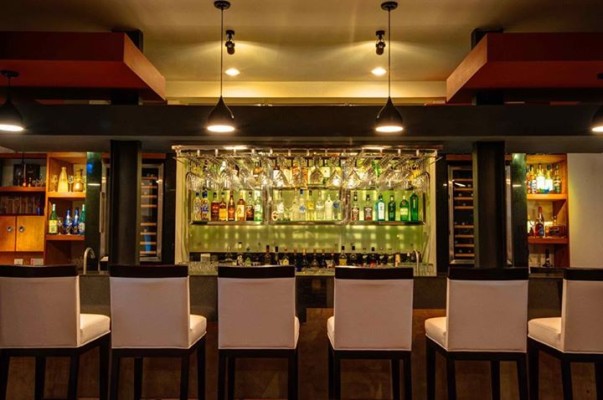 Did you ever, good reader, forsake your snug home,
And start off on your travels to Florence or Rome,
Leaving Middlesex, Surrey, Sussex or Kent say,
Via Marseilles and Leghorn for 'Bella Firenze'?
Then tired of praising, the Venus and gazing,
At the pictures and statues, (You should spend ten days in examining well the chef d'ouvuers of the gallery,
At least say Starke, Forsyth, Eustace and Valery)
Did you ever resolve to quit flower-girls pretty,
And all the delights of this lovable city,
For the gloomy Campagna, where for miles you see no,
human face, save the phiz of your own vetturino?
If you know the route well, you'll remember Sienna,
Perhaps Ridicofani too and Boslena,
(Where the fish are so plenteous and when nicely dressed,
So tempting but mark me! They never digest.)
If the high road you take,
By the side of the Lake,
Where the ground is so stony and steep you may make,
Your mind up to many a jolt and a shake,
And find to your cost, when next mourn you awake,
From head to foot you can do nothing but ache,
Ten mile further on you'll discover a hill,
If no earthquake has moved it, you'll find it there still,
It seems but a hop,
From the base to the top,
From the valley were wild goats the scant herbage crop,
The old church above, (where I know to be a nicety)
Every night at eight, the priest says, "Benedicite",
Now I hope you will know he, Faben Cicerone,
Who so well describes Monte Fiascone:
But stop for fear echo perchance should say you,
As befell Joe Miller, Porson's dull crony,
So I'll pocket my glory,
And now to my story
Though as you may perchance love the fair sex, like Rory,
O'more I may add, that the lasses here wear Bow
Not unlike the costume du pays at Viterbo.
With the old town my legend has little to do,
But as chroniclers should strive to mingle the
utile dulci, I may,
Crave a moment's delay,
While a word on statistical matters I say,
By deep calculations that error defy,
Tis proved that inhabitants live till they die,
Dine contented on broth, when they can't afford meat,
And piously fast, when they've nothing to eat:
In short their condition is proved to be tolera-
ble, Save in seasons of fever and cholera.
By the roadside there stands a low house, not a great way,
(Say two hundred yards) ere you come to the gateway,
As the path is steep and the streets are so narrow,
That there's scarce room to pass for a cart or a barrow:
Some philanthropist worthy, in spite of all cavillers,
Founded this inn to accommodate travellers,
How long ago,
T'is not easy to know,
As no record exists, the exact date to show,
Save tradition alone; therefore all I can venture is,
Simply to add, its age may be three centuries,
But now if you chance, the said building to view,
You may stare and exclaim, "Why it looks just like new!"
You are perfectly right,
But it stands on the site,
Of the Inn, where occurred what I'm going to write"
Though the groundwork be strong and the architect clever,
We all know the best houses won't last forever,
On a fair summer's eve, many long years ago,
Slowly mounting the hill from the valley below,
A mule far more lean,
In the distance was seen,
On its back sat a stranger of dignified mien;
And as by degrees, he ascended still higher,
His costume proclaimed him a jolly fat friar.
At the ancient Inn door,
Full twenty or more,
Merry peasants were chatting their working day over,
You might tell by their eyes,
Brim full of surprise,
They had never seen a mule of respectable size,
None except their own beasts all ill fed and bony,
From constantly climbing up Mount Fiascone.
Meanwhile the fat friar, dismounting with care,
Looked round with a very disconsolate air,
(Like a lady about to sing, Robin Adair),
At the old building crazy and out of repair:
The dirt of whose walls ample witness could bear,
The hand of the white-washer never came there,
Now the host all this while could do nothing but stare,
At the corpulent monk, (in a region so bare-
And sterile fat friars were probably rare-
Though now they are plenty and hundreds to spare),
When a voice that might startle the most hardened sinner,
Roared, "Stable my mule and then being me some dinner"
In haste to obey,
The stern order, away
All scampered and while some brought oats, corn and hay,
And piled them up high,
In a manger hard by,
Others rushed to the kitchen to roast and to fry,
Boil, bake, hash and mince and make pudding and pie;
Till in less than ten minutes (fact almost incredible)
The table was covered with luxuries edible:
Fish, flesh and fowl, pate, omelet and brains,
Calf's head and stewed fruit and soup made of grains,
Olives and then to complete the 'Sum Tottle'
A half litre of old wine in a huge whickered bottle.
Not a word did the monk say while carving and tasting,
His time and his breath he had no notion of wasting;
For sage Brother Hermann,
Was a regular German,
And ate like a barrister keeping his terms,
An ox or a sheep-if the legend we credit,
And surely tis' fact or, he would not have said it,
It's just possible though. That perhaps a sheep's head he meant,
As a bonne mouche to him was no impediment,
He paused with a sigh,
And his uplifted eye,
(Till then fixed on his plate) chanced a flask to espy;
He grasped its thin neck and then held it up high,
Gave a nod to the host, who was wandering by,
Then drank, nor drew breath, till the bottle was dry,
Ha! Ha! Gott sey Dank,
Em himmlischer trank!
Fain would I swim in it like fish in a tank!
The bouquet how fine,
The gout how divine,
Per Bochco, I vow tis more nectar than wine.
"I've tasted Chianti I've quaffed 'Pulciano',
And bright Orvieto and rich Formiano,
I've tippled in Venice, sul mar Adriatico,
Aye, and in Florence I've sipped Aliatico,
And in my own land I've drunk Rudescheimer,
Stein and Tokay, Aschmannshauser, Hocheimer!
A Pilgrim I've been,
Ever changing my scene,
In search of the best and I've found it I ween.
Wherever in my travels, I've met with a good wine,
On the wall behold 'Est' written once as a sign,
That a man can do no better than to stay there to dine;
When 'Est, Est' appears, tis a fancy of mine,
Whereby all who pass, if they choose may divine,
That a judge has pronounced the whole stock superfine.
But hark ye mine host,
Tis for you friend to boast,
For truly, between you, me and the post,
Compared to this wine they are not worth a heller,
So write Est, Est, Est and bring up your whole cellar!
Up they came, two, three, four,
Till they made up a score,
Of dusty necked bottles all arranged on the floor,
While the monk kept incessantly shouting for more,
Shr gut and hurrah and bravo and encore!
He soon finished seven,
Nine, ten and eleven,
Till like Ali Baba, he felt close to third heaven,
Then he tried, (for the wine made him excited and merry) to
Stand up and dance a pas seul a la Cerito,
Night fled and t'was day,
And the fat frier lay,
Like a soldier after a hard fought fray,
Twenty broken bottles confessed his sway,
For all were as dry as a sack of hay,
And ten other friars of orders grey,
From the time worn convent, bent their way,
For brother Hermann's soul to pray,
And twenty thousand masses say,
(For which half the gold in his purse would pay-
The innkeeper smuggles the rest away)
And they bore him along in sad array,
To the old church vault, were tis said you may,
His tomb (by a fee to the clerk) survey,
And sigh as you think of the friar gay,
Requiescat in pace perpetua!
If more you would hear,
How once every year,
The monks young and old, at his grave will appear,
And piously stand,
Each a bottle in hand,
Till the Abbot gives loudly, the word of command,
When out fly the corks and out streams the libation,
Twenty bottles at once a complete inundation;
If this you could learn and moreover discern,
'Est, Est, Est' on the wall take a trip and return:
But while you are there,
Of temptation beware,
One flask at a time to your own single share,
Is as much as your brains or your stomach will bear:
But one short word of advice, verbum sap,
Be sure what you drink is the friars old tap.
Est is a Latin term, in English it means simply 'It is'.
This apocryphal tale begins in a small commune along the road from Rome to Siena; on the rise of the volcanic rim that houses Lake Bolsena you will find interred in the San Flaviano church of the village of Montefiascone, the once bloated and grotesque body of the German Bishop, Hermann Defuk, (or Fugger), whose tomb may still be visited to this day.
The Bishop was traveling to Rome around 1110 AD, on his way to the coronation of Henry V as Holy Roman Emperor; Bishop Hermann was known to be fond of good food and especially a lover of fine wines. So much so, that he would send his majordomo on ahead to locate the best inns and taverns along his given route and ensure that the wine was Vinum est bonum, the best.
This must have been a fairly arduous task for the Majordomo, having to eat and drink his way through town after town to find the best places, then having to remember which was which and how to find his way back to them later. He devised of an ingenious plan to be able to relocate the best places, in spite of any self-induced amnesia. He then took to marking the door or wall of the best places with the simple word Est, (it is) so it would be easily recognized by the Bishop when he finally arrived.
Now there might have been something in the name of the village Montefiascone that caught the Bishop's attention, for in English, Montefiascone literally translates as 'Wine Bottle Mountain' and when he rode his mule into town, there on the wall of its best Inn was the now infamous words Est! Est!! Est!!! Complete with three exclamation marks for added emphasis.
So impressed was the Bishop with the wines and the hospitality he promptly cancelled the rest of his journey and never left the village again, spending the rest of his short life over eating and drinking far too much of the local wine. It is true that the Bishop may have only enjoyed a few short years in Montefiascone however, we are guaranteed that he died fat and happy.
Sophisticated Chill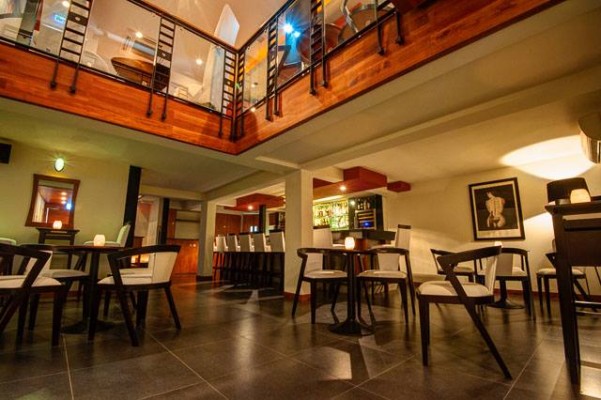 The new cocktail lounge and supper club in Phnom Penh, simply named est.bar, blends great style with a certain comfortable panache.
The enchanting garden walkway and imposing pivot door lead to a discreet urban space that offers an edge in class and raises the bar both literally and metaphorically with its level of investment, flair and the originality in its conceptual elements, including the atrium design, second level bar and veranda over the garden.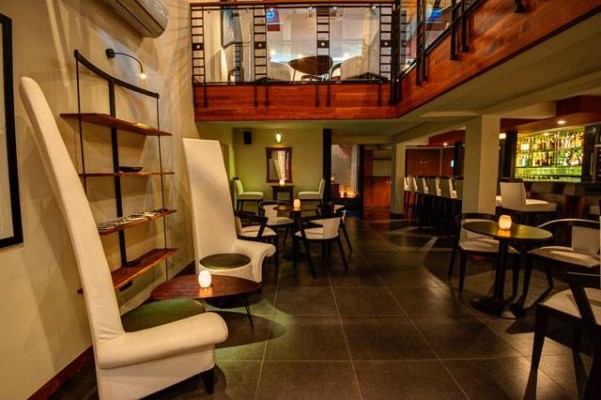 The kitchen serves pacific-rim and European inspired sharing plates and tapas, whilst the friendly bar staff offer a wide range of classic and contemporary Mixology. There is a tight, intriguing wine list and a good top shelf of boutique and artisan spirits -which seems to be expanding every time I visit the place.
House grooves are usually of the 'deep' variety and have a nice edge without stealing up the all conversation in the space; which is a good thing because Est is a bar where people like to chill and talk, drink, laugh and snack.
The venue is perfect for groups of friends, colleagues or associates if alone no need to worry, you are bound to bump into someone you know when you get there.
Est is the kind of bar where you drop in to see whose here then kick your night up a level. This is a space where you transition from a few drinks with friends onto an adventure in the night. The crowd is eclectic, lovers in one space, girls night out in another, million dollar deals going down at the bar and a movie star in a quiet corner downstairs, est is as much a scene as a cocktail lounge and supper club but, here the style has substance.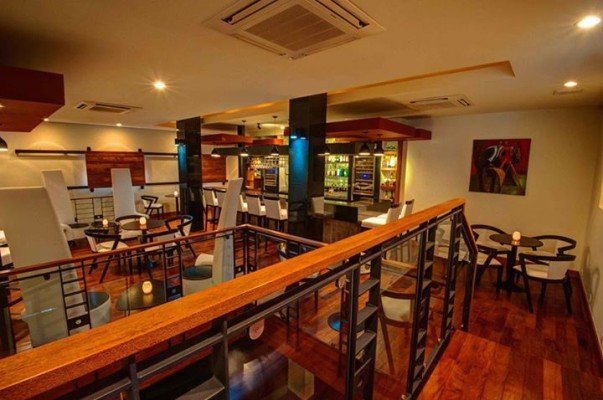 est. bar
Address: No. 19z, Street 214, Phnom Penh, 12211, Cambodia
Phone: +855 23 998 227
Email: [email protected]
Website: www.estbar.com