Tasmania is sometimes called the Apple Isle and was once known as Van Diemen's Land, it sits off the south east coast of mainland Australia and is a sparsely populated island, with large tracts of virgin forest, uninhabited by man. Its beauty lies in its quiet, open spaces, its crisp, cool air, its pristine forests, clean waters, slower pace and the sheer quality of its produce: from proteins like beef, seafood and cheeses to vegetables, truffles and of course, its incredible wines.
Many year's back, when Julian Alcorso still made the wine at Moorilla Estate and then afterwards when he no longer did -but friends of ours ran the property- I used to stay at either the old house down in the vineyard or, in a hotel not far away. Visits to Tasmania were spent working in the trade, wining and dining at Moorilla or exploring the food and wine around the island -fond memories indeed.
Sadly, I still cannot recall any story of Tasmania without being reminded of the darkest day in its modern history, The Port Arthur massacre, when a deranged young man named Martin Bryant calmly and deliberately shot and killed 35 people at this historic, penal colony, settlement site -a favourite with tourists at the time.
You see, I was there that dreadful day; I was even invited to go to Port Arthur on what for me was a day off work. I declined the offer simply because I was sick of cruising around in a car, which I had already been doing for days on end. I elected instead, to accept an offer to go and play golf, not knowing that the gifted new winemaker at Moorilla Estate, Jason Winter was intending to go there with his young family. Jason was new to the winery and I had only met him once, just to say hello however, such is the fraternity of our industry that -had I known he was heading there- I may well have decided to join him.
Tragically, Jason was one of the first killed on that terrible day, lost to inexplicable madness and to senseless gun violence, along with so many other innocent victims.
Just a day before I'd been sitting at his beautiful winery on the Derwent River comparing his incredibly good Merlot to mine, (his was just so much better). I can still vividly recall sitting in the lobby bar that evening, alone and numb, as national media personalities I'd just seen on the television began filtering in to the hotel. I was snapped back to reality when my father called from Melbourne and told me how relieved he was just to hear my voice and know that I was alive.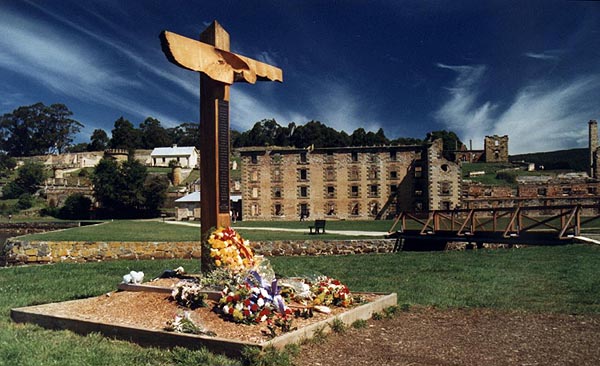 Whilst family and friends are aware of this story, I realize, after almost twenty years, that this is the first time I have ever written anything down about it, I am still turned stone cold at recalling the horror even now. I hope the reader will forgive me for letting it spill onto the page. Cathartic? Perhaps, and maybe necessary, so that Tasmania and I can finally move on, because she is deserving of so much more than this scar tissue in my memory.
On that fateful day I would become the second of my family line in 200 years, to have managed to avoid a date with Port Arthur.
John Gall, born in Brechin, Angus, Scotland in 1803 was sent to trial in Aberdeen in July of 1827 charged with committing crimes of a 'wicked, felonious, and heinous nature', the actual crime he was accused of was stealing four cows. John Gall was swiftly convicted and duly sentenced to be transported to the penal colony on Van Diemen's Land for the term of his natural life. He would never see his pregnant wife nor their three children again.
The Trial Judges were the Lords Pitmilly and Allway. This was John's first offense.   He was at once taken to a Prison Hulk, a dis-masted sailing ship afloat off Aberdeen Harbour. Hulks rode at anchor in main ports all over Britain and were used as prisons due to chronic overcrowding of the prison system.
He was moved south to Downs in England and was put aboard the prison ship "William Miles", an ocean going Convict Transport ship of 581 tons which was built at Bristol in 1808, Class E1, the ship's Master was G. Sampson. The ship sailed from Downs, England on 24th March 1828 carrying a full crew and 192 convicted men. Seven of these convicts died during the voyage. The "William Miles" made landfall at Hobart, Tasmania, on 29th July 1828.
John Gall can count himself lucky, that this was just two years before a timber station was established at Port Arthur on Van Deimen's Land, which three years later would be turned into one of the British Empire's most notorious prisons. Ironically, thanks to his recognized skills with cattle, John was given to a free settler to serve as a cattle hand, he served out his time doing pretty much what he had already done his whole working life, he became a virtual slave to the landed gentry.
Eventually, John Gall remarried; successfully petitioned for his freedom, (in the form of a pardon) and in 1846, sailed into Geelong, Victoria on the Australian mainland. He died a cattle-hand in 1880 in Allansfield and is buried at the Warrnambool cemetery.

For the most part, the Island's agriculture is still made up of small, hands on, family businesses, people with great passion and commitment. People that, more often than not, are here because they love what they do and endure; they are not farmers in order to make great wads of money. It's a lifestyle for these folk and the reward is in the sheer quality and uniqueness of what they produce: cool climate, clean air, handmade, unspoiled, highest quality product, which is becoming hard to find elsewhere.
Whilst the entire island could still be classified as 'boutique' the artisans do not get it entirely to themselves and mainlanders have begun moving in with their investment dollars and their corporate structures, focused on their bottom lines. Yet, there is still plenty of charm and plenty of quality to be had in sourcing food and wine from Tasmania.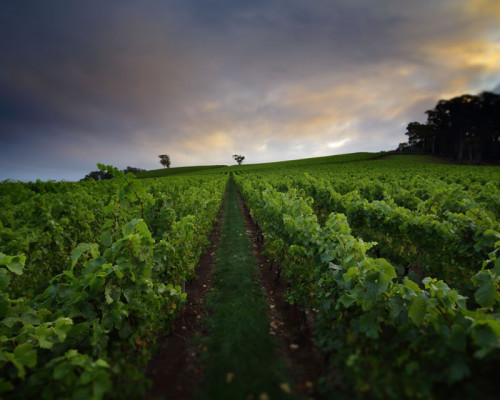 Finding the wines is not always easy, the island produces less than one percent of the nation's annual crush, most of its best efforts are reserved for selected high-end restaurants around the nation and increasingly, overseas. A significant amount of the wine available is also sold at the cellar door, to be hand carried home by culinary tourists.
The island's ultra-cool climate and long, dry winters -with their long cool daylight hours- are just perfect for producing exceptional quality Pinot Noir and some of Australia's very best come from Tasmania. The finest Tasmanian Pinot Noirs have an elegance and complexity all of their own, which puts them at the very top of the order of Australia's best regions for this variety.
The Piper's River wine region in the north east of the island is home to some of the preeminent wineries in the country, I recently tried the 2013 Dalrymple Pinot Noir and was immediately reminded of why -on the rare occasions I get to try them these days- I enjoy the wines from this region so much.
Like a big dollop of wild strawberries, maraschino cherries, boysenberry and clotted cream, with hints of spice, mushroom, undergrowth and some volatile acidity. This is a light to medium bodied Pinot Noir with lashings of flavor, a creamy entry, good length and nice complexity; the acetate notes add to the complexity to some degree, thankfully they are merely an accent here, not a major character. This wine is very easy drinking and just perfect with duck or pork dishes, preferably prepared with Chinese or Thai spices.