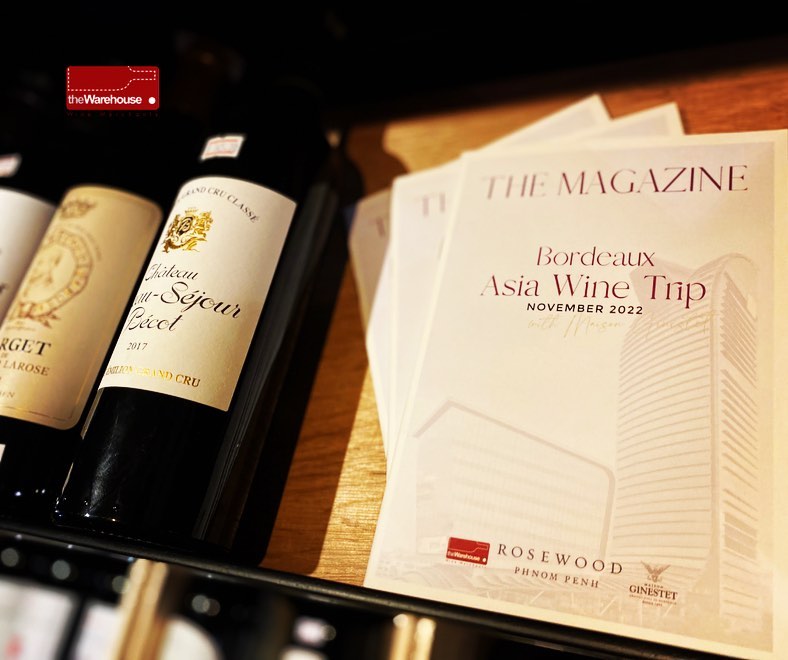 Bordeaux, Asia Tour 2022 – Maison Ginestet – Warehouse
Tasted on the 39th floor of the Rosewood Hotel, Phnom Penh Cambodia on the 25th of November 2022
Chateau Les Carmes Haut Brion – Pessac Leognan
The property was established in 1584, when Jean de Pontac, Lord of Haut-Brion, donated a windmill and several acres of vines on the banks of the Peugue river to the (Roman Catholic) Grand Carmelite Order in Bordeaux. The Carmelites owned and expanded the estate for two hundred years before it was seized during the French Revolution in 1791. Wine merchant Léon Colin purchased it in 1840 and renamed it Carmes-Haut-Brion, and his descendants, the Chantecaille family, built the existing Chateau and gardens at the beginning of the 19th century; this estate remained in the family until 2010.
Patrice Pichet acquired the estate at the end of 2010; the world-renowned and immensely talented Stéphane Derenoncourt is the consulting vigneron. A stunning, state-of-the-art new winery and reception area -designed and created by Philippe Starck and Luc Arsène-Henry- was inaugurated in 2016.
Château Les Carmes Haut-Brion is the only Bordeaux chateau to actually be in Bordeaux, a walled vineyard in urban surroundings. The soils are a mixture of gravel, sand, and clay over limestone, the varietal mix consisting of 40% Cabernet Franc, 18% Cabernet Sauvignon and 42% Merlot.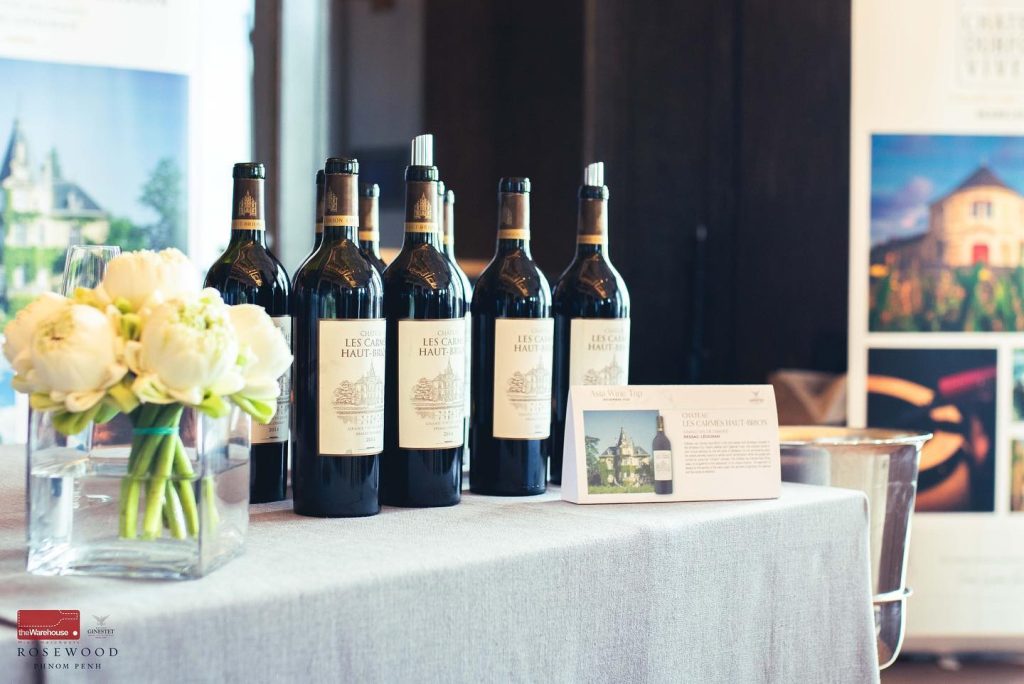 2017
Cabernet Franc 41%, Merlot 30%, and Cabernet Sauvignon 29%; about 40% whole bunch fermentation, aged for 20 months in French oak (65% new).
The wine displays elegant aromas of tobacco, menthol, black fruits and dried herbs, and a touch of cherry cola. A medium-bodied red with rich, ripe berries on entry, a focused purity of fruit defines this wine on the palate with fresh, fine tannins. A refined, attractive, and more immediate wine as per the vintage, there is loads of charm here for those who like the seductive allure of a lighter, earlier-drinking vintage.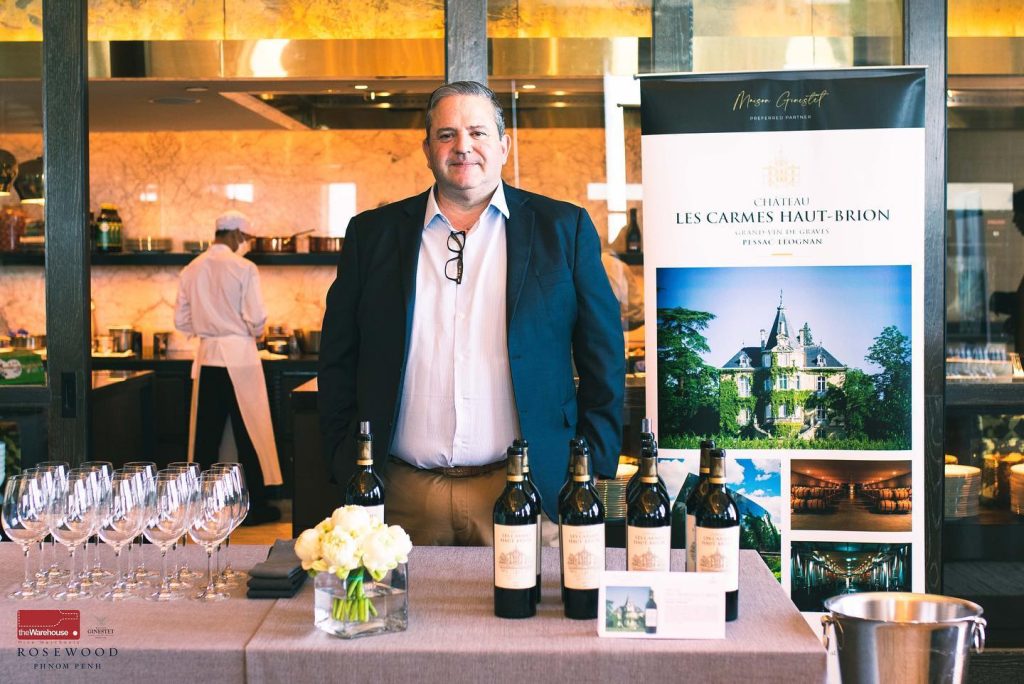 2014
Cabernet Franc 55%, Cabernet Sauvignon 15%, Merlot 30%, maturation took place over 24 months in a combination of 74% in 225 Lt barrels (80% new oak, 20% second fill), 16% in 12 hl tuns and 10% in 500 Lt barrels.
A fleshier and more robust wine with a bouquet of black fruits, violets, a whiff of graphite and a sniff of bramble. Solid depth with a generous dollop of black fruits mid palate with bitter chocolate and coffee grinds for complexity, good length and firm, ripe tannins. A magnificent wine that still needs more time.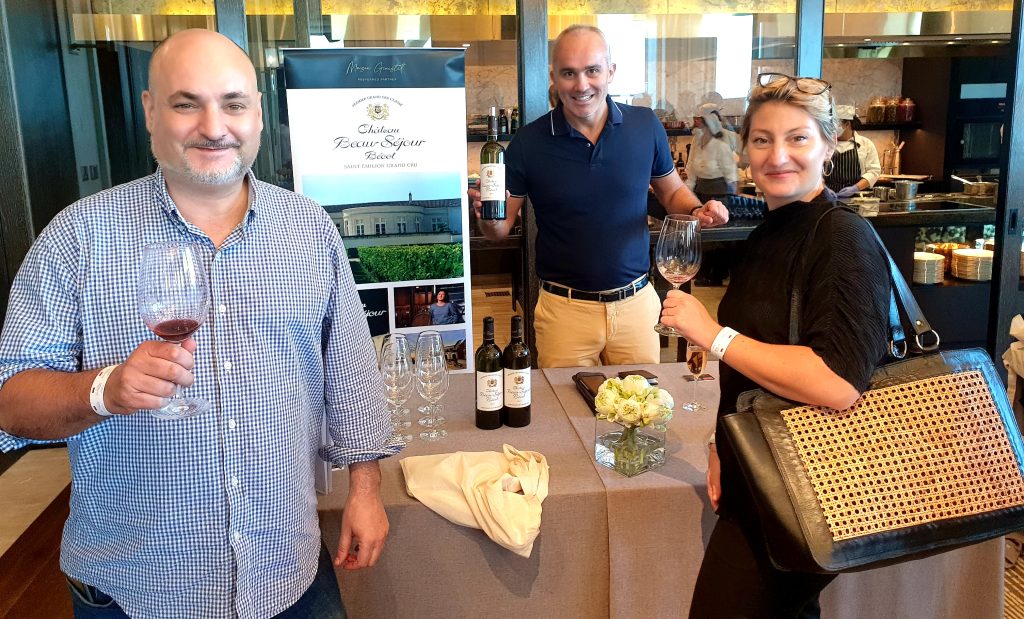 Chateau Beau Sejour Becot – Saint Emilion
Château Beau-Séjour Bécot was founded in 1969 when acquired by Michel Becot, who made a significant investment in modernizing the estate and its wines.
A vineyard cultivated by the monks of Saint Martin in the Middle Ages, the property underwent several changes of ownership, including being divided in two by the children of Pierre Paulin Ducarpe -whose son sold his half to Dr Fagouet in 1924 before being purchased by Becot.
Michel Bécot retired in 1985, and his sons Gérard and Dominique Bécot run the property.
2017
The vineyard area extends 16.5 hectares with a planting mix of 70% Merlot, 24% Cabernet Franc and 6% Cabernet Sauvignon. Maturation for this wine was 16 months in, 65% in new barrels, 35% vats, amphorae and 20hl tuns.
An elegant wine with lovely poise and grace, aromas are of boysenberry and mulberry, with hints of sour cherry and a touch of salty minerality. Medium-bodied on the palate, the wine shows good balance and lovely fruit notes of cherry, and red berries, with pristine clarity and ripeness; there are very fine, silky tannins and nice length.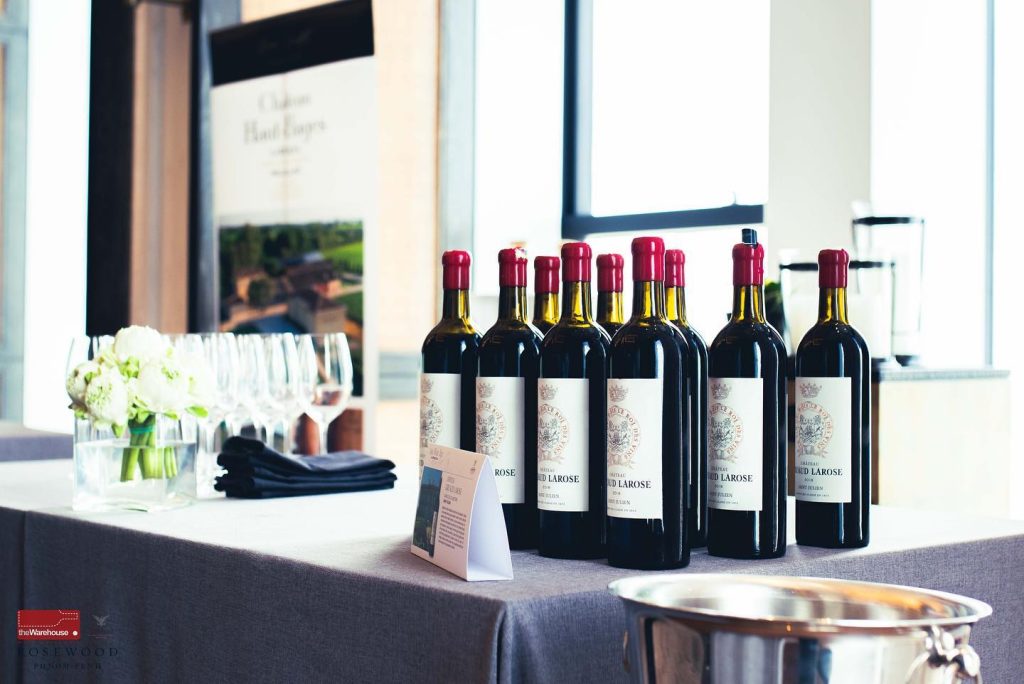 Chateau Gruaud Larose – Saint Julien
A knight, an abbot and a magistrate walked into a wine cellar. The property dates to 1725, when it was established by the knight Joseph Stanislas Gruaud; it was known as Fond-Bedeau, and administered by two Gruaud family members, one a priest and the other a magistrate. The magistrate, the Chevalier du Gruaud, died in 1778 and ceded his part of the property to Joseph Sebastian de La Rose, who renamed this property Gruaud La Rose or Gruaud-Larose as it has become.
In 1993, the property was purchased by the Taillan Group.
2018
Cabernet Sauvignon 67%, Merlot 24%, Cabernet Franc 9%, aged 18 to 24 months in French oak, 80% new, the remainder second and third fill.
Lifted aromas of ripe black fruits, sourdough, pencil shavings, roasted nuts and damp earth, the wine is powerful on entry, with a rich, creamy texture leading to a core of ripe berry fruity given further complexity by notes of cooking chocolate and coffee grinds. A luxurious Gruaud with depth, power and poise.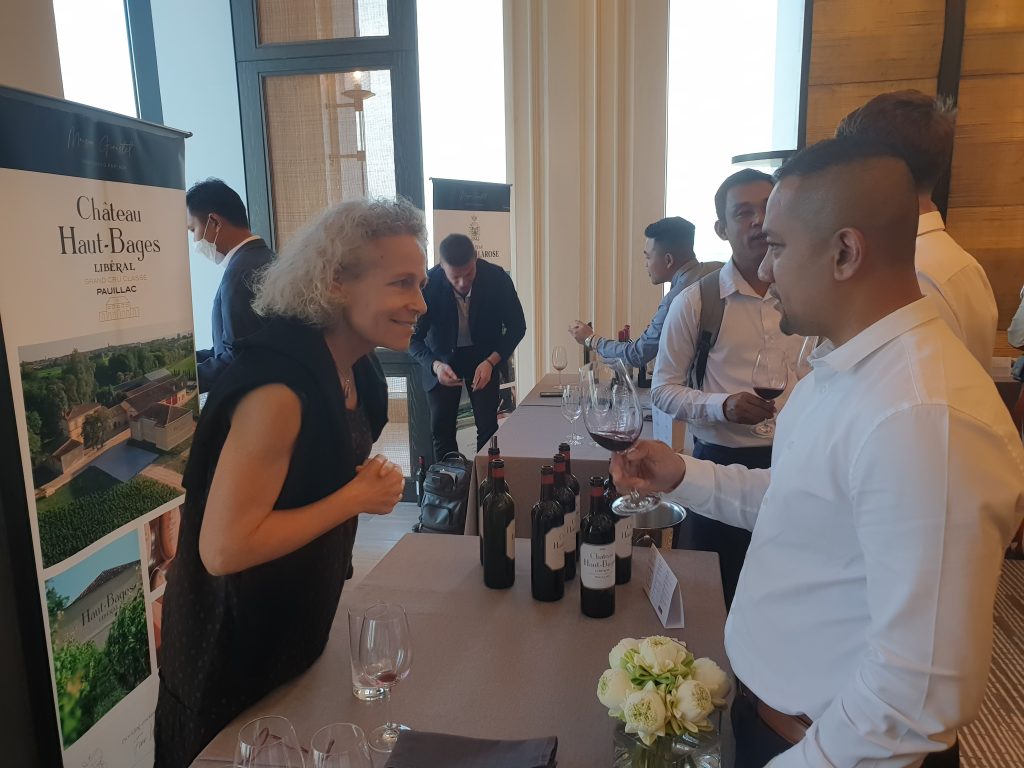 Chateaux Ferriere – Margaux
The estate is owned and run by the positively lovely, erudite and engaging Claire Villars-Lurton, who also somehow manages Château Haut-Bages-Liberal and Château La Gurge, and is married to Gonzague Lurton, who owns Château Durfort-Vivens.
The estate's name comes from its founder, Gabriel Ferriere, a royal in charge of the king's hunts during the 18th century. In 1777, he sold it to his cousin, also named Ferriere. One of them, (Jean Ferriere) would become mayor of Bordeaux after Robespierre's fall in 1795.
In 1952, Alexis Lichine took over the management of Château Ferriere as a farmer, vinifying all of the wine at Château Lascombes in Margaux.
In 1988, the Villars family purchased the vineyard and the buildings. Finally, in 1992 the agricultural lease ended, and the family could take over management of the property and carry out vinification themselves.
Chateau Ferrier is a small vineyard and a great terroir; the Margaux appellation has 21 classified estates, more than any other commune in the Medoc. Chateau Ferrier's 12 hectares is the smallest of all the classified growths of 1855, soils are river gravels over chalk; the vineyard is farmed biodynamically.
I had the great pleasure to taste the wines with Claire Villars-Lurton, who is herself a force of nature, from the Chateau's website:
Though she was born into a wine growers' family, Claire Villars Lurton did not intend to manage a property. She lived in Paris, where she had a master's degree in chemistry and physics. She was preparing a thesis in physics dealing with the preservation of old books at the CNRS (NATIONAL CENTER FOR SCIENTIFIC RESEARCH) when her parents died in an accident in 1992. She decided to get actively involved in the management of the family properties. She gave up her studies and joined her grandfather Jacques Merlaut to continue the work of her mother Bernadette Villars Merlaut.
With flawless energy and determination, Claire took control of Château Chasse-Spleen, which she has maintained at the top of the hierarchy of the Cru Bourgeois classification.
At the same time, Claire studied vine growing and oenology at the University of Bordeaux with outstanding professors such as Yves Glories and Denis Dubourdieu. However, her principal tutor was her grandfather, Jacques Merlaut. He taught her how to discipline her energy and sort out what is essential.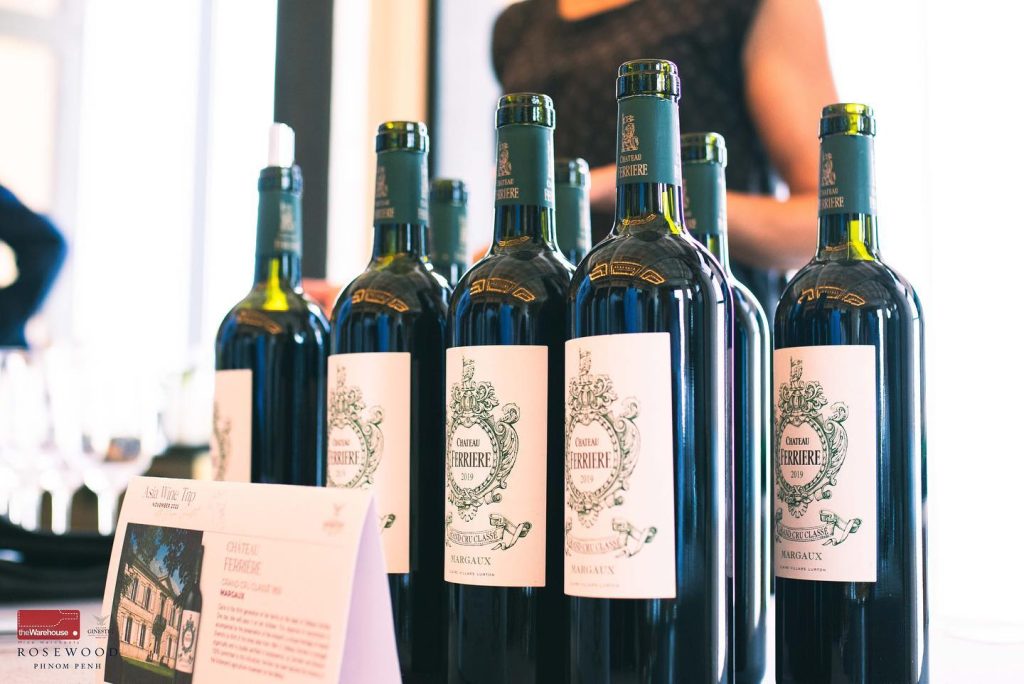 In 1994 she married Gonzague Lurton, the owner of Château Durfort-Vivens, a 2nd Classified Growth in Margaux. Together, they purchased Château Domeyne, in Saint-Estèphe in 2006 and the Trinité Estate vineyard in 2012. The estate is located in the North of California, and the property produces one of the most outstanding wines of Sonoma County named: Acaibo.
Since 2000, the year when the family estates were shared, Claire has been 100% involved in the management of the properties that belonged to her. Through her work, Château La Gurge has improved its elegance; Chateau Ferrière has found new youth-allying power and finesse. As for Château Haut-Bages Libéral, the wine completed its powerful Pauillac style with a touch of feminine elegance.
Beyond the technical improvements brought year after year to each of the properties, Claire's main achievement has been to make out the best of the great terroir under her care. According to Claire, biodynamic farming is the key to their success.
2019
Soils are deep gravels over limestone; the 2019 blend is made up of 70 % Cabernet Sauvignon, 25 % Merlot and 5 % Petit Verdot. Fermentation occurred in traditional concrete vats, and maturation was for 18 months in French oak barrels, 40 % of new oak.
Enchanting aromas of black fruits, violets, dark chocolate, a tinge of spice and a whiff of flint-smoke. The wine immediately shows its remarkable quality on the palate: complexity with balance, deft power with tremendous poise. The instantly attractive fruit has great depth and presence, but it also shows restraint; there is an elegance with lovely forest berries and ripe plum flavours given further complexity by notes of mocha, thyme and allspice. The tannins assert themselves but are fine, mature and integrated. The finish is a lingering potpourri of fresh, pristine forest fruits. Here is a wine all about grace and finesse.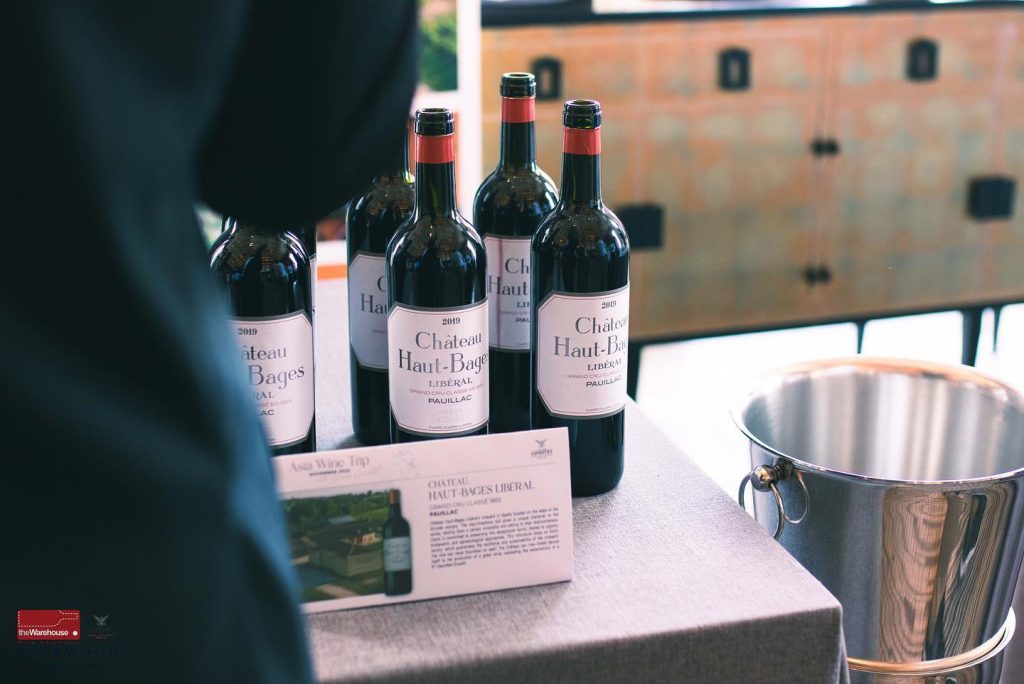 Chateau Haut Bages Liberal – Pauillac
The name Haut-Bages-Libéral is derived from the estate's location and historical owner, with Haut-Bages referring to its position at the top of the Bages plateau between Pauillac and St Julien and Libéral referring to the family who owned the estate during the 18th century.
The Libéral family settled on the estate in the 1700s but found itself battling wars, phylloxera and economic depression. The property was sold in 1960 and again in 1982 when it was acquired by the Taillan Group; Claire Villars-Lurton, also runs this estate today.
The estate has three vineyards; the largest is adjacent to Château Latour, and a smaller plot is very close to Château Pichon-Lalande near the river. The third plot is further inland, next to Château Grand-Puy-Lacoste.
2019
Cabernet Sauvignon 80%, Merlot 20%, aged for 16 months in French oak barrels, 40% new.
Classic Cabernet aromas of red and black currants, a whiff of mulberry and a touch of ripe fig and cedar, the wine shows brilliant, ripe berry flavours on the palate, wrapped in subtle oak and firm but fine tannins. A high-quality old-school Pauillac, the fruit was clean, ripe and attractive; oak was deft, doing its work in the background; tannins kept it all together without intruding on the performance. A very well-put-together wine with classic Pauillac power and grace.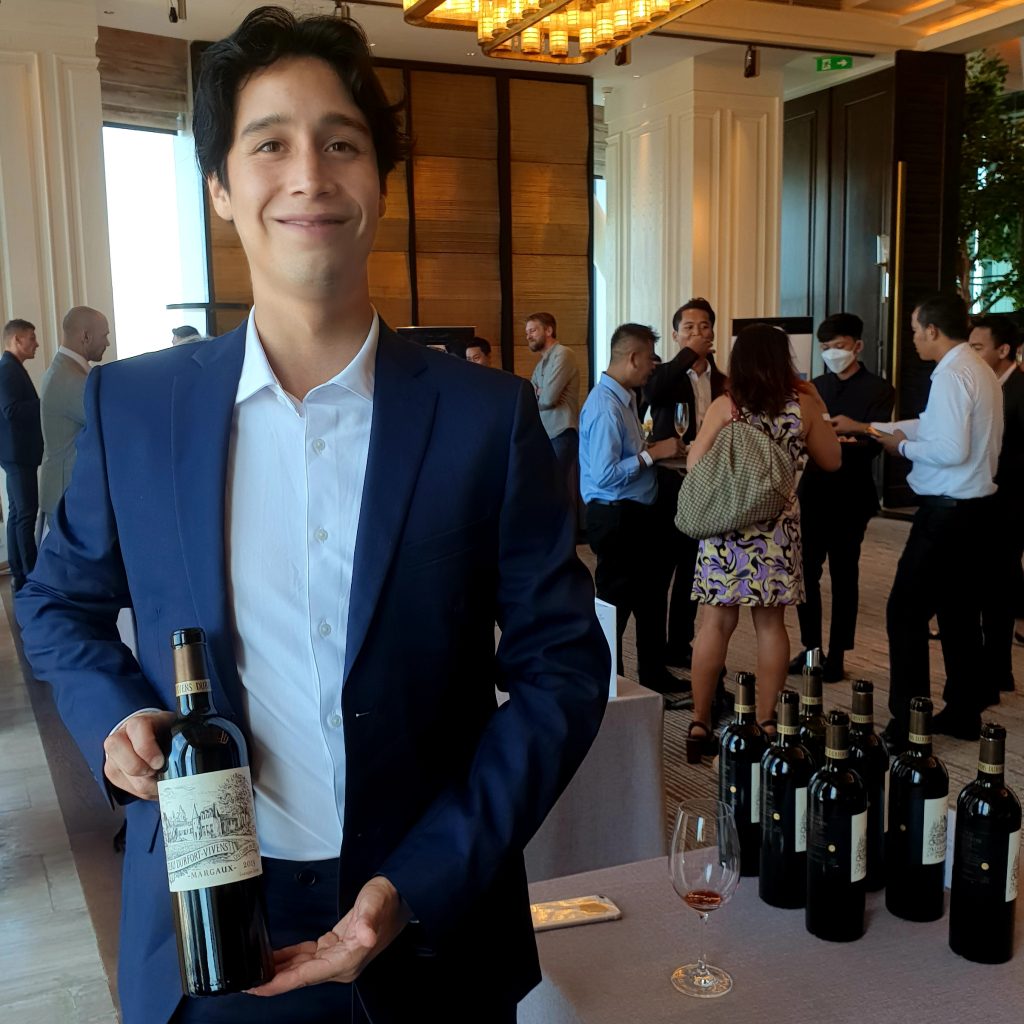 Chateau Dufot Vivens – Margaux
The Durfort property dates to the 12th century; it was owned by the noble and distinguished Durfort de Duras family for seven centuries. The family also owned the nearby Château Lamothe, later renamed Château Margaux. The property was purchased in 1824 by M. de Vivens and renamed Château Durfort Vivens.
Renowned for its quality in the 1800s, the 1844 vintage was priced higher than every other Bordeaux wine in the appellation, except for Château Margaux. Thomas Jefferson, the American ambassador to France and the future president of the United States, was a Bordeaux wine connoisseur and ranked Durfort Vivens directly after Châteaux Lafite Rothschild, Latour and Margaux in his travel diaries.
Maison Ginestet purchased the property early in the 20th century. By 1961, it had been purchased from Ginestet by Chateau Margaux, controlled by the Lurton family, who also own Château Brane-Cantenac and Château Climens. Until that time, the wine was produced at Château Margaux.
Lucien Lurton's son Gonzague Lurton became the head of operations in 1992; he is the husband of Claire Villars-Lurton.
2019
This wine is 92% Cabernet Sauvignon, 8% Merlot, with a third aged in terra cotta amphorae. The vineyard is farmed biodynamically.
On a night full of opera and arias, here was a touch of rebellion, la revolution and perhaps just a little new-wave punk. The wine is fruit to the fore, all blackberries, and cassis, with notes of licorice and lemon cola; there is also a whiff of bramble and the hint of a dusty road. In the mouth, the attractive fruit seeps into the middle palate, where a juicy dollop of black fruits oozes charm, tannins are barely perceptible but still there, whilst the lively acidity ensures that the wine remains nicely tight and well-balanced. At first, it felt like a perfect (take me, drink me) one-night stand, but this may well be a wine we look back on with great affection as the turning point in our future relationship with Bordeaux.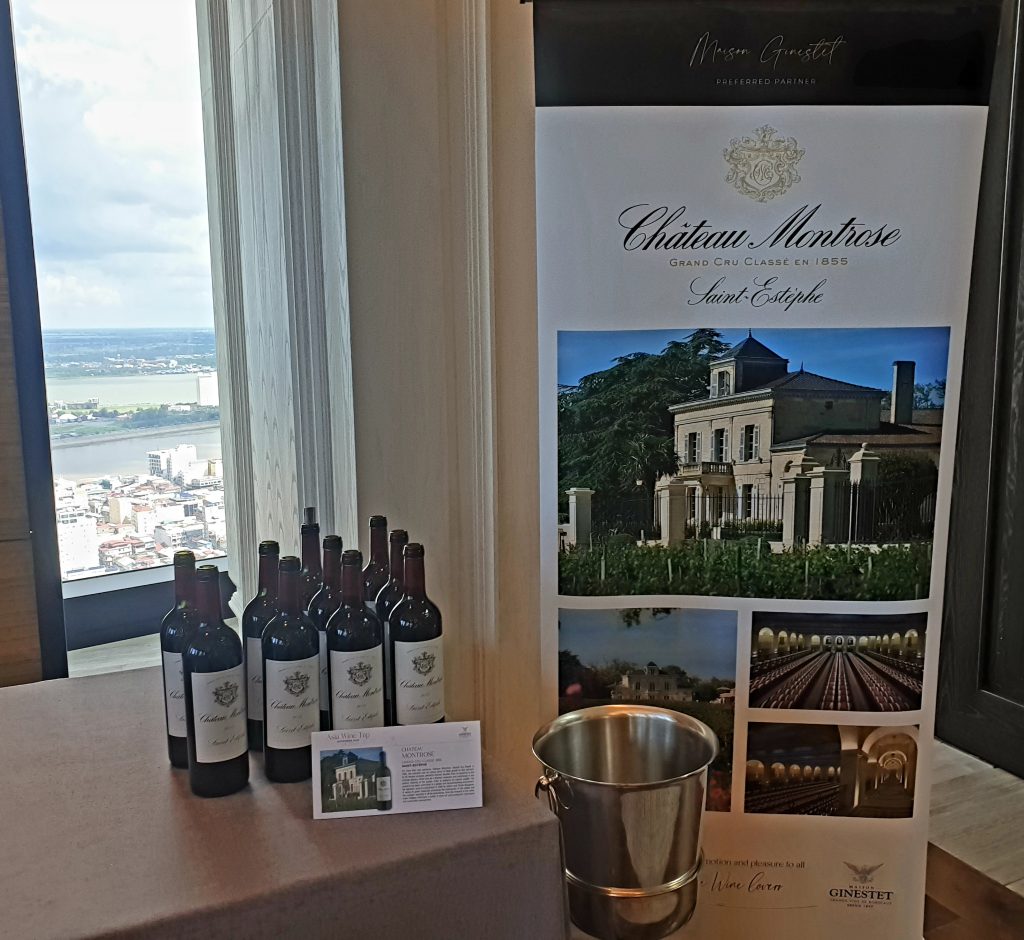 Chateau Montrose – Saint Estephe
Château Montrose has long been hailed as one of the great properties of Saint Estephe.
Whilst putting his recently departed father's affairs in order, Etienne Théodore Dumoulin discovered a patch of land everyone else seemed to have forgotten. It had been sold to the family by Nicolas Alexandre de Ségur and was now covered in heath, so in 1815, he cleared the land, planted the first vines, and then built the necessary buildings that would pass for the winery.
In the Official Classification of 1855, Château Montrose was established as one of only fourteen Deuxièmes Crus, (Second Growth), an extraordinary result given that the vineyard was less than 40 years old.
The Chateau then passed hands several times over the next century, yet always benefited from ownership by families who truly loved the estate, saw the potential in its wines and wanted to continue improving and upgrading -people like Mathieu Dollfus and the Charmolüe family. In 2006, Martin and Olivier Bouygues acquired Château Montrose, and aware of the potential of its unique terroir, they invested heavily in improving the estate, which included a breathtaking reconstruction.
The wines of Montrose have always been tannic and austere in youth, almost impenetrable, and yet they possess a remarkable ageing ability that can see them reveal their true charm after decades in the cellar. The vineyard sits about 800 meters from the Gironde estuary; the soils in the 95-hectare vineyard consist of a gravel knoll and then some black sand with a subsoil of clay and marl. The planting mix is 65% Cabernet Sauvignon, 25% Merlot and 10% Cabernet Franc.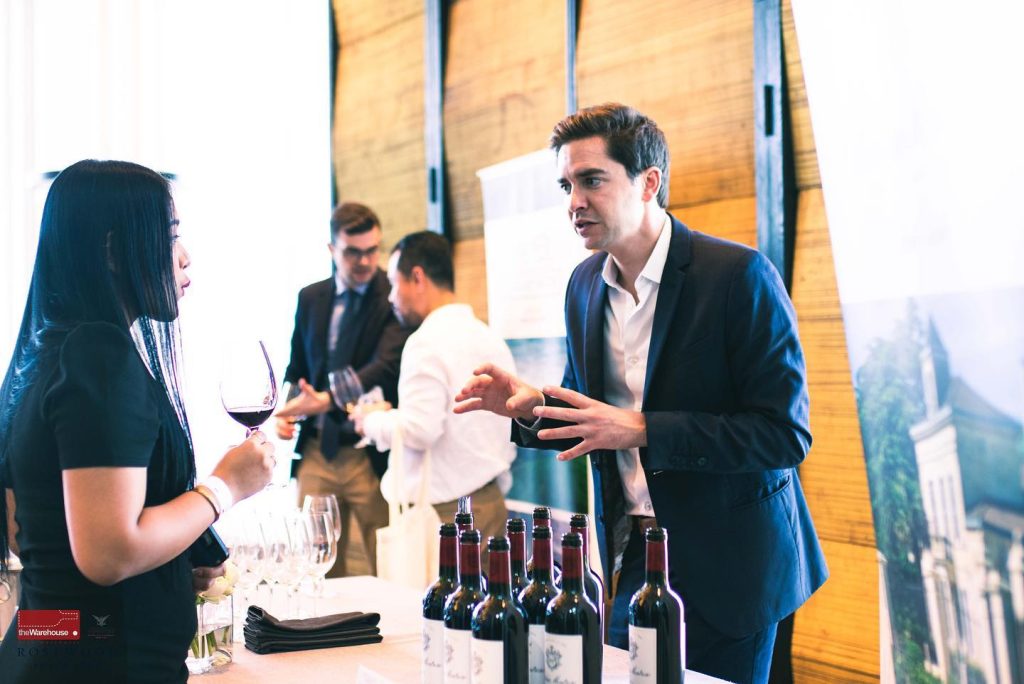 2015
67% Cabernet Sauvignon, 29% Merlot, 4% Cabernet Franc
A big, dense wine with aromas of dark fruits, plum, smoke, slightly over-toasted bread and a touch of star anise. On the palate, the wine is big, dark and brooding, just giving off a glimpse of its purple heart, wrapped in firm, integrated tannins; this is impressive depth and concentration with just a little old-school reduction and that classic St. Estephe structure. Still young but definitely not shy; this is a mighty Montrose from a majestic vintage.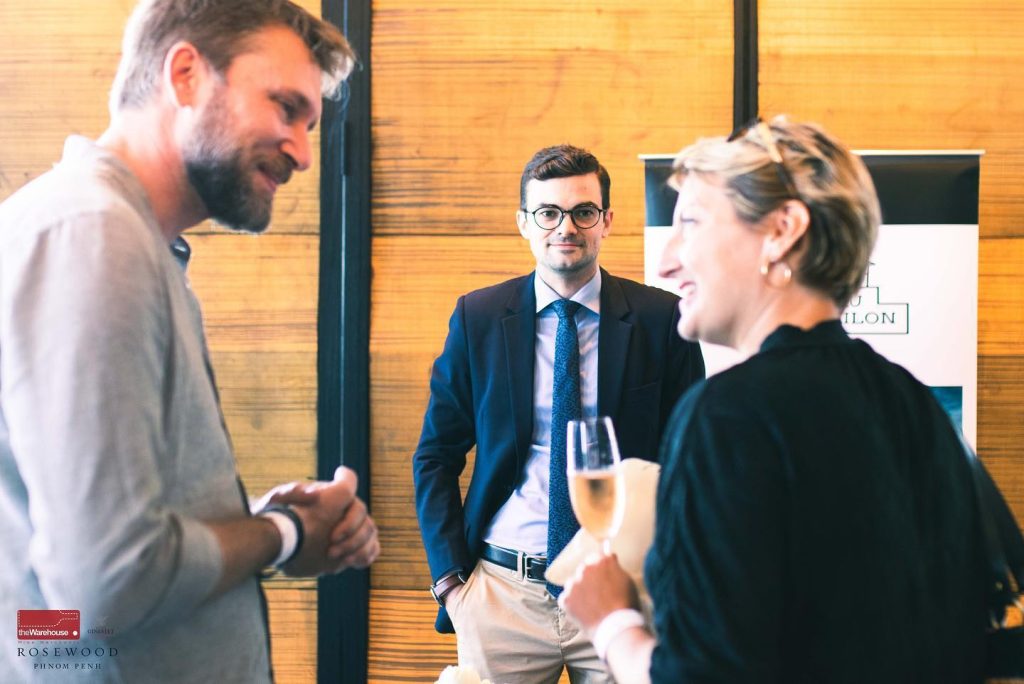 Chateau Duhart Milon – Pauillac
Château Duhart-Milon, previously known as Château Duhart-Milon-Rothschild, is a winery in the Pauillac appellation that almost borders the property of Chateau Lafite and is owned by Domaines Barons de Rothschild.
The property was named for the original owner, the Sieur of Duhart, gunrunner to Louis XIV, and from the little hamlet of Milon, which sits between the vineyard and Château Lafite. Early in the 1700s, when the Lafite lords called for widespread grape cultivation in Pauillac, the wines from this (Milon) vineyard served to earn additional income and became Chateau Lafite's 'second' wine.
In 1962, Domaines Barons de Rothschild (Lafite) acquired the property from the Castéja family. Since the acquisition by Domaines Barons de Rothschild (Lafite), the vineyards have been completely overhauled, and the chais renovated.
2019
A blend of 70% Cabernet Sauvignon and 30% Merlot
Black currant and forest pastilles with an underlying complexity of gun smoke and a whiff of damp beach.
The wine has a delightful core of intense, weighty, ripe red fruits, with deft oak, firm but fine tannins, and an attractive, lingering finish. Straight-up good solid winemaking with pristine fruit; whilst still a touch awkward in its youth, what it perhaps lacked in complexity and sophistication, it made up for with simple beauty.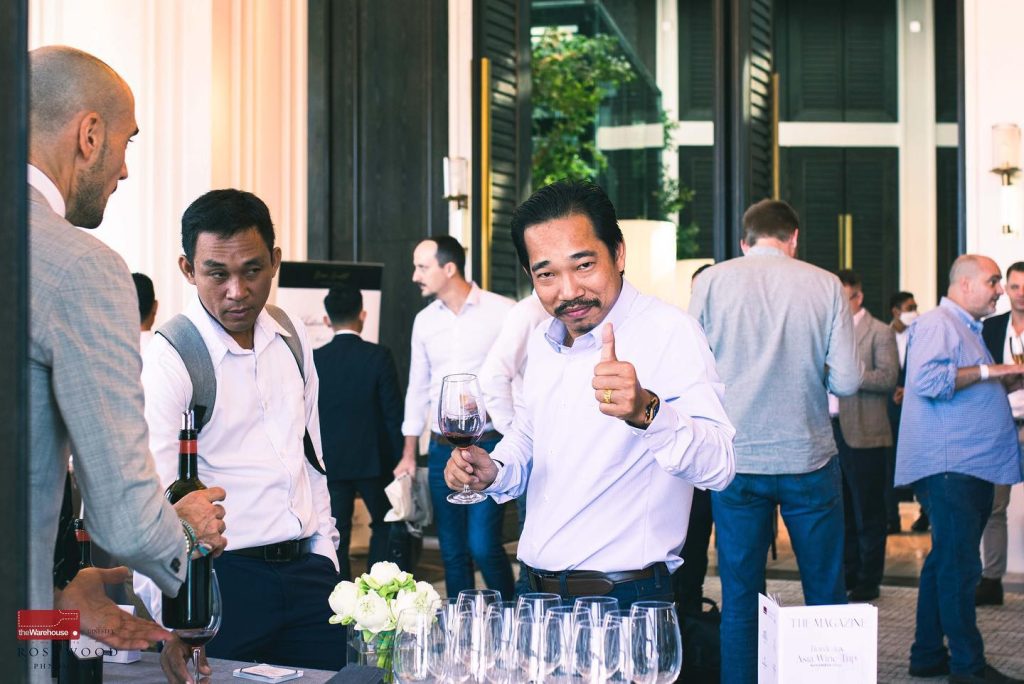 Conclusions
This was a magnificent tasting in fine company; the 39th floor of the Rosewood hotel, overlooking the city, the Tonle Bassac and the Mighty Mekong rivers at their confluence, is a superb environment; the management and staff here are faultless in their service and good grace.
It was wonderful to see the Bordelais vignerons here, and I appreciated the opportunity to spend some time with them: listening to their passion and devotion to their region, properties, families and -of course- their wines.
The 2017s looked elegant and approachable; the 2019s are more voluptuous and impressive. For the first time that I can recall, their masters were openly discussing and even promoting their use of concrete vats and amphorae and making more fruit-forward and approachable wines. I would single out for particular attention; the Chateau Ferrier (2019) for its elegance and finesse, the Chateau Gruaud Larose (2018) for its depth and texture, and the Chateau Montrose (2015) for its structure and presence, these were super impressive on an occasion when they were amongst very fine company indeed.
The Bordelaise, like the rest of us, have had a bit of a tough time of late; seeing them out and about in the region, sharing their valuable time and their wines, investing in the market -in this personal way- was warmly appreciated by the trade. This was a bold and confident stride into South East that was well timed, just as these markets start to show signs to genuine recovery, and it will no doubt reap rewards for those that undertook the journey.