Revisiting the Culinary Art of Deco
Deco is the brainchild of talented industry veteran Robin Ainge, who felt that if he could take one of the large, majestic old houses in Boeung Keng Kang 1 and convert it into an art deco tribute, then it might also recall the halcyon days of Cambodia's nineteen twenties and thirties.
Deco restaurant is situated in a large house built sometime in the early 1960's, in the Corbusian modernist and modern Bauhaus style introduced to the country by its greatest architect, Vann Molyvan. This style would become extremely popular during Cambodia's golden era of independence and development during the 1950's and early 1960's. Many of the houses and buildings constructed during the 'Sangkum Reastr Niyum' period remain today as icons of this city whilst -given the regrettable explosion of high-rise apartments- many have now been lost forever.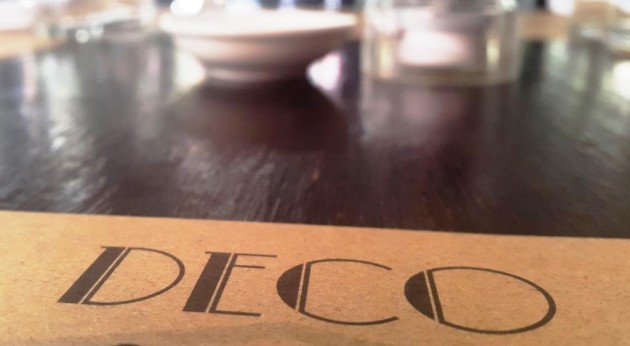 The intricate and detailed Art Deco fixtures and flourishes given to the design have indeed breathed a certain stylish grandeur and sleek splendor into the building, giving new lease of life to the south side of BKK1 dining culture.
Now an institution and a place I have dined in many times, Deco has a great following and a fine and deserved reputation. To be seated in one of these magnificent houses, restored with care and attention to detail, is more than merely pleasant, it is majestic. There are lovely touches -from the black and white 'checker' tile floor to the 'vintage' lithographs of the grand old booze and flavour of the 1920's, (when Art Deco was at its height and alcohol was banned in the good ol' U.S of A). These artifacts add to the sense of romanticism, escapism, perhaps even hedonism; making it a relatively simple task to put oneself at ease -leaving the hustle of Phnom Penh city life at Deco's stylish front gate.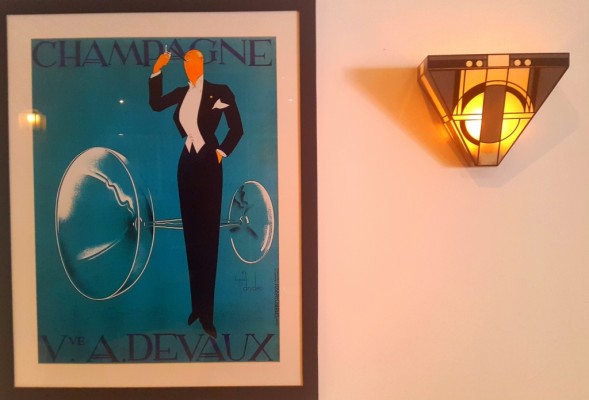 However, one does not come to Deco to merely sit and reminisce, we are here to eat, drink and be merry and it is here that Deco knows its craft extremely well, the dishes and cocktails hone in on simplicity, prepared to perfection and presented with style. The menu is a compact selection full of modern interpretations of classic dishes, dishes that conjure their own certain nostalgia. No deconstruction of cuisine here, just great attention to sourcing the best ingredients, to perfecting technique and to presenting dishes that are at once both wonderfully familiar and perfectly executed.
Whiskey cured Salmon with Rye Bread and Honey Mustard, Scotch Quail Eggs, Pork Loin with Creamed Leeks and a Mustard White Wine Sauce are some of my favourites and range from $7 to $10 per dish; ridiculously cheap for food this good, we are indeed incredibly spoiled in Phnom Penh.
Something that has always intrigued me about Deco is that whilst its menu you is admittedly and unashamedly compact, there are so many dishes here that are (or could be) regular favourites, the selection of dishes is superb and they are really all very, very good.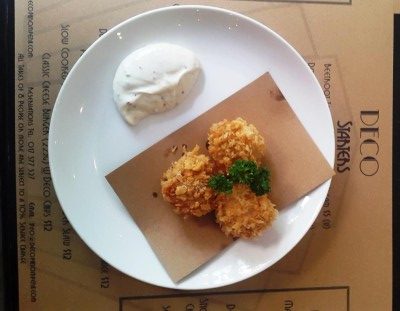 Scotch eggs are as British as 'God Save the Queen' but to do them with panko crumbs and use quail eggs is just a delightful, whimsical and culinarily stylish move, they taste fantastic, have a crunchy coating, a nice meaty flavour and are beautifully runny in the middle, the perfect starter.
The Pork loin is also simple but quiet extraordinary, very tender, juicy and with plenty of flavour, the creamed leeks and the mustard and white wine sauce are together a divine accompaniment, just a cracking dish, hard not to order every single time I come here.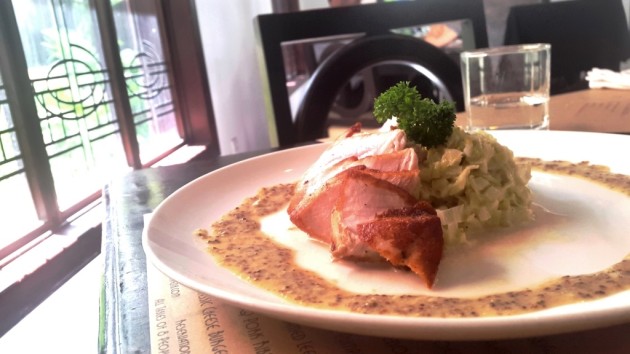 I finish with a cheese cake in a raspberry coulis, a standard and to be honest, whilst not as exceptional as the previous dishes, it is still perfectly enjoyable and a very nice way to finish.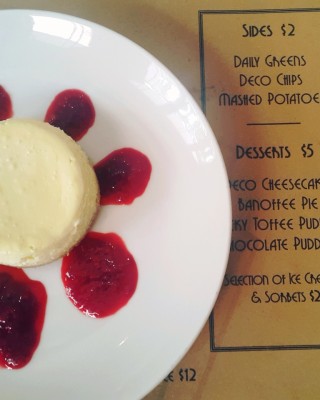 One of the absolute revelations at Deco is its attention to offering quality booze; from Rob's personally curated wine list to the exceptional selection of imported spirits and liqueurs used for creating well researched and executed 'classic' cocktails from the prohibition era, (back when the best waiters came up with legendary mixers, infusions and concoctions to account for the low quality of some of the moonshine). Here at Deco the moonshine is some of the very best in town.
This is one of Ainge's real passions -having spent time working for an international spirit company and running his own wine bar in the past- Rob is fanatical about sourcing the best available, researching the cocktails of the period and then getting his hands on the original ingredients, even when they are not distributed in the country.
A remarkable addition to the beverage list are the beers, two beers are offered on tap and are made exclusively for Deco by micro-brewery 'Cerevisia' a tiny operation hand crafting some of the very best artisan beer in the kingdom.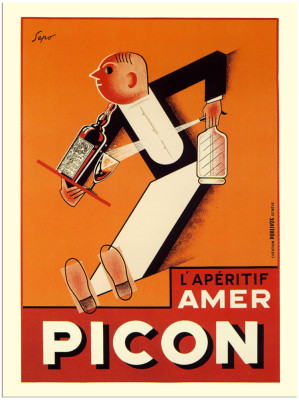 I have to declare myself a big fan of the art at Deco and by art, I mean the works being turned out by the chef's in the kitchen and the mixologist behind the bar. It's been a regular and enjoyed dining space for me since it first opened and I don't foresee my culinary tastes changing from Deco anytime soon.
Deco: http://www.decophnompenh.com/
Address: No 46 Street 352, Bkk1, Phnom Penh, Cambodia
Phone: +855 17 577 327
Monday to Saturday: 12:00 – 2:00 & 6:00 – 10:00pm
Why: Eat between the Lines