It is that time of year, Diwali, The festival of light, a time when Hindus, Jains, Sikhs and even some Buddhists mark the victory of light over darkness, knowledge over ignorance, good over evil and hope over despair. It is one of the happiest times of the year for the devout and I feel it only fitting, in this frame of mind, that I head out for a bit of Indian myself.

The actual sign of the restaurant is peeling off its light box, there is one of those large, over-bearing red beer signs that scream, 'cheap joint' almost hanging out over the road. Under the beer sign there is another section which reads, 'Lonely Planet, Trip advisor, recommended by Taste Bude'!
Welcome to Taste Budz Indian restaurant, the taste of Kerala.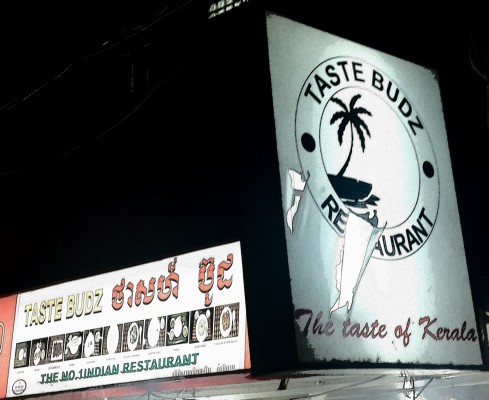 All this signage proudly hangs over a front room that was once a car port. In fact, it still pretty much is a carport, sans car; the sort of place where you stack boxes when you don't have anywhere inside to put them or, where you might stow a loudly coloured drinks fridge that would never be allowed indoors. There is another minibar fridge in a corner and a large metal storage rack for empty water cooler bottles next to a bathroom sink, (yes there is a bathroom sink complete with tap in the car port).

There's a bit of faux wood-panel vinyl up on the walls, a few overhead fans whirr and wobble above a mish-mash of chairs; some cane, some wood, some metal with combination round and square, glass top tables; some of which are covered with stick on vinyl, faux Italian, 'trattoria' table cloth, (red and white checks). There are lightshades hanging down from the ceiling that don't seem to have any lights in them and then there are low energy bulbs hanging naked from their wires. It's all very random.
There is a small air-conditioned room outback, it looks quite nice, clean and tidy but, it's a little busy tonight and I really don't want to pass up the chance to eat in the décor and ambience of the almost front room, which is open onto a street that has had its tarmac all but destroyed by the trucks and general mayhem of the construction site across the road.

The restaurant owners are from Kerala on the Malabar Coast of Southern India, it has a long and rich history of being an important supplier and trader on the spice route with Arabs, Portuguese, the Dutch East India Company and the British East India Company to name a few. Sumerian records indicate that the region has been exporting spices since 3,000 BCE; it is still referred to as the 'Garden of Spices' or India's Spice Garden.
There are two significant influences on Kerala cuisine, its abundance of spice and the fact that for 2,000 years Kerala has been visited by traders from Greece, Rome, South China, the eastern Mediterranean, Arab countries, and Europeans and all have had an influence, creating a blend of indigenous and foreign dishes adapted to Kerala tastes. Traditional Kerala cuisine was vegetarian; today fish is eaten along the coast, some chicken inland and red meat in the northern tribal areas.
The cuisine at Taste Budz is very region specific; don't expect all your Indian favourites here, the restaurant is humble, simple and no fuss, take your time with the staff, communication is not always straight forward but it is sincere.
The Malayali have a large diaspora that work overseas to send money home, it is one of the region's single largest sources of income. My waiter wanders past, mobile phone stuck to the side of his head, speaking Malayalam dialect in that loud and exaggerated manner we tend to use when it's an international call; I work out he is explaining to the other end that he is now in Cambodia.
The restaurant has been here for eight years and I am told -as a matter of fact- that the owner's wife works as a math's teacher at one of the main International schools in Phnom Penh, (I cannot help but note that she would also be an owner and wonder if it is indeed her savings that purchased the restaurant in the first place?).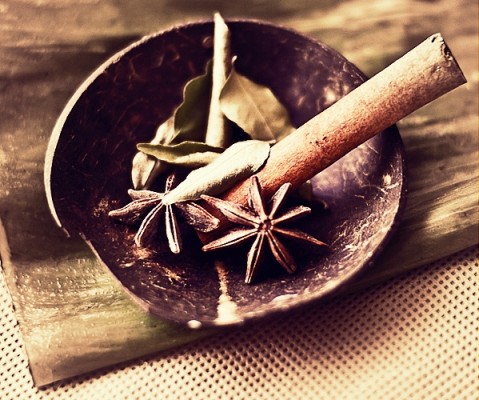 I'm here tonight with a group of three friends and we order biriyani rice, a dry curry, fried fish, (local dory) chicken akbari and lamb masala, along with a saag of palak paneer and the Keralite bread, Parotta.
Prices are ridiculously cheap, vegetable curries from $3:50 to $6, chicken and fish dishes are $4 to $6 and mutton a little more expensive at $7 to $9. Steamed rice is $1 with the more fancy stuff $3 to $4 dollars. When we finish dinner we are all stuffed full and cannot believe the bill is only $42 total!
The Chicken Akbar takes its inspiration from an ancient tome known as the Ain-i-Akbari, a gazetteer of the Mughal Empire written by Abu Fazl, a courtier in Akbar's court. The book records the intimate workings and dishes of the imperial kitchen in the late 1500's and reflects the Persian influence on Indian cuisine at the time. The dish itself is juicy and tender, the curry rich and creamy with a hint of pepper spice, chilli and citrus.
The Malabar fried fish is exceptional, a dried spice crust (turmeric, ginger, garlic, pepper, chili) on the outside with moist, flaky flesh inside.
Saag is a leaf based dish in India and we choose a Paneer cheese in a creamy Palak, (spinach) sauce that shows a fine consistency and good garam masala and garlic nuances. The cheese is delightfully fresh and has that firm paneer texture.
The mutton masala is very tasty and the lamb still tender, not the dodgy, old, leathery mutton you sometimes get in Cambodia. The word masala simply means spice mix and garam masala means a hot, (garam) spice mix, (masala). A typical Kerala garam masala would contain cinnamon, cardamom, cloves, cumin seeds, coriander seeds, fennel seeds, nutmeg and turmeric. The spice mix here is complex, well balanced and delightful.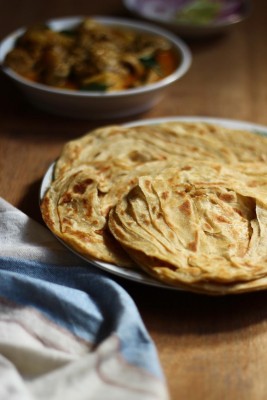 The Biryani rice is long grain with dried fruits, spices and saffron, it is excellent with the curries. The Keralite bread, which is called Porotta, (from Paratha) differs from naan in that it is made into something like a ball of string and then rolled out flat for cooking, which gives it an interesting texture; it is made with maidaa flour which also makes it lighter than and more airy than naan.
The dishes all have a beautiful balance of flavor and spice and this is indeed some of the best Indian food I have had in Phnom Penh. For lovers of Indian cuisine, or if you just like a good curry in general: you may not decide to come here for the quirky décor alone, the cheap prices may also lure you in however, you will definitely come back again for the magnificent Kerala cuisine. You will come back because it is simply delicious, a curry lover's delight and for those so inclined, it is very definitely vegetarian friendly.
Taste Budz
No. 13E, St. 282, BKK1, near Wat Langkar, Phnom Penh