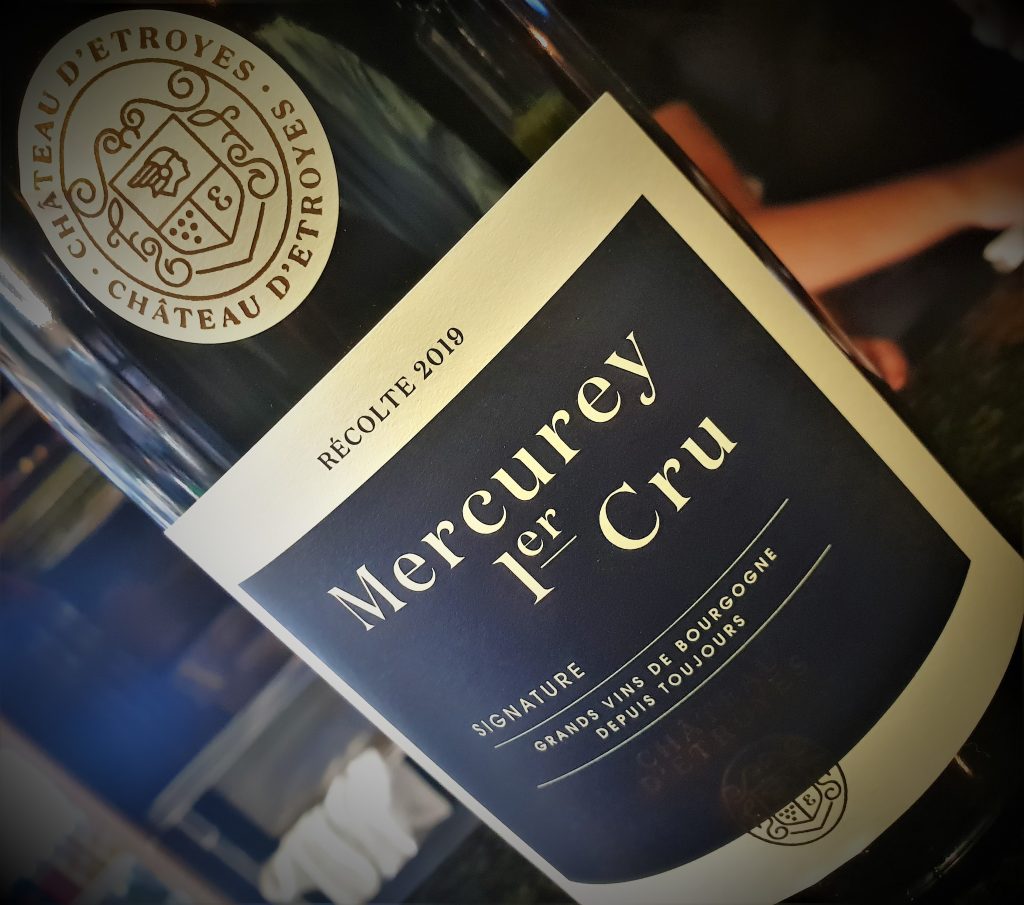 About Last Night
The Wines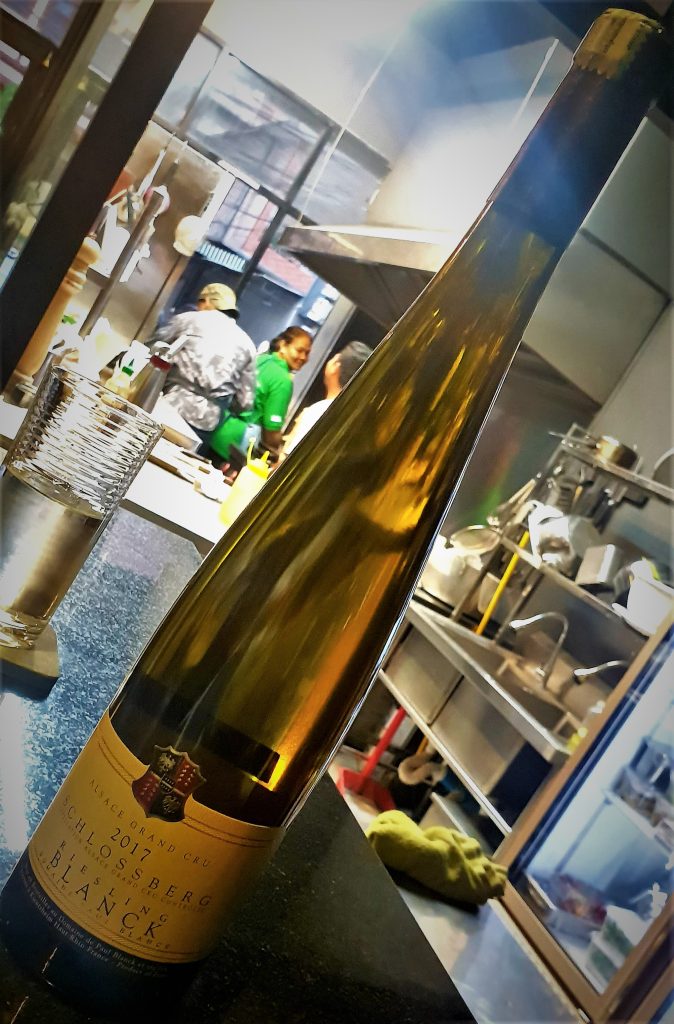 Things of Stone and Fruit
Domaine Paul Blanck, Schlossberg Grand Cru, Riesling, Alsace 2017
The Blanck family has been established in Alsace since the late 16th century and in the wine business in Kientzheim since the early 19th. The family overseas 35 hectares of vineyards, which includes five Grands crus covering 12 hectares, and four Lieux-Dits covering 12 hectares. This is a family deeply rooted in Alsace and one of its finest producers and custodians.
Site
Eight kilometers from Colmar, Schlossberg's terraced slopes look out over the Weiss valley from the outskirts of Kientzheim up to the medieval Kaysersberg castle. The 80.28 hectares of this Grand Cru sit on a very steep hillside which required terraces to be built. Over a thousand metres of backing walls built in the Middle Ages have since patiently been restored.
Harmoniously arranged, a succession of terraces covers the plots at between 230 and 400 m in altitude. The majority of this Grand Cru faces due south on the Bixkoepfel hillside. A small, detached part of the site looks towards the east.
Soil
The material composing the parent rock here resulted from the metamorphosic crystallization of migmatites (a blend of gneiss and granite) and biotite granite from Kaysersberg. The sandy, clay soils have a rich minerality (mostly potassium, magnesium, fluorine, and phosphorus), which gives full expression to this unique terroir.
Variety
Riesling is the main variety planted on the hillsides of the Schlossberg Grand Cru, it gives wonderful expression to the mineral potential of this granite terroir.
It's this extraordinary harmony between this site and soil, this place and this grape variety, which successive generations of winemakers have understood and strived to preserve and promote by making Riesling the focus of the Schlossberg Grand Cru for over a century.
Vintage
Severe frost in late April significantly reduced yields, but less so on hillside sites; excellent conditions during the summer and harvest resulted in concentrated wines of fine balance, it is considered by most critics to be a very good vintage generally for Alsace.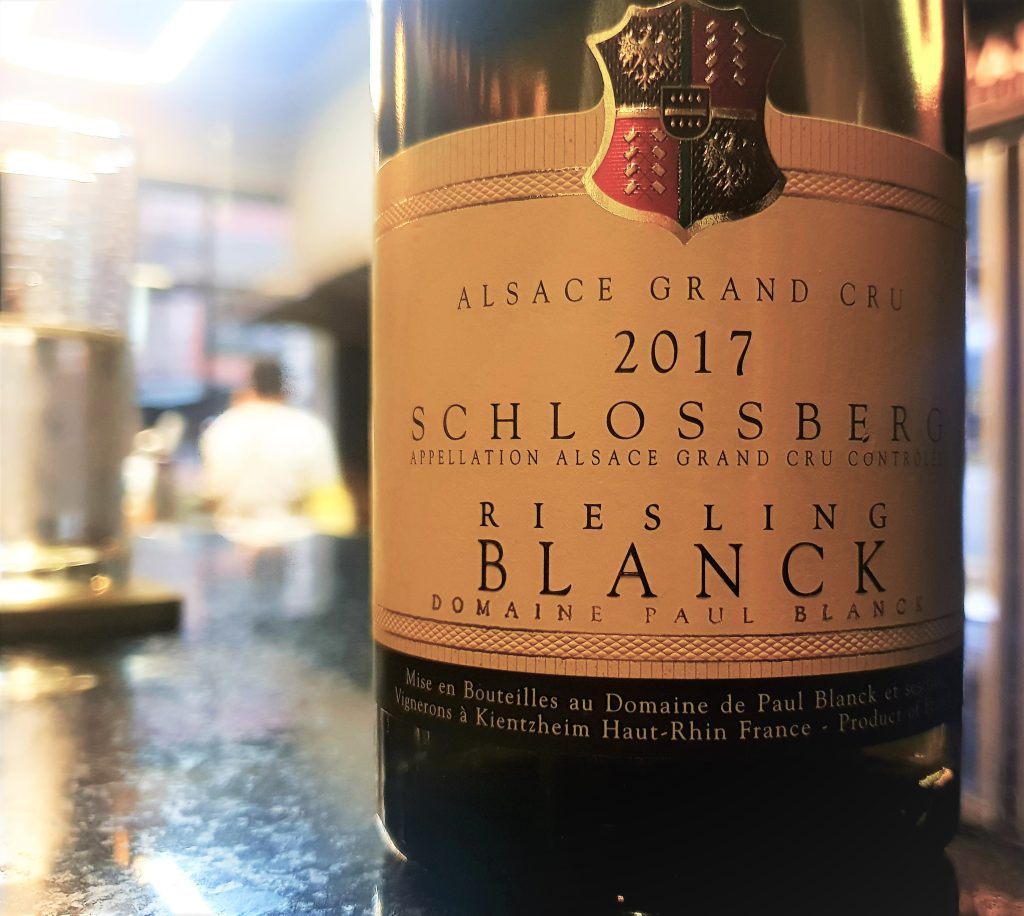 The Wine
At Domaine Paul Blanck the Riesling juice is extracted with infinite care via an air-bag press. A careful and gentle pressing avoids crushing stalks and pips. The must is allowed to start fermenting of its own accord due to the natural yeast present in the juice, and the 'cool' fermentation generally lasts from 4 to 10 weeks. Fermentation is carried out in stainless-steel vats equipped with temperature control, a medium that maximises the expression of this variety's aromas.
The wine is matured on its lees in large oak barrels for 12 months. The wine is then bottled and aged for 2 to 3 years before being offered for release.
Tasting Note
Pale lemon in colour, the wine has a remarkable bouquet of lemon zest, field flowers, terpene notes, wild honeycomb and floral spice and a hint of wet stones.
Only the palate it is the tension that strikes you, its magnificent, ripe, Meyer lemons and bosc pears on entry wrestled to the floor by bright, dazzling minerality, a wine with precision, focused fruit and balanced, impeccable structure; it is a thing of beauty and a joy to behold. This is what Schlossberg terroir is all about, an extraordinary work of art in stone and fruit.
Into the Noir
Chateau d'Etroyes, Signature, Mercurey, Burgundy, 2019 in Magnum
The village of Mercurey was an important trading post for the Romans during Empire. Set along the Arles-Lyon section of the Via Agrippa trade network -built during the reign of the Roman emperor Octavian, (Caesar Augustus) ruler from 27BCE until 14AD.
According to historical documents, the Romans built a temple here in honour of Mercurey, (Mercurius) the patron god of commerce, eloquence, poetry, divination, travelers, boundaries, luck, trickery and thieves. At one time, Mercury was the most popular of all gods with the Gauls: favoured as the god of abundance and commercial success. Yet Mercury also has a dark side; it is Mercury who will transport Morpheus into your dreams and it is Mercury who will guide your soul down into its darkest depths.
Crazy about a Mercurey
Mercurey resembles a typical Burgundian wine village, set in a hilly landscape, the slopes abundant with grapevines first cultivated by the Romans. The Appellation d'Origine controlee, (AOC) Mercurey was created in 1936 and may be used with the red grape Pinot Noir and the white grape Chardonnay as varieties; red wine dominates the region at almost 90 per cent of total production. There are 32 Premier Cru vineyards within the Mercurey AOC.
Mercurey red wines are generally deeper in color, more fruit-driven, and fuller-bodied than those of the other Chalonnaise communes. This is a result of both the excellent terroir and a more quality-driven approach to the appellation laws. For lovers of Burgundy who looking for wines at reasonable prices that over-deliver, Mercurey is your best friend.
Chateau d'Etroyes
The Protheau family oversaw the old cellar at Chateau d'Etroyes for 300 years, the estate covers 50 hectares in the appellations of Mercurey and Rully and includes 10 Premier Crus in five different climats. Such longevity is rare in Burgundy, the family acquired the property in 1720, when almost all other vineyards in the area were owned by monasteries, who had been farming them for centuries.
During the French Revolution, (1789, 1799) the 'Assembly' confiscated all church property; religious orders, and monasteries were dissolved with monks and nuns ordered to return to private life. Church land, (including vineyards) was auctioned off to raise capital, with the buyers being merchants and traders, most of whom had never owned or farmed land. As independent winemakers and negociants in the first place, the Protheau family avoided this fate and their vineyards and winery remained in family hands.
In March of 2018, the property was sold to a group of investors, under the Vis Vires Capital Asia investment group. At the head of this group is Mr. Ravi Viswanathan, a French citizen whose parents were born in Pondicherry, India before they moved to France in 1962.
He moved to Singapore in 2000, establishing Vis Vires Capital Asia in 2011. Along with Chateau d'Etroyes in Burgundy, Viswanathan is also one of the largest investors and therefore producers of wine in India. Ravi is quoted as saying he discovered Indian wines on a business trip in the 1990's and decided they were 'not too bad'; he is now the chairman of Grover Zampa Vineyards in India, the country's second-largest wine producer.
Ravi's vision for Chateau d'Etroyes is focused and clear, with investment in new equipment and a push to organic viticulture -undertaking an HVE (High Environmental Value) certification process. The highest level of attention is paid to fruit selection in the vineyard and on the sorting table in the winery, a winery driven to produce wines of exceptional quality and rare beauty.
These are exciting times, with Ravi and his partners breathing new chi and a new positivity into the winery and the region alike. As prices for the finest wines of the Cote d'Or soar, reaching unattainable prices for many; the very best wines of Mercurey and Rully are becoming more viable and popular options for wine lovers all over the world.
2019 Vintage
A warmer year that produced rich, ripe berries and -somewhat surprisingly, given the conditions- a combination of smaller yields and exceptional acid retention. This augured well for some exceptional wines, leaving 2019 to be described as a 'small but brilliant vintage'.
Soil
Clay and limestone from calcareous marls, the vineyards ore on Southeast facing slopes. Average vine age is 50 years.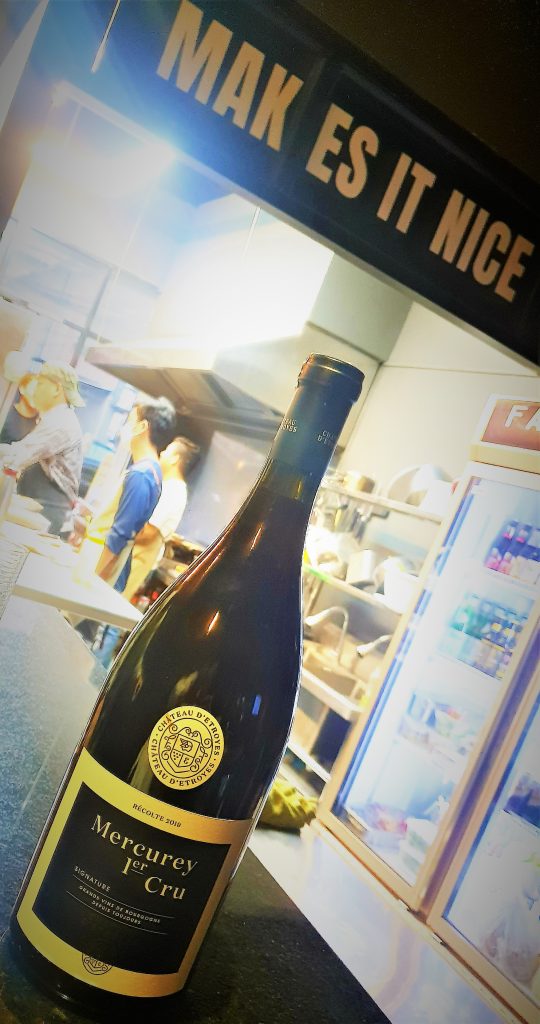 Wine
The Signature is a bend of selected 'best' barrels from a selection of Premier Cru vineyards; the criteria are based on 'best of vintage'.
Winemaking
Grapes for this wine were hand-harvested, vigorously sorted, destemmed and then fermented for 21 days in temperature-controlled vats with gentle, daily pump overs. Post-fermentation, the wine was matured in French barrels for 12 months, 40% of which were new oak.
Tasting Note
A deep ruby colour the bouquet is bursting with ripe fruits, blackberries, cherry and plum, supported by hints of game, spice and shroom. The palate shows a wine ripe with berry flavours; rich and juicy, with great depth and good complexity. There is fine acidity and subtle tannins. There is exceptional quality and value here, a seductive, bodacious, voluptuous Burgundy to be paired with pheasants and friends alike.
Medoc Depth and Poise 
La Croix, Grand Puy Ducasse, Pauillac, Bordeaux 2019
The Estate
In the mid-1700's Jacques de Segut, Lord of Lafitte, sold his small house on the banks of the Gironde River in Pauillac to Arnaud Ducasse. Pierre Ducasse, a lawyer passionate about wine issues, acquired land and part of Bourdieu de Grand-Puy in three parishes: Pauillac, Saint-Lambert and Saint-Sauveur, as well as three seigneuries: Lafite, Latour and Beychevelle. New purchases and exchanges enabled him to extend his estates until he died in 1797.
His son inherited the estate, now called Ducasse-Grand-Puy-Artigues-Arnaud, consisting of sixty hectares, two-thirds of which were planted to vines. In 1820, he built the castle, which faces the Gironde River, on the original site of his ancestor's house.
The estate was classified in 1855 under the name of Chateau Artigues Arnaud; to honour the founders of the Medoc estate, the name was later changed to Grand Puy Ducasse.
In 2004,  Château Grand Puy Ducasse was purchased by CA Grands Crus, a subsidiary of the Crédit Agricole Group who own several other prestigious châteaux in the Bordeaux region such as Château de Rayne Vigneau, 1st Grand Cru Classé of Sauternes, Château Grand-Puy Ducasse, 5th Grand Cru Classé de Pauillac, Château Meyney, Saint-Estèphe and Château Blaignan, Cru Bourgeois du Médoc.
The company initiated a complete optimization of the vineyards when they purchased the chateau, which has been overseen by Technical Director Anne Le Naour, in concert with consulting oenologist Hubert de Bouärd.
The now 40 hectares of the vineyard, are spread over three large plots sitting on silico-gravelly Garonne gravel of the Pauillac appellation. The property's vineyards are neighbors to the north, of Mouton, Lafite and Pontet-Canet. In the center, they occupy part of the Bourdieu de Grand-Puy. To the south, they are located on the plateau of Saint-Lambert. Average vine age is 25 years and the planting mix is: Cabernet Sauvignon (62%) and Merlot (38%).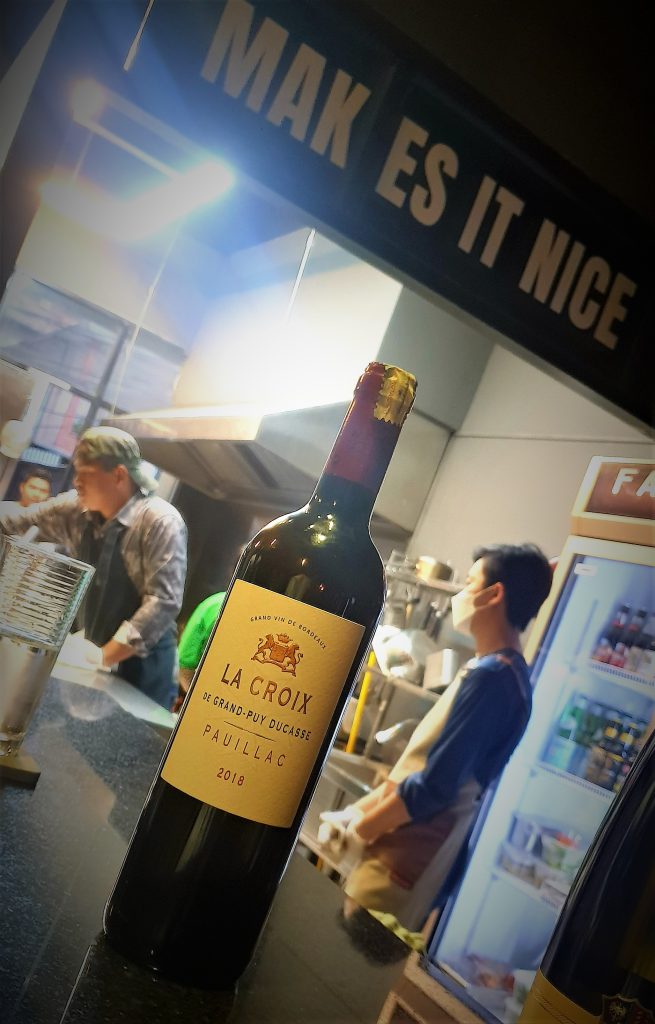 The Wine
2019 was a magnificent vintage, a sunny year it produced grapes of exceptional depth and richness. The La Croix, Grand Puy Ducasse is a 3rd label wine, but given the quality of the vintage and the pedigree of the chateau and its winemaking team, the wine was always bound to impress.
The aromas are of dark forest berries, black fruits, and coffee grinds; with notes of cola, herbs and pan spices. The palate shows good depth of fruit, dense almost brooding, remarkable for a 3rd label, the tannins are present but fine, the style is unmistakably Pauillac from a top Chateau and a very good vintage, yet accessible, and drinking quite well even now.
The Venue
Fat Passion restaurant: owned and operated by Jorge Chen and his partner Crystal, who served our small group of wine-trade friends an eclectic and exceptional array of platters and sharing plates -that were heavy on smoked and barbecued meats and high on outstanding quality.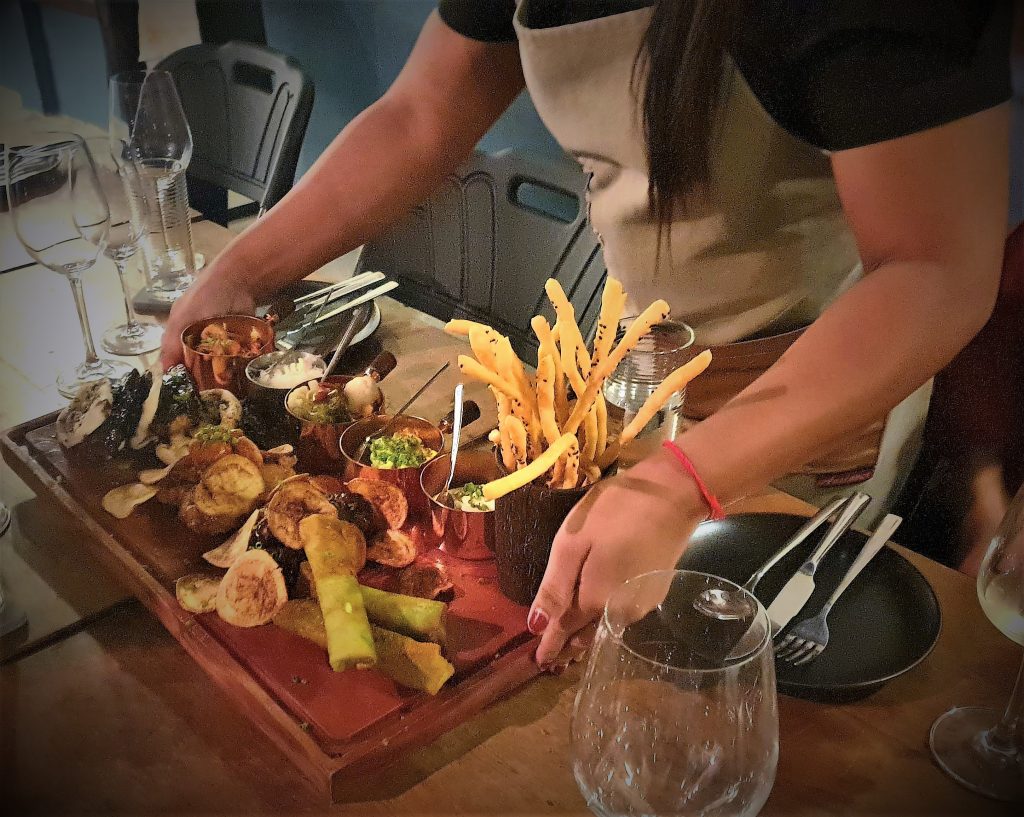 The Verdict
An exceptional evening in great company. Here we had three recently arrived wines to the Kingdom of Cambodia, all are very high-quality, and all were tasting extremely well on the night. Now that they are in Phnom Penh, rush out and grab a bottle or three whilst you can, wines this good will not linger on the shelves for long.