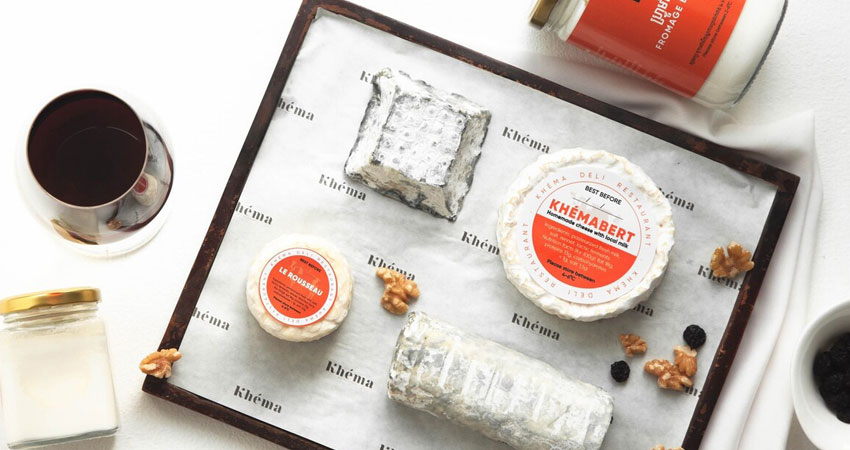 "Dessert without cheese is like a beauty with only one eye"
Jean Anthelme Brillat-Savarin
At Thalias Hospitality it is incorporated into their structure that they make a positive contribution to the development of Cambodia, that they constantly look for new opportunities to ensure they deliver the very best food, beverage, and hospitality services in the kingdom, and that they invest in their people creating opportunities for them to grow and thrive in their careers. Capacity building, ongoing training, and realizing potential are a part of the company's DNA.
As an important part of the realization of this vision of who they intend to be, Thalias requires both itself and its people to have an entrepreneurial spirit, a company of individuals within the group who always seek to create new business, new opportunities, take risks, innovate and redefine, and of course to enjoy the rewards of these endeavors together.
To be entrepreneurial is not just about starting a business, it's a mindset, a way of thinking. Entrepreneurs think and do things differently and you can be entrepreneurial even if you are working for someone else. According to the University of Oxford: 'the term "intrapreneurial" highlights the desire of employers to have adaptable, flexible employees who can think for themselves. Being entrepreneurial can mean knowing your industry inside out, and being able to exploit that knowledge to create new opportunities. Being entrepreneurial can mean sharing ideas freely, and celebrating so-called failures as learning and growing experiences. Being entrepreneurial can mean simply thinking outside of the box, and expecting the unexpected.'
Significant importers and purveyors of fine cheeses from Les Frères Marchand for their Khema outlets, when the fresh milk industry started to develop in Cambodia in a significant way, the **Thalias Hospitality team immediately saw an opportunity to investigate the possibility of making their own cheeses locally.
Cue the arrival in Cambodia of international dairy consultant Nicolas Rousseau who arrived in Cambodia with over 20 years of experience making cheese in France and helping to develop cheese production in Algeria, Mali, Niger, and Madagascar. Nicolas joined the team as a consultant, initially to research the availability and quality of fresh milk available in Cambodia. Both surprised and delighted with what he discovered out in the field, he soon returned to Phnom Penh to begin teaching a small team of chefs headed by Chef Chamroeun Chap to produce cheese in the kitchens of Topaz, Phnom Penh, Cambodia.
The first cheese to be released, a creamy fresh blanc was named 'Le Rousseau' in honour of Nicolas and to pay respect to the enormous work and effort he put into the project. He now has a genuine passion for the birth of the cheese industry in Cambodia, and a great deal of respect and genuine affection for the cheese-making team. Nicolas informed me that what he uncovered when looking into Cambodia's fresh milk industry surprised him greatly, he found significant commitment, investment, and development, much more so than he had previously worked with over in Africa. Explaining that, "We used to spend all of our time just analyzing the milk and ensuring its hygiene for cheese production, here we don't have to worry, we know that it will be of high quality and in good condition, so we can then devote more time to the actual development of high-quality cheeses". "The industry in Cambodia has the right breed of dairy cows in use, the diet supplied is very good and the fat content exceptional, beyond my expectations" Nicolas adds. He is also pleased that he sees stainless steel being used all along the chain with no plastic, important for environmental sustainability.
The main challenge as Nicolas sees it is getting raw milk, as it is usually pasteurized on-site using very high temperatures, this ensures longer shelf life for the milk but, it often makes it unusable for many kinds of cheese, getting raw milk allows the cheesemaker to control any pasteurization, with lower temperatures to preserve the structure of the proteins or, when required for certain cheeses, use raw milk.
To get a steady supply of raw milk from the suppliers requires volume but Nicolas sees that time approaching sooner than anyone perhaps anticipated, with Topaz already processing 100 litres a week and growing rapidly.
Chef Chamroeun explained to me that he is absolutely delighted to be a cheesemaker, noting that he and his team can hardly believe they are now making their own cheese, "In the Khmer language there isn't even a word for cheese and now here we are making it, we are very proud of this and very grateful to Nicolas for showing us how and sharing his great knowledge and experience with us".
Nicolas and Chamroeun can both see the cheese-making industry quickly developing at the gourmet end of the market here, with new cheeses being developed and new releases being well received. Nicolas feels there is scope for a middle-man to collect, store, churn and deliver fresh milk to the processor, ensuring the stability of the cold-chain supply, and off-site storage facilities to mature different types of cheeses will also soon be necessary.
Khema is already producing fresh blanc cheese, ash rolled fresh cheese, mozzarella, and a Camembert style cheese called 'Khemabert'; they are also developing new cheeses, such as a Neuchâtel, and a raclette style cheese. Nicolas hopes to soon be experimenting with blue-mold cheeses here. For Chamroeun, he is happy to keep learning and making new cheeses and perhaps one day be recognized as Cambodia's first true artisan fromager.
**Written By Darren Gall