Those of us who have been here a while and enjoy a good burger fondly recall the Free Bird burger down on Street 240, or the original Gym Bar burger on St. 178. Steve's signature burger at his Steakhouse is still a very good burger. Al Schaaf always knocks out a solid burger, be it at Exchange or Black Bambu. I pine for the legendary sliders made by Tim Belcourt at his Reef Resort down in Sihanoukville, always a highlight of any trip down south. In the capital contenders have come and gone but no one holds a candle to Mike's Burgers, all the way over near Toul Kork, they are still worth 3 traffic jams and change just to get yourself one.
Of late the burger business has started to heat up in the Penh with places like iBurger, Fat Boys Burger Bar from Singapore and My Burger Lab from Malaysia moving in, So, I thought it time to revisit the staple dish of the urban jungle.
When David Chang of Momofuku in New York City wrote his 'Burger Manifesto' last year people tended to take notice. Some of it made headlines around the world. Chang is after all, the reigning king of culinary cool in New York City and pretty much anything he has to say on food is immediately considered profound.
Chang obviously likes his mince and he certainly did not mince his words in his manifesto: "You know who fucks up burgers more than anyone else in the world? Australians! Australia has no idea what a burger is. They put a fried egg on their burger. They put canned beetroot on it, like a wedge of it. I am not joking with you. This is how they eat their burger."  Even as a long ago expatriated Australian, these words brought a tinge of devastation to whatever was left of my patriotic soul.
Personally, I feel no one has done more to denigrate the hallowed burger than the ubiquitous American fast food chains, any place that needs a costumed mascot and has to bribe children with toys to get them to eat their burger, is just not respecting the burger. However, others will point out that these outlets are actually the most successful burger restaurants on the planet, so what would I know? Well, I know I avoid them like the plague and let's leave it at that.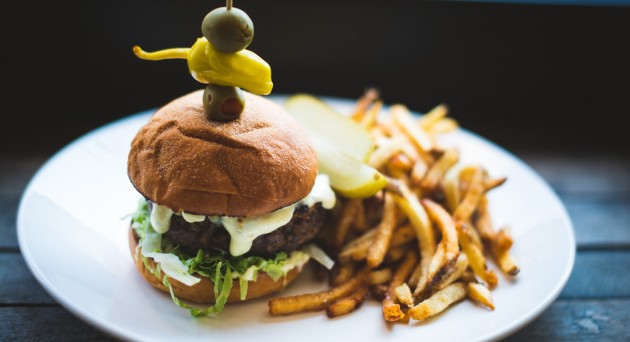 To me a great burger does not have to be gourmet, forget about $40 Black Angus, Wagyu, Kobe, 730 day grain fed, massaged by geisha, free range, gluten free, with its own personal trainer and a psychiatrist, gently minced, tenderloin, beef – it's a joke or a rip off or both. And whilst I do love foie gras and I do love truffle, they have absolutely no place being on or anywhere near my burger, got it?
The two most important things about a burger are a good patty and a good bun; if you don't have these then you are a dead cook walking.
The Patty: has to have the right fat to meat ratio, about 40% fat will see the mince retain moisture and texture, you also need high quality mince and not the cheap rubbish injected with fat and water that will leak all over the place once cooked and taste bland. The patty must hold together well, be tender and juicy but with some texture to it.
The Bun: J. Kenji López-Alt, author of 'The Burger Lab' warns that "A bigger, pub-style burger can overwhelm a soft bun, with juices soaking through and dissolving the base before the burger even hits your table." The bun absolutely needs to be fresh yet, must also be firm enough to sop up all those fats, juices and sauces and not fall apart. The bun should also be rather bland, it is there to provide texture, not compete with the burger for flavour.
As for the rest, as far as I am concerned you can express yourself: cheese, bacon, onion, pickles, sauces, mustard, it's all fine with me as long as it's fresh and very, very good.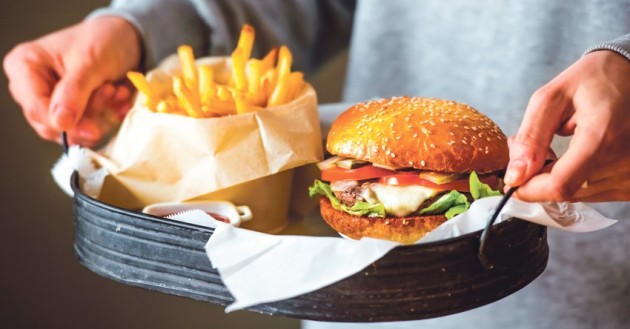 As the great George Motz, who made the documentary 'Hamburger America' a decade ago confided to Peter Meehan of Lucky Peach: "when we were there interviewing the guys, I realized that what I was seeing was way, way deeper than just some show about a hamburger. It was about family. It was about people. It was about history —to me, if the burger didn't have a story, it probably wasn't good. You shouldn't put your criteria onto someone else's burger. Why would you do that? You should appreciate when people are making great burgers and try to understand the reasons that got them to make it how they do."
So how do these new kids on the block stack up against the stalwarts in Phnom Penh? I was going to have to go back into the fray.
My Burger Lab: is a Malaysian hamburger operation, the franchise in Cambodia is owned and operated by F&B franchise operator, Brands Management Limited.  It seems all the buns are blackened with bamboo charcoal and some of the burgers have alarmingly weird names like 'Kick in the Face', 'Barbie-Q' and 'Frozen Custard', obviously aimed at a young Cambodian crowd with social network savvy marketing; I am yet to summon the courage but will get in to try their burgers and report back soon.
Fat Boys Burger Bar: is another franchise, this one from Singapore, with a slick marketing machine and burgers aimed and named for a teen audience, 'YOLO' (You Only Live Once), 'The Elvis' and 'Monster Mash' setting the stage. Some of the combinations sound a little out there for a humble burger, the Elvis for example consists of a burger with bacon, bananas and peanut butter on a honey oat bun, whilst the Monster Mash sees a burger topped with wasabi mash potato! On my only visit I opted for something a little more conservative on the menu, a 'Mahalo' which was basically a burger with Monterey Jack and pineapple, all I got was water and juices all over the place and a meal that was totally underwhelming.
iBurger: This is an interesting restaurant because it's actually a sort of Mad Max, Road Warrior looking tricycle that is an ingenious sort of food tuk-tuk instead of a food truck. Cleverly designed to fold out, pop up, extend and pull out all over the place, it's a fully-fledged burger kitchen once it has all been fully erected. Usually parked on Street 51 near the corner with Street 302 in Boeung Keng Kang 1, iBurger is making some of the city's best quality and best value burgers. Try their imported beef versus local beef mini burger set, it's a great comparison and I actually preferred the local meat.
Cousins: A new burger place on Street 200, between Norodom and Street 51. My waitress tells me that her Khmer grandmother is the owner and she recently moved back to Cambodia having spent the past twenty years in France.
The place looks like a fast food outlet with a few homely touches; the menu is a small selection of six different burgers, (3 beef and 3 chicken) and 3 types of hot dog. Burgers cost $4.50 to $5 and are served with a side salad, fries can be ordered for an extra $2.
The Signature burger consists of beef, smoked pork belly, raclette cheese, caramelized onions, pickles, fresh lettuce and a house made BBQ sauce.
My burger arrived on a slab of slate, with a roughly chopped salad on the side and a little mini fries basket. Forget these sides immediately, they are poor and insignificant distractions and not worth bothering with. The burger was oozing sauce all down the sides; it was going to be a messy affair, sticky fingers and multiple napkins. The bun was fresh but had a little firmness to it, good for sopping up juices and not falling apart, I thought the texture very good, it could have been a little larger as it was struggling to cope with the size of the burger and all the juices, oils and sauce.
The patty itself was delicious, I'd say its local beef and the taste, texture and fat content was a good balance, the house made BBQ sauce was excellent, there is an herb infusion there, it's not overly spicy or sweet, actually it's divine and elevates the whole burger. The raclette cheese was also exceptional, not overly melted so it becomes a sauce and not underdone, the caramelized onion works well and I quickly go from being skeptical to being a fan, this is a very tasty burger.
The waitress niece also had her young cousins over from England, seven and eleven years old Khmers, they spoke English with perfect English accents, we all got chatting and soon the place started to feel a lot more like a family business, (which it is) than a fast food outlet.
So, I ate at an American style Burger joint owned by Khmer cousins brining a touch of French flair and a pinch of simple family style to their restaurant and with all those elements in place, on show and working well, I enjoyed my evening a great deal. Nothing was perfect but it had a story and a heart and a soul and my burger tasted damned good and was all the better for it and so was I.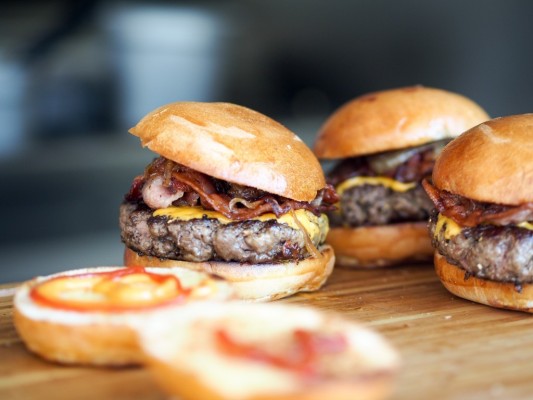 Cousin's Burgers
No 16, Street 200, Phnom Penh
012 528 126