Zino Restaurant & Wine Bar sits at the dinning end of Street 294, between Norodom and Sotheros Boulevards. The venue stands out as a classy townhouse with a small courtyard under its canopy out front and a balcony upstairs.
Inside, the ground floor space is evenly divided between a cozy, u-shaped bar to the left and a stylish, comfortable dining area to the right, upstairs there is more dining and a small private room which can be booked for functions.
Owned by industry veteran Ian Bragg, there is a welcome attention to detail at Zino, coupled with tasteful restraint. The name is taken from Zino Davidoff of the Davidoff Cigar Empire; a nod to a previous career from Bragg.
After the 'revolucion', Cuba's state tobacco monopoly created a range of cigars exclusively for Davidoff known as the 'Chateaux Series', with a cigar named after each of the Grand Premier Cru, classified Chateaux of Bordeaux, there was also a 'Dom Perignon' cigar named after the famous Champagne and for a short time there was also a Chateau d'Yquem. Today, this range exists as the Davidoff Grand Cru range although the individual Chateau names have been dropped.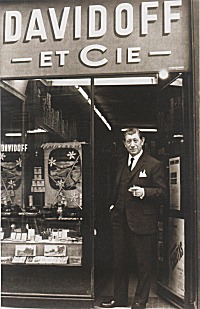 The bar at Zino has long been well regarded for its extensive selection of well-priced wines by the glass and bottle; along with the perfect storage regime that sees them presented and served in excellent condition.
What's new at Zino is part of another revolution, this one taking place in the kitchens and eateries of Phnom Penh. Over the last few years some of the most exciting cuisine in the capital has been created by a small band of well trained and bold young Chefs from South Africa, now Zino has gone and got itself one too.
Aidan Powrie is 25 years old, he borrowed money to attend the Capsicum Culinary Studio in Cape Town, and after graduating, his first job was working under a head chef who liked to practice a bit of kitchen-kung-fu and throw a few well-aimed implements about. Aiden thought about quitting cooking all together at that point, thankfully he stuck it out. Talking to Aiden you soon understand that his has not been a life of privilege, every gain has been hard earned. A few more kitchens and a few years later and Aidan had saved enough money to get out and explore the culinary world, destination Asia.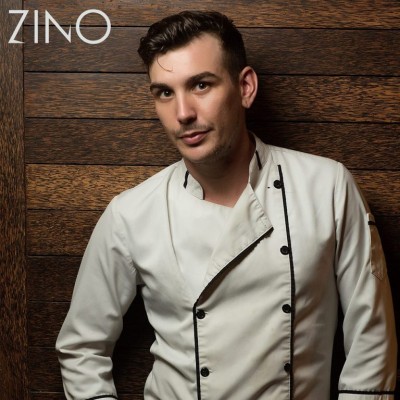 On a visa run to Cambodia, the young chef met up with the resident Phnom Penh Springbok Pack and decided he might stick around, soon landing the job as head chef at Zino. Aidan is ambitious and in a hurry, eager to discover and pair new flavours, develop new dishes and define his own culinary voice. He thinks he still has a long way to go, you get a sense he is a chef with an unflinching vision of his own future.
What chef has been working on is a new menu, which has just been launched and showcases a more sophisticated and refined dining, based on stylized takes on European classics with some North African and Asian influences.
There are a couple of popular steak options and a Moroccan Lamb dish on the menu and a delicious sounding range of gourmet burgers, there are Italian pastas, soups and salads and the famous cheese, sausage and charcuterie platters for wine tasters and beer drinkers alike. These are well executed and delicious; its familiar and faithful wine bar fare, popular with the locals and regulars alike.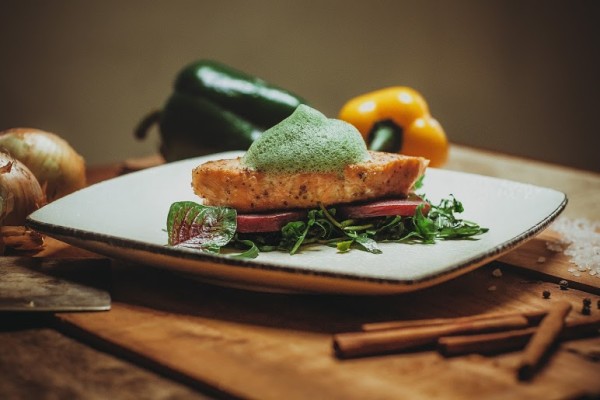 Chef Aidan's influence can been seen in a few highlights: a Miso, maple and mustard salmon served on a bed of garden greens and beetroot disks with a green foam. a Miso marinated Pork Chop with a crispy mash, fresh persimmons, aubergine and roast garlic puree and wild mushrooms and a Thai influenced Sea Bass poached in a tom kha sauce served with black rice, oyster mushrooms, bok choy and a tom kha foam.
On the dessert menu he has placed a traditional South African Malva, a sweet pudding of Dutch Cape origin which incorporates apricot jam, has a spongy, caramelized texture and is served warm with ice cream or custard.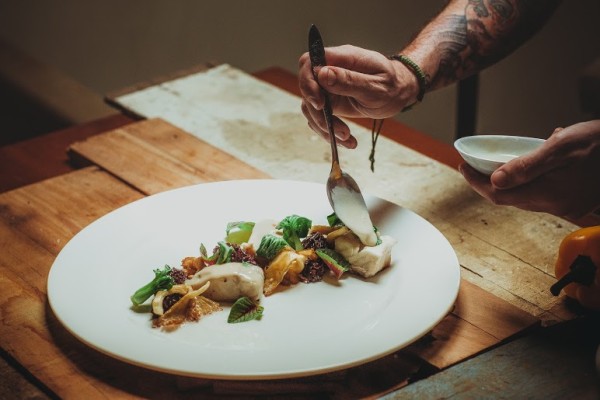 Prices at Zino are very reasonable with mains ranging from $9 to $18 and a Black Angus fillet steak priced at $26. Most of the staff have been there for a while and are experienced, friendly and knowledgeable. Zino has always been an enjoyable and reliable dining experience with well rendered interpretations of the classics; it's now added a touch of bold exuberance to its dining and that is something to get excited about.
As for chef, he says he is enjoying Cambodia, the people, the culture and having found some fellow South African Chefs to help him find his feet he feels he is growing and developing. When he isn't working you can usually find him skateboarding with the locals around the Independence Monument, just as in his kitchen, he obviously likes taking risks.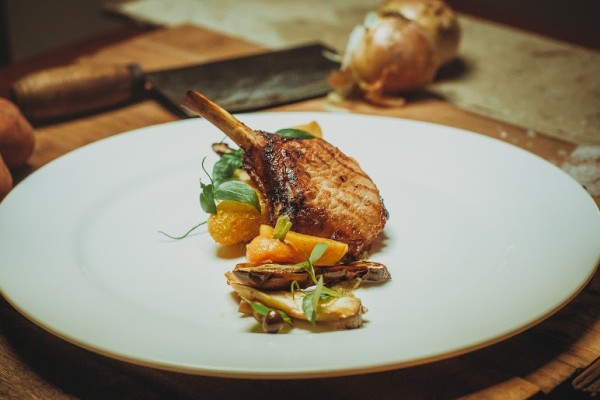 Zino Restaurant and Wine Bar
#12, Street 294,
Tonle Bassac , Phnom Penh
023 998 519