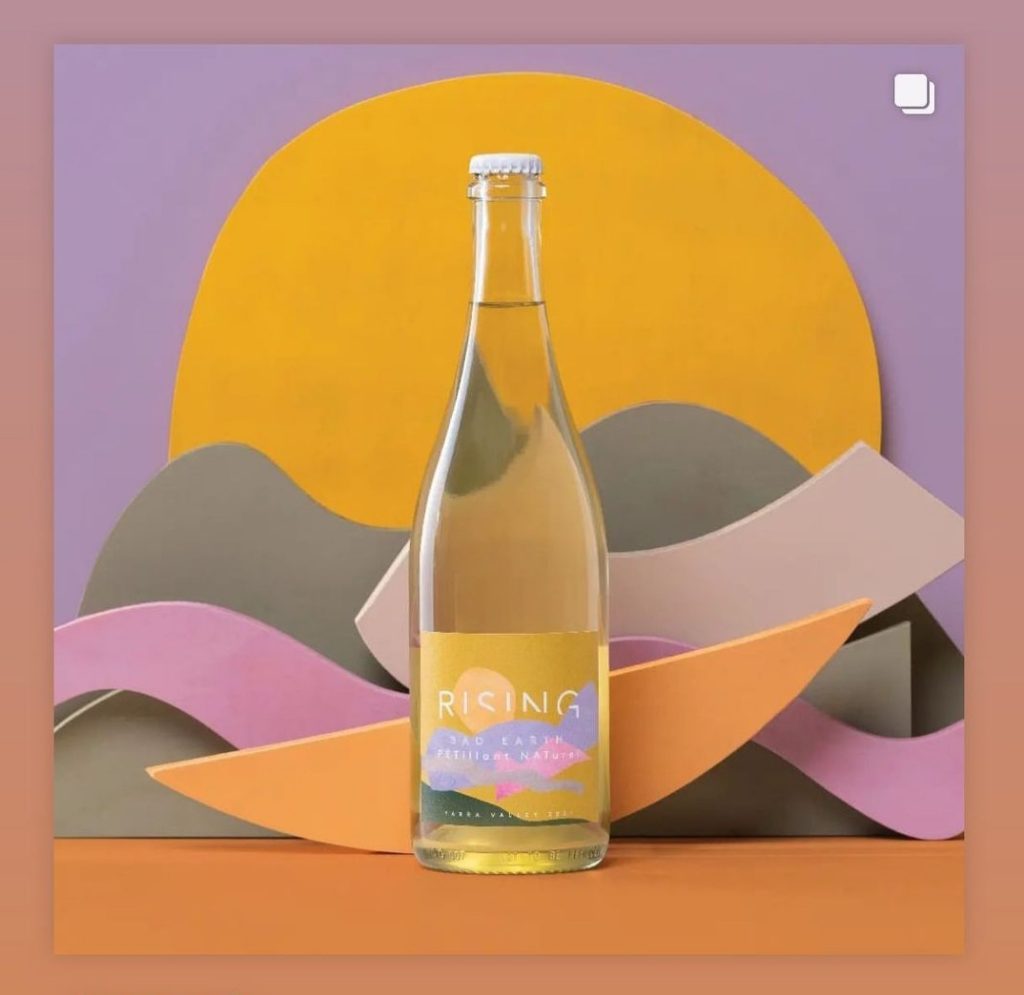 Bad Earth, Petillant Naturel
I have been a huge fan of this vineyard and its wines from the very first time I tasted their Pinot Noir, and soon after managed to kick the dirt and smell the air up in the vineyard. The force was strong with this one, a connection between place, time, varieties and people that sang in the wines: Led Zeppelin meets the London Philharmonic Orchestra, Kashmir.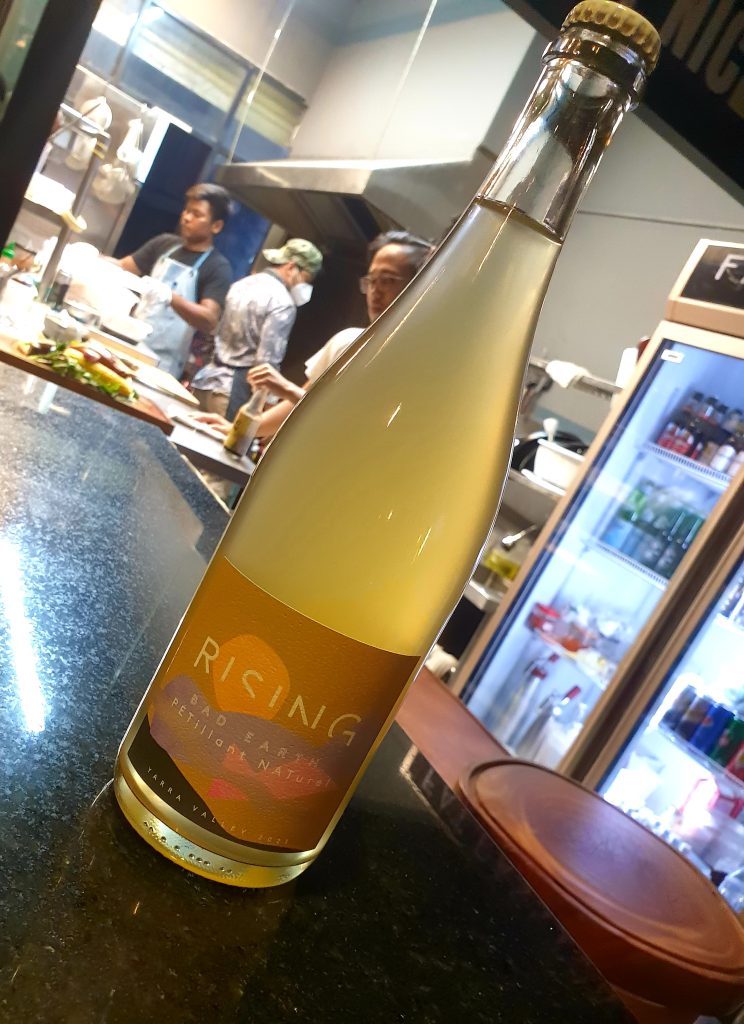 Bad Earth
The Rising Vineyard sits in the Christmas Hills between St. Andrews and Yarra Glen, so named for the emancipated convict David Christmas, who managed to get himself lost in the region during the year 1842. Prior to this apparently landmark-worthy event, the area was known as the Stringy Bark Forest.
Nestled in a valley on the outskirts of the beautiful township of St Andrews – set among unspoilt bushland and rolling hills in the Nillumbik Shire. This subregion is like no other. Nillumbik is derived from the Wurundjeri term for the area nyilumbik, which literally translates to bad earth, and its terroir is unique to the rest of the Yarra Valley.
The Rising Vineyard's bony soils here were considered too poor for farming; it turns out they are ideal for the production of premium table wine grapes. The soils here are derived from ancient marine sediments deposited on the ocean floor between 440 and 385 million years ago (Silurian to Early Devonian). These alternating sand and mudstone beds (turbidites) were then compressed, gently folded and uplifted by the Tabberabberan Orogeny— a mountain-building episode about 380 million years ago. The resulting proto schists were eroded and dissected over time to produce the topography and low fertility soils at vineyard site.
The weathering of this ancient basement has resulted in a thin veneer of skeletal duplex soils. A high proportion of bedrock fragments ensure excellent texture. A small proportion of clay provides just enough water-holding capacity, and the sheer enormity of time has leached the soils of nutrients, so fertility is low, and vine vigour is constrained.
The variety of slopes and aspects on the Rising Vineyard give a natural distribution of lighter loamy soils on the crests, and slightly heavier, more clay-rich soils accumulate on the mid to lower slopes. Having planted Pinot Noir and Chardonnay clones across these varying soil profiles, each vintage presents distinct parcels with very different characters which, when blended, deliver an inherent complexity to the wines.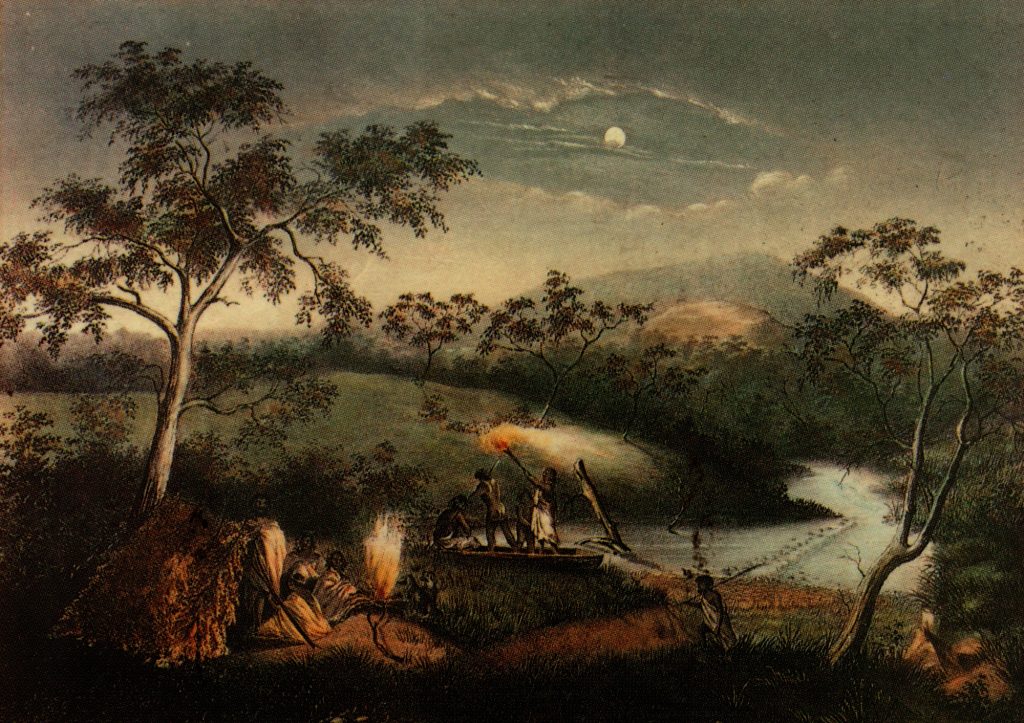 Wurundjeri Dreaming
In 1859, gold was discovered at nearby One Tree Hill leading to the 'Caledonian Goldfields' rush, which for a brief moment in history, brought a great deal of attention and wealth to the area, including the construction of two hotels, two schools a post office and a 'Mechanics Institute'. By 1908 the gold had run dry, and it was over, most of the population slowly drifted away, the post office managed to hang on until 1974, and then it too was closed.
For the indigenous Wurundjeri people of the Kulin Nation, the Yarra River was a life source that had been carved into the landscape by the ancestral creator spirit Bunjil — the wedge-tailed eagle. They called the river Birrarrung a 'place of mists and shadows', and it was the dreaming path they followed and camped beside through countless seasons. According to Australian Archaeologists like Gary Presland, the Wurundjeri have been in the area for up to 40,000 years prior to European settlement and lived very comfortably off the rich food resources from its lands and waterways; they achieved this by moving with the seasons and adapting to the natural environment.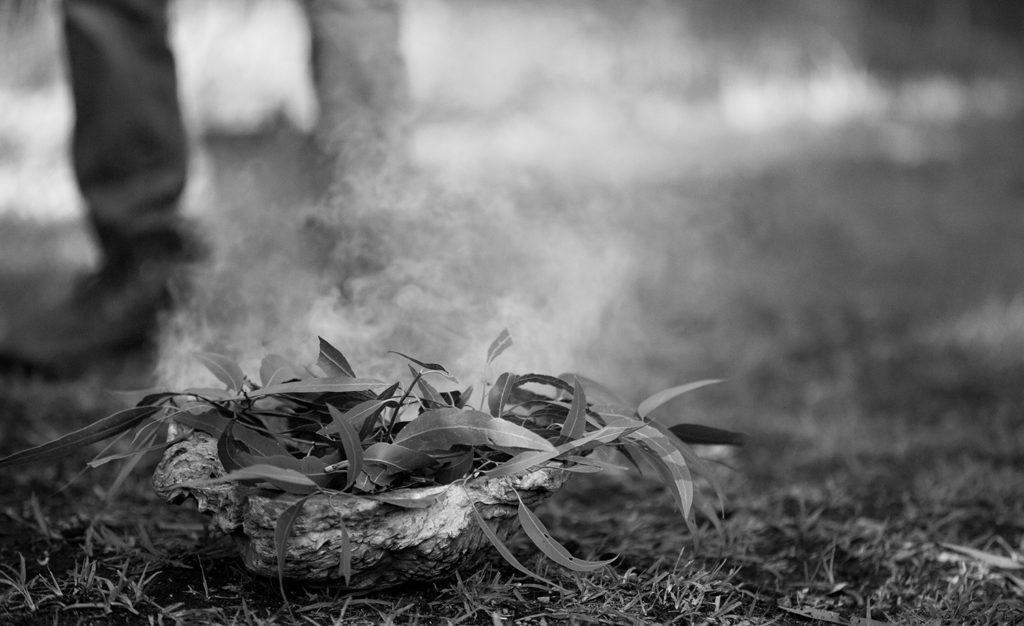 When foreign people passed through or were invited onto Woi Wurrung lands, the ceremony of Tanderrum – freedom of the bush – would be performed. This allowed safe passage , temporary access, and foreign people use of land and resources. It was a diplomatic rite involving the landholder's hospitality and a ritual exchange of gifts.
By 1890 Christmas Hills was being worked by small landholders known as 'selectors' who were paying off their farms to the government at one shilling per acre per half year; whilst improving their land to the same value by clearing trees, building fences, sowing crops and building sheds and family homes.
During most of this period, they struggled to impose some measure of European farming practice on the Australian bush.
"Here again, they can be seen to have been less than successful. They did succeed in leaving their mark on the more amenable patches of good land, but elsewhere the tenacious Stringybark-box woodland had generally succeeded in holding its own. Today, only a handful of small farms remain as a testimony to past struggles: elsewhere, the bush slowly reclaims ground previously yielded to axe and plough.
The history of any community is largely determined by the nature and location of its physical landscape. As the landscape changes, so also does the history of the community which lived out its span upon it. Of course, there will always be other variables; no two histories are ever the same. Each is unique in its own way. However, it would seem that for a century or more, the destiny of the people who settled the Christmas Hills was determined primarily by the nature of their landscape.
Always we have seen ourselves as masters of our destiny, able in the long term to impose our will upon the land. For two centuries, we have measured our achievements by our capacity to transform our landscape, seldom stopping to ponder how much that landscape has in fact, transformed us. It is only by looking back into the past that we can prepare for the future."
Source: Once Around the Sugarloaf, Mick Woiwod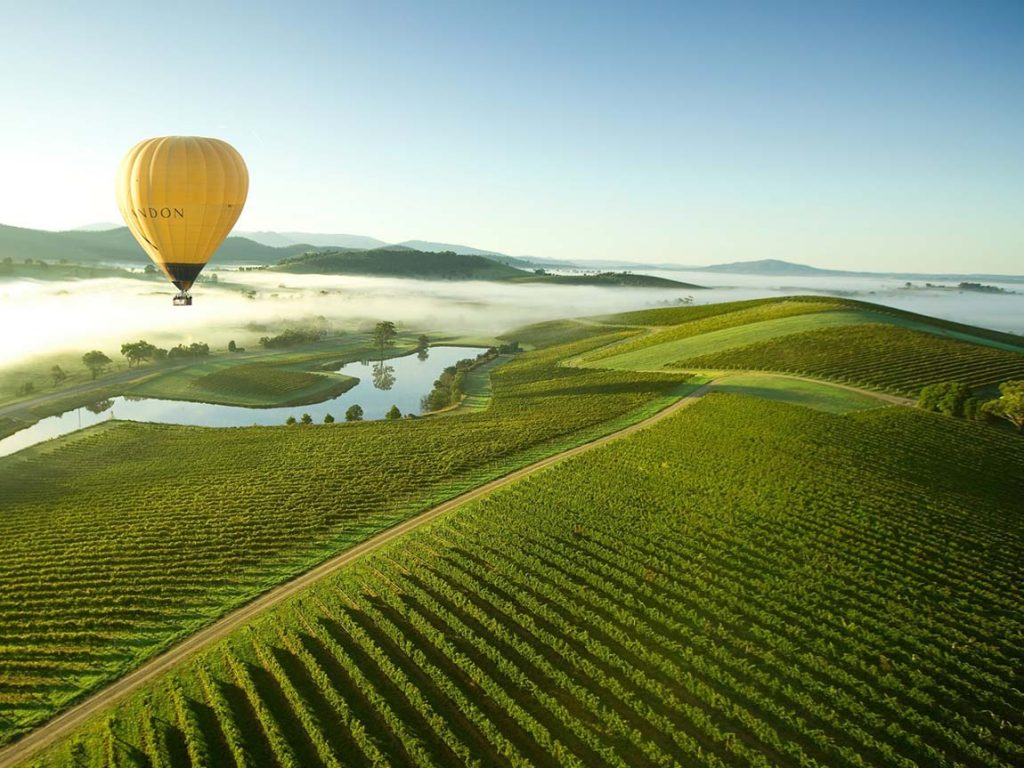 Yarra Rising
When the rail line arrived in 1889, many struggling farmers simply converted their farmhouses to guest houses and the area was considered an excellent health resort. In the 1980's many of these properties would be acquired by the government to create the Sugarloaf Reservoir.
Viticulture came to the Yarra Valley region in 1838 (the first in Victoria) when the Ryrie brothers planted grapes at Yering Station; the property was taken over by Swiss-born Paul de Castella in 1850 and developed into an important wine centre for the region, recognised in 1861 by winning the Argus Gold Cup for the best Victorian vineyard.
In 1863, Hubert de Castella established St Huberts Winery, and in the same year, Guillaume de Pury founded Yeringberg. In 1889, Yering Station won the grand prix at the Exposition Universelle, the only time a winery in the southern hemisphere has ever done so.
War, depression, changing tastes and the threat of phylloxera had a major impact on cool climate viticulture in Australia at the turn of the century. By 1937 wine production in the Yarra Valley had ceased.
In 1963, Reg Egan founded Wantirna Estate marking the beginning of the resurrection of the Yarra Valley as a premium wine-growing region. St. Huberts began replanting in 1966, Dr Bailey Carrodus followed with his Yarra Yering vineyard in 1969, and Guill de Pury began replanting the family vineyards at Yeringberg in the same year. Doc Middleton began planting at Mount Mary in 1971, and Pete McMahon his Seville Estate vineyard in 1972. Within 20 years, the French Champagne house Moet & Chandon had opened its doors, and the Yarra Valley region was again being recognized as one of the premier cool-climate viticultural regions in the country, if not the world.
The cooler climate means the region produces outstanding wines from thinner-skinned varieties such as Chardonnay and Pinot Noir, whilst in the warmer areas of the lower valley, it also produces exceptional, fuller-bodied reds from varieties such as Cabernet Sauvignon and Shiraz. Through Domaine Chandon, the region has also gained renown for its earlier-picked sparkling wines as well.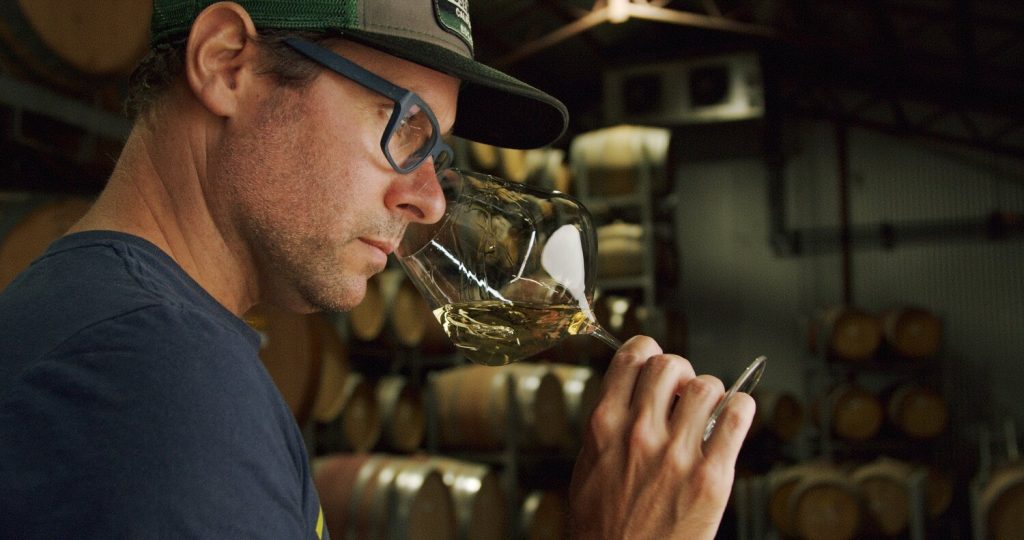 The Fikkers Approach
Anthony Fikkers hails from the new generation of winemakers championing minimal intervention practices from soil to table. His philosophy of proactive inaction throughout sees his wines as adulterated riffs on season and site.
After cutting his teeth in the Hunter Valley, Anthony moved to the Yarra Valley in 2006 to pursue his passions for cool climate winemaking, in particular Chardonnay and Pinot Noir. Over the last sixteen years, Anthony has worked for a swag of prominent wineries, including Madden Rise, Giant Steps, Medhurst, and Mac Forbes; when he managed to squeeze it in along the way, he also worked vintages in Piedmont (Italy), Burgundy (France), and Baden (Germany).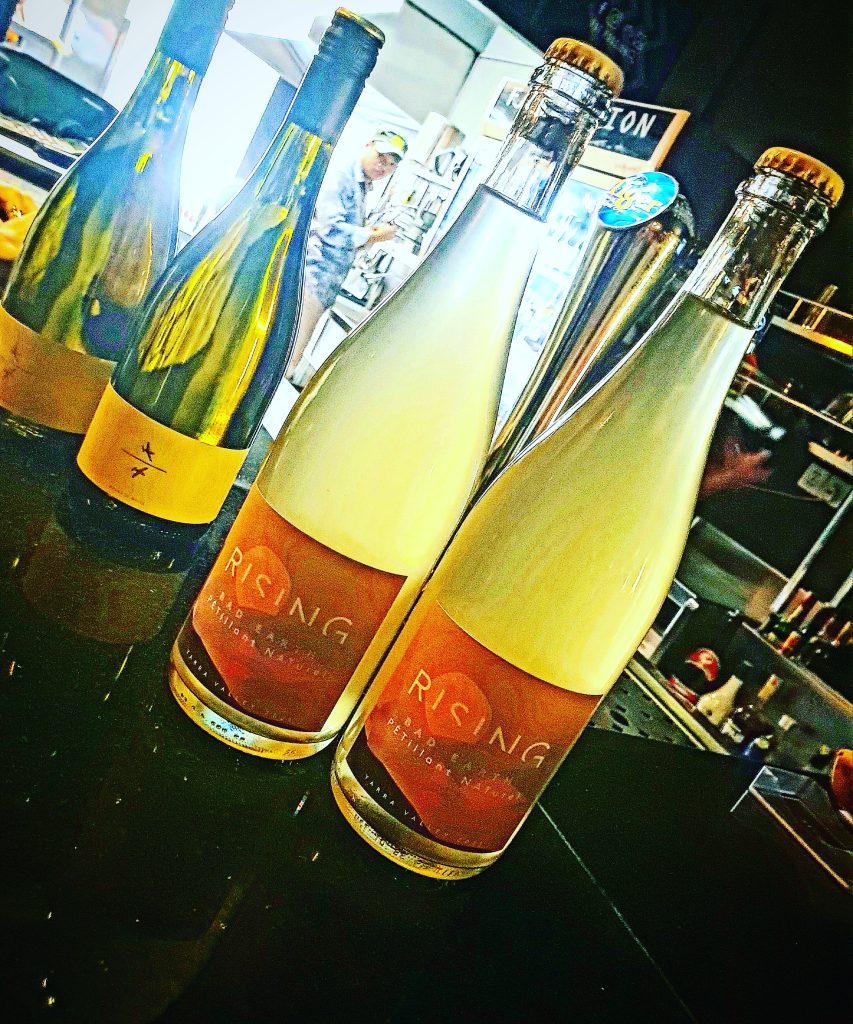 Methode Ancestrale
Pet Nat is incredibly 'rustic chic' in certain markets right now, somewhat ironic given the ancient history of a style rarely seen and all but forgotten, and only now making a comeback.  Pét-nat is a French term short for pétillant naturel, which translates to natural sparkling, it is a method so old it is also sometimes called 'methode ancestrale'.
The very first sparkling wines would have been made this way and, more likely than not, by accident when cold winters in the cellar stopped ferments, only for them to start again in the bottle once they resurfaced, and the weather warmed up.
The new surge in popularity of pet-nat is aligned with the natural wine movement and is often made with minimal intervention. The wines are usually cloudy, funky and sometimes, with a dollop of leesy yeast in the bottom of the bottle. There are few if any rules and much variation, but when its good, it ranges from super interesting to sublime.
Rising Vineyard has a second label tier called 'Bad Earth' where they release a range of fun, interesting and eminently enjoyable wines that include a field blend 'light dry red', and field blend 'aromatic dry white', a rose and Fikkers own version of Pet Nat.
Rising Vineyard 'Bad Earth' Petillant Naturel
A blend of predominantly Chardonnay with some Gewurztraminer, Savagnin, Sauvignon Blanc and Semillon thrown in.
A pale, cloudy wine, Eureka lemon meringue in colour. The wine's bouquet gives lifted wafts of baked bread, granola, biscotti, and a hint of marmite, over fruit notes of guava, fig, citrus and Bosc pear. On the palate, the wine has an inviting, creamy mousse with flavours of baked bread on entry, a sweet spot of yuzu and ginger mid-palate, all giving way to a finish of oatmeal lees notes and lemon soda acidity.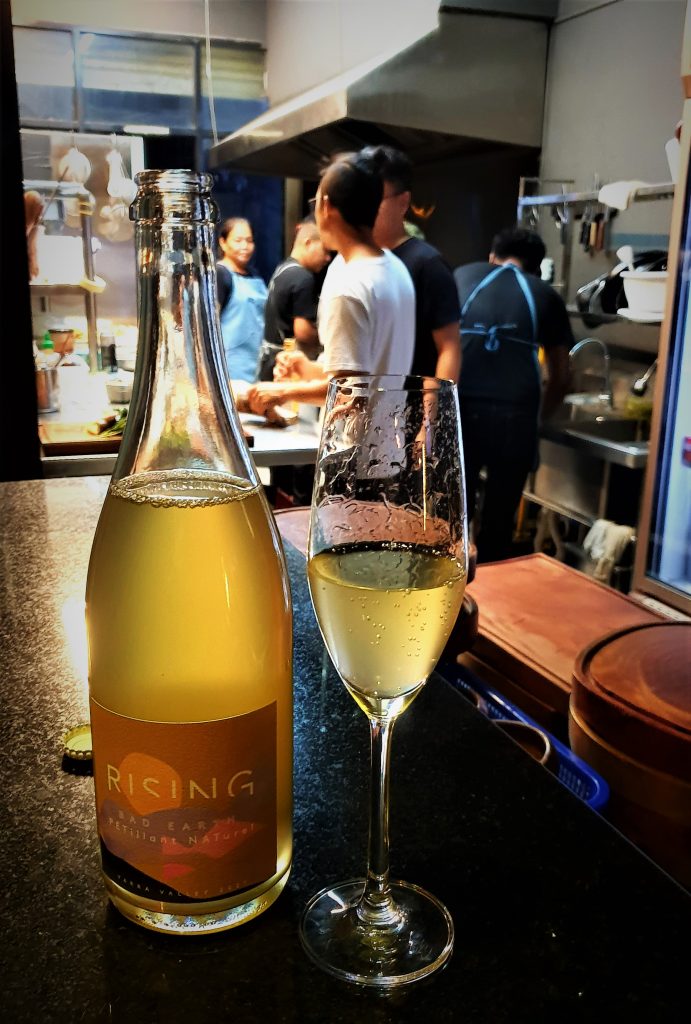 This is a clean, dry, attractive, exceptional example of the style and a delightful one at that. Well done Mr Fikkers. If you only get to try one pet-nat this holiday season, I hope it's this one -to get your year off to a great start. Happy New Year.
Tried at Fat Passion restaurant with a heap of delicious and typically eclectic appetizers by Jorge Chen and a bunch of dear and wonderful friends, three days before Christmas.