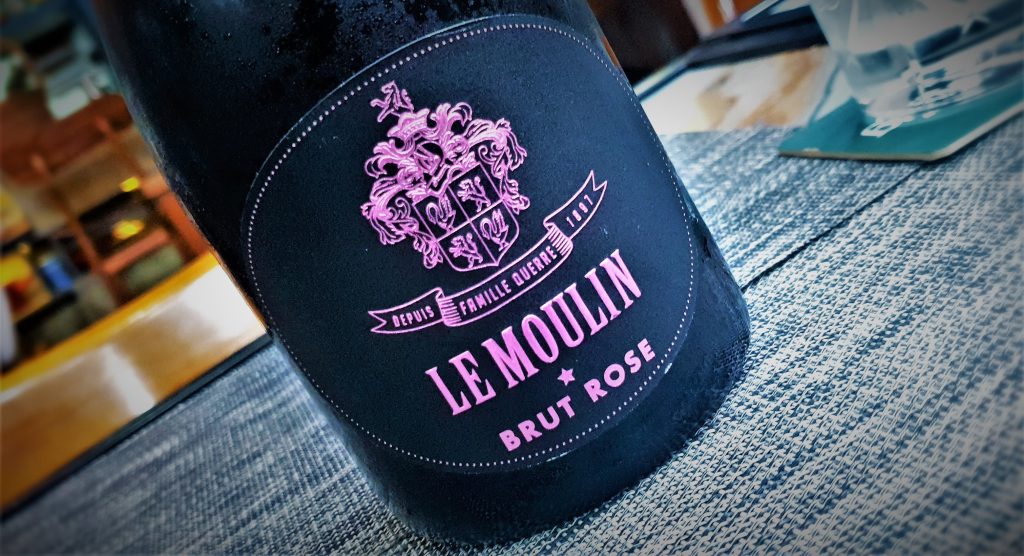 On the Tasting Bench
Famille Querre, 'Le Moulin' Brut Rose
A sparkling wine made in the traditional 'bottle fermented' method, from 100% Merlot, in the heart of Pomerol!
The Querre Family owns 36 hectares of vineyards in the appellations of Castillon, Pomerol, and Saint-Emilion. Their stable of Chateaux produces high-quality wines that tend to represent excellent value and often win awards on the French show circuit.
The Pomerol AOC, wine region sits on the right bank of the Dordogne River in Bordeaux, it hosts mostly smaller producers who make highly sought after red wines from Merlot grapes, often with the addition of around 15 to 20 percent of Cabernet Franc. Tiny plantings of Cabernet Sauvignon, Petit Verdot, and Malbec can also be found in the region but almost all of it ends up in second labels and lesser wines.
Whilst the region didn't really come to the fore as one of Bordeaux's leading wine regions until late in the 20th century and largely thanks to Jean-Pierre Moueix who in 1964 purchased the majority share in the 1790s built Chateau Petrus and slowly turned it into one of the superstar producers of the wine world.
Internationally-renowned flying winemaker Michel Rolland also had a significant part to play in the emergence of this bucolic quilt of vineyards as one of the world's greatest wine regions. Born in Pomerol and owner of Chateau Le Bon Pasteur, his winemaking style, (later harvests, riper fruit, micro-oxidation) found favour with the international markets, especially the United States, and in particular with its most influential wine critic at the height of his powers, Mr. Robert Parker Jr.
Today, two Pomerol wines, Petrus and Le Pin are the most expensive Bordeaux wines on the market, more expensive than their fuller-bodied, Cabernet Sauvignon dominated brothers and sisters in the Medoc on the Left Bank and only ever consistently beaten for price by a relative newcomer, Loïc Pasquet's cult Graves wine, 'Liber Pater'.
Given all this information, to then come across this relatively inexpensive sparkling Merlot wine -from Pomerol, recognized as the world's greatest producer of Merlot- on my tasting bench this week, was indeed more than a little surprising.
The first thing that strikes you about this wine is its outstanding colour, it looks more like a sbagliato in the glass than a rose, with a distinct blood-orange/tangerine hue.
The bead is fine and persistent with elegant, refined, primary aromas emanating: blackberry, peach, blackcurrants, and mulberries; then a slight bramble/herbal note lying under the initial fruit like a well-trimmed hedge. A hint of yeast autolysis and the elusive notes of shroom and spore twirling on the edges of perceptible olfaction.
The wine is dry on the palate, the mousse restrained, clean, fresh. The ripe fruit comes to the fore, forest berries, a touch of confiture de groseille and bonbons aux fruits: white peach, strawberry, and dark fruit. Whilst a dry wine it is also fruity and the structure and acidity are restrained, as one should perhaps expect from a sparkling wine produced this far south of Champagne. The palate exhibits a wine of good length and some finesse, that is both interesting and pleasantly enjoyable. Drink it with a plate of charcuterie, a Christmas ham, or Turkey.