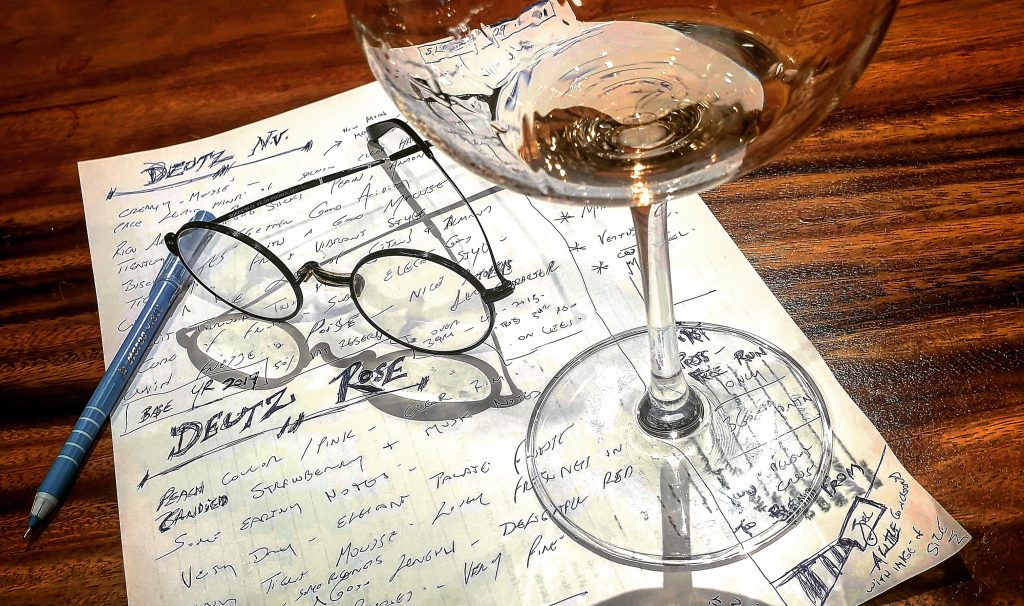 On The Bench – Deutz Champagne
Deutz Classic Brut NV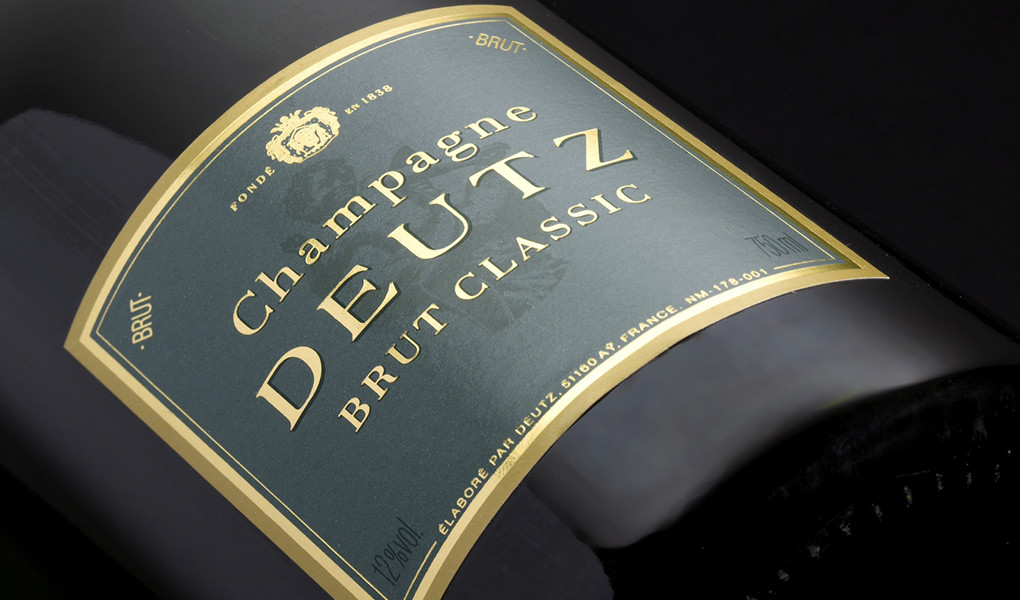 Pale straw in colour with lemon hues and faint accents of salmon pink suggesting Noir and Meunier.
The bead is fine, persistent.
Perfumed aromas of biscotti, reinette apple, almond and Chinese quince, alluring, inviting.
The mousse is creamy yet elegant, there is good acidity and some restraint on the palate, the tension is there but gentle, teasing. The leesy, autolysis notes come through on the palate, biscotti, freshly baked pastry, marzipan, given vibrancy by fruit notes of citrus and ripe pear, the darker fruits underpin the complexity of flavour, with earthier notes of damp forest floor and autumn-leaf smoke.
The acidity is assertive but refined, here persuasive rather than insistent, showing the finesse and pedigree of the house. The wine is tight, fresh, beautifully balanced and elegant, an expression in poise and grace.
A bend of Chardonnay (30%), Pinot Noir (38%) and Pinot Meunier (32%), the base wine is 2017, with generous portions of 15 and 16 and a splash of older cuvees contributing to a final blend that is made up of many vineyards and Champagne terroirs; three years on yeast lees define the wine as being of rare and exceptional quality, a magnificent Cuvee de Maison.
A joyous Champagne on its own or, perfect with a platter of Tsar Imperial, beluga caviar, crème fraiche and blinis.
Deutz Brut Rose NV
The grapes for this wine are sourced from the Montagne de Reims, (Pinot Noir, 82%) and the Côte des Blancs, (Chardonnay, 10%).  Grapes are gently pressed and vinified at the winery in Aÿ, with only the free-run juice used in order to achieve a clean, white, base wine.  The wine gains its rosé colour via the addition of a little dash of red (8%), made from Pinot Noir grown in the Meurtet vineyard, which is on the hill directly behind the winery.  This non-vintage blend has between 25% – 40% reserve wines. Upon assemblage the wine spends 3 years ageing on its lees, following disgorgement it spends a further 6 months in bottle before being released.
Pink peach in colour, a very fine and persistent bead. The rose exhibits aromas of candied strawberry, pink grapefruit, small red currants and pomegranate, there is a hint of earthiness adding further complexity. The palate shows a dry wine with both power and polish; a rich, creamy mousse that expands across the palate before the Pinot Noir component brings weight and depth of flavour; strawberry, grenadine, cranberry fruits with faint hints of xylophagous fungi and Cenovis/Marmite, adding seductive complexity. The acidity is tight, vibrant and assertive, giving the wine balance, and ensuring refinement, retaining its poise and elegance. Rose Champagne is enormously popular around the world, many fine houses have struggled to meet demand and taken in lower grade grapes to cash in on the opportunity. Deutz is not one of them and here we have a rose Champagne with an exotic expression of flavours wrapped in an elegant, silken structure.
A brilliant, 'food' friendly Champagne, try it with Peking duck, dim sum or epoisses.
Deutz Blanc de Blancs, Vintage 2010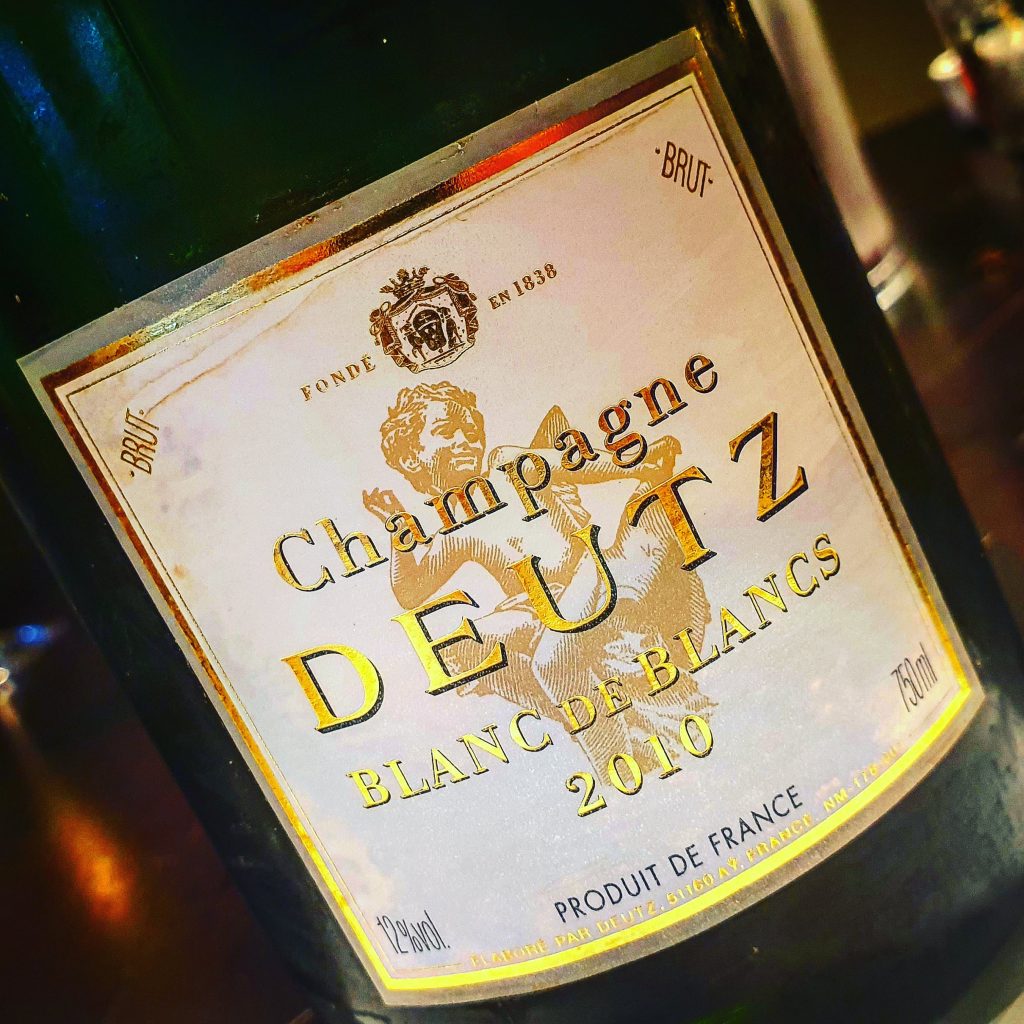 2010 was a tough vintage in Champagne for the red varieties of Pinot Noir and Pinot Meunier, with lots of rain at precisely the wrong time however, Chardonnay fared much better and some very good Blanc de Blancs were produced, this wine is definitely one of them.
The Chardonnay grapes came from some of the finest vineyards in the Côte des Blancs', Avize (55%), Mesnil and Oger (40%) and a small addition from the Montagne de Reims, Villers-Marmery (5%), winemaker Michel Davesne is particularly fond of the nuance a small amount of this fruit brings to the overall blend. Using the Coquard presses, only the free-run juice of the first gentle pressing is used for this wine and each parcel is vinified separately. The final assemblage happens a year later and the wine then spends five years on its yeast lees.
Pale straw in colour with flecks of lemon and gold, the bead is fine and persistent, aromas show restraint, subtlety, notes of pear, pastry, almond, hazelnut and a whiff of ginger. The palate retains its elegance, a hallmark of this producer, a graceful mousse dances across the palate, the fruit is evolved, richly toasty and nutty with a core of brioche, marzipan and a whiff of pear and lemon tart. Dry, refined, with great length and fine acidity; this bottle is at its peak right now and drinking beautifully. Here is a gracious Salome that teases the senses with its 'dance of the seven veils', revealing a little more of its charm and sophistication with each swirl, sniff and sip.
The wine was consumed over a long and remarkable lunch at Phnom Penh's finest Belgian restaurant, 'Brussels' owned and operated by Philippe Veeckmans and his wife. The food was authentic and extraordinary as were the wines; the Deutz an absolute triumph.
The House of Deutz was founded in 1838; since its acquisition by the Rouzaud family in 1983, (who also own Louis Roederer) Champagne Deutz has risen to earn a well-deserved reputation as being a true 'Champagne drinkers' Champagne, (meaning that those who are interested in actual quality over perceptions of quality enjoy Deutz). I am more than happy to raise my hand as one of them.