Kampot is without doubt one of the most beautiful places in the kingdom; an old, sleepy, pretty little town on the banks of a quiet river, set between mist covered mountains and a sea bejeweled with isles. The narrow gauge railway, back up and running through the province merely adds to the romance.
Yet for all its peaceful tranquility, this is an ancient city with a rich, complex and sometimes dark history, there are stories on the Teuk Chhou River, tales in the Elephant Mountains and whispers in every shadowy lane. Kampot has been home to Chinese pirates, Javanese kings, Malayans, French administrators, bandits and outlaws. On February 26th 1974, the Khmer Rouge commenced their final attack on Kampot, firing 107mm rockets and 120mm mortars into the town. By April 2nd it was all over, most of the inhabitants had fled, utilities had failed and Kampot fell into darkness.  Decades after, tourists would pass through Kampot to see the bomb damaged, bullet riddled buildings; a once important river port reduced to damaged buildings and ravaged souls.
More recently, Kampot town has undergone a renaissance, old shop houses from a bygone era are being restored and reinvented as guest houses, boutique hotels, restaurants and bars. The old esplanade along the river breathes life and colour once more. Built sometime around the early 1940's and strikingly shaped like an irregular hexagon, the French designed fish market building sits on the river bank opposite the old market.
After the civil war, Kampot was slowly re-inhabited and the building on the river was commandeered as the Provincial Customs House. Somehow, the building fell into the hands of private enterprise and had a short, somewhat notorious career as a nightclub named 'Alaska'.  After the club failed the abandoned building was put on the market, but with its shady land-title history, few genuine buyers came forward. There were rumours that the government was intent on tearing the dilapidated building down.
Upon seeing an image of the original building, Australian expat Hugh Munro decided to find an investor and restore the majestic old building to its original glory, reinventing it as a bar, restaurant and live music venue.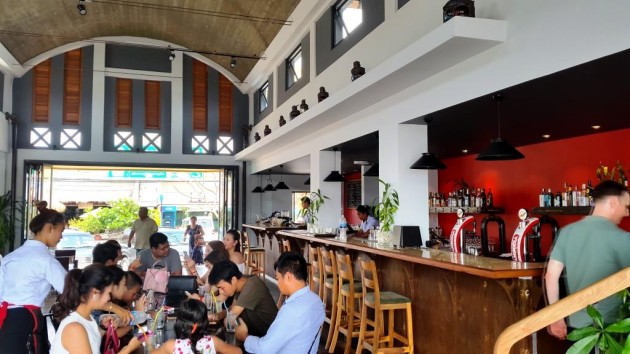 Opened just a handful of weeks ago, the exquisitely restored national treasure is stunning to look at, a jewel on the river and an important landmark for Kampot.  The exterior is vibrant, traditional saffron / mustard yellow with a large open entrance into the main hall, there is a long timber bar along one wall and a raised timber stage along the other. The floor is a combination of polished cement and colonial tile and the whole interior presents as something of a Bauhausian wharf; fitting for the birthplace of Cambodia's most famous architect, Vann Molyvann.
The design is both appealing and clever with large, open, concertina glass doors that offer views of the river and mountains from almost every table. There is work going on upstairs where a new deck will soon be completed and there is an inviting, timbered terrace around the entire riverside of the building, which hovers alluring out over the water. One end of the terrace has a drinks bench with bar stools and I can see myself lingering in one of them for hours.
Chef Vuthy was one of the first Khmer chefs on Koh Song Saa, (Cambodia's 1,500 USD per night, Private Island); where he cooked with legendry chef's Neil Wager and Tim Bruyns.
The menu offers contemporary bistro fare and some popular Khmer dishes with starters like, Salt and Pepper Squid and a Shrimp and Sea Bass Ceviche. There are ten different main dishes: lamb chops, pepper crab, rib eye steak, fish and chips and a green tea smoked duck being some of the highlights. Starters range from $3 to $7 whilst mains run from $6 up to $17. Prices are a little higher than Kampot is used to with its cheap eats options but, The Fish Market is not expensive at all.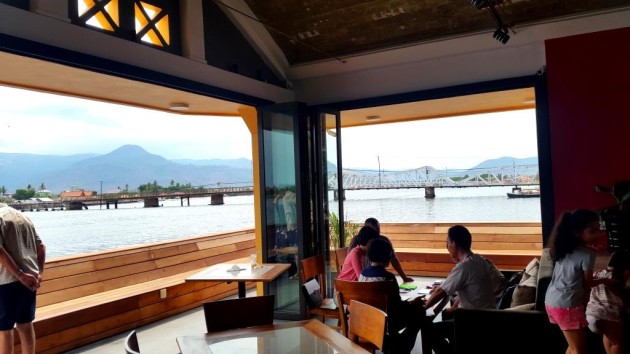 The wine selection is conservative and concise with a mix of half a dozen reds, half a dozen whites, roses and sparkling from the new and old worlds, from $16 to $30 per bottle. There is a list of standard cocktails, local and imported beers and non-alcoholic beverages both hot and cold.
Staff are courteous, friendly and trying very hard to please; they win me over with their attitudes and efforts.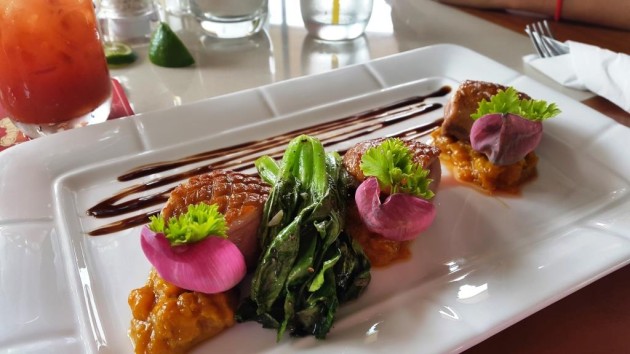 What this venture offers is a glimpse of Kampot's past and a vision of its future, a way to preserve the colonial structures and charming beauty of this old town, rescuing the buildings once slated for demolition and reinventing them as servants of the city, bringing in tourists with a taste for nostalgia and a slice of the good life.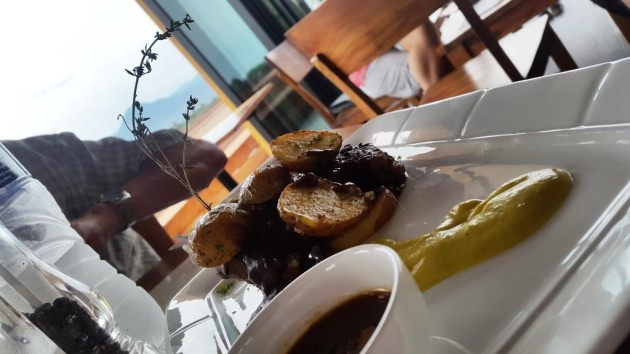 The fish market is still in fine tuning / soft opening phase and there is still some tweaking to do with food suppliers but, I love the place already and see it as an important step in Kampot's path to restoration and sustainable tourism, it receives nothing but encouragement from me.