We do not get to see many quality North American wines in Cambodia, demand has always seemed low and the effort to develop a market for such wines has quite frankly, just not been forthcoming.
Often in emerging markets, demand tends to be for either the cheapest wine available or the best that money can buy, I call them top and tail markets and wines which fall between these two price-points rarely perform do well. Fortunately, with a strong and growing economy in Cambodia the market is showing signs of maturity and there is now room opening up for high quality, mid-priced, premium wines.
I was therefore, delighted to learn that a shipment of very good, mid-priced, premium wine from the United States of America has just arrived in the kingdom.
Founded in 1979 when the Sonoma Coast region was still relatively unknown, the La Crema vineyard was purchased by the Jackson family of Kendall Jackson fame in 1993. The winery specializes in the Burgundy grape varieties of Pinot Noir and Chardonnay along with some Pinot Gris, a variety made famous in nearby Alsace.
The Sonoma Coast region runs along the Pacific Coastline of California, north of San Francisco to Mendocino County, it includes many famous sub-regions like Chalk Hill, Russian River Valley, Los Carneros and the Petaluma Gap. The region enjoys a cool climate and is strongly influenced by the Pacific Ocean and its coastal winds. The famous Pacific Fog in the area allows the grapes to ripen slowly and reach full flavour potential in the vineyard, building complexity of flavour and retaining healthy acidity.
The Chardonnay program at La Crema is overseen by talented young winemaker Matt Flick, whilst Associate Winemaker, Craig McAllister, from New Zealand has also had a fair bit to do with its direction and style in recent years.
La Crema's vineyards are all harvested by hand and the winemaking techniques are primarily traditional; the Chardonnay is whole bunch pressed then fermented and matured in French oak barrels on its yeast lees, with battonage every 8 weeks.
Now available in Cambodia, I was fortunate to try the 2014 and it charmed me greatly, I found it positively delightful as a complex wine with impressive, judicious use of oak, a rich and creamy palate and some fine structure and acidity to finish.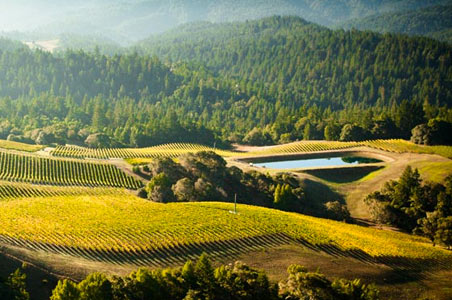 Colour: deep lemon with green and gold tints
Aroma: Shortbread, toast, butterscotch, crème brulee, white peach and lemon
Palate: creamy entry with hints of hazelnut, white peach and custard apple, back palate tightens up with some attractive, pink grapefruit acidity and toasty oak.
Conclusion: I loved the toasty, slightly charry and sweet, (vanilla, butterscotch, coconut) aromas of new oak and the creamy entry onto the palate, I loved the fruit flavours and I was impressed with the tight back palate acidity and vibrancy.
I really want to try this wine again with food, a wealth of potentially stunning pairings immediately spring to mind involving salmon, prawns, scallops, chicken, pork and small game birds.