Marie-Pierre Lallez and her sister Emmanuelle are the driving force behind the family wine business of Vignobles Raguenot, owners and operators of the Bordeaux Chateaux des Tourtes in Blaye and Haut Beyzac in the Haut Medoc. Proud of their independence and family ownership, the sisters infuse everything they do with great passion and care.
The sisters have been working with Cambodian wine importer / distributor La Cave for the past ten years and after many visits to the Cambodian market, they developed a deep sense of empathy and compassion for this land and its people. Soon these emotions developed into a strong desire to give something back to the country, a place that had become so much more than a market and a lover of their wines. The country had given them so much friendship, warmth and joy whenever they came to stay.
The sisters felt they especially wanted to help the children of Cambodia and identified access to education as the perfect place to start.
On her recent visit to Phnom Penh it was my good fortune to spend some time with the incredibly charming and eminently sincere owner and winemaker, Marie Pierre Lallez to taste the new vintages and discuss her philanthropic work here in the Kingdom.
For the past four years an open- day has been held at the property, where all of the customers of Chateau des Tortes and Vignobles Raguenot are invited to  special event they now call a 'Harvest of the Heart'. Guests pick grapes enjoy a gourmet lunch and take part in wine tastings, play games, tour the chateau and cellars. There are also activities for children such as horse riding and tasting the different grapes grown on the estate.
During the event there is also a special wine sale with all of the proceeds going to building schools and improving educational facilities in rural Cambodia. The most recent Harvest of the Heart attracted over 200 people and with schools in Cambodia already benefiting directly from the money raised at these events.
A director within the ministry of education works with the family to discuss and decide where the funds can best be employed, selecting the school each year and their particular needs. Marie Pierre was as enthusiastic and passionate about sharing this event with me as she was in talking about her new vintages, the vinous highlights of the meeting being: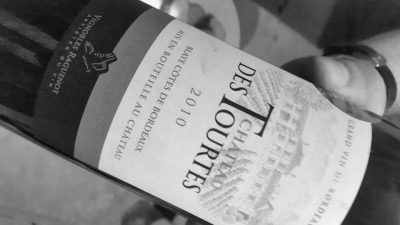 L'Attribute des Tourtes, 2010: an elegant red consisting of mainly Merlot with the addition of a little Cabernet Sauvignon to add length and structure to the palate. The 2010 vintage was a great year and the wine is really showing off its juicy, ripe Merlot fruit and a fine, velvet like texture with supple, ripe tannins. This wine is a real star and exceptional value for money.
Chateau des Tourtes 'Cuvee Prestige', 2010: A very fruit forward, fruit driven wine that exhibits aromas of bright red fruits, cranberry and blackcurrant given further complexity by subtle oak. Another juicy, ripe and attractive 2010 des Tourtes that is drinking well and represents outstanding value for money.
Chateau des Tourtes Rose, 2015: By all reports the 2015 Bordeaux vintage produced wines of excellent quality, having tried a couple of barrel samples recently I was super impressed, this 50/50 Merlot, Cabernet Sauvignon Blend, rose only enhances the vintages reputation, ripe, restrained, complex and very enjoyable.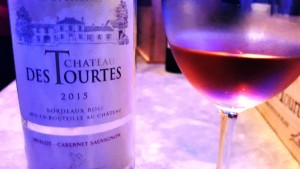 Summary: It is indeed heart-warming to be able to enjoy wines and support a winery who is putting something back into Cambodian in such a meaningful way but, it is all the made that much more enjoyable when the wines are this good and represent such exceptional value for money here in Cambodia.