Le Royal restaurant at Raffles Le Royal Hotel in Phnom Penh has the magical ability to transport you, not only to another world, but also to another time. There are very few hotels in the Kingdom that come near Le Royal for commitment to service and quality, there are none than can match it for nostalgia.
First opened in 1929, the hotel has seen the glory days of French colonial ambition, the golden era of Cambodian independence, the horrors of war, (which forced its closure in 1975) and the reawakening of a nation when it opened again in 1997.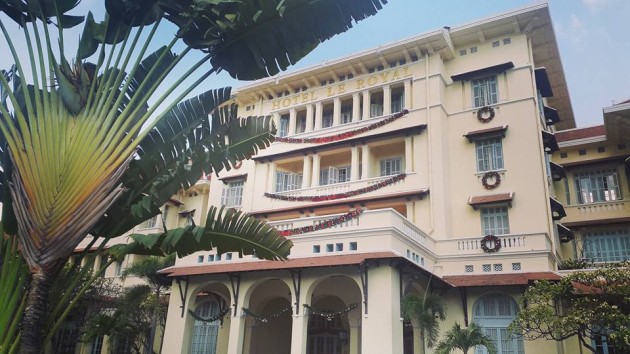 It has played host to kings and queens, presidents and heads of state, writers and journalists, filmmakers and actors, it has served, with professional indifference, those who have shaped our culture, our freedoms and the very world we live in. If the story of a hotel is shaped by the people who have stayed in it, then Raffles Le Royal has a rich and evocative guest list indeed, one that lends itself to imaging what they must have shared here, with this hotel and with this city; as history positively raged all around it.
French President Charles de Gaulle, (who opposed Cambodian Independence) was a guest here, Andre Malraux, (who stole artifacts from Cambodia and then wrote about it) was here too, the writer Somerset Maugham and the silent screen actor Charlie Chaplain were guests. Jacqueline Kennedy, wife of President John F. Kennedy stayed here as a guest of Prince Sihanouk, fulfilling a lifelong dream to see the temples of Angkor, (the next American president would approve the dropping of bombs on these people). The menu she dined on was recently recreated for a special event in the hotel and her favourite cocktail is still available in the hotel's famous Elephant Bar.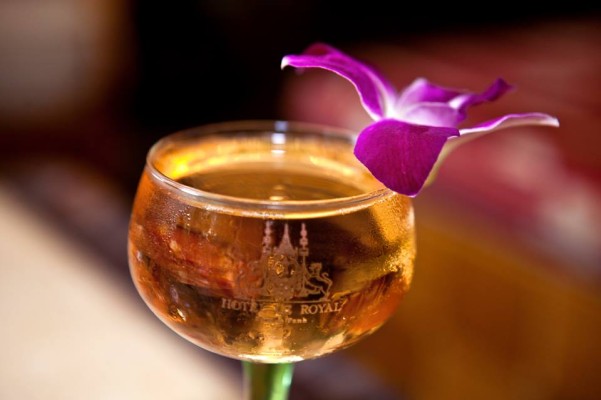 Celebrated war correspondent and award winning author Elizabeth Becker first started covering Cambodia in 1973. She was one of only two American journalists allowed into Phnom Penh during its occupation by the Khmer Rouge and interviewed Pol Pot in 1978. She would return to Cambodia in peacetime and present to the Hotel her room key, which she had failed to return before fleeing the country. It is now on display in the hotel, alongside her Lon Nol era press pass.
Whether you are channeling grandeur or adventure, it seems there is a ghost here to cater to everyone.
The restaurant is ably managed by Food and Beverage Manager Thomas Bianco, already a regional and industry veteran at only 27 years old. He admits to being caught up in the stories, the majesty and the history of the hotel, he loves it and is happy to share the details. He is also passionate about fine dining and great service. Thomas believes it a duty to this hotel's rich history, to uphold the highest standards and to continue to evolve and improve on the past, even as you admire it.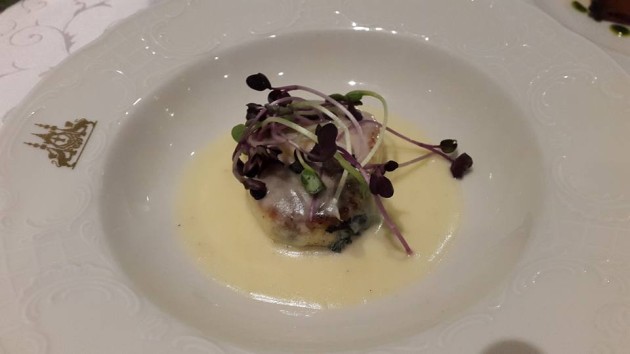 The still relatively new Executive Chef is Joel Wilkinson, given his own history he appears the perfect match. Joel has worked at a number of elite properties, having spent 27yrs in the culinary industry, working throughout 10 countries with some of the world's leading hotels and resorts.
Most recently chef worked at Song Saa Private Island Cambodia, Grosvenor House Hotel on Park Lane in London, 'The American Club' in Singapore, Jumby Bay Island in Antigua and he also opened the acclaimed Alila Cha-Am Resort in Thailand. His own experience with celebrities is impressive having cooked for the likes of Prince Edward, Pavarotti, the Royal family of Dubai and the actors Robert De Niro and Hugh Jackman to name a few.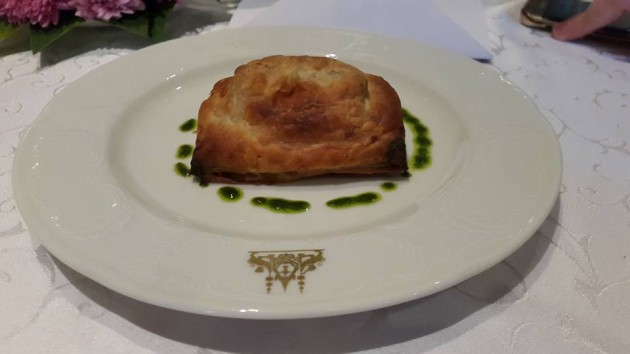 Together, the obviously talented chef and the passionate and professional manager help create a gastronomically transformative experience in the restaurant, serving exceptional French haute cuisine, using the finest ingredients and offering such fine dining details as gueridon and silver service.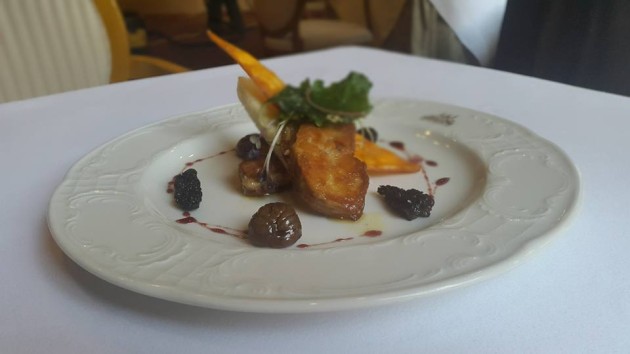 The dining room is pure colonial majesty, impossibly high ceilings and heavy wooden furniture, thick silken drapes, polished silverware and fine crystal. It is like dining at the royal court or on the set of an old Hollywood movie, it is indeed grand and yet it is also compellingly beautiful.
Today, I am enjoying the Sunday brunch, a semi buffet, semi-a la carte affair that involves free-flow Mumm Champagne and a buffet of foie gras, cured salmon, a selection of imported cheeses, saucisson, salads and all manner other delicacies and delights. The price is very good value at $78++ per person, at the end of the brunch I am in no doubt that I have eaten and drunken my fill and enjoyed it all a great deal.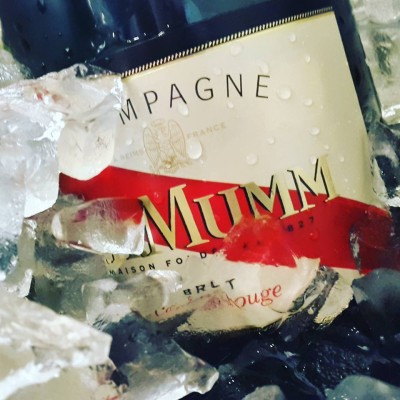 We are offered tasty, tangy, spicy Bloody Mary's to start, then a Kir Royale and then the Champagne flows, the service is impeccable, friendly; the staff are enjoying my own enjoyment. There is lots of table side flambé-ing as scallops, foie gras, beef and lamb are prepared or finished off table side, for three hours my Champagne flute is never empty.
Thomas informs me that the hotel has prepared some very special, set degustation menus for Christmas Eve and Christmas Day, if they are as good as the brunch I have just enjoyed today, then they will be spectacular culinary celebrations, gifts in themselves and the makings of a very Merry Christmas indeed.
The Elephant Bar is also a revelation, having undergone extensive renovation it still oozes nostalgic class, I would not have been surprised to see Norman Lewis writing the final chapters of 'A Dragon Apparent' at the end of the bar. The mixology here is exceptional, I am invited to taste barrel aged negroni's -matured in little oak casks right there behind the bar, a Christmas tree infused gin sour and samples of various bitters, tinctures, clarifications and infusions. I have now been fully transported and will at some point have to attempt to find my way back but for now, Christmas has come early and I am happy, contented and very impressed.