The 1er Grand Cru Classé property, Clos Fourtet was a defensive fort erected sometime during the middle ages. It sits opposite the entrance to the old town of Saint Emilion and above some of its ancient limestone quarries. Leon Rulleau planted vineyards on the site in the mid seventeen hundreds and the property remained with the family until 1868.
In 1919, the property was purchased by Fernand Ginestet the founder of the negociant house Maison Ginestet and one of the great chateau owners and wine merchants in Bordeaux's history, at one time Fernand was the owner of Chateau Margaux, Chateau Lascombs, Cos d'Estournel, Clos Fourtet and Petit Village as well as a trader and representative of a great many more.
In 1949 Fernand's son Pierre sold Clos Fourtet to the Lurton family in order to finance total acquisition of Chateau Margaux and with the institution of Pierre Lurton as winemaker, the quality and reputation of the wines from Clos Fourtet began to rise dramatically.
Pierre Lurton would eventually leave to become the winemaker at Cheval Blanc and in 2001 the winery would come into the hands of Phillipe Cuvelier, who also owns Chateau Poujeaux in the Moulis region and recently acquired three more properties in Saint Emilion. Phillipe's son Matthieu runs the family vineyards and respected vigneron Stéphane Derenoncourt is the consulting manager; under their care the wine quality and reputation of Clos Fourtet has continued to thrive and prosper.
The 2009 vintage Clos Fourtet was awarded 100 points out of a possible 100 by respected wine critic Robert M. Parker Jr. and the recently released 2012 was selected at number 9 in the 'TOP 100 Wines of the Year', (2015) by Wine Spectator Magazine.
The picturesque property is notable for its beautiful, ivy covered manor and the extensive warren of lime stone cellars that run underneath it. Clos Fourtet has 19 hectares of vineyards planted with Merlot, Cabernet Franc and Cabernet Sauvignon. The wine is vinified traditionally and is aged in oak barriques (around 70% new) for 18 months. It is bottled unfiltered.
The Tasting
Held in Red Apron's magnificent new facilities in Street 240, all wines were decanted and evaluated twice over time as they breathed and evolved in the decanter.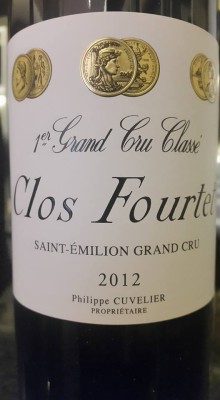 2012
A wine of immense class, all elegance, finesse and balance; a thing of beauty. Intense, crushed red berries with deftly handled oak showing hints of fresh dough, spice and the flavours finish with a hint of chalk; the tannins are silken and the berry flavours linger. A masterful 2012.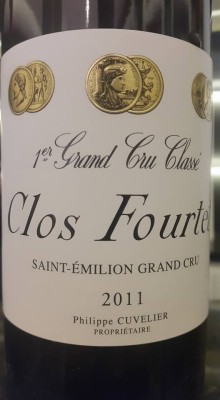 2011
A tougher vintage the wine is light to medium bodied with earthy fruit and suggestions of mint, menthol and herbs, oak is subdued and the wine has fine and slightly savoury tannins with some chalky, minerality on the finish, accessible and enjoyable now.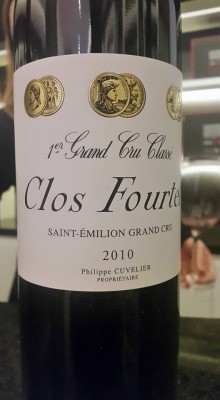 2010
Superb vintage and it shows through, the wine is still youthful, tightly wound but with bright fruit, great depth and hallmark elegance. Plenty of new oak in this year but there is also plenty of dense fruit to be tamed. Aromas and flavours are like a big juicy bowl of ripe boysenberry, mulberry and blackberry given further complexity by hints of mocha and chocolate with some violet, anise, oak spice, vanillin and cedar -all wrapped up in those velvet like tannins. A truly great Saint Emilion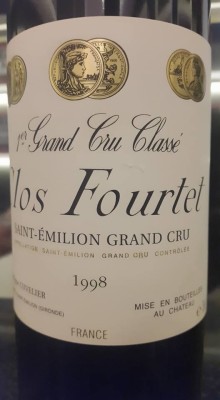 1998
The wine is just beginning to show some tertiary development in the bottle, earthy notes, mocha, plum anise, pencil shavings and iron filings. The core fruit is sweetish with good dense, ripe red berry flavours that retain a youthful vibrancy. The ripe Merlot is really singing in this wine, it shines through with plump jammy mulberry fruit mid-palate. The wine is still quite youthful and fine with very soft tannins making it a delight to drink right now.
Summary
A good selection of vintages to taste and to show the greatness of this chateau in the good vintages and its dedication and sheer skill in the more difficult ones. It is always a privilege to taste some of the top Bordeaux Chateau but, it is  especially pleasing to taste one that is so obviously at the top of its game.