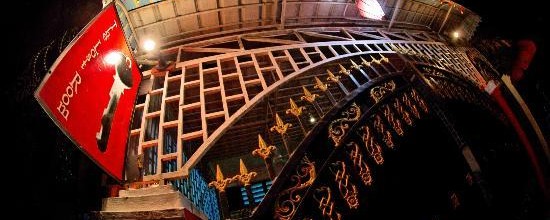 Small, urban dining rooms are becoming incredibly fashionable in large capital cities around the globe. Intimate eating spaces where passion, quality, expressionism, creativity, individualism and imagination-in-dinning make a local stand against fast food, franchising and disingenuous, feed-lot, number-crunching monoliths; a feel-good antidote to the soulless rotation of bums on seats and production line cooking.
The Lost Room is small and intimate in every sense of the word, a space where its two owners put their passion, their heart and soul, their combined abilities and their creativity out on show and to the test every night that they open the doors.
In the Kitchen, chef Derek enthusiastically indulges his frenetic bursts of creativity, whilst ever battling to temper his roaming imagination and focus on technique, execution and perfection. Front of house, Wendy Lucas is part precision drill-sergeant and part mother-hen; the soft, loving center always managing to show through her thin veneer of the no-nonsense matron of the house; a veneer very much needed when this small, incredibly popular restaurant is in full swing, fully booked and having to turn away hopeful drop-ins or, guide them to the cozy bar where they may wait in hope for a later table. People don't come here to get lost, new diner's come for the much talked about food, regulars return again and again to be found, to be a part of the atmosphere, the feeling of the place and because it has become part of their own living spaces, a little bit like family and a little bit like home.
The dishes on offer are served as sharing plates and this is another brilliant initiative which allows for an intimacy and shared collaboration in the dining experience, bringing guests together.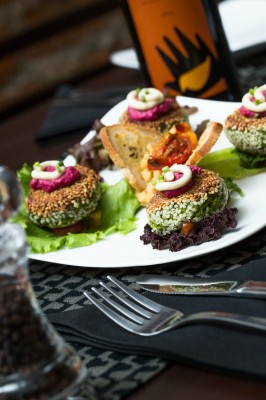 Derek Mayes is something of an accidental chef, thrown in at the deep end thirty odd years ago when the chef at his Tanzanian restaurant in Tasmania, (Hara) wandered off into the afternoon sunlight never to return. Derek had little choice that day but to don apron and toque and work it out as he went along. Much to his surprise, he found he enjoyed the experience immensely and was soon departing on a culinary journey, an adventure that included travels throughout Australia and Asia as well as experiences with chefs from Europe and North Africa to India and South America.
Now, six nights a week, in a little back lane in Phnom Penh named Abdul Carmine Street, Derek is taking his guests on their own culinary adventure, one created by his own imagination, his own experiences and his own dedication. Derek is an idealist, a romantic for whom ideas spring from his head in frenetic, hairline bursts of static electricity and his impulsive nature has him eagerly looking to indulge each and every one of them, when it all comes off its magic on a plate, Wendy is more pragmatic, she keeps the show together, makes it a business and is ever eager to guide guests through the journey and assist them in fully enjoying it, Wendy is a proud woman who grounds the partnership and makes sure diner's experience professional service, whilst retaining the intimacy and pleasure that one should be able to expect -but does not always find at other outlets.
Once you locate the wrought Iron gates and enter the shop-house style building with the little courtyard in front for smokers, you will enter a Derrida-esque, deconstructed interior with a very accommodating bar at the rear, the simple fixtures and decor give the place a cozy-meets-chic feel and ambiance.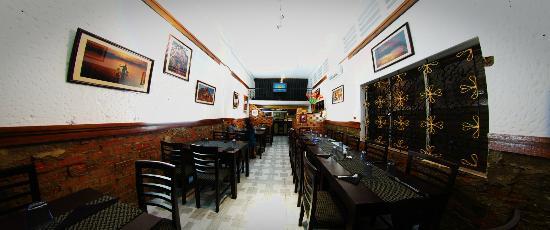 The eclectic menu is relatively small  with regular changes and specials, depending on seasonality and availability of ingredients along with the ever changing inspirations and kitchen meanderings of Chef Derek.
Moroccan  Spiced Duck on a Stew  of Chick Peas  with Yoghurt Dressing: Pan Fried Sea Bass with Goat Cheese and Herb Gremolata on Asparagus:  Crispy Pork Belly Slowly Braised in Dark Ale and Caramel with Broccoli: Lamb  Rump Fillet, Chimichurri  Marinated with Leek and White bean and Honey Balsamic Carrots, are some of my all time favourite dishes at The Lost Room and give a fair indication of Derek's creativity and imagination in the kitchen.
The wine list is well thought through and offers a good selection of varieties, regions, styles and price points; Wendy has very good wine knowledge and is always on hand to make a recommendation, there is also a reasonable selection by the glass if you choose to mix and match with your various sharing plates. The bar drinks are quality with an excellent selection of higher end spirit brands, (including the ever elusive cult gin, Hendrick's).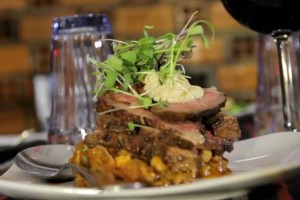 Prices are very reasonable, mid range for Cambodia, ridiculously cheap by most other city's standards. Service, is efficient, friendly and helpful.
Together, Derek and Wendy form a dynamic duo, with their small number of staff that are cheerful, enthusiastic and committed. For many a lost soul in Phnom Penh The Lost Room, once found, is at the very heart of this city.
Directions – Drive south down Sothearos to the Russian Embassy then take an alley west and you will be on the dark and unlit Street 21. Look out for a black and red painted key next to the shop-house gate. It's about parallel to the Russian Embassy building. There will be a guard outside the Lost Room and normally a couple of bikes parked.