Dinner with dear friends last night, a veritable League of Extraordinary Gentleman, 'Rascals' to a man!
As we sat in the small, stylish French Bistro, (Armand's) in Phnom Penh, Cambodia, drinking superb wines and eating the perfectly prepared, imported meats and curios, I was transported to the days of empire. By the time the Cognac freely flowed I was positively immersed in it.
I sat nosing the snifter and sipping the seductive, liquid fire, whilst humbly listening to the stories of life in the colonies before the war, tales of old England and old Europe; English country houses complete with all the accoutrements, sitting amidst the fetid tropical heat of a cashew or rubber plantation on the equator;  fortunes and family heirlooms lost in the flight after outbreak, bloodlines, entitlements, even heirlooms locked in ancient vaults. A rousing evening of great food, fantastic company, fascinating dialogue and thanks to the impeccable generosity of our urbane host, exceptional wines.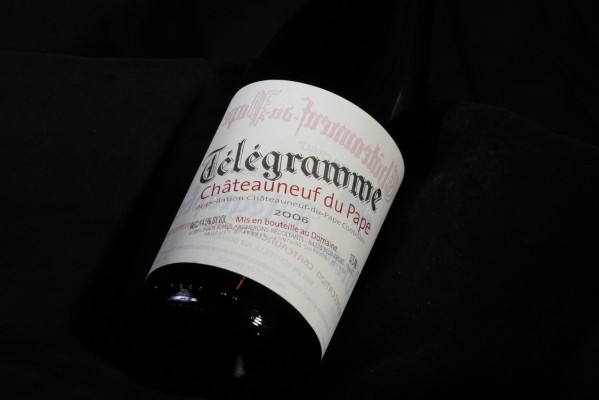 Télégramme, Châteauneuf-du-Pape, H Brunier et Fils, 2011
When one recalls the great wines of Chateauneuf-du-Pape, you must always include the magnificent wines of Domaine Vieux Telegraphe and the Brunier family with their century plus history on the legendary stony plateau of La Crau.
Telegramme is the second wine of Vieux Telegraphe and is made up of around 70% Grenache with additional dollops of Syrah, Mourvedre and Cinsault.

 

The 2011 vintage in the southern Rhone produced very high quality fruit and allowed wineries to pick at optimum ripeness. The wine is medium bodied and was still quiet young and closed early on, as it opened up in the decanter it revealed itself to be a plump, juicy and attractive drink with anise and violet aromas leading to rich raspberry and cherry fruits on the palate, well-rounded and with only barely perceptible tannins.

 

A very enjoyable and easy wine to drink it was simply irresistible. Way too easy to wash down, I was deeply grateful for the bottle and somewhat glad we didn't have the whole case on hand -such was the pleasure I took in drinking it, I might have made a charge on the entire allotment.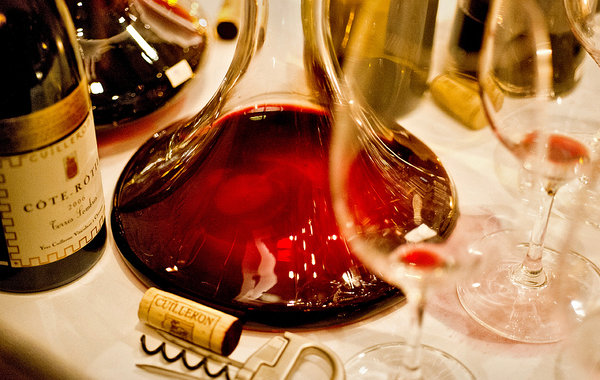 Domaine Cuilleron, Terres Sombres, Cote Rotie, 2010
A big, majestic wine of impeccable quality, from a rising star of the Northern Rhone.
Brooding and young it has deep plum and black cherry aromas and faint accents to floral notes, roasted almond, leather and olives. The wine is astonishing in its poise and class, great depth whilst retaining an elegance on the palate -superb finesse here. As the wine began to open up it began to reveal more of the dark plum fruit at its core with mixed peel and pepper spices starting to sing along the length of the palate.
E. Guigal, Crozes Hermitage 2009
A

 

dark, closed, young wine from an exceptional producer.
All bound up and tight aromas of pepper, spice, plums and black fruits with hints of meatier notes, minerals and smoke. Full and tight initially with a very dense mid palate of dark plums and mixed peel, complex and wrapped up with fine minerality and faint, rustic tannins. Black and green pepper spices started to come through on the palate as the wine had a chance to breathe.

 
An Extraordinary League of Wines indeed.