In 2013, the tranquil little expanse of lawn in front of the National Museum and beside the Royal Palace was transformed into its ceremonial function as a funerary complex called Veal Preah Meru, the sacred ground where the King's of Cambodia are cremated so that their souls may transcend to the temple of heaven.
In Buddhist, Hindu and Jain cosmology, Mount Meru is the sacred mountain at the center of all physical, metaphysical and spiritual universes. The main temple at Angkor itself is also a representation of Mount Meru.
On this occasion it was the funeral of King Norodom Sihanouk, the fourth king to be cremated at Veal Preah Meru, the previous cremations being in 1960 for King Norodom Suramarit, father of King Norodom Sihanouk and grandfather of the reigning monarch, King Norodom Sihamoni. King Monivong was cremated in 1941; King Sisowath in 1928 and in 1906 King Norodom, prior to 1906 these ceremonies were performed outside of Phnom Penh.
When not being used for Royal ceremonies or cremations the grassy field is a welcome expanse of green parkland in a burgeoning and sometimes chaotic city, made even more picturesque by its surroundings of historical Khmer buildings, colonial architecture and tree lined boulevards, near the confluence of the Mekong, Tonle and Bassac rivers.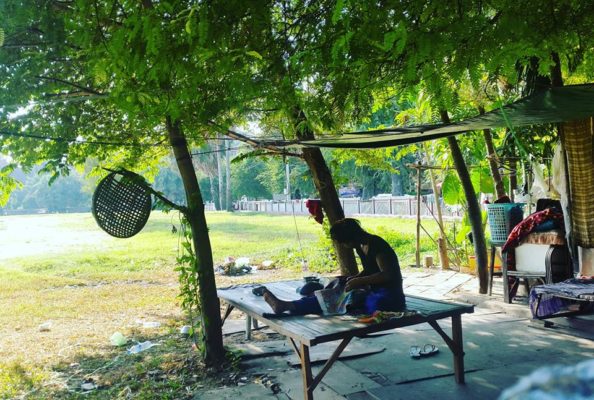 On the corner of Streets 178 and Samdach Sothearos Boulevard, in a delightful little shop house that looks out onto this green oasis there is another Khmer tradition that goes on in the afternoon, that of preparing the delicious afternoon snack known as Num Kuy Chay, (chive cakes).
The restaurant's owner is Miss Chan from Prey Veng province, she was only a baby when, like so many others, she was forced to flee the horror of the Khmer Rouge. Chan ended up in a border refugee camp where she learned to cook and prepare food from the elders there. She returned to Cambodia and made her way to Phnom Penh in 1998, making a living selling from a food cart in the streets.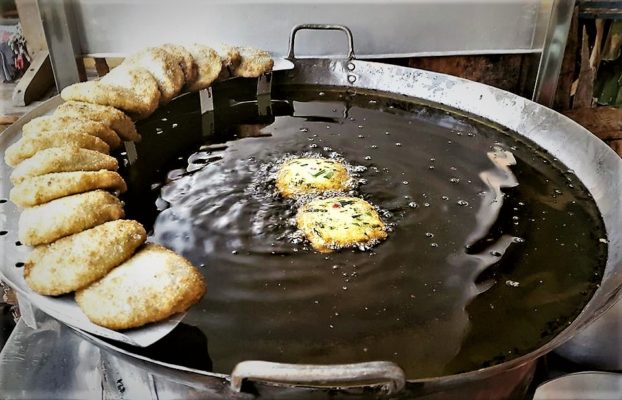 Chan worked hard and saved her money for 12 years to be able to afford the little shop house restaurant. Typical of these older style, more traditional eating places, the space inside is reserved for customers and so, the kitchen as it is sits out on the pavement in front of the restaurant.
Chive cakes are a delicious and ubiquitous snack, usually made with rice flour, tapioca flour, chopped chives and garlic. They are molded into flat dumpling shapes and fried with oil in a large pan.
Chan tells me it was very hard to make a living when she returned to Phnom Penh but, over time things slowly got better. Of the market today, Chan tells me that up until a few years ago she used to sell more food but feels that younger generations of Cambodians are being seduced by the call of cafés, malls and fast food chains.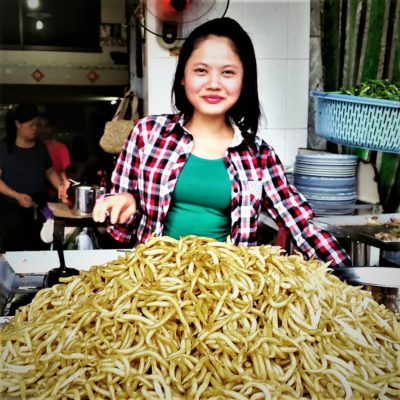 Luckily for her, Chan's older Khmer customers still love to come and eat her traditional Chive cakes, adding that given the location foreign tourists are also now finding their way to her restaurant and trying her dishes. Chan also cooks and sells Lort Cha, (a dish of short, pasta like fried noodles) and other nibbles however, it is Chan's scrumptious chive cakes that have garnered a local reputation and Khmer's come from miles around to eat here or grab some to take home.
Chan says that her Chive Cakes are popular as an afternoon snack and she sells most around 4pm, also noting that the dish can be taken as a late evening bite.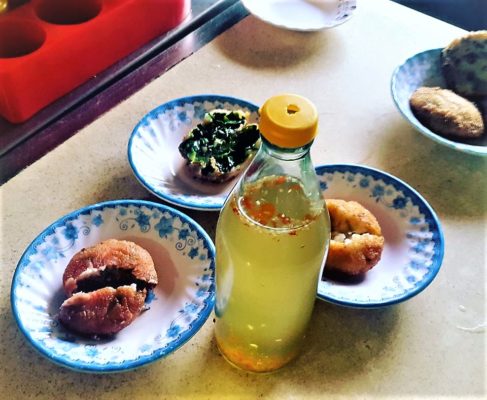 Sitting in Chan's shop-house restaurant, looking out over the parkland, the greenery and the nostalgia, sipping pure, fresh sugar cane juice and enjoying chive cakes on a hot afternoon, this is a perfect Cambodian street food experience. Here is a moment for pause and reflection in a bustling, swirling and rapidly changing city. A moment made even more Cambodian by the fact that you are gazing into a space that for over one hundred years has been transformed -when necessary- to the center of the Buddhist universe, where Khmer kings enter up into the temple of heaven, altering your small pleasure into a moment of significant joy.
Save
Save
Save
Save
Save
Save
Save
Save
Save
Save
Save
Save
Save