It has long been accepted history that Venetian trader Marco Polo brought noodles from the Silk Route to Italy and thus introduced Italians to an Eastern staple that would become their national dish.
Marco Polo, his father Niccolo and his uncle Maffeo are said to have traveled throughout Asia, meeting the Great Kublai Khan on their journey, an epic adventure which lasted 24 years, before returning to Venice with a great many tales and curious treasures, dried noodles being one of them.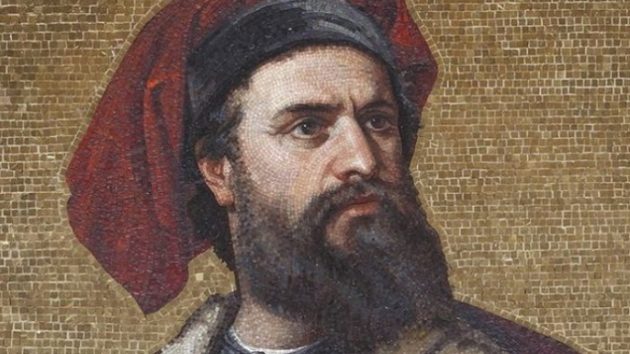 However, the Roman poet Horace wrote about the dried sheets of pasta that we know today as lasagna, in the first century BCE and Muhammad al-Idrisi wrote of spaghetti in Sicily in his Tabula Rogeriana, (the book of Roger) a full one hundred years before Polo was born.
It is well known that the ancient Egyptians traded with the people of modern day Somalia, Ethiopia and Yemen via the Incense Route along the Red Sea, this was going on as far back as the tenth Millennium BCE. By the first Millennium BCE the Arabs and Phoenicians were trading with India and Indonesians were reaching the east coast of Africa to trade spices.
The spices, perfumes and silks traded were some of the world's first 'luxury' goods and the ancient sea port of Muziris, on the Malabar Coast of India, became an import trade center between the Arabs and the Far East.
By the third and second centuries BCE the Phoenicians and Egyptians were trading with the Greeks and Chinese Junks were reaching the African coastlines of Somalia and Ethiopia. The trade of goods from the Far East and Europe was now well and truly established.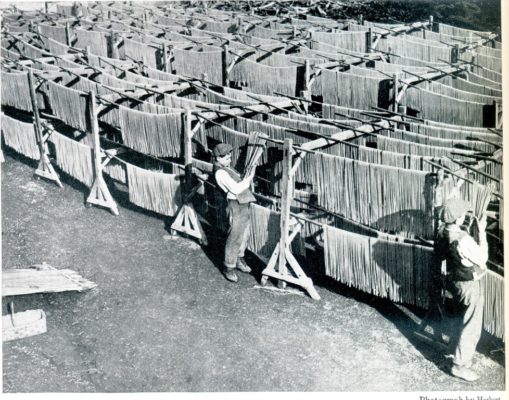 Sicily would indeed appear to be the birthplace of Spaghetti but, just when it got there is less clear. In the third century BCE Sicily was ruled by the ancient Greeks who also had a presence in Egypt and where trading in Far Eastern Goods, the Sicilian city of Syracuse was the largest Greek city in the world at this time.  The island fell to the Romans in 242 BCE but for a short time fell into the hands of its major trading partner the Cathages, of what is modern day Tunisia. For the next 600 years Sicily would remain Roman until a Gothic tribe known as the 'Vandals' over ran it in 440 AD. Sicily has since fallen under the rule of the Byzantine Empire, Vikings, the French (Anjou and Bourbon), Spain (Aragon) and merged with Sardinia before becoming an autonomous Italian Region in 1946.
In 827 Sicily was attacked by an army made up of Arabs, Berbers, Moors, Cretan Saracens and Persians and for the next 250 years Sicily would be a Muslim State before being conquered by the Normans in 1091 and it is here that we get out first written record of Spaghetti.
So, it would appear that Spaghetti was probably introduced to the Italians as noodles from China; however, it was done so using the ancient trade routes through the Arabian Peninsula and the Red Sea that brought them there via Sicily. The durum wheat of the Italian mainland and the long shelf life and relatively easy storage of pasta made it a popular staple as it spread throughout the country.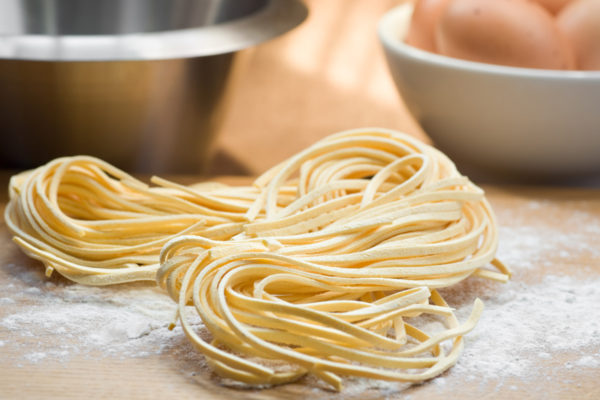 The essence of good Italian food could be summed up as having freshness, quality, seasonality and regionality of ingredients, dishes simply prepared that let these three pillars of the cuisine shine through. However, given the diaspora of Italian's throughout the world since the WW2 and the ubiquity of Italian restaurants now found in just about every city, town and suburb across every continent, the interpretation of seasonality, regionality and the challenge to limit food kilometers are often put to the test.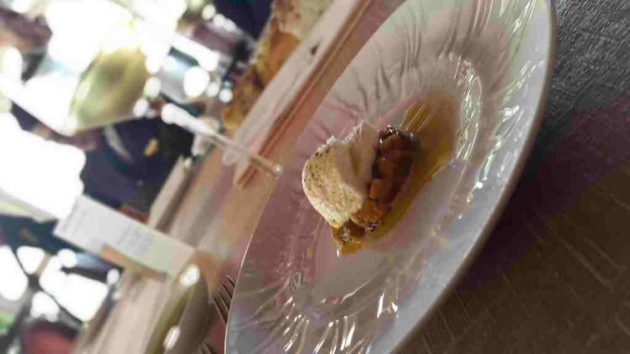 Such is the global nature of regional cuisine these days that I recall eating sushi in Tokyo with married friends, he Irish, she Japanese and discussing the suitability of certain European and New World wines to the cuisine. I was swiftyl taken aback when they informed me that they, along with most of their Japanese friends did not eat Japanese food at home. 'What on earth do you eat then?" was my somewhat startled response. I was plainly told they preferred to eat Italian pastas, beef steaks and other ubiquitous staples of the western world. The irony being that this was at a time when in my own humble kitchen in McLaren Vale South Australia I could more often be found cooking dinner in a wok than in a frying pan.
So it was that on the 21st of September, I sat down to lunch at a finely set table in do Forni Italian restaurant at the Sofitel Phnom Penh Phokeethra hotel.  My hosts were the ever urbane general manager Charles Henri-Chevet and the enthusiastic area director of Sales and Marketing, Ms. Michelle Singson.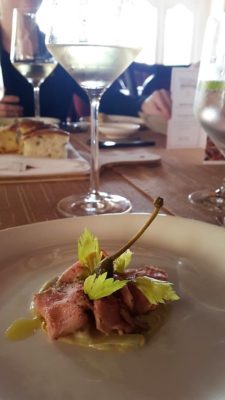 There was a sense of grand occasion and expectation to the affair as it was the unveiling of the first menu by consulting Italian chef Fabrizio Aceti, a native of Piedmonte in the north west mountains of Italy, founder of Super-Chef Global consultancy and a respected and admired hotel executive chef for over twenty years.
Aceti's CV reads like a Chef traveling through his own Asian bucket list: Executive Chef: Hilton Hotel, Singapore, Executive Chef: Shangri-La Hotels and Resorts, Xian, China, Executive Chef: Shangri-La Hotels and Resorts, Kuala Lumpur, Malaysia, Executive Sous Chef: Shangri-La Hotels and Resorts, Singapore, Executive Sous Chef: Hyatt on the Bund, Shanghai.  He is deeply passionate about Italian food, its origins and its authenticity.
At lunch we were served entrée portions of some of his signature dishes, Aceti started strong with a fresh, local Siem Reap mozzarella atop a classic Sicilian caponato which is essentially finely chopped  melanzana, (eggplant) served with a slightly sweet vinegar and capers with a sweet and sour sauce.
Served as a cylindrical stack, the presentation, texture, flavours and finesse of this dish set the tone for an exceptional tour de force of Italian cuisine.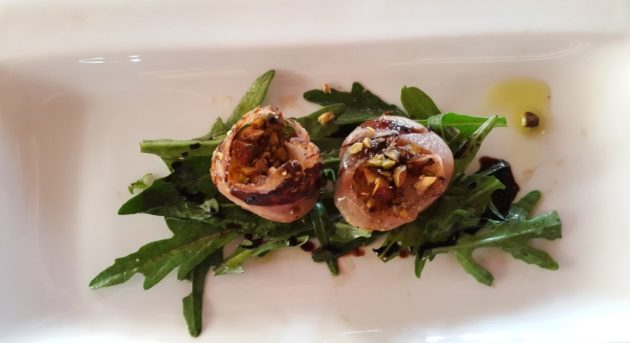 Next up was a classic dish from chef's own region of Piedmonte, a Vitello Tonnato, which is a thinly sliced veal loin, served with a creamy tuna sauce and celery. The veal is tender and flavourful, not dried out and the sauce subtle and creamy offering a nice contrast, a beautiful dish.
Next up we sampled a Capesante e Prosciutto Affumicato, scallops rolled in smoked ham and sage, served with a rucola salad and balsamic dressing, a mouth-watering dish that could only have perhaps been improved with a touch more acidity.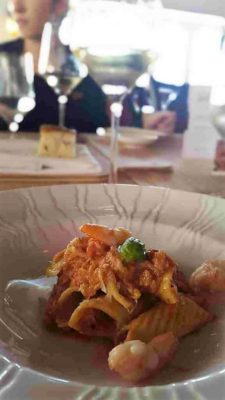 Garganelli alla Marinara, a dish of homemade pasta with clams, mussels, crab meat and shrimps in a seafood sauce showed the delicate freshness of homemade pasta crammed with seafood flavours but light and elegant enough not to overwhelm.
Melruzzo alla Veneziana, a Venetian dish comprising milk simmered cod with olives, asparagus and olive oil was a statement in elegance and texture, with a light, delicately poached fish offering a moist, silken texture on the palate with the delightfully fresh and bright flavours of asparagus and olive adding complexity as nuances rather than shade and distraction to main ingredient of the dish.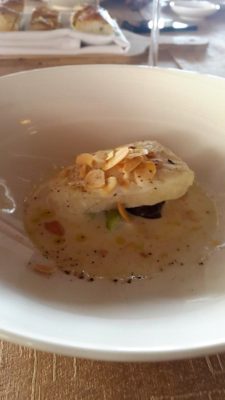 Finally we returned to Sicily for the finale, Cannelloni ale Siciliana, which is essentially a Cannelloni filled with vanilla, chocolate and spiced mascarpone served with Hazelnut ice cream. It's a rich and complex dessert that is again not too heavy or overwhelming and what strikes me with Fabrizio Aceti's cooking is that where dishes could have been heavy and even stodgy, he has managed to bring delicacy and finesse to the dishes giving them a lightness without sacrificing complexity and flavour.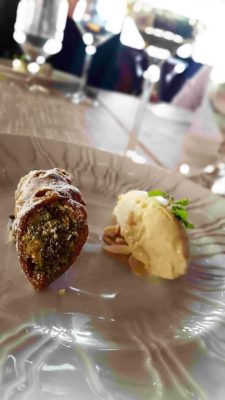 It would appear that now, as we have Italian chef's bringing their version of noodles back to Asia, Do Forni at the Sofitel is in very good hands indeed.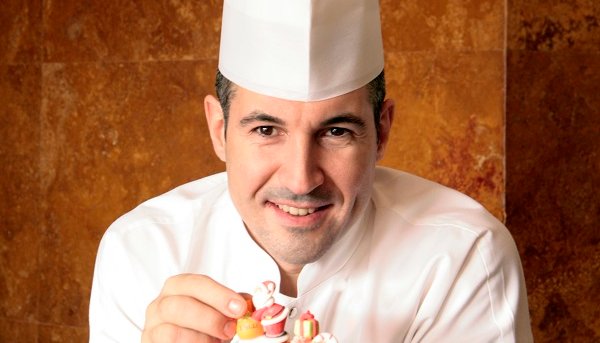 Save
Save
Save
Save