After getting hopelessly lost and then mired in a dispute with my tuk tuk driver over the correct pronunciation of words Monireth and Boulevard, (he won) I eventually made it to the little wine shop on the far side of 'Olympic'. I was late, sweaty and cursing under my breath for ever having agreed to come all the way across town during peak hour. In such moods it must be admitted, I have been known to let out my inner 'grumpy-old-man'.
I was at the Unique Wines store to meet the owner Mr Seng Bun and to road test a few of his personally selected and imported Australian wines. I was greeted by what I assumed to be Mr Bun's son, who was positively bursting with nervous excitement and wore a smile as wide as a farm gate. Then, for the briefest of moments, my own mortality flashed into being and let out a fleeting but terrifying scream, a scream that only I could hear as it slowly dawned on me that the enthusiastic twenty something year old in front of me was indeed Mr Seng and the place I was standing in was his business.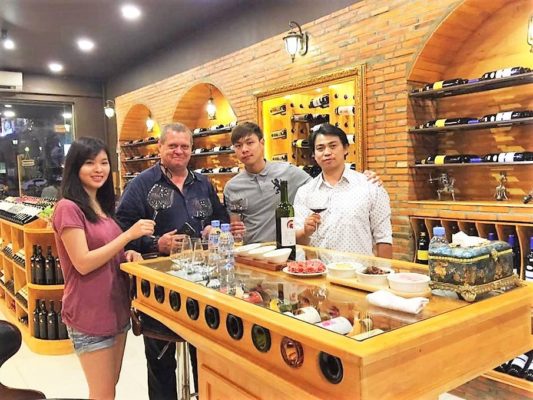 Once we'd sat down and settled in Seng began to tell me about his parents who he insisted remain humble people who lead a simple life; they were apparently the first household gas suppliers in Phnom Penh after the war, setting up shop in 1985. Seng commenced his studies in New Zealand as a 17 year old, (way back in 2008!) and after graduating in Marketing and Business Management at Massey University in Wellington, he returned to Cambodia to open his wine shop in June of this year.
Seng Bun tells me he has always enjoyed wine and wanted to share the wines he discovered on his travels in New Zealand and Australia with the people of Cambodia. Seng's enthusiasm is infectious and I am glad to meet this impressive young man who wanted to come back home and share all he had learned in order to explore new opportunities for himself and his family.
Wandering around the well-ordered and well set out wine store I see some familiar labels, wines I have a shared history with and have fond memories of drinking. Having lived and made wine in McLaren Vale and Coonawarra myself, it is heart-warming to see Balnaves wines of Coonawarra and the Curtis Vineyards and Shingleback wines from McLaren Vale on the shelves here. Seng tells me that along his journey he met and became friends with vigneron Mark Curtis and is now a big fan of the Curtis wines.
Seng's beautiful young wife, Ly Ching Ching pours me a glass of the 2015, Curtis Red Label Shiraz and its aromas are leaping out of the glass with the kind of youthful eagerness I am surrounded by here in the store. This is an early drinking style of wine, medium bodied with clean, juicy primary fruit notes showing plum, raspberry, fruit mince and mocha with barely perceptible oak and tannin, all making for an ideal bbq wine.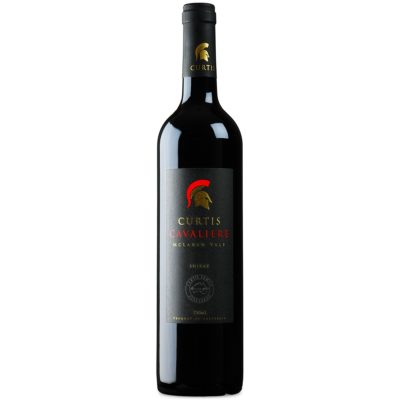 Having thrown me off guard Seng is ready to deliver the haymaker and pours me a very generous glass of the 2014, Curtis Vineyard, Cavaliere Shiraz, a big, brooding, black monster in my glass, a wine that awakens repressed memories of a region I adore and whose vines I have shared the cycles of the seasons with. This is a beast of a wine but there is finesse and elegance to it as well, the wine shows aromas of plum and black fruits, pepper and five spice, anise, olive, violets, axle grease, pencil shavings, coffee grinds and dark chocolate supported by oak characters of vanillin, brioche and cigar box. The palate reveals a full bodied red with big, juicy, sappy fruit that fills the mouth then moves across the palate with a creamy, soapy texture before the fine ripe tannins and new oak grips and takes hold. This in a very impressive McLaren Vale Shiraz, when Seng tells me he is selling it for only $34 I am floored, out for the count, Seng has well and truly won me over.
There are several other real gems of wines in Seng's 'Unique Wines' store, like the Mt Langi Ghiran label and Hanging Rock from Heathcote in Victoria. There is a Sparkling Shiraz from Shingleback on offer, a style unique to Australia and one of my favourite wine oddities. Prices across the board seem outrageously cheap.
Seng Bun, his wife and David Tea, another young Cambodian from SLN Australian Beef, (who set up this up this meeting) begin talking about the benefits of ageing, of aged wine, aged beef and I look at my glass and notice the old and weathered backs of my hands, scarred with a thousand lines from the passage of time. I look back up and peer across the tasting bench at the bright, beaming and intelligent young people across from me and I feel pretty good about things, I see a reason to have some hope and optimism for the future here and decide that I will happily drive across town and raise a glass with them anytime they will have me back.