Sometimes, there are certain moments, certain meals that can be so serendipitously excellent you become convinced that unknown forces have conspired to bring you to a particular place, at a specific time, for a single moment of sheer perfection.
My mother and I are sitting at table on an old stone terrace on the edge of an empty, private beach; it is a quiet day except for the gentle sounds of sea-foam meeting shore and the breeze dancing in our ears. Old growth forest rises up to touch clear blue sky and the ocean twinkles and sparkles like it has been dappled with diamonds all the way out to the horizon. I have not seen my mother in person for almost half a decade, in fact we have only seen each other a handful of times over the last quarter of a century.
The Champagne Taittinger flows and I am presented with a dish of grilled slipper lobster on a bed of mashed potato, served with creamed spinach and a lemon butter sauce. The setting is like a dream, the Champagne is perfect and the dish absolutely divine.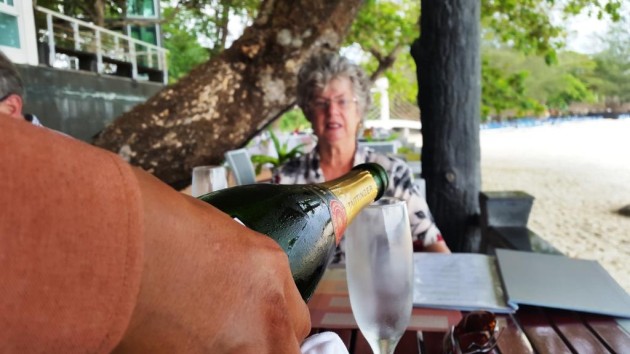 As I sipped the wine, enjoyed the meal and smiled at my dear mother's happiness two thoughts came to mind; I am acutely aware that I am inside a postcard moment, one that I knew I would never forget and it also struck me that in all probability, we would never do this again my mother and I.
The Independence Hotel clings to the edge of the Sihanoukville coastline like a memory, almost lost but not forgotten. It is a hotel with scars, ghosts and broken dreams that -like much of the nation- is moving away from its history, as a new generation takes control of its future.
In August 1955 Cambodia had gained its independence from the French but lost control of the Mekong coastline to the Vietnamese. A French/Cambodian construction team cut a base camp into unoccupied jungle along the Cambodian coast as they prepared to construct the country's first deep sea port. This work gave rise to a new settlement and then as the working port and a new road up to the capital Phnom Penh were completed this created a new city, named Sihanoukville in honour of King Norodom Sihanouk.In 1955 a town plan was drafted and in 1960 the railway extension through to the Port of Sihanoukville commenced.
Construction on the seven storied Independence Hotel began in 1963. Designed by the popular French architectural firm of Leroy & Mondet, (who also designed the Royal University of Phnom Penh) the hotel was meant to be a beacon of Cambodia's newfound independence and freedom, a confident stride in the countries leap toward modernization. King Norodom Sihanouk took personal responsibility for the interior design and saw it as an icon of his Sangkum Reastr Niyum movement.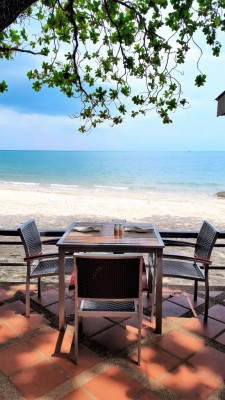 Opened with great fanfare and optimism in 1965, after one glorious decade it was abandoned to the Khmer Rouge and then later to those who didn't fear its ghosts. The United Nations took over the hotel as a base camp during the UNTAC days but, by the end of the century the now decrepit building was abandoned once more.
After a 35 million U.S. dollar redevelopment by Canadia Bank, the Independence Hotel reopened to the public in 2007. A decade later and reviews of the hotel range from 'stunning and nostalgic' to 'looking a bit tired'.
As I walk through the hotel and its grounds half a century after it was first built there is evidence to back up both of these descriptions, but aware of its history I find it more enchanting than dilapidated.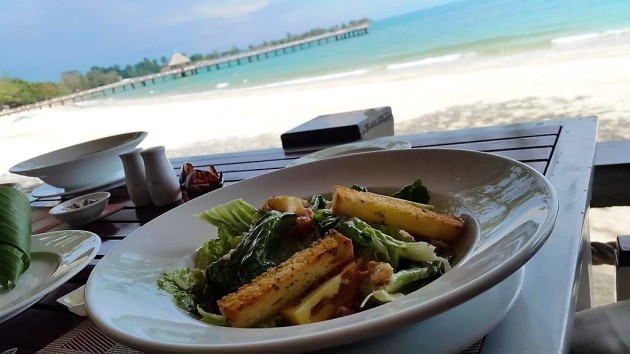 We saunter along an elevated causeway amongst the tree tops to a glass elevator which deposits us onto the private beach, were we walk the short distance to the Sunset Terrace restaurant. The staff are all beaming smiles, attentive and friendly. Mother orders an entrée of seared Scallops served with a mustard mayonnaise dressing, bacon, parmesan and crisp lettuce for $6, her only complaint is that the dish is too large to be a starter. The scallops are fat and silky, the texture and sear are good, it is a very enjoyable dish.
My Caesar Salad, $6 is authentic, (with anchovies) fresh, crisp and an excellent choice for al fresco dining. Our bottle of Taittinger Brut Reserve Champagne is going down far too easily.
We both ordered the grilled slipper lobster $14, I absolutely adore the dish, the sweet tail meat of the lobster and the slight char/caramelization / Maillard Reaction of grill on flesh, the fluffy, smooth, mash and the creamy, silky spinach balanced by the tart contrast of citric acidity in the lemon butter sauce, it is a revelation. A relatively simple dish but it all comes together for something near culinary perfection.
Our desserts have a local tincture with a pandan crème caramel and a green tea crème brulee, both are $5 and very good without being exceptional.
Two days later and I am back in Phnom Penh, already I know that every time I go back to Sihanoukville I will return to the Independence Hotel, where I will take the glass elevator down through the jungle canopy in search of that magical moment, hoping to recreate it once again. I wish my mother were here.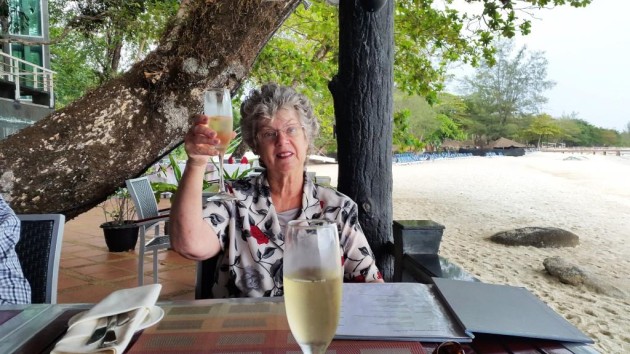 Save
Save
Save
Save
Save