Brunch is the perfect meal, when it's too late for breakfast and too early for alcohol then there is always brunch, where you can enjoy both in disguise.
I like my weekend brunch to be al fresco, taking in some vitamin D and a quotient of air that hasn't been passed through an air-conditioner countless times before making its way into my lungs. Of course there must be trees, it needs to be a delightful little, micro-carbon sink-hole of greenery and relative tranquility; if it's too hot well damn it, I can always order another icy spritzer to slake my thirst.
There are many good places to enjoy an indulgent brunch in the Penh and then, all of a sudden there are a thousand ordinary cafes where not to. For its proximity to my home, its enchanting garden, good coffee and delightful staff, I often choose Will's Brunch Café in Boeung Keng Kang 1. Will's garden has tall, shady trees which provide something of an oasis from the snarling traffic and grinding, creaking construction sites swallowing BKK1 -as another Molyvann inspired villa comes down, so that another lucre-inspired apartment block can go up. Will's is in one of those large Bauhausian styled villas threatened with extinction in Boeung Keng Kang 1, preserved here and full of new purpose and life.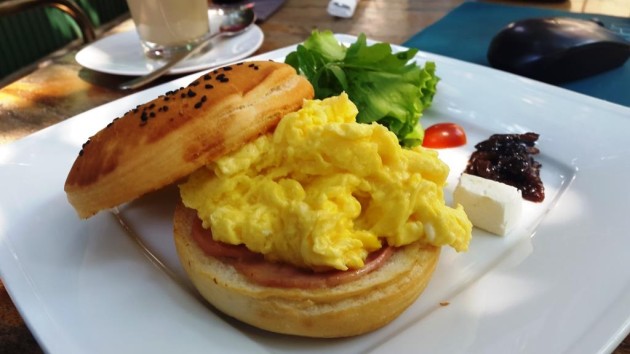 The thing I really like about Will's is it has a menu dedicated to Brunch, basically a list of breakfast inspired dishes that are served late, usually involve eggs and are substantial in size. Signature Brunch dishes include: English, Tunisian, New York, Turkish, Swiss, Canadian, Mexican, Italian, Norwegian and so on, involving various renditions and combinations of eggs, bacon, burritos, chorizo, pancakes, sausages, salmon, muesli, fruits, milk and honey and more.
There are also various paninis, baguettes, bagels, croissants and wraps to consider, filled with everything from more eggs and bacon to roast pumpkin and feta. There's a build your own salad section on the menu as well as soups, pastas and burgers. There is plenty here for the vegan or the health conscious runner or cyclist who drops in to re-fuel and there are plenty of heart-stopping hangover cures for the hardcore brunch set as well.
Good coffee is important and good coffee has absolutely nothing to do with pretty, frothy pictures in a cup; at Will's they take their coffee seriously, a blend of Robusta's from Mondulkiri and other local growing areas, its good coffee and a lot better than some of the garbage served in the copycat, faux-American-café-culture chains.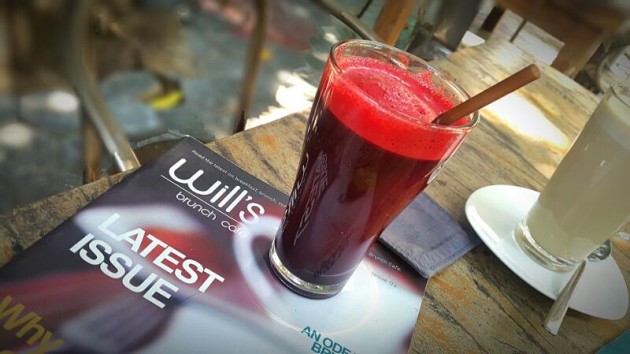 Healthy juices and fruit concoctions get a good run here with beverage options designed to detox, reboot, relax or just plain refresh. There is a list of the usual suspects plus fresh carrot and fresh beetroot; some are not listed so it is worth asking staff what they have on the day. There are also many different blends of lassis and smoothies involving bananas, honey, blueberries, mangoes and more.
TWG Teas on offer are form Morocco, Japan and England; there are jasmine teas, green teas, Earl Gray and Chamomile as well as a Chai Tea with ginger and cinnamon.
There is a kid's menu and playroom and a bit of space for them to run around without driving the laptop and latte set mad. Having a garden also makes the place dog friendly and staff are happy to provide water for your pets, perhaps they could have a doggy menu as well?
Main brunch dishes range from $5 to $9, coffee is 0.75c for an espresso shot up to around $2.50 for the fancy ones, ridiculously cheap.
Besides the garden there is a large balcony upstairs where you can sit under overhead fans and if that is still too hot for you there is plenty of air-conditioned café and lounge space inside.
Quite where the name Will's comes from is a bit of a mystery, there is no Will per se but, the walls and menus are filled with little philosophical bon mots, so perhaps it was a clash of wills, a test of one's will, a will to achieve something or a will for something better that brought this café into being? The philosopher Arthur Schopenhauer's most famous work was titled 'Will and Representation' and in it he posited that everything was indeed a great sameness, a great oneness and it was ourselves as individuals that created differences in the world, just by experiencing it.
Perhaps that is Wills greatest asset, a big old house on a large block with a wide open balcony and an inviting green garden to give us time and space to step back from our busy lives and find our own piece of perspective on the world, that is my representation of Wills anyway and one I am happy to revisit again and again.