Friday the 19th of February 2016 will always be a memorable day, mostly because of a rather remarkable lunch. A small band of industry rouges and reprobates like myself gathered at midday at Le Royal Hotel in Phnom Penh to gorge, graze, guzzle and to generally stick our snouts in -all the way down to the bottom of the trough. I would be in denial if I did not admit here, that it would be many hours and many bottles before we finally left the restaurant and then, only to seek more libation and succor back at HQ.

In the end it was a ten hour lunch but, these were not wines to sprint through like young whippets charging through a meadow; here -in the salubrious comfort of this grand old hotel- were laid out before us a selection of the brightest stars in the firmament of the Australian winescape. It was always going to be special and it was always going to take some time. In just four more days it would be the public holiday for Meak Bochea, a Buddhist celebration where one has the chance to pray for atonement and cleanse one's mind; I intended to pray for atonement and cleanse one's liver.

Lucky bastard and friend Tim Herrman was in town; he happens to have the good fortune of being the regional director for Negociants International, a wine distribution business owned by the Hill-Smith family; who also own the oldest continuously operating winery in Australia, Yalumba. Tim was our host along with the lads from Warehouse Wines, who distribute the Portfolio in Cambodia. The aim of the event was to remind us of the extraordinary diversity and quality available from the wide brown land down under. On offer where wines from right across the country, a sparkling wine and a barrel aged Chardonnay from Tasmania; aged dry Riesling from the Eden Valley; cool climate Cabernet Sauvignons from Coonawarra and Margaret River; opulent Barossa Valley red blends and a stunning Shiraz from Beechworth in Victoria. The labels were a veritable who's who of the most celebrated winemakers from each region and after 26 years in the industry, I duly noted to those present that we may never drink a lineup of such prestigious Australians again in our lifetimes: it was that special.
The hotel was at its impeccable best as we were invited into the Crystal Room, the private dining area of the Le Royal restaurant, a space once enjoyed by the likes of Jackie Kennedy, Somerset Maugham, Charlie Chaplin and Charles de Gaulle. The lunch was part buffet, part gueridon and silver service; there was roast beef, roast lamb, smoked duck, pastrami, an excellent selection of cheeses and fresh salads, the desserts seemed surplus to requirements but looked attractive. The service was five star and friendly and the overall ambience of the event was one of cheerful camaraderie and bonhomie.
The wines were approached with a liberal dose of reverence and communion for what we were about to receive: this was an absolute 'A' team of Australian wine, the top releases of the top wineries and not a single bottle let the side down. All of the wines tasted where individual and unique, displaying their own personalities and character traits yet, all were expressive, showing pristine ripe fruit, regional charm and bold winemaking. To have the opportunity to drink them side by side and then discuss and enjoy them with colleagues was a very rare and pure kind of joy.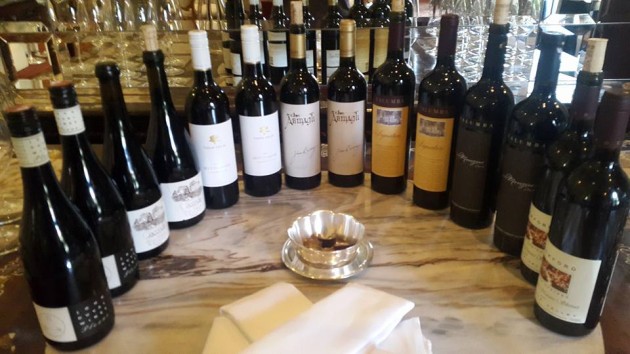 The Labels:
Sparkling:
Jansz, Premium Cuvee Tasmanian
Founded as a collaboration between the esteemed French Champagne house of Louis Roederer and Heemskerk Wines, the aim was to produce Tasmania's first premium vintage sparkling wine.
In 1997, the Hill-Smith family purchased the vineyard and today Jansz Tasmania has become the most highly regarded sparkling wine house in Australia.
Whites:
Pewsey Vale, Museum Reserve, Eden Valley Riesling, 2008
Pewsey Vale was the very first vineyard planted, (1847) in the now world renowned Eden Valley wine region in South Australia. The first variety planted was Riesling and today, the region is regarded as one of the nation's and the world's great regions for the variety, with Pewsey Vale as its flagship.
Dalrymple, Cave Block, Piper's River Chardonnay, 2013
Set in the wild southern ocean, amidst the Roaring Forties winds sits the small island of Tasmania: cold and isolated the island has clean air and pristine waters, it is home to some of the finest produce and wine in the world, unfortunately made in the smallest of quantities. The climate produces exceptional sparkling wine and table wine from Chardonnay and Pinot Noir.
Reds:
John Duval, Plexus, Barossa Valley Shiraz, Grenache, Mourvedre, 2014
John became the most famous winemaker in Australia when he was dubbed by creator Max Schubert as his winemaking heir to Australia's most famous wine, Grange. John collected many awards whilst making Grange, something he did with distinction from 1986 to 2002, before embarking on his own wine journey, under his own wine label.
Giaconda, Beechworth Shiraz, 2006
Rick Kinzbrunner is one of the most original, gifted and exceptional winemakers in the world let alone Australia, his Giaconda label pioneered the region of Beechworth and his iconic, transcendent wines are some of the most sought after and elusive in the land.
Vasse Felix, Heytsbury, Margaret River, Cabernet Blend, 2011
Margaret River is one of the great Cabernet Sauvignon regions of Australia and Vasse Felix was the founding vineyard of the region. The winery has gone on to great success and is one of Australia's most prestigious labels.
Jim Barry, The Armagh, Clare Valley Shiraz, 2008
Jim Barry was one of the great champions of the Clare Valley wine region and the Armagh was the regions first super premium red wine. It remains todays as one of the most prestigious labels in the country and a beacon for its region.
Yalumba, Signature, Barossa Valley Cabernet, Shiraz, 2012
Yalumba is one of the great Australian pioneer wineries and its owners, the Hill-Smiths one of the great Australian wine families. They are now owners of some of the finest old vineyards in the Barossa and Eden Valleys of South Australia and have premium interests in many other great vineyards and wineries right across the country. The Signature is an iconic wine that is their top blend of Barossa Valley Cabernet Sauvignon and Shiraz from each vintage.
Yalumba, The Menzies, Coonawarra Cabernet Sauvignon, 2008
Coonawarra, along with Margaret River, is the other great region for cool climate, Cabernet Sauvignon based wines in Australia. The Menzies from Yalumba is consistently one of the very best from the region.
Rockford, Moppa Springs, Barossa Valley Grenache, Mataro, Shiraz, 2011
Rockford is a particularly traditional winery in the Barossa Valley that is internationally regarded as one of the region's finest producers.
Back at HQ:
Rockford, Basket Press, Barossa Valley Shiraz, 2008
Regularly rated as one of the top half a dozen Shiraz wines made in the country and one of the very best old vine Shiraz wines in the world.
Henschke, Hill of Grace, Eden Valley Shiraz, 2005
Internationally, this wine is regarded as one of Australia's greatest ever, made by one of its greatest winemakers, (Stephen Henschke) and greatest grape growers, (Prue Henschke).
*Back at HQ the French did get a bit of a look it with a palate reviving Pol Roger, Reserve Brut Champagne and a digestion assisting Laubade XO Armagnac working their magic.
My Tasting Notes:
Jansz, Premium Cuvee Tasmanian
Lovely crisp, vibrant fruit with a fine mousse there are wild honey, citrus, hazelnut notes with a touch of brioche, the entry is creamy and the finish clean with notes of chalk and talc. Very attractive
Pewsey Vale, Museum Reserve, Eden Valley Riesling, 2008
Known as 'The Contours' Riesling, this wine is produced from old vines planted on the coolest slope of the vineyard. The wine has some lovely tertiary characters of terpine and honey with plenty of citrus and notes of herbs and white flowers. The palate is intense, vibrant with persistent citrus over more complex fruit notes of wild honey and fresh herbs finishing with minerals and damp slate on the back palate. An exceptional example of aged Australian dry Riesling.
Dalrymple, Cave Block, Piper's River Chardonnay, 2013
A tight and complex young Chardonnay showing grapefruit, white peach, hints of oak spice, custard apple and notes of butterscotch, vanilla, hazel nut, crème fraiche and crème brulee, all tightly bound by minerals and a hint of smoke on the back palate.
John Duval, Plexus, Barossa Valley Shiraz, Grenache, Mourvedre, 2010
Aromas are of warm fruits: fig, plum with spices of anise and cinnamon, some herbal notes, molasses, espresso grinds and green and white peppers from the Mourvedre.  Medium bodied, ripe fruit, fine tannin. Expected more from this vintage but, still a lovely wine that is drinking well.
Giaconda, Beechworth Shiraz, 2008
Elegant and dare I say Croze, (Hermitage) like with hints of garrigue, Xmas pudding, mixed peel and five spice over elegant plum, olive and quince fruit. Fine minerality and soft, barely perceptible tannins. Complex and exceptional.
Vasse Felix, Heytsbury, Margaret River, Cabernet Blend, 2011
Still young, tightly bound with notes of mocha and dark chocolate over dark berry fruits, tannins are savory and persistent. A very finely crafted and complex wine that just needs more time.
Jim Barry, The Armagh, Clare Valley Shiraz, 2008
A huge wine, an absolute monster with lashings of deep, dense, ripe and juicy fruit, dark plum, prune and pan spices, there is mulberry and mint notes and other field herbs sit faintly around the edges. The mouth-feel is like heavy cream with good acidity to add balance, as do the fine but firm tannins. The wine is still youthful and has enormous power which has been handled with a great deal of finesse.
Yalumba, Signature, Barossa Valley Cabernet, Shiraz, 2012
Sweet ripe fruit, very attractive wine, medium bodied with aromas of red and black forest berries, raw chocolate, fruit mince spices, damp earth and cedar, cigar box and tobacco leaf notes. Tannin is fine and persistent and the finish is long and lingering. Still young this is a very enjoyable wine now that will age gracefully.
Yalumba, The Menzies, Coonawarra Cabernet Sauvignon, 2008
Perfumed aromas of cassis with notes of menthol and mocha characters supported by spicy oak.
The palate and mouth-feel are exceptional, intense and elegant with cassis, blackcurrant fruit, dark chocolate, cold tea, cedar and oak spice supported by fine but firm tannin. This is a great Coonawarra Cabernet approaching its peak and probably my favourite wine of the lunch.
Rockford, Moppa Springs, Barossa Valley Grenache, Mataro, Shiraz, 2011
Aromas and flavours are of ripe plums and juicy red berries with some musk and candied raspberries over white pepper and some older barrel characters. The wine is rich and easy drinking with lashings of ripe fruit and a fine line of peppery spice. East to drink and eminently enjoyable.
Rockford, Basket Press, Barossa Valley Shiraz, 2008
A cult wine in Australia, this was a difficult vintage for many in the Barossa but here the wine is rich and ripe with notes of mocha, dark chocolate, dried fig, prune, cherry, plum, vanilla and Chinese Five spice. Tannins are soft and fine and the mouth-feel rich and creamy. Drinking well know.
Henschke, Hill of Grace, Eden Valley Shiraz, 2005
A wine of incredible balance, still young but starting to show a little maturity, incredibly powerful but with beguiling elegance. Aromas of crushed raspberry and five spice with violets, anise, clove, eucalypt and spicy oak. Drinking superbly, but with plenty of aging left in it, the tannins are very fine and velvet like and the finishing is exceptionally long and lingering. Deservedly one of the icon wines of the world.
I would like to thank Olivier Gilles and Maxime Laborbe from Warehouse Wines and Tim Herrmann from Negociants & Yalumba Winery for inviting me along to this auspicious and exceptional event, as well as Mr. Thomas Bianco from Raffles Le Royal Hotel who, as always, did a magnificent job with the food and service.