Khema is the name given to the beautifully appointed and delightfully sophisticated French restaurant, café, wine bar, boulangerie, patisserie, charcuterie and fromagerie that is the epicurean heart and soul of the Arunreas Hotel.
The title comes from ancient Khmer traditions, Khema being the name of one of the most significant female figures in all Buddhism. Khema was said to be a queen and a woman of unsurpassable beauty, the Lord Buddha taught her about the impermanence of all things and once she accepted and understood his teachings she become an 'arahant', a person who is 'perfected' by the attainment of enlightenment.
The Buddha considered Khema to be most wise amongst all his nuns and often referred to her as 'Khema of Great Wisdom'; to this day the name is associated with someone who is insightful, responsible and well grounded.
As I enter Khema restaurant I am greeted by its manager, the lovely Marina Quadrao, a woman no less striking than her restaurant's namesake. Marina was born in France to Cambodian parents who -like so many others- had fled the Khmer Rouge and eventually made their way to Paris. Here in Phnom Penh, at our early breakfast meeting on a Friday morning, she is a vision of Khmer grace and Parisian sophistication.
The restaurant, which perhaps could be described as a food and wine center, runs along the side of this very stylish boutique hotel, which houses a mere 12 bespoke designed, luxury rooms. From the dining space there are views out onto the terrace or, in to the walk-in wine cellar. The bar divides the space between the white linen and upholstered luxury of the restaurant and the appetizing display of cakes, breads, meats and cheeses in the café area.
The restaurant can seat around 40 people and the café manages around 20. The whole design of the establishment is a discerning collaboration between elegant Khmer beauty and sophisticated French style.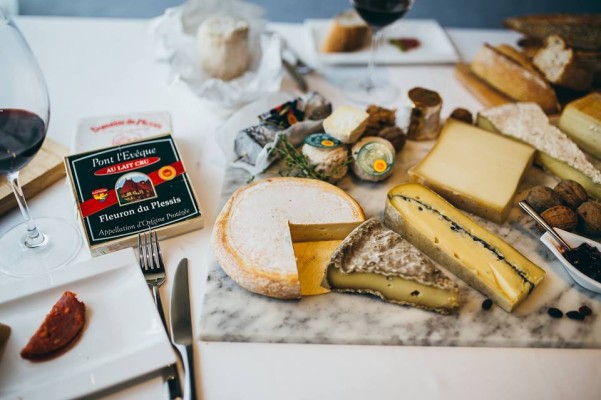 Marina informs me that Khema imports its own cheeses, air flown from France a few times every month; it also imports and prepares its own meats. The meats and cheeses are selling well amongst locals and repatriates, as too are the house baked cakes.
Every Thursday evening the restaurant hosts a wine and cheese affair, ($22 per person including tax) guests enjoy copious amounts of imported cheeses and fine French wines from 6pm, this is extraordinary value and the nights are extremely popular.
Along with the platters of cheeses and meats and the cakes on the menu there are sandwiches, snacks and gourmet salads; prices are mid-range, produce is high quality. Most of the gourmet sandwiches are $3 to $5 dollars with salads around the same mark, although there is a $15 Black Angus burger on the menu along with a $12 Salmon Platter.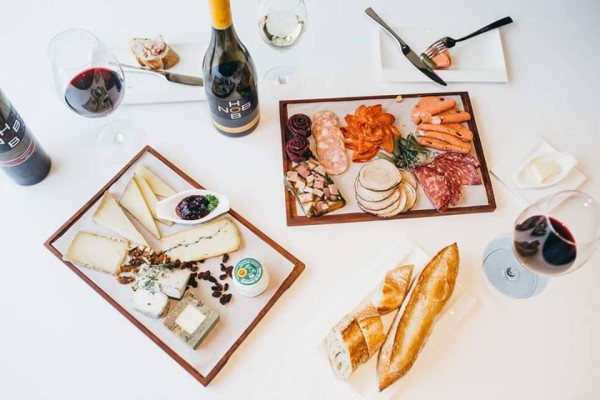 There is an, a la carte dining menu for lunch and dinner which features classical French cuisine including foie gras, lobster bisque, French Onion soup, Beef Wellington, Pigs Totters, Poached Fish and Chef Alain Darc's famous Duck Breast. There are also eight mouthwatering desserts.
Main courses are a very reasonably priced $10 to $20 with a few dishes edging $30, there is also a magnificent pan-seared, authentic veal rib chop, shared amongst two people for $70.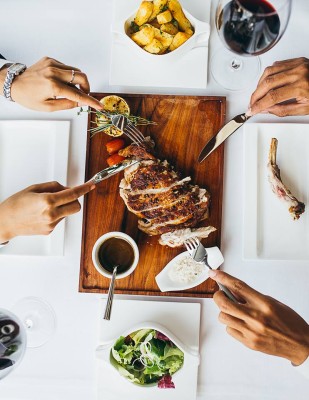 In the Afternoons, the restaurant has a 'High Tea' which is a wickedly good idea full of sweets, cakes, salmon, foie gras, goat's cheese, Harvey and Sons exotic teas and juicy conversation. There are a number of set price options, to my great relief one includes Champagne.
Khema is also making a name for itself with its brunch and breakfast menus and today I enjoy an Eggs Florentine; essentially eggs benedict served, a la Florentine, on a bed of Spinach. The dish is at least one hundred and fifty years old and consists of poached eggs, set on a bed of lightly blanched and buttered spinach, placed on top of two toasted and lightly buttered English muffins, generously coated with a Hollandaise sauce.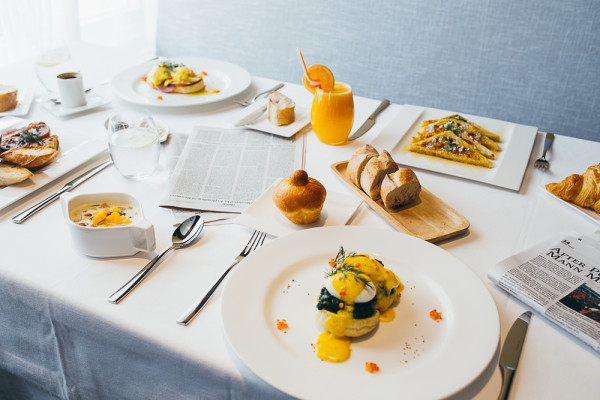 My perfectly poached eggs are fresh, silky in texture, the warm yolk oozing out at the slice of my knife, the spinach is also fresh and just lightly wilted and then there is the hollandaise, an emulsion of egg yolk, liquid butter and lemon juice that is a challenge for many kitchens who cannot prevent it from splitting, here it is perfect, creamy, rich and with that little ping of acidity from the lemon juice. The glass of Duval Leroy Champagne, which it is all crisp pears, bight acidity and vibrant mousse on the palate, completes an exquisite breakfast combination.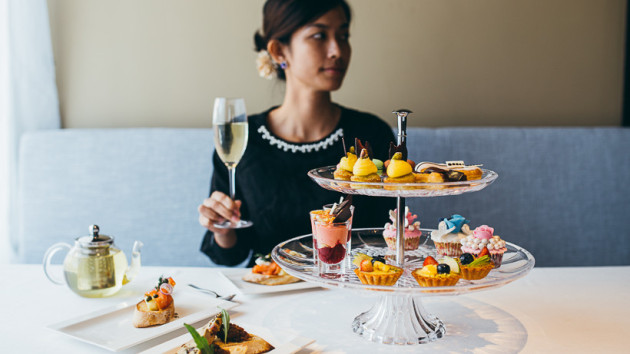 It has not escaped my attention that there is also a Kuy Teav on the breakfast menu, a traditional Khmer rice noodle soup with pork and prawn. Once again my thoughts are drawn to my host, her restaurant and this lovely hotel, which represent a balance, a harmony between the natural elegance and beauty of Khmer culture and the French finesse for art culinaire and l'industrie hôtelière.
The beauty of the place is inherent, ethereal, the dinning elevated, exceptional; I would describe the ambience and the whole experience as relaxed refinement and in a city awash with the unrepentant dust and debris of rampant construction and unregulated development, we can all do with a bit more of that.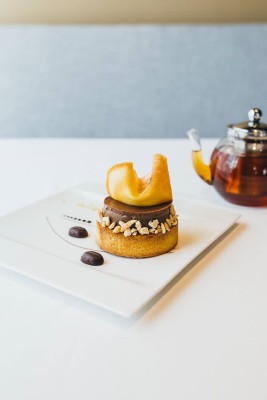 Khema
Address: corner of Street 228 & Street 51, Phnom Penh, Cambodia
Phone: +855 (0)23 221 646
Email: [email protected]