To say that I enjoy Thai food would be a bit like suggesting Imelda Marcos occasionally liked to wear shoes, (she famously admitted to owning over 1,000 pairs at one point).
I've been traveling to Thailand for the past twenty years and spent about eight years living there: whether it is the amazing street food in Bangkok, the highly sophisticated, Royal court dishes in places like Benjarong or the new 'Wok Gods' serving up some of the most exciting cuisine in the world right now: chefs like David Thompson at Namh, Kraisorn Chaiyaboot at Bo.lan and Arisara Chongphanitkul at the Issaya Siamese Club, it remains one of my absolute favourite cuisines.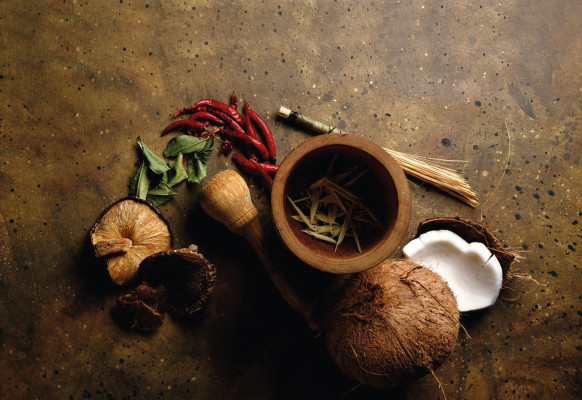 So, it was with plenty of excitement that I headed out to Ma Ma Thai restaurant this week. The restaurant itself is impressive, set in a large house with a magnificent atrium and an open verandah, there are dinning terraces over three floors. There is plenty of carved timber, Thai ornaments, murals, large kneeling tables and those padded mats and triangle cushions you see tourists encumbered with in the departure lounge of Suvarnabhumi airport. There is also a seafood station at the entrance, with live tanks and fresh catch laid out on ice trays.
In Thailand, the regional styles vary greatly; the Southern regional food, (Ahan Phak Tai) has Malay influences, the North, (Ahan Lanna) is incredibly diverse and delicious. The East, (Ahan Issan) is influenced by Lao and Khmer culinary traditions, whilst the dishes if the central region, (Ahan Phak Klang) have sophistication and refinement.
The menu at Ma Ma Thai is huge, I stopped counting after 80 dishes; the beverage options were a lot less abundant and having tasted my partner's glass of the only white wine available by the glass I'm glad I passed; they could obviously do with a bit of help on the wine front. Prices range from the downright cheap to inexpensive and great value for money, (about $4 to $7 for most dishes with some of the more exotic seafood a little more expensive) portion sizes seem decent and I doubt anyone ever goes home hungry or broke here.
I thought I would test some of the endearing favourites, signatures of Thai cuisine: Som Tam: a spicy, sour, green papaya salad, (known in Issan as 'Papaya Pok Pok' for the noise it makes when you pound it in the mortar and pestle), Tod Mun Pla: a deep fried, spicy Thai fish cake, Kor Moo Yang with Nahm Jim Jaew, barbecued pork neck with an Issan dipping sauce, Kao Hom Mali: fragrant jasmine rice and Gaeng Daeng Gai: a red curry chicken.
First served is the barbecued pork, tender, juicy, well-cooked, the dipping sauce is a little restrained and doesn't have the spice and acidity kick I'm looking for, its good but it's what the Thais would call 'farang Thai', the toned down tourist version of the real thing, still it's not a bad start.
The Som Tam is also good but, again it is slightly diluted, the papaya is sliced a little thick, it should be finer shreds of bitter green papaya coated in lime juice, dried shrimp, fish sauce, tamarind water, shallots, garlic, palm sugar, peanuts, tomatoes, snake beans and of course, fiery bird's eye chili. I have asked for the central Thai version, so it is sans the small pickled crabs of the Issan version that are not to my liking. This dish has the freshness but lacks the intensity.
The fish cakes come out and are a disappointment, nothing like the authentic version and totally lacking the familiar red curry zing that makes them so appealing.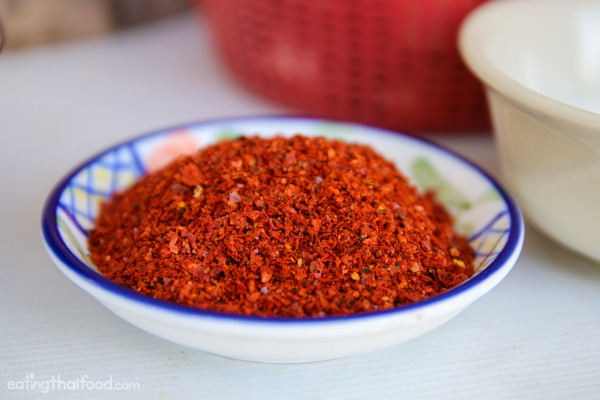 I am starting to get a little despondent, my partner is happy though, she is tucking into her fifth or sixth fresh oyster and tells me they are delicious and are from Vietnam! The red curry arrives and I can see it is missing several key ingredients; Kaffir lime leaf and the small Thai eggplant varieties Makhua Puang and Makhua Phro, the white golf ball sized eggplant and the green, pea sized eggplant are not there. The curry is also missing pineapple, now you are either a pineapple in or a pineapple out person but for me, if it's a red curry then it has to have pineapple to really sing. This one is all carrots and potatoes and looks more like a Surin style curry, very Thai/Khmer border.
I tuck in regardless and am immediately taken aback; this is delicious, lively spice, great balance and wonderful intensity. It might not be totally authentic but, it's very good and by the time I finish I've decided I would come back for this one dish alone, the jasmine rice was as it should be, fluffy, fragrant and a perfect texture with the curry.
Thai food is a marvelous explosion of flavor, the perfect, harmonious balance of too much of everything. Whilst the food here was a little restrained to my palate I suspect this would probably be welcome news to more people that it would disappoint. Overall, I had a positive dining experience at Ma Ma Thai, I enjoyed the ambience, the staff tried hard to please and the food was good enough to have me returning again.
Who: Ma Ma Thai
Where: House 19, Street 352, BKK1
When: 7am till 11pm, 7 days per week
#an edited version of this story has appeared in The Weekly Lift Out of the Khmer Times newspaper