Question: what do Angkor Wat and Mexican cuisine have in common?
Answer: both are on Unesco Heritage Lists, Angkor on the 'World Heritage List' and Mexican Cuisine on its 'Intangible Cultural Heritage List' oh, and both can be found at Siem Reap.
Regulars to the Reap will no doubt be aware of the local appeal and popular success of Mexican restaurant Viva, an ever expanding business opposite the old market, Viva now takes up a couple of floors over two large buildings and incorporates a boutique hotel to go along with the bar and restaurant.
First opened in 2006, Viva is popular with locals, tourists, expatriates and repatriates for its legendary happy hour – an hour that never seems to end as you enter a timeless zone of fifty cent draft beers, delicious frozen margaritas for a dollar fifty, mojito, mai tai, Cuba libre and more. All this cheap booze is undoubtedly part of the attraction but, you don't get this popular on price alone.
I used to make regular working forays up to temple county and I knew that if I dropped in to Viva around the time day shift calls it a day, then I'd catch up with a cluster of food and beverage types: managers, hoteliers, bar-keeps and publicans; the sort of jaded pros who don't frequent the most popular spots, only the good ones. Viva has always been about a lot more than nasty drinks and slop on a plate; the food has always passed muster, it is fresh, authentic and very tasty.
The staff are also an important part of the equation, you get the sense that seeing you happy is what makes them happy. These are the things that set Viva apart in Siem Reap, the reasons why it has been so incredibly successful where so many others have failed.
Lao Bunthinh was another young Cambodian fleeing war and horror, one of the lucky ones he made it out to California. The young Cambodian refugee grew up with the migrants of the region, mostly Mexicans, he ate their food and he didn't fail to notice how popular it was. As he got older he met his life's partner, a Mexican and a cook. When Bunthinh returned to Cambodia they set up Viva, with genuine Mexican know how and a determination to deliver authenticity and quality. The food is authentic, more in common with the Northern Mexican and Tex-Mex styles popular in the United States. When quizzed about the low prices, the humble repatriate insists it is all about making sure the place is always busy and always fun for everyone.
In 2011, Viva decided to make the push south into Phnom Penh, early life in the capital was a bit of a struggle; the first address was a little far upriver, beyond the night market and precariously situated in a district more famous for the a different type of spice, (or something that rhymes with it) served at a different kind of establishment. The single fronted shop house was also too small for the friendly camaraderie and good cheer enjoyed at the original. The grass was definitely not looking greener on the other side of the fence.
Four weeks ago, Viva moved into a new Phnom Penh address, taking over the double fronted, riverside shop-houses that used to be the home of Fish & Co. that somewhat weird, (to me) -deep-fried-fish-served-in-a-fake-pan- Singaporean franchise. Viva already looks much more comfortable and at home, with a wide terrace area on the river walk, a large dining area inside and a good sized air-conditioned section at the back. Business has been brisk and the place has the location, size and scope to carry the Viva look and feel, with that aura of casual dining, drinking, laughter and fun.
Viva is all bright orange and white of the Mexican flag with green cacti painted on the walls; staff occasionally wear sombreros, there are imported Mexican hot sauces amongst the condiments and there is an entire bar shelf dedicated to tequila, it's not subtle, but it is fun.
The bellwether of any Mexican restaurant is the quality of its tortillas and at Viva they make their own: fresh, light, thin and tasty. They also make their own corn chips and of course they make their own salsa, again fresh, good acidity, nice spice, racy, vibrant. The salads are fresh, the rice dishes superb and the classics: quesadilla, burrito, taco, chimichanga, enchilada, all are here, hearty, filling and delicious.
Dishes range from $4 to $9 dollars with most around the $6 mark, drinks are ridiculously cheap, more so when you learn they are running the happy hour down here as an opening special that goes for 12 hours a day, (10am to 10pm)! When I asked the friendly young manager, Chan Dara how long this could last he just smiled and said "who knows, maybe as long as people keep coming". There are all types here, young and old, tourist, local, families, friends and all seem to be enjoying themselves.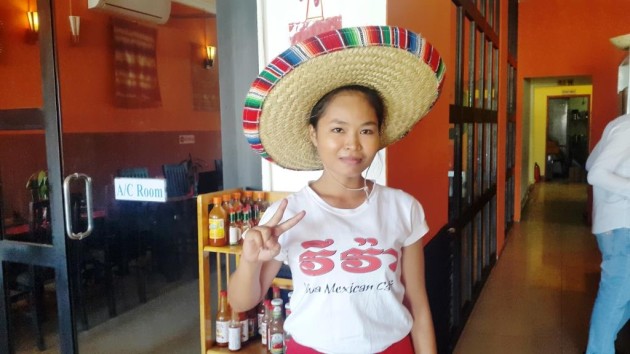 As I sat inside Viva, $3 corona beer, $1:50 frozen margarita and a $7 wet beef burrito gently placed in front of me by a smiling young waitress in a large straw sombrero, I peered out at a Mekong river twinkling in the noon day sun, it looked like a thousand eyes winking at me, like we both knew that life in the Penh had just got a little bit better.
An Edited version of this article has appeared in the Khmer Times newspaper in their The Weekly liftout