Old House
Chinese House sits on the riverside opposite the port in Sisowath Quay; it was built in 1904, a time when Phnom Penh was just beginning to establish itself as the capital of Cambodia.
The house was established by a wealthy merchant trader named Tan Bunpa; at the time of the houses construction and its success as a trading post, the capital was in the midst of an era of establishment and modernization, during the reign of the first Royal House of Norodom and later the Royal House of Sisowath.
New Look
The House remains remarkably untouched, there are three buildings which are now connected and the main structure looks like a Chinese Godown. At some point, a French style façade has been added to the riverfront side of the building and stunning 'Belle Époque' era tiles were imported for the ground floor and terraces.
The renovation at Chinese House is nothing short of breathtaking: Derrida-esque deconstruction – urban decay and renewal: all rubbed back and exposed walls, bare and distressed hardwood beams. There are impressionist Chinese street-scapes on the walls downstairs, Shanghai Grand era cigarette girls on the walls upstairs, elaborate Chinese ornamental furnishings and filaments throughout and all lit with dropped, amp valve, exposed bulbs; it is striking decor upstairs and down.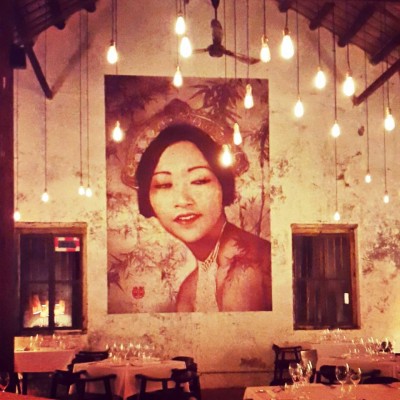 New Team
South African born Benjamin Thomalla is my host for dinner, he is the owner's representative and charged with overseeing the renovation, re-launch and successful operation of the revamped Chinese House restaurant and bar, formerly an executive chef in a number of high end resorts and hospitality establishments in South Africa and Vietnam; Ben comes across as highly competent, ambitious and engaging, there is no hint of arrogance, only slick, assured confidence.
The head chef is another South African, Amy Baard; she joins us at the end of the meal. Amy is charming, young, attractive and again, someone who is confident and assured without appearing to have any shred of arrogance; both are delightful company.
Amy left South Africa to cook in Nha Trang Vietnam which is where she first worked with Thomalla, after he left she found herself the executive chef, a meteoric rise indeed however, this would prove only the beginning.
Amy's next move was to become sous chef at Bangkok's luxury hotel, the Sofitel So, designed by Christian Lacroix in collaboration with five of Thailand's leading designers. Amy was soon invited to be a guest chef on Thailand's version of the television series 'Iron Chef'. From the moment Amy won the challenge she was a celebrity in Thailand.
It is self-evident that Amy's passions are firmly grounded and she happily abandoned the bright lights and magazine appearances of Bangkok to re-join Thomalla in Cambodia, relishing the opportunity to have her own kitchen and cook the food she wishes to explore and share with people.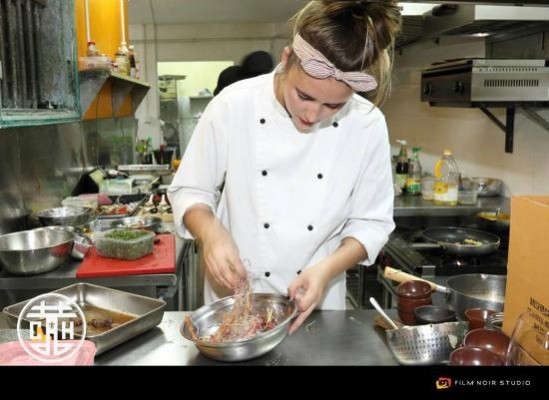 New Food
The style of cuisine is pan Asian with chef riffing on classic proteins and Asian spices. We start with a Thai fish cake dish, very stylishly presented on the plate, chef uses spices with restraint and a deft touch, this dish shows a lot of finesse and dances across the palate.
Next is a main, duck magret with a beetroot puree, garlic greens and a spiced mandarin reduction; the dish is sublime the breast is juicy, tender, plenty of duck fat, thick crisp skin. Again, there is the deft hand with spice, a little cumin in the puree, a salt and pepper rub on the duck skin, we were washing it down with a delightful Clos Henri, Petit Clos, Pinot Noir from New Zealand and I was getting close to Chinese seventh heaven.
We moved on, a lamb shank rendang with a black pilaf rice, the spices were refined, elegant, the lamb shank slow cooked, incredibly tender and with plenty of flavour, the black rice a perfect match, chef has a wonderful knack for letting the sheer quality of her proteins shine, whilst giving them beautiful spices and textures as highlights rather than as the main event, it's a great skill.
Dessert is a pear and vanilla panna cotta with ginger and cinnamon crumble, honey brittle, pear compote and macadamia; it is presented as a whimsical, playful piece of art on the plate and it is very, very good; a perfect way to finish.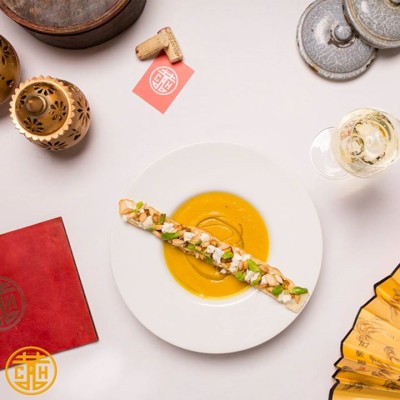 The restaurant, bar and terrace project at Chinese House is an ambitious one, there has been significant investment in the renovations and overheads, as the main drivers of the business both manager and chef seem calm, confident and enjoying the opportunity to strut their stuff in Phnom Penh; they are sharing with us exceptional dining and hospitality and it is wonderful to have all this going on in such a great venue, this historic house in our fair city.
The wine list and cocktail list are extensive and reasonably priced, food prices range from 4.50 to 6.50 for tapas, 12.75 to 17.5 for platters, 4 to 9 for starters, soups and salads, 9 to 38 for mains, with plenty of dishes and diversity to choose from. The service was notably of a very high standard.
#An edited version of this article has appeared in the Khmer Times