Deco restaurant is situated in a large house built sometime in the early 1960's, very modern for its time and built in the Corbusian modernist and modern Bauhaus style introduced to the country by Vann Molyvan. This style would become extremely popular during Cambodia's golden era of independence and development during the 1950's and early 1960's. Many of the houses and buildings constructed during this period remain today as icons of the city.
At the time, these buildings must have struck out in the sharpest possible contrast to the old structures of French colonial rule, a statement of intent and a signaling of a new and exciting future. What followed is well documented and was of course, completely shocking; when one looks at the architecture of this time, with its unbridled, naïve confidence, joy and optimism, you get a sense that for the creators of this brand new paradise, it must have been a complete shock and a horror unforeseen. You get a greater sense of just how completely terrible a surprise it all must have been.
Thank goodness there are people who are interested in restoring and preserving these magnificent structures across the city, one can only hope that we do not lose too many of them to a new wave of modernism, one that appears more powered by money and economy than an urban cultural vision.
Deco is the brainchild of talented industry veteran Robin Ainge. Rob, (along with his other investors) felt that if they could find one of these majestic houses for their new venture then the Art Deco motif would be a good fit -both for the building itself and for the Phnom Penh restaurant scene. The intricate and detailed Art Deco touches and flourishes have indeed restored the property to a grandeur and splendor that has breathed new life into the property and into the city's dining culture.
Once the house had been secured a local design company and a local architectural firm were employed to work through the concept, one which was very detailed and exacting; all of the fittings and fixtures including lighting, doors, windows etc. were included in the concept and redesigned. All of the furniture is bespoke and locally designed -with several prototypes being constructed before final designs were selected. From concept to opening Deco was approximately one and a half years in the making.
To be seated in one of these magnificent houses, restored with great care, professionalism and great detail is more than merely pleasant, it is majestic. There are lovely touches -from the black and white 'checkered' tile floor to the 'vintage' lithographs of the grand old booze and flavor of the 1920's, (when Art Deco was at its height). These artifacts add to the sense of romanticism, escapism and hedonism, making it a relatively simple task to put oneself at ease -leaving the hustle of Phnom Penh city life at Deco's stylish front gate.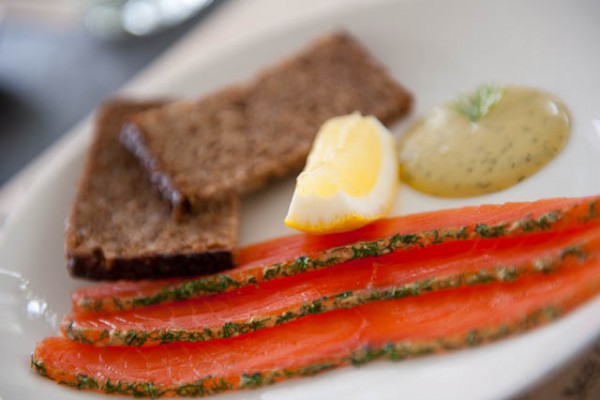 "As I ate the oysters with their strong taste of the sea and their faint metallic taste that the cold white wine washed away, leaving only the sea taste and the succulent texture, and as I drank their cold liquid from each shell and washed it down with the crisp taste of the wine, I lost the empty feeling and began to be happy and to make plans."
― Ernest Hemingway, A Moveable Feast
However, one does not come to Deco to merely sit and reminisce, we are here to eat, drink and be merry and it is here that Deco knows its craft extremely well and hones in on perfection with stylish simplicity. The menu consists of a compact selection full of modern interpretations of classic dishes that conjure their own certain sort of nostalgia. No reinvention of cuisine here, just attention to perfecting technique and sourcing the best ingredients and to rendering dishes that are at once both familiar and perfectly executed.
Whisky cured Salmon with Rye Bread and Honey Mustard, Scotch Quail Eggs, Duck Breast with Watermelon, Cashew Nut and Plum Sauce, Pork Chop with Creamed Leeks and Mustard White Wine Sauce are some of my favourites and range from $7 to $10 per dish; ridiculously cheap for food this good, we are indeed incredibly spoiled in Phnom Penh. The ingredients at Deco is always fresh, the food prepared slowly and with great care, perhaps the only aspect of the cooking that outshines the attention to quality is their consistency and that is an at times elusive achievement for many restaurants here, as a regular to Deco I find I am never let down by even the merest dip in culinary standards.
"Drinking wine was not a snobbism nor a sign of sophistication nor a cult; it was as natural as eating and to me as necessary…"
― Ernest Hemingway, A Moveable Feast
One of the absolute revelations at Deco is its attention to offering quality booze; from the personally tasted and selected wine list to the exceptional selection of imported spirits and liqueurs, well researched and executed 'classic' cocktails and the new addition of hand crafted boutique beers on tap.
This is one of Ainge's real passions -having spent time working for an international spirit company and running his own wine bar in the past- Rob is fanatical about sourcing the best available, researching classic cocktails of the period and then getting his hands on the original ingredients and top artisan producers, even when they are not distributed in the country. This often means soliciting friends and contacts to 'hand-carry' items in especially for him.
A recent and remarkable addition to the beverage list are the beers, two beers are offered on tap and are made exclusively for Deco by micro-brewery 'Cerevisia' a tiny operation hand crafting some of the very best beer in the kingdom. Currently on tap are a Blonde and an Extra Special Bitter, made with Rattanakiri wild honey.
The wine list is a tight selection of eclectic variation, well chosen to offer interesting, quality options across most price points and it works well with the menu, it is not hard to find something to please but, it is well worth seeking out Rob's advice to further enhance your Deco dining experience.
Rob also has a passion for the 'Classic' cocktails of the Roaring Twenties and believes they are finding new found popularity for a reason, they are some of the best cocktails ever invented and globally they have not only endured they are currently enjoying a resurgence, he lists the 'Old Fashioned', the Negroni, the Manhattan and the Classic Martini as some of his best sellers.
The plan for Deco is to keep rotating and adding new dishes once they have been perfected in the kitchen and this is an exciting development for Deco regulars, the beers will also change as new styles and brews become available and the wine list is an ever evolving journey of delight for regular patrons. There will also be special nights and events highlighting new options to come, all suggesting that this architectural and culinary homage to the past has a very bright shining future ahead.
Deco:
http://www.decophnompenh.com/
Address: No 46 Street 352, Bkk1, Phnom Penh, Cambodia
Phone:+855 17 577 327