Jeffrey Grosset has long been renowned -the world over- as Australia's greatest Riesling producer. His Riesling wines have achieved an extraordinary level of fame for a variety largely shunned by the broader, Australian commercial wine market for the past thirty or forty years.
It is now a celebrated fact that in the 1980's Jeffrey Grosset took a stand against Australia's largest wine companies -who wanted to leave the term Riesling on wine labels, (mostly for cask wines) as an ambiguous term for light white wines made from all manner of commercial wine grapes including Sultana and Pedro Ximines- Jeffrey (and other small producers like him), won the day, meaning that only wines made from the Riesling grape may be labeled Riesling in Australia. He has been perfecting and achieving perfection with the variety ever since.
Jeffrey Grosset has been described by James Halliday as "Australia's foremost Riesling maker" and by Jancis Robinson as "Australia's acknowledged king of Riesling". He was named the first recipient of "Australian Winemaker of the Year" from Gourmet Traveller Wine magazine in 1998 and is held in such high esteem amongst his peers that back in the same year he won the accolade of 'Riesling Winemaker of the Year' in Hamburg, Germany. He was noted in 2005 to be one of the world's "50 Most Influential Winemakers" by Wine & Spirits Magazine in the U.S. and named as one of the "Top 10 White Winemakers" in the world by Decanter UK Magazine in 2006. Jeffrey Grosset's partner, Stephanie Toole, has owned and run Mount Horrocks Wines, also in the Clare Valley, since 1993. Stephanie and Jeffrey were named one of wine's five most influential couples by Decanter magazine in December 2009.
Another testament to his winemaking efforts, is his Polish hill Riesling being rated in the Langton's classification as 'Exceptional', (only 17 wines in total and only 3 of these being white wine make this grade, Polish Hill is the only Riesling on the list) alongside other iconic wines such as Penfolds Grange and Clarendon hills 'Australis'.
I have known Jeffrey for going on quarter of a century and have long been a bona-fide disciple of his wines. I remember celebrating his 15th vintage at the winery, tasting 15 years of his Polish Hill and Watervale Rieslings, all holding up magnificently well, a sublime line up of wines. I also remember an 1984 Auslese paired with one of his partner Stephanie Toole's home-baked flans, early one morning on the ridge above his Gaia vineyard, looking down across the Claire Valley on a crystal clear day, all the way to the Gulf of Saint Vincent, it was a surreal moment of serendipity.

Grosset has always believed that complexity and diversity of species is the key to achieving the highest quality grapes and a healthy, sustainable vineyard. There are strong similarities between this approach and organics.
Grosset's creative and highly disciplined approach to viticulture and winemaking has now been assessed by Australian Certified Organic (ACO). The ACO, Australia's largest certifier of organic produce, has now certified all Grosset vineyards as organic (in conversion). As the winery is also certified to process organic produce, this means that from 2013, wines from all Grosset vineyards (Alea, Springvale, Polish Hill and Gaia) will carry the ACO logo.
"Grosset Wines has been at the leading edge of sustainable viticulture since planting the Gaia vineyard in the 1980′s" said Jeff "and we see this independent certification of our vineyards and winery as an extension of that commitment."
When Jeffrey Grosset planted his triangular, cabernet-based vineyard at 600 meters above sea-level as a reaction against interventionist viticulture, he called it Gaia in support of the Gaia principle espoused by James Lovelock in the 1980s. Broadly speaking, Lovelock suggested that the complexity of Mother Earth's (Gaia's) species gives it the resilience required to withstand change.
The Gaia principle led Grosset to practice sustainable viticulture throughout his Clare Valley vineyards with a minimum of chemicals.
Having influenced Grosset in the original planting of the Gaia vineyard, the Gaia principle inspired him to go a stage further by applying all the profits generated from the vineyard to a capital fund invested in high quality, environmentally sustainable businesses. With that end in view, he has established the Grosset Gaia Fund and today all profits from his Gaia wine go towards support for young people, the arts and the environment.
http://www.grossetgaiafund.org.au/
Jeffrey Grosset has spent over thirty vintages honing his wines to ever-finer molecular precision, forever striving to capture in articulate detail the nuances of some of the most expressive vineyards in the Clare Valley and Adelaide Hills.
In this pursuit, Grosset's immensely disciplined focus and fanatical attention to each tiny detail in the vineyard and winery have set a standard aspired to by many winemakers across Australia. His is one of the sharpest winemaking intellects in the country, with the strength of conviction and adventurous sense of innovation to challenge accepted practice on a daily basis.
Grosset makes two highly distinguished Rieslings: The Watervale (labeled Springvale) is from reddish clay-loam over limestone, the Watervale sub-region's prized, slightly alkaline soil, which gives a lifted floral style. The other is grown at Polish Hill to the east, on more acidic quartzy soils of heavier loamy-clay over shale and slate. The wines are hand-made, classically understated and built for long keeping.
2013 Grosset 'Polish Hill' Riesling
Brilliant pale straw colour with green and lemon tinges and a watery hue. Aromas of intense lifted limes and citrus with hints of minerality. Focused, palate with piercing citrus fruit chatacter and rapier like acidity and minerals on the finish. Lovely, long, tangy flavours and a steely back palate, superb.
2013 Grosset 'Springvale' Riesling
Light pale straw with green tinges and a watery hue. Aromas of citrus with hints of talc and orange blossom. More aromatic and floral than the Polish Hill, with citrus flavours to the fore and some chalky, talc like phenolics and orange peel on the finish, accompanied by trademark minerals and flinty acidity.
It would be incredibly short sighted to think of Jeffrey as a producer of only Australia's finest Rieslings however, he also produces amongst other fine wines, a highly regarded Bordeaux style Blend (Gaia), magnificent Adelaide Hills Pinot Noir and Chardonnay and a very fine Semillon / Sauvignon Blanc.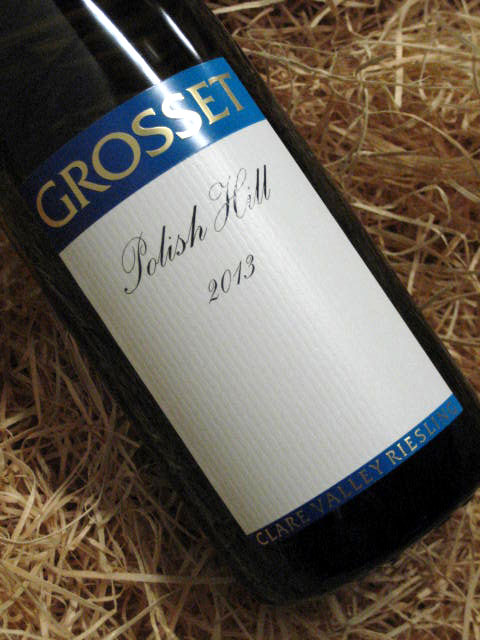 Additional reference sources:
Decanter Magazine
Wine & Spirit Magazine
Wine Anorak
Langtons
Tyson Stelzer