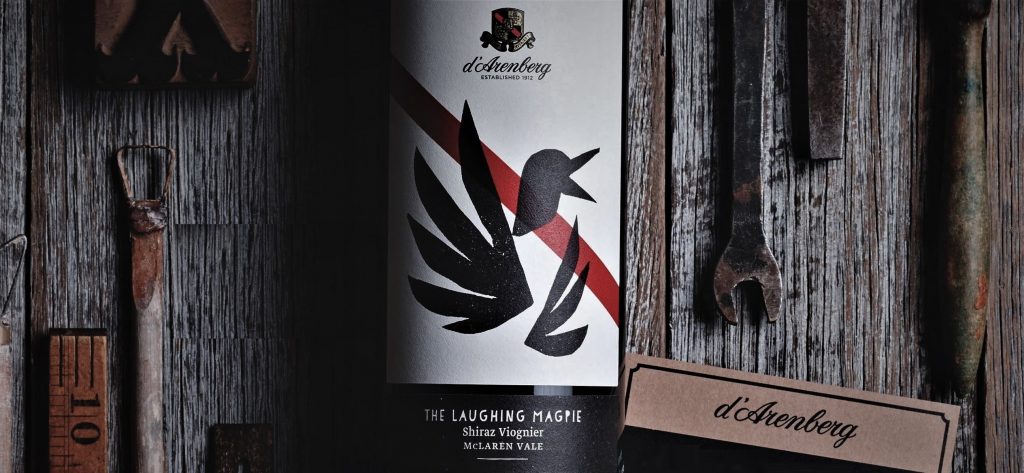 UPDATE: 16th December 2022
FRANCIS d'ARENBERG (d'ARRY) OSBORN OAM
27th December 1926 – 16th December 2022
It is with sadness that we announce the passing of Francis d'Arenberg Osborn – better known and loved as d'Arry – at the age of 95.
d'Arry was much loved by family, friends and wine lovers the world over as a great raconteur, regaling all with humorous stories gathered over a lifetime. A true statesman of the wine industry d'Arry will be greatly missed by all at d'Arenberg.
Wherever you are in the world, find a bottle with d'Arry's famous red stripe and join us in raising a glass to a great man and a life well lived.
Darren Gall: Deepest sympathies to Chester and the Osborne family; d'Arry was one of wine's true greats; it was a privilege to know him, work with him, learn from him and be friends with him for many years. I still tell people d'Arry stories to this day and am sure I will for the rest of my days.
"He was instrumental in transforming d'Arenberg from a local farm into an Australian wine powerhouse, including the 1968 d'Arenberg Cabernet Sauvignon winning the Jimmy Watson Trophy in 1969. He created the world-renowned 'Red Stripe' in the late 1950's lifting their wine from bulk to bottle."
Who's Laughing Now?
Since 1912 the Osborn family have tended vineyards in McLaren Vale, South Australia. Today, fourth generation family member, Chester Osborn is making distinctive wines using traditional methods in the vineyard and the winery. Chester has won just about every award and accolade there is to win as a winemaker and deservedly so, he produces wines of immense quality, character and appeal.
He has been awarded Winemaker of the Year, several times and by several highly respected publications and institutions, voted international 'Wine Personality of the Year' by Robert Parker Jnr's Wine Advocate and voted the world's 'Wine Man of the Year' at the 8th annual Hospice du Rhône celebration.
Not to be outdone, his father d'Arry was awarded a Queens Medal of the Order of Australia, (OAM) by Her Majesty the Queen, for services to the Australian Wine Industry. The winery itself has been voted winery of the year and several of their wines named best wine of the year, over a sustained period of time and for an impressive number of different wines.
The family is as McLaren Vale as the old vines they tend to in their vineyards. The wines are as fine an example of quality, and a homogeny, a mutualism between family, place and produce as you are every likely to find.
Over a stunning Wagyu beef at the exceptional Hiraku restaurant in Bang Keng Kang 1, Phnom Penh, Cambodia, I was fortunate enough to have this magnificent dish paired by an equally magnificent wine. A wine close to my heart and a part of my history, its effect on me was nothing short of profound.
You see, I lived in McLaren Vale for many years, many years ago; working for Richard Hamilton wines, it was a time I look back on with immense joy and it was a time that shaped much of who I am today. I loved the region then and I cherish the memory of it now.
The Osborn's were neighbours, their property the envy of the region, their wines benchmarks and their winery and wine business set the example and vision for us all. We loved them then and I am still proud to call them my friends today.
The Laughing Magpie
The wine is predominantly Shiraz with a generous dollop of the white Viognier grape added for co-fermentation. The addition of Viognier is traditional in regions like the Cote Rotie, (Roasted Slopes) of the Northern Rhone and give a lifted, elegant perfumed aroma to the wines and a certain irresistible slipperiness to the palate.
As one antiquated wine scribe put it, the wines smell like a lady's handbag and taste like a man's wallet!
The Viognier and Shiraz here were co-fermented in open fermenters, before being foot trodden at about two thirds of the way through, the wine was then basket pressed and transferred to a mixture of older French and American oak to complete the fermentation process and gain complexity through about ten-months maturation. The barrel ferments were aged on lees and there was no racking until the final blending, then no fining or filtration prior to bottling.
The wine is dark, opaque in colour with a vibrant purple halo, the Viognier aromas seduce the olfactory senses with apricots, nectarines, fresh field flowers, supported by boysenberry plum, violets and liquorice from the Shiraz component, with just a hint of mixed peel and all-spice.
The palate is full, generous, with a juicy sweet-spot of ripe plum and boysenberries, wrapped up in that silky, slippery texture and fine, ripe tannins.
Was that a tear in my eye or a twinkle? The poet Anatole France once said, "All changes, even the most longed for, have their melancholy; for what we leave behind us is a part of ourselves; we must die to one life before we can enter another." However, I think Baudelaire may have said it best when he said "I can barely conceive of a type of beauty in which there is no Melancholy."
It has been two-score years since I left McLaren Vale and there have been many journeys to far off destinations since. As Shakespeare wrote, 'parting is such sweet sorrow' but, as I sat there sipping and enjoying this amazing wine I invoked Keats' Endymion, 'A thing of beauty is a joy for ever'.
The Kookaburra is a native Australian bird famous for its distinctive laughing call, Chester's young daughters named them 'Laughing Magpies'. The Magpie plumage is black with a stripe of white feathers, representing McLaren Vale's first ever blend combining the black (grape) Shiraz and its white (grape) partner, Viognier.