The Penfolds wine company is one of the oldest and most prestigious names in Australian winemaking, famous throughout the world for their big, bold Barossa Valley red wines made from varieties such as Shiraz, Grenache and Mataro, (Mourvedre).
In fact, Penfolds are the creators of Australia's single most famous wine, Grange and such is their size and reach they source grapes from premium growing regions all over the state South Australia. Their reds have always been robust, showing the tension between power and finesse that is the hallmark of great, full bodied red wine.
When they released their first Bin 23 Pinot Noir from the 2009 vintage it raised more than a few eyebrows. Here were the masters of in-your-face, smash-mouth, monster reds deciding to release a light to medium bodied wine from a variety that demands elegance, complexity and restraint. For some, it was a bit like following your rugby team into their change rooms only to find the lads all sitting about doing tapestry!
The truth'-like the wine- is something with a little more in depth, grace and sophistication; Chief winemaker Peter Gago has always had a liking for great Pinot Noir and many winemakers consider the variety, (known for being incredibly temperamental in both the vineyard and the winery) as a great challenge. Even the most experienced winemakers often find its allure irresistible.
The wine is named after the famous Bin 23 Cellar at the old Magill Estate winery in Adelaide and all of the fruit is sourced from the elevated, cool-climate vineyards of the Adelaide Hills. Penfolds have enormous resources and source some of the best fruit in the region from a wide selection of clones, which creates the opportunity for further complexity in the wines.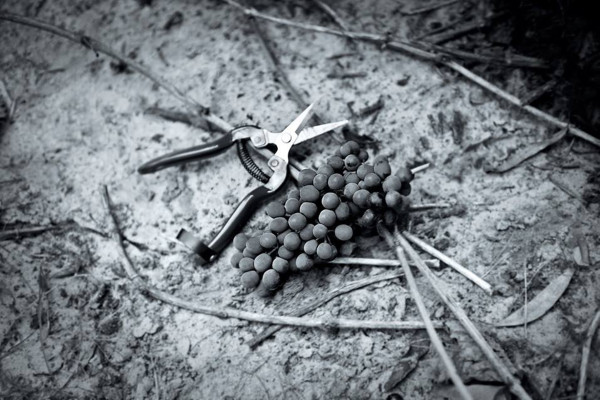 The fruit for the 2014 vintage was mostly free run with 15% whole bunches included, fermentation was with wild yeasts, the wine sits on gross lees for nine months, maturing in seasoned French oak barrels, almost 70% of which are new; there was no filtration prior to bottling.
The bright crimson colour suggests a light to medium bodied Pinot Noir, the nose takes in a complex bouquet of spices including cinnamon and clove there are earthy notes, beetroot and meaty marrow and cold lamb aromas which give way to strawberry, framboise and wild violets. On the palate the wine is medium bodied with bright acidity and intense rhubarb and red currant, the back palate is crisp with lingering savory notes and vibrant red fruits. The wine is available in Cambodia and can be beautifully paired with five spiced duck.