Open Wine is one of those Phnom Penh institutions that you take comfort in knowing are always there for you. Yet, in a city where new dining establishments -with promises of the extraordinary- open almost every other day, it is easy to neglect an institutional venue such as this one and to perhaps take it for granted.
This year is the tenth anniversary of Open Wine in Cambodia; Belgian Philippe Veeckman and Frenchman Frank Sampere came to Phnom Penh in 2005 with a strong background in hospitality and an unerring confidence in their plan to sell good French wines throughout the kingdom. The friends found the market not entirely receptive, times got very tough; they soon realized there needed to be a plan B, both agreed there could be no turning back.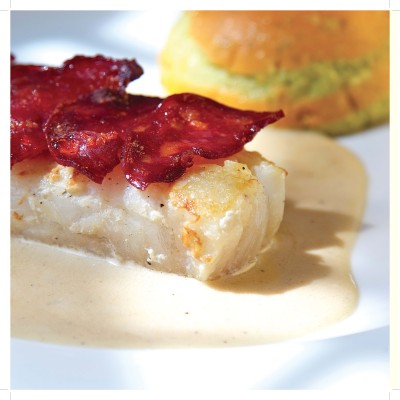 Playing to their strengths, these two hospitality artisans began devoting themselves more to food and so, what was once the wine store soon housed a butchery, a bakery and an ice creamery. The large, independence era house they have rented from the very beginning always struck Veekman as an ideal venue for a restaurant. Frank Sampere's background consists of enough hospitality qualifications for three lifetimes, his father was a trainer of chefs at the famous Souillac school in Perigord, France, a school Sampere himself attended before gaining advanced diplomas at the Culinary School of Toulouse. It was not too long before a new restaurant had taken over the whole house.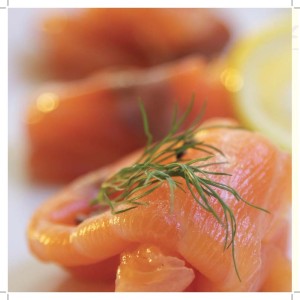 The venue and the décor at Open Wine is pure French colonial nostalgia and the cuisine is classic -but definitely not dated- French fine dining. The charcuterie is exceptional, some of the very finest in this city and in high demand. The restaurant has long been a legendary venue amongst Phnom Penh's corporate circles; its business lunch is high quality, outrageously inexpensive and lavish in the choice of dishes, (about $12 for three courses, with a dozen entrees, a dozen mains and four desserts to choose from).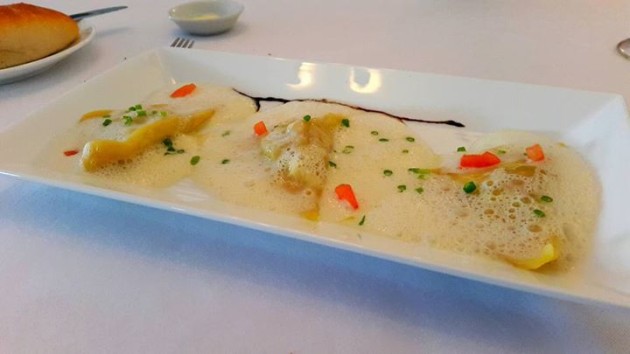 However, it is as a fine dining venue that this restaurant really shines, the food is of a very high standard, as one could expect given the experience on hand, the relationships with suppliers built up over ten years and the local knowledge gained from producing their own meats and breads. The wine list too is extensive, constantly being updated and never failing to satisfy.
Today, my first dish is a richly flavoured foie gras ravioli with a light, airy mushroom cappuccino foam; the balance is divine, all earthy forest floor and rich, sweet viscera; the Trimbach Riesling a lovely foil with its citrus freshness and floral aromas.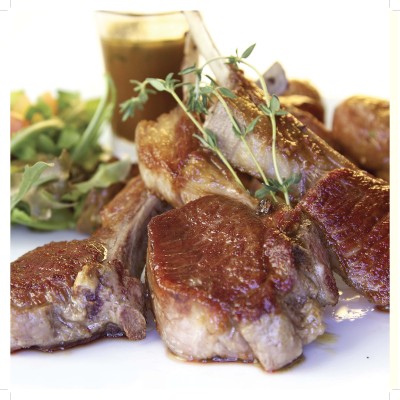 Then main event consisted of seared scallops afloat in a rich leek puree and a creamy pink peppercorn sauce, covered by a thin, crisp, parmesan pancake. The scallops were nicely seared and had a fresh, silky texture, cooked to perfection, the leek puree was incredible for its intensity of flavour, the peppercorn sauce giving the dish a nice spice kick to counter the richness of the cream and the parmesan adding texture and its own unique, salty/savory intensity. Again, the Trimbach Riesling was the perfect foil, refreshing against the richness of this dish.
The desserts on offer looked classic and tempting but I had to pass, settling instead for a shot of good French roasted coffee and a digestive of aged rum. After lingering for three hours over a great lunch and some fine conversation it was finally time to leave but, not before I gathered up a take home parcel of terrine, pate, foie gras and rillettes.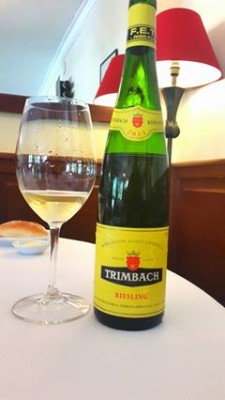 After ten years, Frank and Philippe have built a wonderful business for themselves and for the Phnom Penh community, their restaurant is popular with locals and expatriates alike. They have reached a point in their careers where they are both active in promoting and developing their industry in Cambodia, helping to develop the tourism and hospitality sectors for the generations to come. For their tenth anniversary the friends intend to hold a few special events and promotions later in the year, I do not want to miss them and I do not want to leave it too long until my next visit or three.
I sometimes acknowledge to myself that I do not get here enough, when I do, I am always delighted. Open Wine never fails to exceed my expectations and make a statement, here is more than a safe bet, here is a place that is truly special.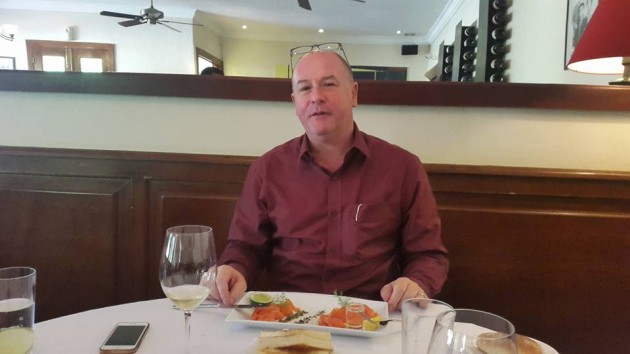 Prices range from $10 to $30 dollars for a choice of modern and classic French dishes that are constantly being updated. Many of the local staff have been here since the very beginning, so the service is very comfortable, highly competent and charmingly friendly.
Open Wine Restaurant
No. 219 Street 19, -behind the Royal Palace, near the St. 240 corner
Seven Days a week, 11am to 10pm