An Bang Beach, Hoi An, Vietnam
As I sit on the grass perched over the beach, staring out to sea, sated and listening to the vibes of the house blending in with the gentle roll of ocean onto sand, it occurs to me that if I turned to stone and sat here for a millennium or three, that would be perfectly alright with me. Frank's marvelous, mystical kitchen has once again, saved my soul.
Frank is a local legend in An Bang, here for 20 years or more he is often quiet, his English is rudimentary, my French is nonexistent, but I appreciate the man enormously and I love spending time with him over a bottle of wine. It is not merely food that Frank concocts in his kitchen; it is something magical and something much, much more special than that. Frank is part of the local village at An Bang and works with the people here to develop the community and enrich their own experiences with tourism and tourists.
His little patch looks out over a serene stretch of white sand and impressive ocean, islands in the distance, the beach is often popular but never seems crowded. The round weaved boats named coracles are scattered along the beach, life never seems rushed, the locals are incredibly friendly and a smile seems their most natural facial expression.
Service is genuinely wonderful and the staff engaging, food is remarkably good, transporting, delicious, fresh, tasty. The wine list too is very impressive and not expensive, there is an expansive patch of lawn so healthy and green one marvels at it, cherishes it; I learn that Frank closes each year to lay new grass. There are little covered pergolas and spaces to sit both under cover or out in the sunshine or, under the stars at night.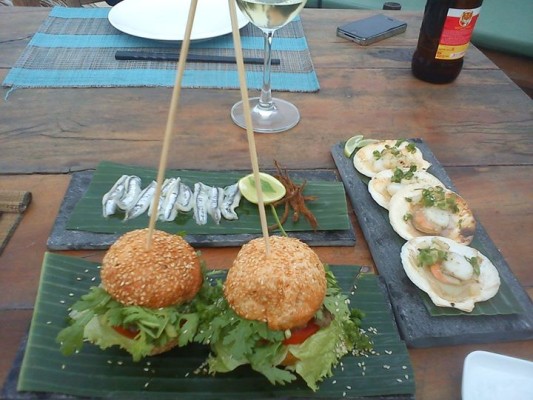 Evenings see Frank indulge his enormous passion for music with live bands playing most nights, good bands, great music, Frank draws them in and the locals, expats and tourists alike come to enjoy and have fun.
This is not a place where back-packers come to get crazy and muck up; this is not a place resort seekers come, so that they can sloth around on a private beach and get cheap luxury at the click of a finger. This is real and it is something much more profound and enjoyable and it permeates into your being, its special and long may it remain just the way it is.
Just knowing there are places like Soul kitchen on the planet makes it a better place to inhabit, getting there revives me and I am fortunate enough to get there reasonably regularly, it is my Lourdes and I need it, it's good for my soul, it's a soul kitchen and it's cooking up joy.
An Bang Baby, so you again soon.