Grüner Veltliner, (or GrüVe: "Gru Vee" as some like to call it) is a white grape variety famous throughout Austria and until recently, little known outside of the country. There are over 45,000 hectares of the stuff planted in Austria, over one third of all wine grape plantings.
After a notorious wine scandal all but destroyed the export market for Austrian wine in the mid nineteen eighties, advances in viticulture and winemaking have seen fantastic improvements in quality for Austrian wines over the past fifteen years.
Today, Gru Vee has come down from the Alps and is enjoying its own version of a moment in the sunshine. Restaurant wine lists from New York to Hong Kong and from Cambodia to Canada are sporting a Gru Vee or two amongst their ranks and Gru Vee vines are being planted in New Zealand, Australia and the U.S.A. In short, the Gru Vee's star is definitely on the rise.
Some of the wine world's most influential wine writers are predicting big things for the variety over the next few years and this is based on data already available and trends already evident; one prominent, high end supermarket in the U.K. has announced a 53% rise in sales of Gruner Veltliner for the year of 2014 and James Halliday Australia's foremost wine critic has said he expects it to be his country's next big thing.
So what is it about the variety that is grabbing the attention of wine scribes and the selective drinking dollar of the world's wine buyers?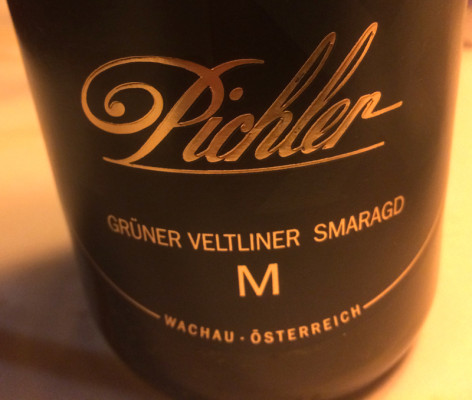 Grüner Veltliner means literally 'green grape from the village of Veltlin -in the Tirol', the variety is light to medium bodied with good, crisp acidity and a distinct, white pepper spice. Some fuller flavoured Gru Vees have a richer, more viscous presence mid palate and notes of wild honey. With ageing, some of the best become rich and complex wines with much fuller flavours. They can range from bone dry to slightly sweet and yet they always retain that crisp, balanced acidity that makes them very attractive wines to pair with a whole range of different dishes and cuisines.
Gru Vee is a new favourite amongst sommeliers, (now abbreviated to somms ever since the release of the movie with the same name) because it is still rather rare, a lot of guests have not tried it and the 'somm' can win valuable kudos for introducing the wine; it is also hard to pronounce, giving the 'somm' a nice chance to show off and finally, it pairs well with even notoriously difficult produce like green tomato, asparagus and artichoke.
Gru Vee also pairs extremely well with Japanese cuisine, Thai cuisine and any Asian dish that involves a bit of spice. It is wonderful with Khmer cuisine and simply must be tried with a good Fish Amok.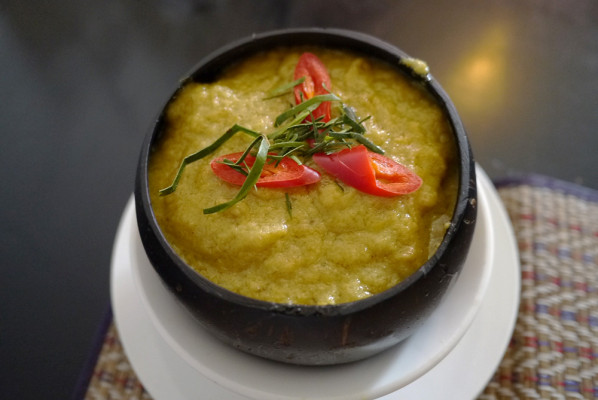 "F.X. Pichler is the Chateau Latour, Domaine de la Romanée-Conti, Zind-Humbrecht, Sandrone and Helen Turley of the Wachau." Robert Parker Jr., The Wine Advocate, 2002.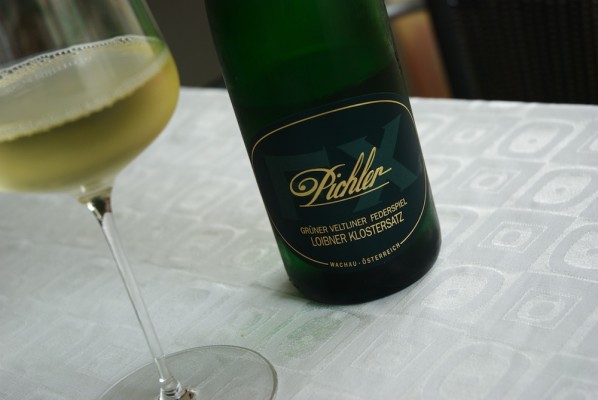 Some of the very finest Gru Vee wines come from the steep terraces of the Wachau district on the northern banks of the river Danube. Here the Gruner Veltliner achieves and extraordinary purity and an intensity and refinement that must be experienced and savored. It is primarily the steep mountainous terraces from the 12th and 13th centuries, which produce these majestic wines, exhibiting a delicate, exquisite opulence.
The Wachau is a cultural landscape that was officially documented by the admission of the 36-kilometer long riverside area between Melk and Krems as a "Cultural World Heritage" site by UNESCO.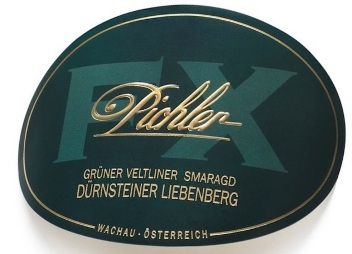 One of the finest places to start with Gruner Veltliner is with F. X. Pichler, in the Wachau; the history of this estate dates back to 1898 when it was founded in Oberloiben. In 1928 Franz Pichler started to select his own Grüner Veltliner clones, focusing on the vines that were producing small-berried grapes, to ensure lower yields, better extract and intense fruit character – the estate's reputation as undisputed Grüner specialists was soon formed. In the early 1970s Franz Xaver (F.X.) Pichler took over the helm at the estate and his meticulous approach to production earned him cult status in Austria.