The first time I met winemaker Randall Grahm, we were both at the eponymous International gathering of the Masters of Wine, way back in 1997. The expectant crowd of wine industry enthusiasts was seated, classroom style, for the much anticipated Shiraz / Syrah Master Class.
The tasting was to be hosted by Mark Chapoutier from the M. Chapoutier winery, producer of some of the world's finest Rhone Valley Syrah wines, John Duval, who at the time was custodian and winemaker of Australia's most famous wine, Penfolds Grange, (predominantly a Shiraz wine) and representing the Americans, Randall Grahm, known at the time as the 'Rhone Ranger' for a fanatical devotion to Rhone varieties, (including Shiraz/Syrah) at his Bonny Doon winery.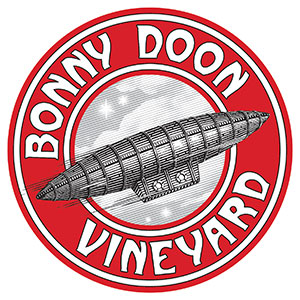 Chapoutier went first, employing classic music references to describe his wines as we tasted, Duval followed and picked up the theme with a Jazz analogy, by the time we reached Grahm the ever quick witted American explained that he too was reminded of a piece of music that summed up his own predicament at finding himself the final act following the equivalent of Shiraz / Syrah royalty, "Welcome to my Nightmare" by Alice Cooper.
This is the enigma and brilliance of the man and his wines. Randall Grahm, the man is considered in equal parts marketing guru, philosopher, tilter at windmills, non-conformist hippie, comic mad hatter and extremely gifted winemaker. His irreverent and humorous marketing and branding have at times made it hard for wine traditionalists to overlook the fun and see the indisputable quality of the wine in the bottle, Initially many in the wine media too, found it perhaps risky to publicly take seriously a winery that seemed to revel in poking fun and making jokes at its own expense. The wines themselves have always provided exceptional enjoyment.
Over his career Grahm has produced a great many memorable wines and just as many memorable labels: Big House Red, a wine named for its vineyard's close proximity to a local correctional facility. La Sophiste, resplendent in top hat capsule. Il Fiasco, Grahm's tilt at Italian varieties, his ode to Vieux Telegraph the famous Chateauneuf du Pape, ' Old Telegram' complete with old telegram paper and font for a label and the back label notes written telegram style, (stop). Cardinal Zin was another and then there is perhaps Grahm's most famous and equally infamous wine label 'Cigar Volant', so named in recognition of a group of Chateaunuef du Pape winemakers who, in 1954, had an ordinance passed to prevent UFOs, (flying cigars) from landing in their vineyards! There was also the warning on the back label of his Pacific Rim Chenin Blanc, which featured a small caricature of a car driving off into the distance with the friendly note, 'Remember, friends to serve friends White Zinfandel."
I am delighted to learn that Bonny Doon wines are now available in Cambodia, buy them for their sense of fun, enjoy them for their sheer drink-ability in the bottle. Try Red Apron and other leading fine wine outlets or discerning wine lists to get your hands on a bottle.