Lovers of richly flavoured, full-bodied red wines have long been drawn to France's most famous wine region, Bordeaux. However, it was a Bordeaux exodus that led to the creation of one of the most complex, exotic and interesting full bodied red wines to ever come out of France. Here was a wine said to have the body of Bordeaux combined with the aromas and complexity of Burgundy and yet it cost a fraction of the price of either!
In 1305, a year after the death Benedict XI, Raymond Bertrand de Got, the archbishop of Bordeaux was announced as Pope Clement V. As a French Pope, he was reluctant to move to Rome and beyond the influence his King; instead, when he up and left Bordeaux in 1309 he took the Holy Roman Curia to Avignon, southeast France.
This was the commencement of the period known as the Avignon Papacy and Avignon would play host to seven legitimate Popes over the next sixty seven years, followed by several unauthorized anti-popes.
Just a few kilometers north of Avignon, on the banks of the Rhone River, local bishops had cultivated vines to produce a bit of wine for their own consumption, whilst an enthusiastic consumer of Burgundy wines, Clement V encouraged the local bishops to increase viticulture in the area and improve upon their endeavors.
The next of the Avignon Popes was Pope John XXII; he regularly drank the wines from these nearby vineyards on the banks of the Rhone and was a great supporter and promoter of their charm. John XXII did much to encourage, assist and improve the viticulture and oenology in the region and became well known for his enthusiasm for the local product. Peddlers in the region were soon known to be selling it as 'The Popes Wine'.
In 1317, one year after becoming Pope, John XXII ordered the construction of a large castle atop the hill at the center of the village -though only a few broken walls remain- the castle still stands today as the iconic symbol of the region. Preceding Avignon Popes such as Pope Innocent VI, (1352–1362) and Pope Urban V, (1362–1370 ) continued to devote resources and develop the wines, now firmly associated with the region and the papacy.
Initially, the wines produced during this time were referred to as 'Vin du Pape' (loosely, Pope's Wine) and later -as the castle was completed- Chateauneuf du Pape, which translates to 'New Castle of the Pope'. The region's wine bottles still to this day display some form of papal regalia, once a key selling point of the wine and a sign of its provenance.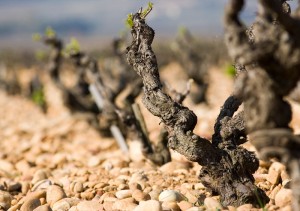 The region is famous for its rocky vineyards with large pebbles known as 'galets', littering the ground and forming a blanket across the vineyards. The quartzite pebbles -worn smooth over millennia, when part of the ancient river bed- trap daytime heat and release it at night, allowing for even and optimal ripening of the fruit.
The producers of Châteauneuf-du-Pape have historically been known to be fiercely protective of their vineyard properties which is said to have led to the 1954 passing of a municipal decree in the village of Châteauneuf-du-Pape that banned the overhead flying, landing or taking off of flying saucers in the commune.
It is common to grow the vines as goblets (bush vines), and this is the only vine training system allowed for the first four red varieties. Yields are restricted to two tons per acre to ensure concentration of flavours and good quality fruit for winemaking. Whilst the appellation does produce very good and very interesting white wines it is for its rich, complex and exotic full bodied reds that it is best known.
In all, eighteen different grape varieties are permitted in the production of Chateauneuf du Pape however; Grenache, Syrah and Mourvedre are the most commonly used grape varieties and make up the bulk of most blends. These three varieties account for almost 90% of plantings in the region, with Grenache nearly 75% of the total area under vine.
Red varieties allowed are Cinsault, Counoise, Grenache noir, Mourvèdre, Muscardin, Piquepoul noir, Syrah, Terret noir, and Vaccarèse (Brun Argenté).
White and pink varieties are Bourboulenc, Clairette blanche, Clairette rose, Grenache blanc, Grenache gris, Picardan, Piquepoul blanc, Piquepoul gris, and Roussanne.
Both red and white varieties are allowed in both red and white Châteauneuf-du-Pape. There are no restrictions on proportions and varieties are not differentiated into principal varieties and accessory varieties. It is therefore theoretically possible to produce varietal Châteauneuf-du-Pape from any or all of the eighteen allowed varieties. In reality, most Châteauneuf-du-Pape wines are blends dominated by Grenache.
White wines from the region are usually blends, predominantly of Grenache Blanc and Roussanne, some 100% varietal Roussanne wines are also made. Most are made for early consumption with a select few built to age. The wines are richly flavours, medium to fuller bodied whites, almond, marzipan, honey, orange peel and Turkish delight are common characters in the whites of Chateauneuf du Pape.
There are no rose wines permitted in the appellation.
The best reds in the region are famously long lived, full bodied, rich, complex and powerful. Ripe plum, crushed, concentrated raspberry and red fruits are wrapped in firm tannins and overlaid with briary notes, herbs, violets, spices, game, tar, molasses, prune, olive and wild, gamey notes combine on the bouquet and the palate. Whilst no longer cheap, Chateauneuf du Pape's best wines represent exceptional value given their quality, especially in comparison to Bordeaux and Burgundy.
The region's must try wines are produced by Vieux Telegraphe, Chateau Beaucastel and Chateau Rayas, all are well worth the trouble to seek out and the coin to try them.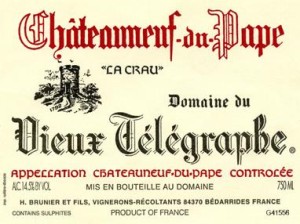 Domaine Vieux Télégraphe takes its name from and old telegraph station that once stood on the very same hill where the winery was established. The first vines were planted by Hippolyte Brunier in 1898, who established a vineyard in the legendary La Crau, lieu-dit in the southeastern pocket of the Chateauneuf du Pape region. Le Crau is the most famous lieu-dit in the region, rich in galets and organic matter the site has been renowned for its fruit for at least 600 years. The Bruniers have been taking care of Vieux Telegraphe for over a century and their red wine, Domaine Vieux Telegraphe, is incredibly rich and complex, it has enormous ageing potential and is rightly regarded as one of the world's great red wines. Since 2002 they have released a second label 'Telegramme', which offers remarkable quality and value and can hardly be considered a second or lesser wine and more another personality and vinous expression from these masters of the Le Crau.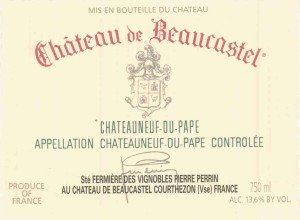 Chateau de Beaucastel is one of the largest estates in the Chateauneuf du Pape appellation; it is still run by the Perrin family who has looked after the vines for several generations. Beaucastel was one of the first domains in the region to practice organic viticulture and in all, 13 of the appellations varieties are grown and used in the blends from this property. The wines have long been revered as some of the region's very finest, long lived with masses of concentration, structure, complexity and intensity. These are powerhouse wines that evolve majestically over time.
Chateau Rayas maestro, Jacques Reynaud died in 1997 whilst on a trip to town to buy a pair of shoes. By the time of his passing, Jacques' wine had become the stuff of legend and his character the stuff of mythical tales and heartfelt mirth and warmth. Mr. Reynaud was a notoriously shy and retiring man, private to a fault and somewhat eccentric.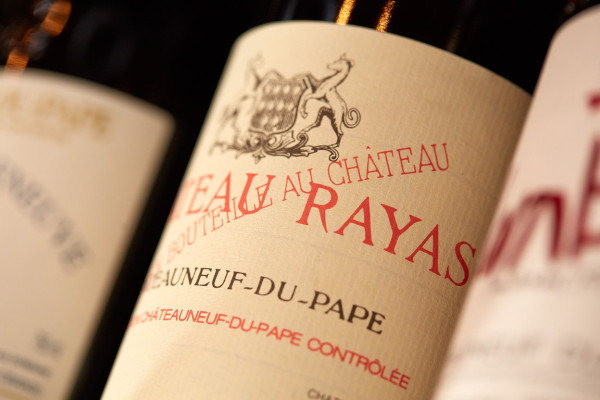 He was said to go to great lengths to avoid making appointments with the media or governing officials and was known to have hid in ditches to avoid those that dropped in unannounced. Those that did manage to penetrate the perimeter were treated to another famous Reynaud tactic which was to give them wine in stem-less glassware, because they were impossible to put down so one could take notes. So many of Reynaud's' viticultural and winemaking practices seem to run contrary to his fellow producers, his soils lack the famous galets roules, only Grenache is used in the wine, and rarely seen 450 liter double piece oak casks are used for maturation. Yields are insanely low producing wines of incredible depth and concentration, the wines are ethereal, powerful and 'hauntingly aromatic' as one scribe so eloquently noted. These wines are exotic, unforgettable and undeniably unique. Today, Jacques nephew Emmanuel takes care of the vines and produces the famous wines, after some initial challenges he seems to have maintained the Chateaus reputation for producing extraordinarily rich and interesting wines.