Chateau Haut Blanville is a family owned winery in the Languedoc region of southern France.
The winery sources its fruit from a number of vineyards and sub regions right across the region, taking advantage of its differing soils and many terroirs. The Nivolett family own several of the vineyards themselves and tend to others under contract. The family manages the vineyards of all of its growers themselves.
The family maintains a cherished relationship with the Kingdom of Cambodia and is a strong supporter and backer of 'Pour un Sourire d'Enfant', (For a Child's Smile), charity school in Steung Meanchey. The school began as a charity to educate children who were born and raised on the area's notorious rubbish dump and now extends their services to thousands of impoverished children across Cambodia. The Nivolett's daughter, Charlotte spent 16 years working in Cambodia with the PSE school and has recently returned to France to take over the family business.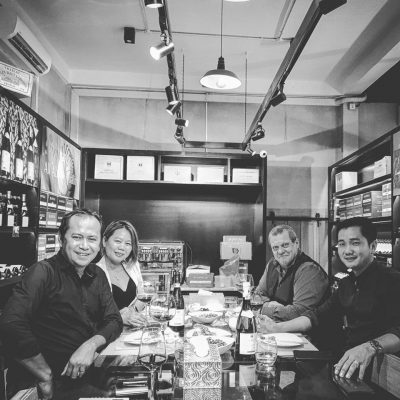 I recently had the good fortune to taste several wines and vintages of Haut Blanville at the delightful Vinissimo Wine Store in Toul Tompoung; with Sarapich Pin and Somlay Lach, two of the most charming and engaging wine people you'd ever hope to meet in Cambodia.
The wines were accompanied by the outstanding Charcuterie of Pepe & Co, which only served to elevate the tasting, the mood and indeed the wine itself.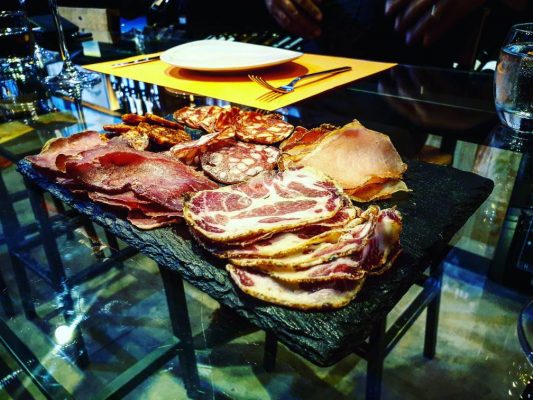 We opened the evening with an entry level, everyday drinking Blanville 'Solal' Merlot, (light bodied, clean, ripe fruit, plush, gentle tannins and subtle but reassuring acidity) followed by a Grand Reserve Pinot Noir, (attractive fruit and fruit driven, with juicy cherry and plum. What this wine lacked in sophistication it certainly made up for with charm and approach-ability) just delightful with the roast duck from the Chinese around the corner.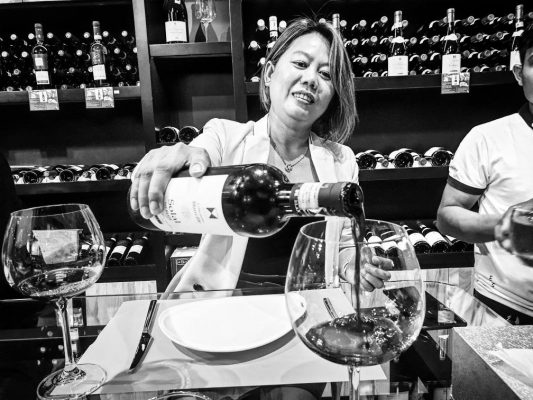 We then moved on to a 2012 vintage Chateau Haut Blanville Grand Cuvee, a blend of Syrah, Grenache, Mourvèdre and Carignan. The wine is concentrated and rich, with raspberry, plum and black fruits over a smoky character and supported by more complex notes of nuttiness, road tar, anise, coffee grinds, pan juices and hints of game, dried herbs and garrigue. This was an outstanding wine ageing gracefully, a privilege do drink in fine company.
The grand finish was the 2014 vintage Chateau Haut-Blanville 1955, from their vieux chemin de fer, (old railroad) vineyard that was planted, as the name suggests, in 1955. This is a majestic wine just showing the first flush of tertiary development in the bottle and with decades ahead of it in a proper cellar.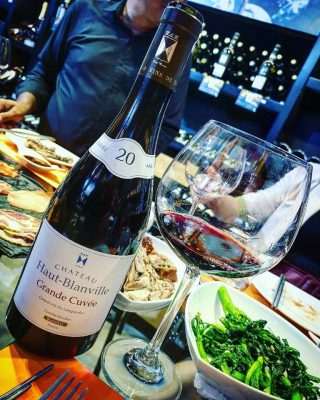 100% Syrah, (Shiraz) here is a wine that has spent 3 years in the finest oak barrels of the tonneliere, (Coopers) at Radoux and the patience, finesse and quality of that expense -here demanded by fruit of the highest quality- is evident on the bouquet and the pallet. This is a rich, full bodied red with a lush, creamy texture supported by still youthful acidity and the fine, inviting tannins that are the benchmark of old vines when they receive the respect they deserve in the vineyard.
Wrapped up in fine tannins and notes of violets, anise, game, cured meats, pan spices, cashew, coffee grinds and leather, at its heart there are dark rich notes of plum, boysenberry loganberry and cherry-cola fruit. This is a mighty wine for roast meats charred on the outside and still pink, bloody and fatty in the middle, or aged cheeses firm and tasty in their hearts or perhaps try it with smoking jackets, conversation and philosophy after the evening meal.
The wines of Haut Blanville are outstanding in their quality, terroir and character, at their price they are exceptional considerations.