A literal English translation of Clos des Mouches would be 'Field of Flies' however, in the local vernacular the site was called 'Clos des Mouches a Miel' which means 'Field of Honey Flies' as the site was once a renowned spot for beekeeping.
The Clos des Mouches, Premier Cru, AOC sits on a hill which borders Pommard and the wines certainly share some of its neighbours renowned power and depth.
In the 1920's Joseph Drouhin's son Maurice was determined to establish a flagship vineyard holding for the company, with great determination and resourcefulness he acquired 41 different parcels of land from 8 different properties -to form the largest single vineyard holding in the Clos des Mouches appellation.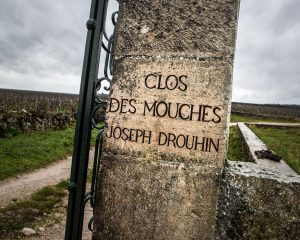 The 14 hectare property sits in the mid-level of the hill and runs along the border with Pommard. Soils are mostly limestone with some rocky patches and marl. The vineyard is planted to equal parts Chardonnay and Pinot Noir and has been managed to biodynamic techniques since the 1990 vintage.
'Fine Mouche', means a sharp customer and 'Faire Mouche', means to hit the bulls eye, it could be suggested that Maurice Drouhin was certainly a sharp customer, who indeed 'hit the bulls eye' when he purchased holdings in this outstanding Beaune, Premier Cru, appellation.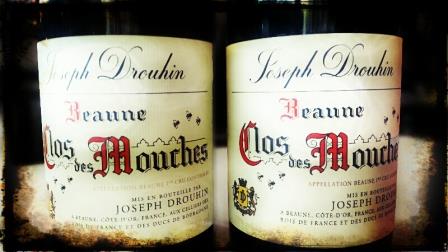 The Clos des Mouches wines from Joseph Drouhin enjoy cult status among Burgundy aficionados, their quality-to-price-ratio, (when compared to some of the regional Grand Cru) is the stuff of legend and spoken about in hushed tones, with subtle nods and winks between those in the industry. The white regularly and often achieves extraordinary levels of quality whilst the red is generally outstanding.
I recently tastes the 2012 Clos des Mouches red and white from Joseph Drouhin. The vintage remains something of an enigma; a very small crop was hit with just about everything Mother Nature could conspire to throw at a vineyard -during the entire length of the growing season. Hail, rain, wind, extreme cold, extreme heat, more rain, disease pressure and so it went.
Yet the general consensus is that some exceptionally good wines were made however, this was not a general rule, the vintage is certainly patchy and low yields mean that the price asked and the quality in the bottle do not always correspond. You have to work at the vintage a bit, seek out the gems from the fodder. The journey will no doubt show up a few disappointments but the best 2012 has to offer is very good indeed and well worth seeking out.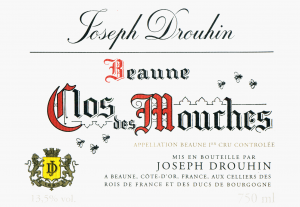 Joseph Drouhin Clos des Mouches Blanc
Vintage: 2012
Variety: Chardonnay
Colour: lemon, intense, green hues
Bouquet: Fat cheesy, washed rind aromas to the fore with some oak spice, hints of bacon and pan spices, savory notes, tightly wound core of white flowers, wild honey and hazelnut; very nice complexity.
Palate: Good richness, nice depth, still firm and tight, primary flavours of white peach mid palate, hazelnuts and oak spice, a savory finish, Lacks a little acidity and structure, a little fat typical of the vintage but very, very good. Exceptional fruit flavor and character.
Still young, tight and waxy but with some real richness and depth mid palate, lacks a bit of minerality but, it has a savory, spicy finish that gives it balance and makes it a very attractive wine.
Joseph Drouhin Clos des Mouches Rouge
Vintage: 2012
Variety: Pinot Noir
Colour: Clay brick red, pale, vibrant, translucent rim
Bouquet: Ripe Cherry and char aromas with notes of damp earth and hints of forest floor spice. A distinct cassis quality on the bouquet as well.
Palate: Young tight wine, plum flavours mid palate, firm but with soft, ripe fruit, a core of cassis character there running through the wine. Light but generous fruit, lacks some acidity and structure but it is there in the background. Perhaps a little short, will fill out a bit more with some age. There is some sexiness to this wine. The primary flavours are superb, really attractive and generous, expanding out across the palate. Lovely soft, tannins which is very typical of this vintage for burgundy. As the wine opens up it shows a rich palate of sweet ripe fruit, plum and morello cherry with that ever present accent of cassis. Really, a very impressive 2012, what it lacks in sophistication and complexity it offsets with attractiveness and approach-ability.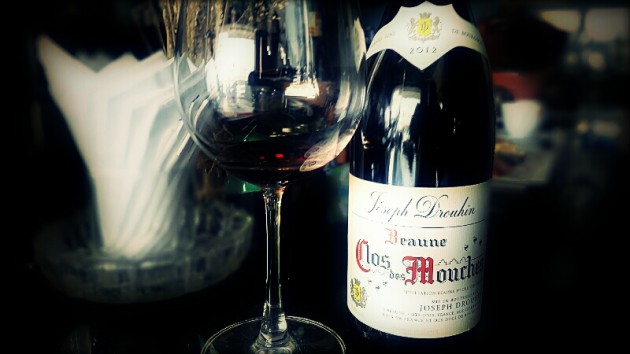 Summary
A pair of super impressive wines with lovely, delicious fruit, on the light side but, showing really good depth and concentration of flavour. Even better than some of the Grand Cru I have tried of the Cote du Beaune from this difficult vintage. The core fruit from both wines is excellent, the young white wrapped up in savory, spicy structure and the red wrapped in very fine, velvety tannins.
The legend of the Beekeepers continues.
#Tasted @ Don's restaurant West Lake, Hanoi with a stunning Salmon Gravlax and a superb Nasi Goreng.