Billionaire wine magnate, Bernard Magrez is a force to be reckoned with in the world of wine; he is the owner of several dozen vineyards across France, including four Grand Cru Chateaux in Bordeaux.
Margrez's prestigious  Bordeaux Chateaux include Pape Clement; planted in 1300 AD, it is oldest vineyard in Bordeaux and takes its name from original owner, Pope Clement V; Chateau La Tour Carnet, the oldest estate in the Medoc and once owned by Montaigne, Chateau Fombrauge, the largest estate in St Emilion and Chateau Clos Haut-Peyraguey, a producer of 'First Growth' sweet white wine in Sauternes.
Magrez is also a significant wine player in many other countries: Argentina, Chile, Portugal, Spain and in California, USA. He also produces an aromatic, fresh white wine from Koshu grapes at his winery in Japan and owns vineyards in Morocco.
Morocco boasts a long and rich history of grape growing and winemaking dating back to the time of the Phoenicians; this was further developed by the Romans, shunned by the Arabs Muslims, revived by the French Protectorate, fallen into disrepair due to trade restrictions and internal unrest, then finally and most recently, revived by foreign interests and foreign investment.
Among the North African countries, Morocco has long been considered the one with the most potential for quality wine production, with its coastal influence and high mountain ranges offering a cooling influence. Principle plantings are of the red grape varieties Carignan, Cinsault and Grenache, with Cabernet Sauvignon, Merlot and Syrah increasing in plantings and popularity amongst wine producers. White grapes are planted in far smaller quantities, with traditional plantings being of Chenin Blanc, Clairette Blanche and Muscat and with Sauvignon Blanc and Chardonnay increasing in recent development.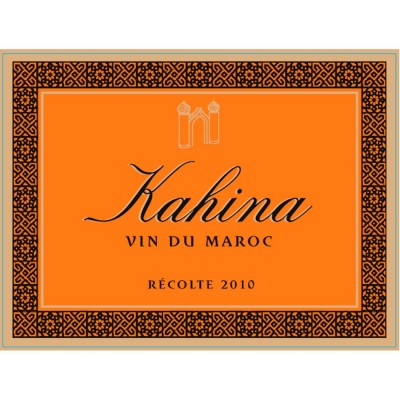 The Magrez vineyard sits in the Mekens wine region 200 kilometers east of Casablanca, high up, (at 600 meters above sea level) in the Atlas Mountains. Vineyards here enjoy cool evenings and mild winters which allows for a slow ripening season, resulting in quality grapes for the production of fine table wine.
The vines for Bernard Magrez, Kahina were planted over 25 years ago and the blending is 70% Syrah and 30% Grenache with maturation in new French oak barrels for 10 months prior to bottling.
The wine is a rich, ripe, juicy red with plenty of weight and depth of flavor, plum and red fruits burst onto the palate with confectionary and peppery nuances given further complexity by subtle oak influences of vanillan and wood spice. The tannins are fine and subtle with lingering fruit on the finish.
A Moroccan wine might not be a likely choice for your next bottle but, try it with Lamb Tagine with Couscous and you might be saying, "Here's looking at you kid".