Pais is an oft forgotten but still widely planted red grape variety of Chile, once the most planted variety in the country it only recently gave up that mantle to Cabernet Sauvignon.
Whilst varieties like the aforementioned Cabernet, along with Sauvignon Blanc and Carmenere have brought international fame and fortune to Chile, the Pais grape has all but been ignored or, not yet been discovered by much of the outside world -with many Pais growers struggling to get break even prices for their crops.
Pais has one of the longest viticultural histories in Chile and was once its most important grape, believed to have been brought to the region by Spanish conquistadors during their colonization of the continent in the 16th century.
Pais produces a light bodied red wine, often described as 'rustic' in character, (the varieties thin skin does not provide much colour extract) the wines are typically reminiscent of lighter coloured Beaujolais or Pinot Noir in appearance. Sadly, the variety is seen as a peasant today, usually cropped highly (which lowers the quality considerably) and most often ends up in cheap, nondescript 'jug' or 'cask' wines. Almost all Pais is consumed domestically in these cheap formats.
Poor Chilean grape-growers trying to sustain a living with their old Pais vineyards have been doing it extremely tough for many years but, all that looks set to change with the introduction of new viticultural techniques, lower yields, a commitment to paying fair prices for the grapes and to producing quality over quantity.
Miguel Torres in conjunction with the university of Talca and the Chilean government has been working with vineyard owners and growers to improve fruit quality, garner fair market prices for the crops and develop the poorer communities that are growing the grapes. What Torres have turned out is a very enjoyable sparkling 'pink' wine called Santa Digna 'Estelado' and it has been given International Fair Trade Certification.
To be accredited Fair Trade, wineries have to preserve the environment throughout the winemaking process and prohibit the use of agri-chemicals, provide decent working conditions for their employees and pay fair prices for raw materials. But Torres Chile have gone further than that, they have set aside a Fair Trade Bonus where proceeds from every bottle of the wine sold goes towards social projects such as providing daycare, medical and dental assistance and street lighting for the surrounding communities, etc. It is the communities themselves who are consulted and ultimately decide what they do with the funds as long as everyone benefits.
Miguel Torres explains that the Fair Trade project became more urgent after the huge earthquake that hit Chile in February 2010, to help their staff, suppliers and partners – even turning their cellars into woodworking shops to build 40 houses for their workers and other local people who had lost their homes. Miguel Torres is the first major winery in Chile to gain Fair Trade Certification.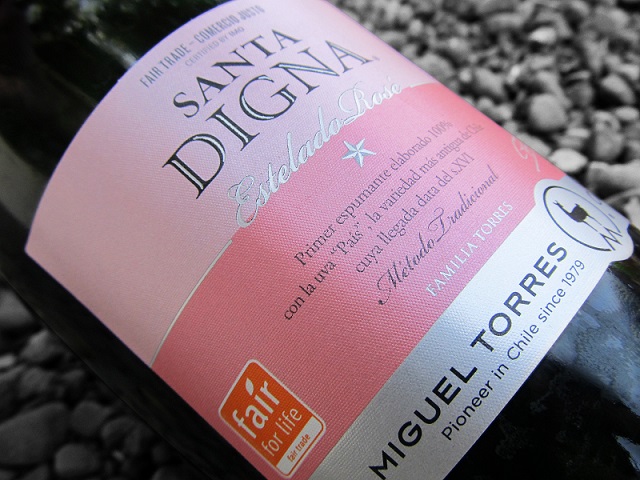 To give you an idea of the significance, today in Chile there are over 37,000 acres of país grape vineyards planted in Chile, mostly in the southern valleys of Maule & Biobío (epicenter of the 2010 earthquake). Located in areas like San Javier and Cauquenes, this climatic zone is known as secano costero, a semi-arid coastal region.  Growing most grapes here is difficult due to the scarcity of water and few vines have adapted to these dire conditions. Uva país however, remains victorious.
The wine itself is still ridiculously affordable and has red berry fruits, a crisp, dry palate and some mineral and yeasty complexity, it's a fun glass of fizz bound to be a crowd pleaser at parties and functions.
Frontera has also recently released a wine under its specialty label branded 'The Original Pais' a dry table wine that is one to look out for.
I think it might be time for a little Pais, Love & Happiness.